About two weeks ago, I headed to Austin, TX for a few days and thought y'all might enjoy my photo recap of this fun trip.  I went to Austin for a blog conference with my ad network, which was about 3 days total, but I also wanted to take a little extra time since I was going out there anyway, to catch up with a dear friend of mine.
My sweet friend, Judy, and I have been friends for 30 years, I just realized how long it's been. She's been there with me through thick and thin, in all my life situations and she's one of those friends who I can count on no matter what.  Judy grew up outside Atlanta and has been here for a long time, but about a year and 1/2 ago, Judy retired and she and her hubby moved to Austin to be near their family out there.  They live in Georgetown, TX in Sun City retirement community and really love it.
I was really impressed with Sun City and all it has to offer. I know these retirement communities are built all over the US and I had not seen one in person, but Judy said there are 10,000 homes in theirs.  It's an amazing place, with their church, workout facility, pool, wood working shop, and lots more housed on all those acres.  They love it there!
Judy picked me up from the airport and we headed to downtown Georgetown and what a cute little town this is. I was thoroughly impressed with the town and all the shops and restaurants they had.  I can see why people retire here.
We walked around the square doing a little shopping and then had lunch and it was such an enjoyable day.
We stopped in all the cute shops and looked around and it was a picture perfect spring day, with just a little bit of chill in the air.
The sky was a vivid shade of blue and I so enjoyed my visit to Georgetown.
We debated back and forth on where to eat lunch and Laurie's Cafe won out. I am so glad we ended up here, because I had the most delicious girly lunch, which is my fave.  Tell me this doesn't look good?  Chicken salad, broccoli salad, chopped peppers and cucumber salad, out of this world cranberry congealed salad and a tasty sweet muffin.  I was in heaven, this is my kind of lunch!
That congealed salad….SO GOOD! I wish I had the recipe.
We went back to Judy's house in Sun City and I relaxed on the back porch on this big ole' gorgeous swing bed that her husband, Paul, made for their porch.  This thing is incredible and I have major swing envy.  I promptly sent this pic of me to my husband, Mark, and said…..I want one of these!  I think it will happen, we have just the spot for one of these and I know my hubs can make one too. This is the most comfortable spot ever and I can imagine all the naps I could have on this swing.
My dear friend, Judy and I. She's a sweetheart, everyone should have a Judy in their life.
The next day, we met a mutual friend, Monika, at Lake Travis.  We all used to work together here in Marietta and it had been years since I'd seen her, but it was fun catching up.  We met at the Oasis overlooking Lake Travis and boy was I in for a treat when we drove up to this place.
You can tell by this sign that it's going to be interesting, right?  No disappointment here!
This is just outside in the parking lot. What a neat place!
Inside, the view was incredible!  I had heard about Lake Travis, but never been there. What a treat this place was.  They serve Mexican food overlooking this glorious vista.
Tiers and tiers of tables are scattered over the cliffs and I can imagine how this would be in the summer with all these tables filled up. They told me that it's filled up in summer months with people everywhere and lots of music and fun happening.
The white around the edges of the lake is actually limestone rock, not sand as it might appear here.
You can imagine the real estate prices in this area.
It was such a neat place and I'm so glad we got to go here.  It was so windy and chilly that day so we didn't try to sit outside, but we were by a window so still had a nice view.
And of course, walked out there for pictures.  This was pretty interesting. People leave all these locks with names and dates written on them, a tradition here at the Oasis.
It was such a neat place and one of the best views I've ever seen.
Judy and I from another spot on Lake Travis. The lake is such a pretty blue.
Can't go to TX this time of year without seeing the bluebonnets in bloom! Such pretty flowers blanketing the countryside.
They took me to a great place for BBQ, which is huge in Texas as you can imagine. Rudy's was fabulous, in a gas station with a huge place for sitting and eating.  I've never had dinner on a wax paper plate, have you? But it sure was delicious!
One of the signs in Rudy's over the big sink.
The next day, Paul and Judy dropped me downtown Austin to the Omni Hotel where my conference was being held.
I met up with several blog friends who I've known for a few years and we all had fun catching up, walking around the downtown area and eating some more good Austin food.
We discovered Voodoo donuts a block behind the hotel and I was hooked!  I love donuts even though I don't eat them all that often.
The maple glazed with bacon caught my appetite and I had this one morning for breakfast.
Lucky for us, the conference we attended with AdThrive also served these donuts at break the very first day we were there, so that was a big bonus too.  I loved them so much I took home two for Mark and one more for me, the Boston Creme kind. They were SO good!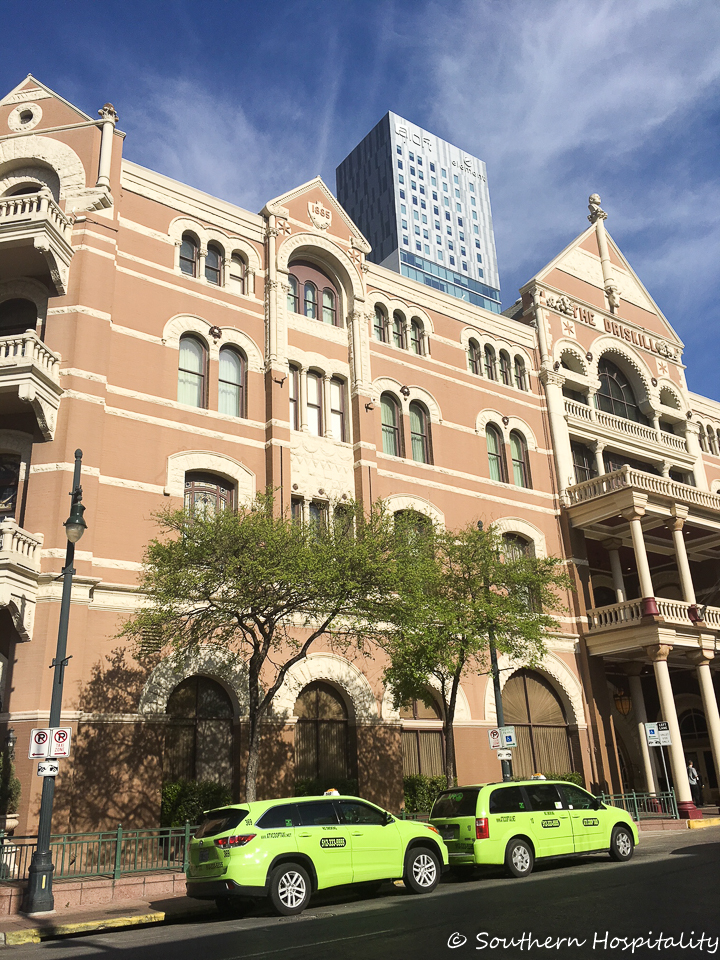 Austin is a quirky city with a definite vibe all its own, with the Western influence and lots of interesting sights.  They are known for all their good restaurants too, although we had limited time to try too many of them.
One evening for dinner, we went to a spot called Moonshine and it was really good. Not too far from our hotel either.
Nearby our hotel was the Driskill Hotel and we took a peek in there one afternoon while srolling by.
Someone on my Instagram told me to eat lunch there, but we didn't get the chance. It sure was pretty inside though!
Food trucks abound in Austin!
A colorful sight in one of the shops on S. Congress.
These pretty colorful streamer caught our eye too, as we took a break and went strolling one afternoon a few blocks from the hotel.
Blog friends me, Katie, and Beth.
The conference was full of some great classes and we all were on overload by the 3rd afternoon. Blogging isn't for the faint of heart and all the things we have to know and keep learning are just mind boggling! All because we love blogging and want to keep doing it, it's necessary to keep learning too, so that's what I try to do, even though my brain wants to explode at times!
What a fun trip to Austin, such a fun time with my friend, Judy, and my blog friends as well. I know I barely scratched the surface of what Austin is all about and hopefully I'll go back again one day   SaveSave
SaveSave
SaveSaveSaveSave
SaveSaveSaveSave
SaveSave
Don't Miss a Post, join my list!