I'm sharing some old favorites from previous Feature Fridays, so enjoy this beautiful Parade of Homes in Nashville from 2017. I really enjoyed touring these homes and if you missed it, you'll love it too.
*******************************************
Happy Friday!  I'm back today with another house from the Parade of Homes in Nashville (really Brentwood, TN).  It was so fun to see these magnificent homes in person and to experience the high end finishes and beautiful interior design in each and every home.  Enjoy!
This 9,097 s.f. English Tudor inspired home was impressive.  Built by Barlow Builders,  it's a stunning home inside and out.
Interior designer for this home:  Lori Paranjape, Mrs. Paranjape Design + Interiors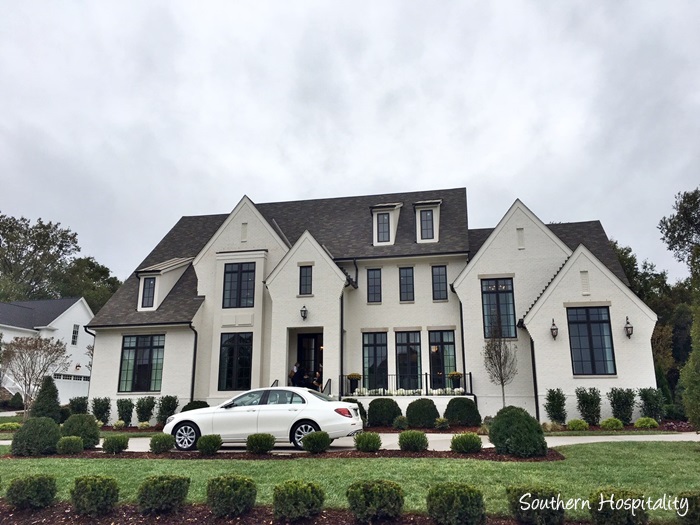 Lori and I have been following each other on Instagram for a couple of years now and it was fun to finally meet her in person. She's down to earth and totally approachable, love her designs.
I won't comment all through the post, but enjoy the pics.  The book doesn't have all the interior sources listed, but does have paint colors used.
Rooms in white are China White (Ben Moore) and trim Super White (SW)
Study:  Listed as China White, but this can't be correct.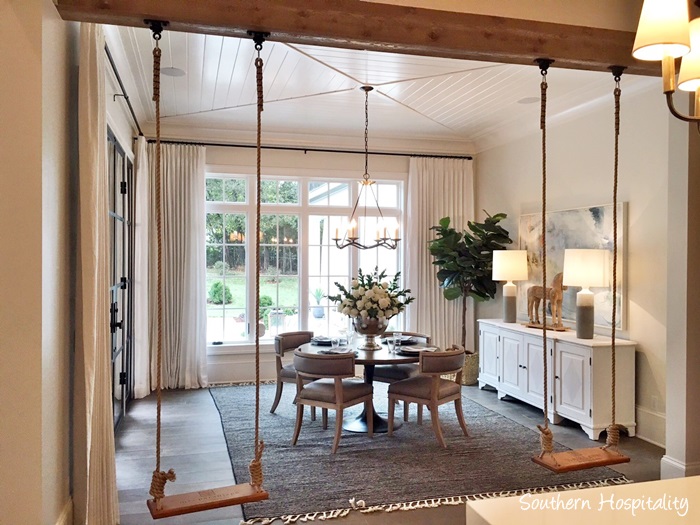 Now here's something you don't see every day.  Swings between the kitchen and breakfast room.
That's one of Lori's fun touches.
And I figured I'd just try one out for a photo op!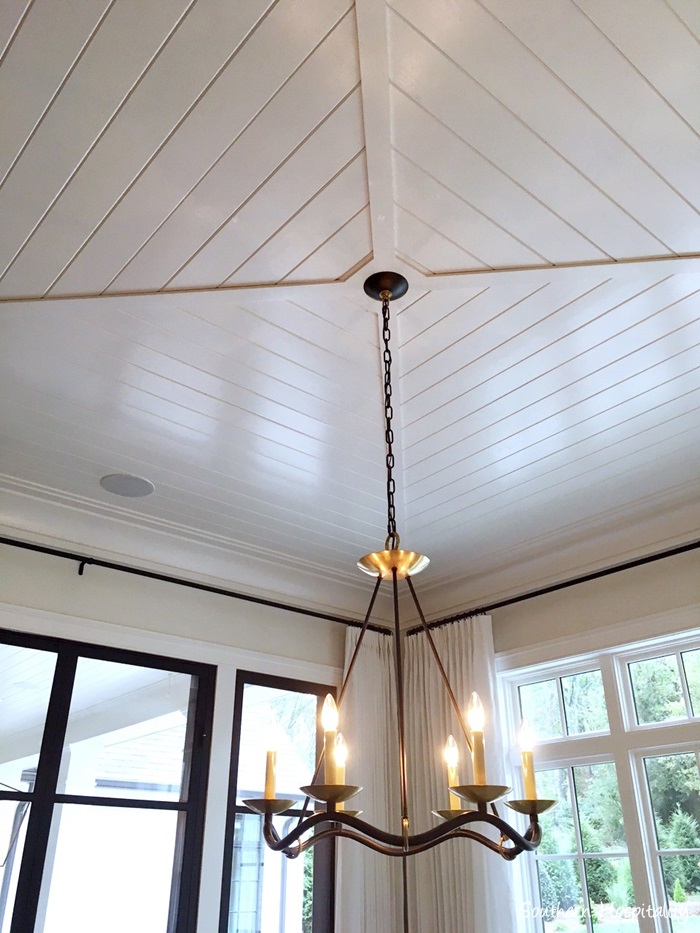 Loved this ceiling.
Covered porch outside the breakfast area.
I love these plant stands for filling in a corner with something live and interesting. I will have to think about something like this for our house.
Another gorgeous laundry room.
I loved this fabric wallpaper and Lori told me it comes in 10 color ways and is called Wicker Weave by Thibaut.  Me like!  You know I have a thing for black and white.
This is the master bath suite which is something else!
This closet for HER was amazing, it's actually 2 stories.
See up there where my friend, Dana, is taking pics, that's the upstairs part of this closet with more storage.
From the top looking down on Her closet.
This is the elevator that goes up there.  Is that not amazing?
Luxurious master suite.
Bunkrooms for the kids in navy/white stripes.
Bonus Room:  Salty Dog paint (Sherwin Williams)
Playroom: Walls, trim, ceiling, Super White (SW)
Such a unique wall treatment in here with all these painted toys attached to the wall in a 3D grid.
Nursery was just adorable.
Another laundry area on this floor.
Guest room, I think.  Lori's signature color is this green and she used it in this space.
This green vanity shows her personality and her love of green.  I love this too!
And the Wash done in penny tile on the floor was very fun.
Man cave in the basement was very masculine and pretty.
Loved this carpet which looks like an argyle sweater, so cozy.
And that's a look at the Barlow Builders English Tudor inspired home designed by Lori Paranjape.  We really enjoyed this house a lot and it was so fun to see all the touches she added to make it come alive.  I can't imagine putting a whole huge house together like this, but designers do it all the time and bring out the beauty of the architecture.
Have a wonderful weekend!
SaveSave
Don't Miss a Post, join my list!