I frequently post meals from my mom's table and this one had folks asking for the bean soup recipe. When cold weather hits, soup is a natural choice for meals and we all love soup in our family. Mom's been making this one for awhile, called Neighborhood Bean Soup.  Not sure where the name came from, except maybe you can feed a crowd with a pot of this soup.  She got it from Taste of Home magazine, one of her faves.  Just click that link above for the recipe, no need to post it twice.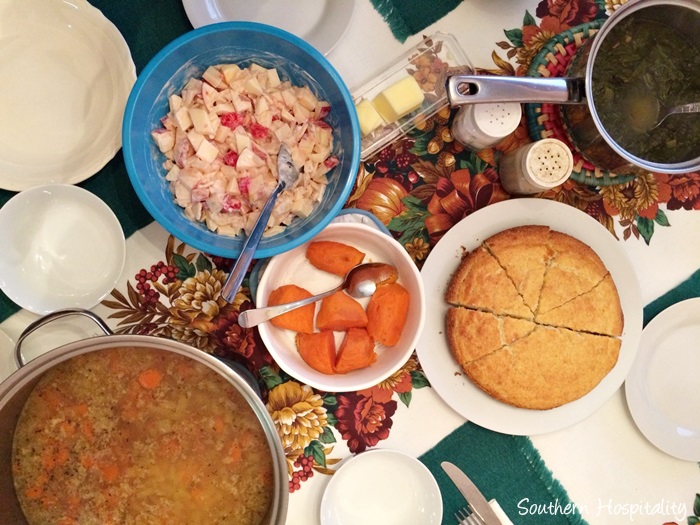 We all had lunch over there recently and this is the spread she put out on her pretty Thanksgiving tablecloth.  They always have sweet potatoes in some form on the table, as that is probably my dad's favorite thing in the world.  We had greens from the garden and a fruit salad too.
Of course, you need cornbread with soup and her's is always perfection, cooked in a black iron skillet.  If you want to know how my mom makes cornbread, you can find it on this cornbread post, along with her cornbread chicken and dressing recipe, all on one post.  I have gathered many of her recipes along the way and shared them on the blog.  Long live mama's cooking!
We still feel so blessed to have her, still cooking and taking care of herself and my dad by still preparing good meals and eating out of their garden.  I know this is what keeps them going, all the healthy home-cooked food they eat.
If you love soup, this is a good one to try!  Very tasty and filling and perfect Fall/Winter comfort soup.
Don't Miss a Post, join my list!