Hello my friends!
Since I'm sharing all our house progress, I figured I'd share one of the outside projects that we just had done.  We hired this one out, got to know your limitations and so this one was one for the professionals and we found a local fence company to get this done.  Apparently there is a big demand for fences, because we had to get on a waiting list for about 3 weeks, but it was done 2 weeks ago and we are happy to have that behind us.
Mark brought his dog, Hollie, over to live with us now since she's been staying with his parents during the transition.  She seems to be adjusting well to her new backyard and she and I are doing just fine together. We really needed the fence for her to have a safe place in the backyard.
We hired a local company called First Fence to do the job and we were very happy with how it came out.  Mark wasn't completely happy with a couple of the corners coming together, so he is going to add another board to a couple of areas to make them look better. I thought it was all looking good, but he has a different eye when it comes to things like fences, so he will fix it to suit him.
This type fence is called a Saddle Picket and I love the way it looks. We didn't want a complete privacy fence, but one that you can see through the pickets and this one is a nice addition to our backyard. It amazed me that the installer drew the scallop on the fence and then used a skillsaw to cut them all.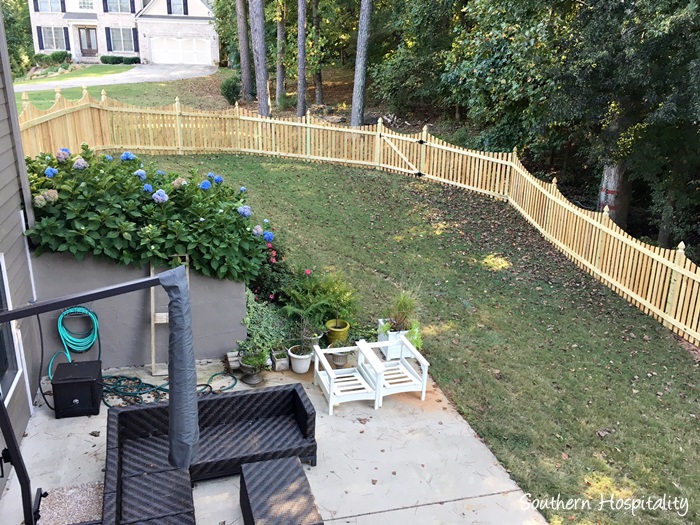 And here is it all finished!  We put the gate down the fence a bit because it's a pretty steep hill coming down from the top so that area was the most level and we thought the gate would be better there for people coming in and out. We probably could have moved it up the hill a bit, but it's fine right there too. Our property goes over to where those tall pine trees are so we didn't fence it all in.
Miss Hollie is home with us now and doing just fine in her new space.  She's a 10 year old German Shepherd and Mark adopted her when she was a puppy. They have a very special bond.  She's a 100 pound girl and loves her people but can be very protective and sound very scary if she doesn't know someone. She's slowing way down at her age now and has joint issues, as most older dogs develop as they age.
I've mentioned my dog, Tara, before but I wasn't blogging when I had her (I wrote a post about her way back in 2007). She was over 14 years old when her declining health brought her life to an end and I had to put her down right before I  moved to Birmingham.  She found a home with me when she was about 1 year old and she was the sweetest girl, I loved her dearly.  She had a long life with me and we both gave each other lots of love.  Mark and I are both huge dog lovers and always have been.  I can see  us getting a small inside dog one of these days, we both like lap dogs too (Mark has had Yorkies in the past)  and I would love to have another furball one day too.  My sister just got the cutest Shorkie (Yorkie and Shih Tzu mix) and he's the most adorable little thing I've ever seen. He looks like a stuffed animal.
So, back to the fence!  They did a great job at enclosing our backyard.  Our yard backs up to the Corp of Engineer property, a Federal agency I think that owns Lake Altoona here in GA.  Our backyard fence borders that property and we get to enjoy the huge trees in the woods behind us. It's nice to have all those tall trees that give us so much shade during the heat of the day.  The corner of the fence had to be tired because of the wall that was installed by the Corp property when the house was built. I'm sure fill dirt was brought in back here and that created the drop.
The side yard that faces the neighbors on this side has a couple of pretty trees and a rock garden that has some shade plants in here. We'd like to add to this and make it really pretty back here.
We ran the fence along the back of the house and joined to to the side, enclosing the basement window for security purposes.  Better to have that window inside the fence than out.
From outside the fence looking in.  Hollie has a nice yard to enjoy and we'll fix up our backyard to enjoy too.
I love these birch trees, they have the prettiest bark.  It's nice to have that large concrete patio and we have plans to really make it nice. We really want to add stairs down to the backyard from the deck, so we'll figure that out eventually too.  Depending on the costs, we'll do a screened porch above and if not, below the deck will work too, but I'm pretty sure we'll add stairs no matter what.  I want to be able to go out from the kitchen to the backyard. We don't want to spend a fortune on a screened porch and don't want to over improve the house, so we will keep that in mind as we do projects.
There's Hollie!
We will either do a screened porch on top of the deck or below, just have to figure the costs and what is the best use for our space for the money.  We can see this backyard space as a big plus and the fence adds to the privacy and feeling of being in the woods. We will work on making our backyard a really nice space eventually.
So, that's our backyard fence.  We really love how it turned out and can't wait to use our backyard as we get settled in the new house.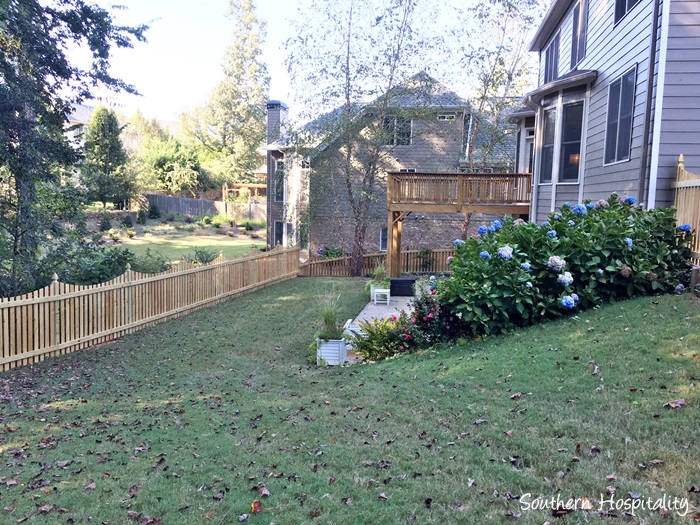 Those hydrangeas are a big plus too that the first owners planted. So big thanks to them for beautifying our backyard, I'm thrilled to have them!
We are settling in really well and our rooms are all starting to come together, so I'll be sharing more and more as we get things finished and ready to show.  It seems like it's taking forever, but really it's only been a month ago that we moved in, so I do finally feel like we are making progress. We are loving our new house and it's feeling like HOME already!  Thanks for sharing in our joy!
SaveSaveSaveSave
SaveSave
Don't Miss a Post, join my list!