Not long ago, I shared the new and improved guest room with the swanky bamboo bed and usually I leave things along for a long while and don't change out more once I stand back and look at it. I've so enjoyed walking into the guest room and just taking it all in. I love the new look so much!
But, somehow these drapes popped up in my feed when I was online and I went over and looked at them closer. Floral, check. Birds, check. Just my kind of look and I thought the floral would be such a nice feel in the room with the stripes and the large scale blue and white wallpaper.
Plus they were a great deal!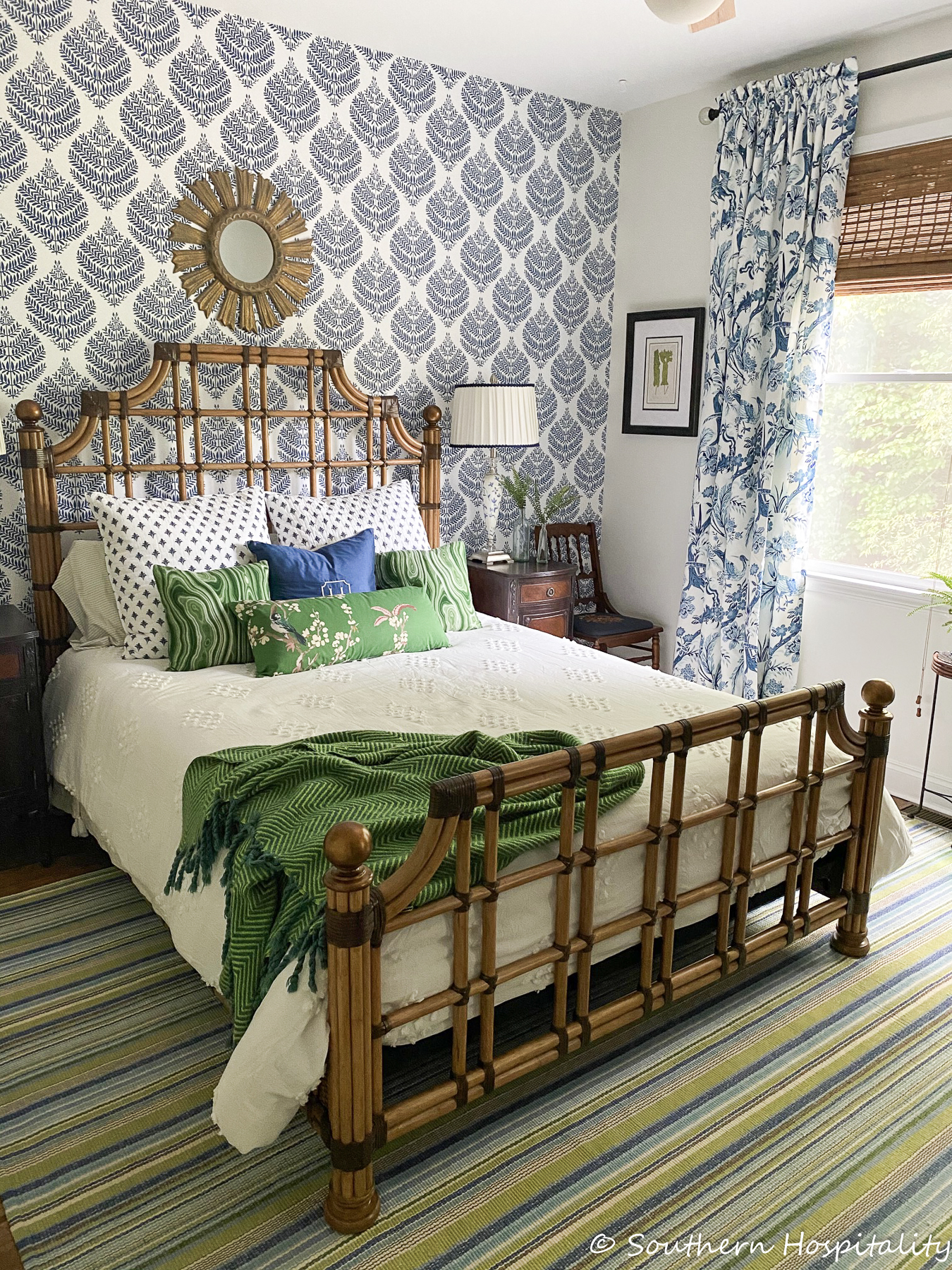 Here they are, the new floral drapes (affiliate link) I found online at Overstock. You can click that link for all the details. I got the longer 108″ length and they are a little long for my windows, but I'm going to eventually hem them with hemming tape. The ceilings in here are 9′, so the shortest ones would have been too short. They also have a 120″ length. Some people like the puddled look, but I like for them to skim the floor. I haven't hemmed them yet but I will soon.
So in case you are looking for blue and white drapes too, I wanted to share with all of you.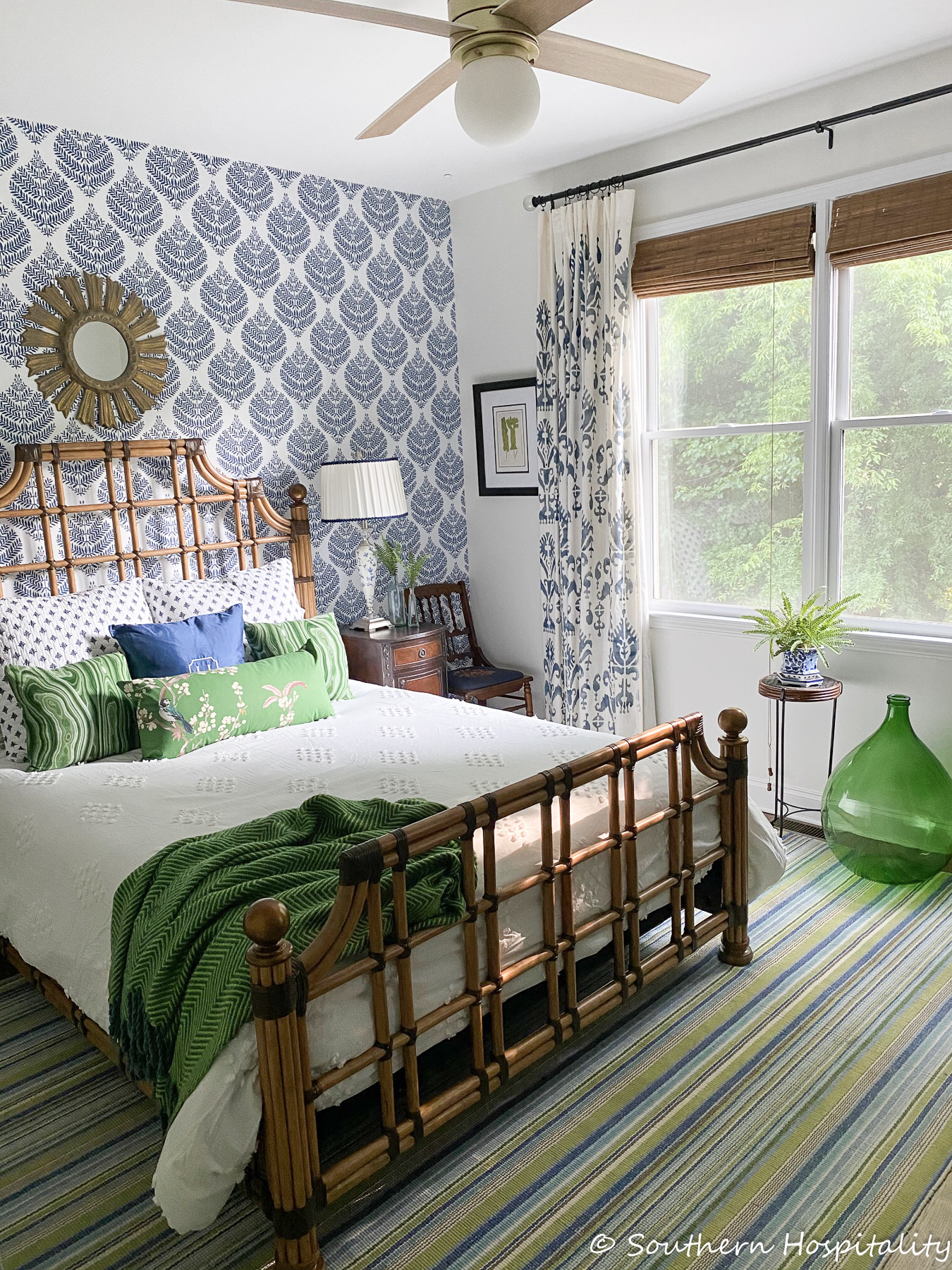 Here's a look at the old drapes I had in there when I did the guest room reveal post a few weeks ago. These are Ikea drapes that I stencilled about 9 years ago when I moved in my previous house. So they have served me well all these years and were so inexpensive. I had two pair of these hung together and they had slightly yellowed over time, so I wasn't sad about taking them down. I used them because I had them.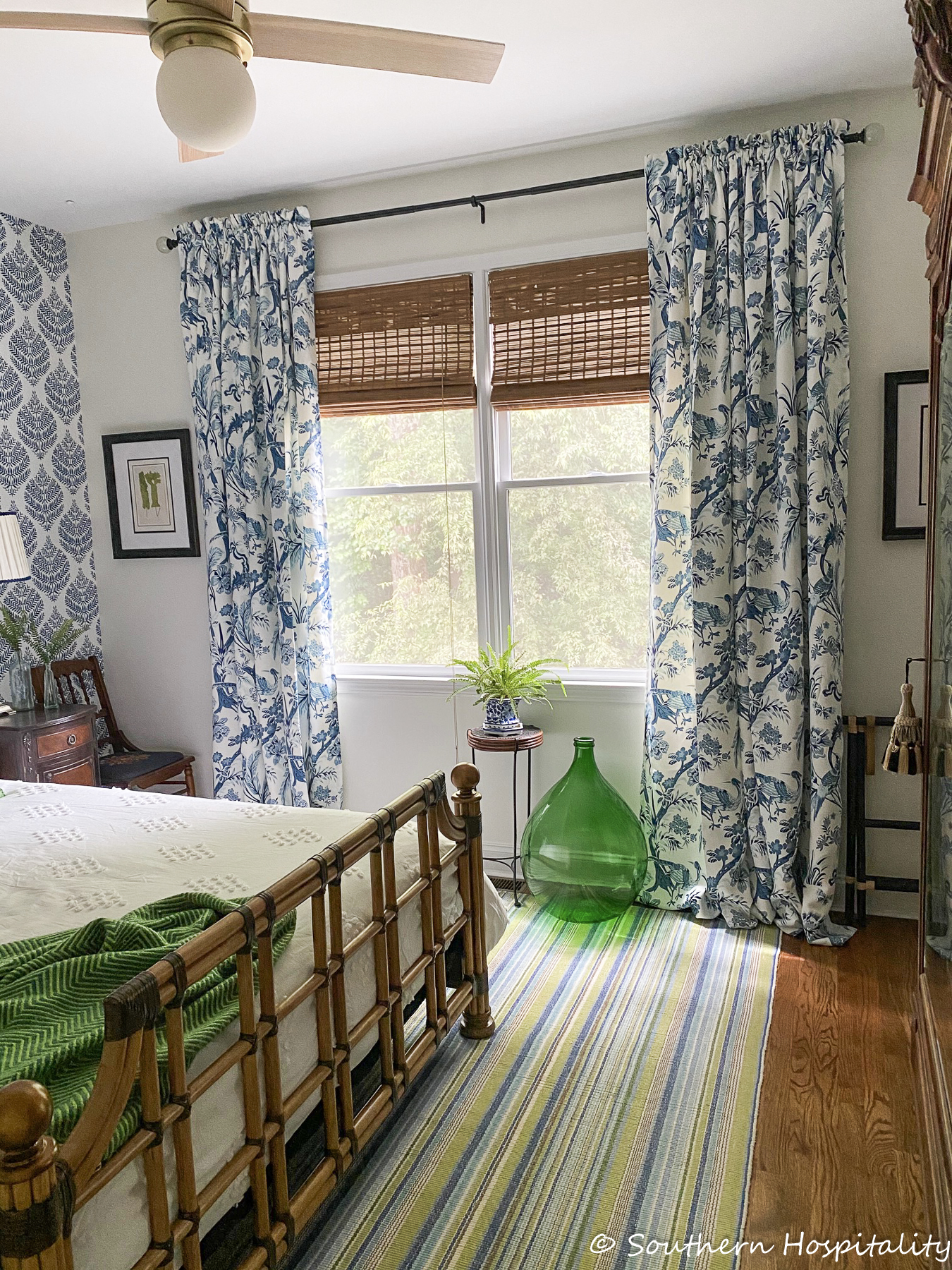 Once I saw these drapes, I knew I wanted to change them out for a fresher look. At $55 a pair, I bought 2 pair of them so I could stack them together double width for a more lush look. I shirred them on the rod for an easy casual look.
These floral drapes just add a fresh vibe to my grandmillennial guest room and I absolutely love them. The bold floral with birds is just my style.
You can see all the shades of blue in these drapes and they are just gorgeous. They're also 100% polyester which I wasn't sure about, but the feel is nice for drapes. They hang nicely and are thicker than i thought they'd be for ready made drapes.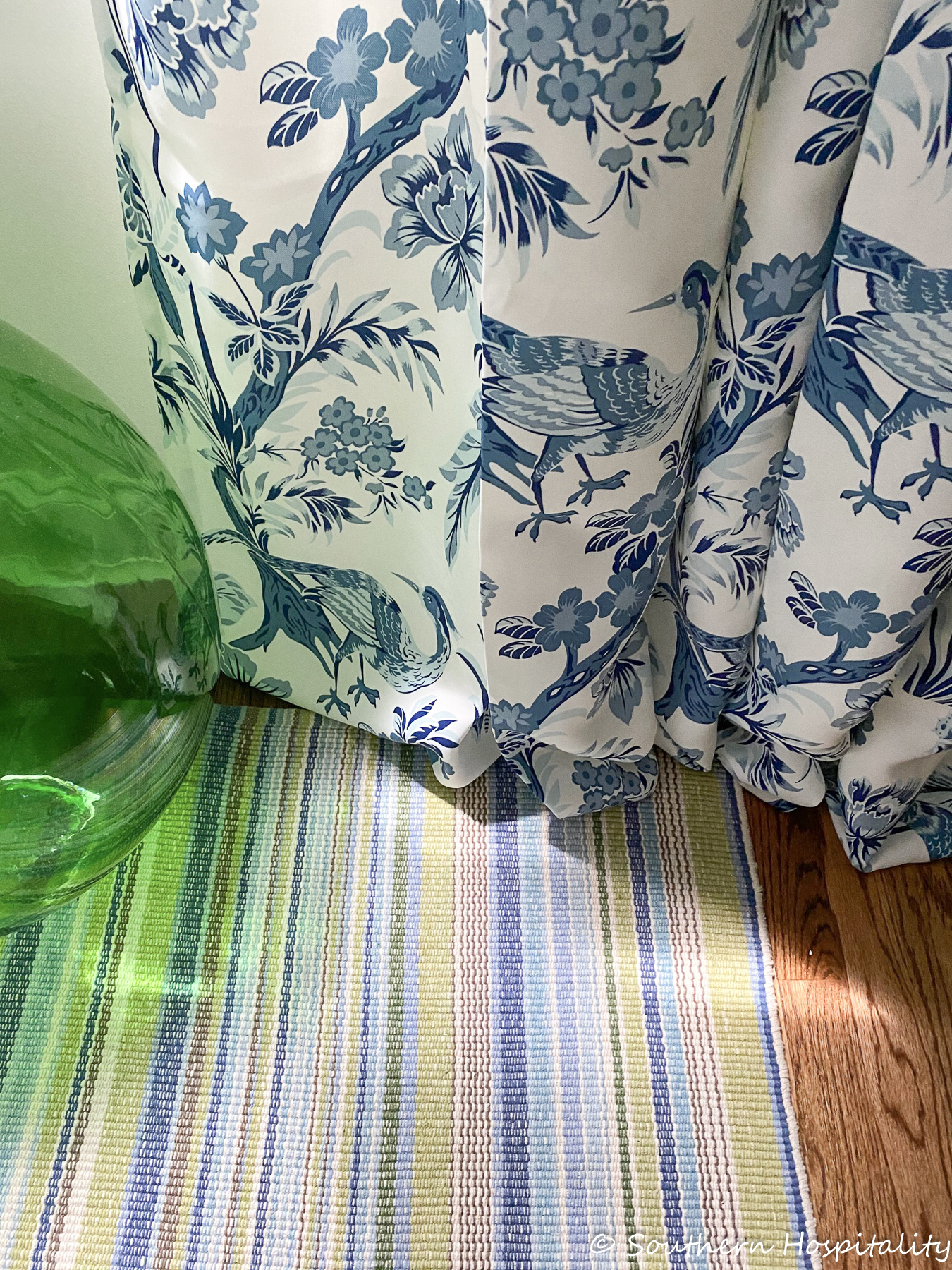 They look really great with my striped Dash and Albert rug. You can find all the sources in that reveal post if you want to know more about the room particulars.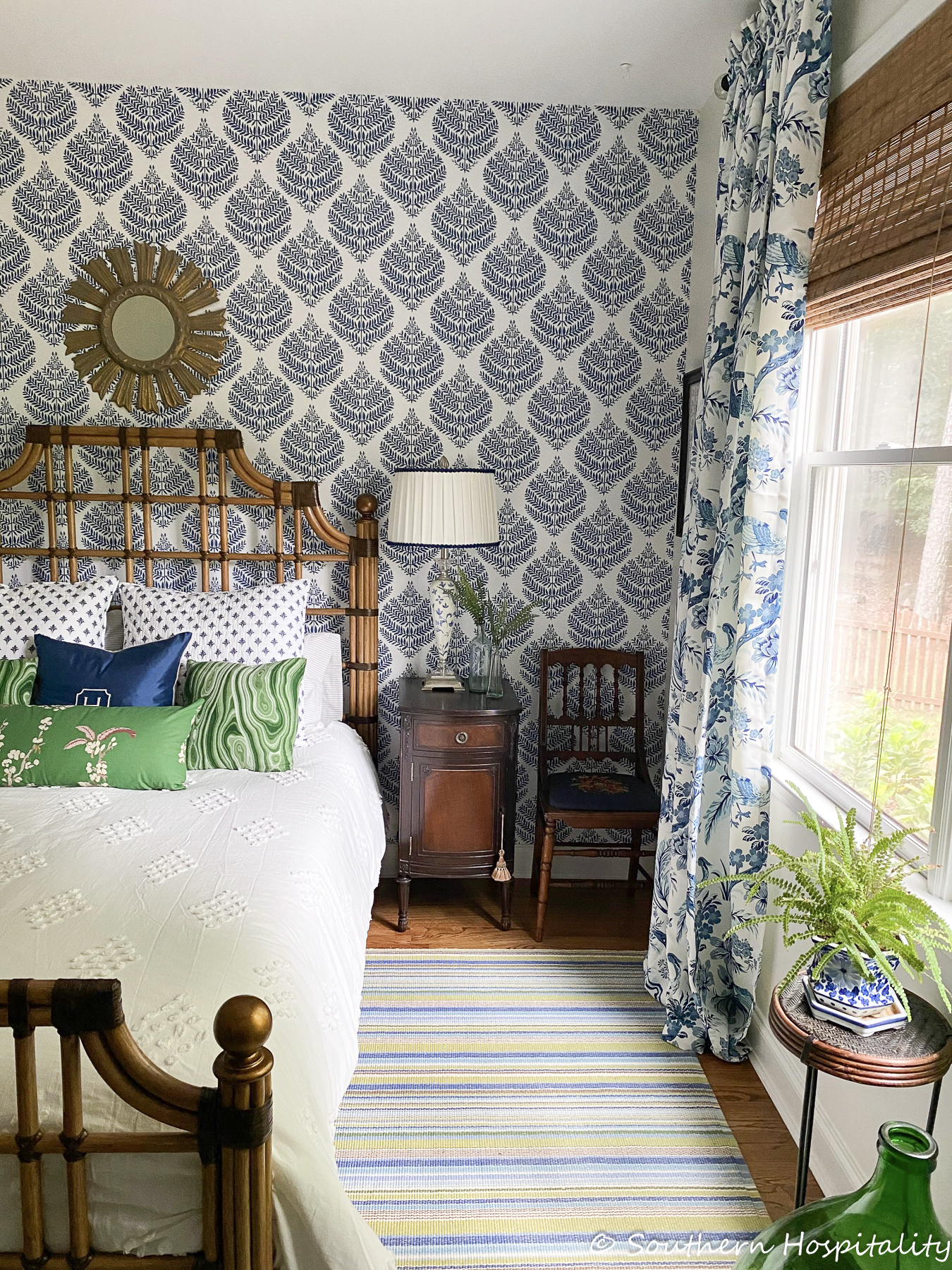 I'm just tickled blue with my new drapes!
They take the room to another level and I'm so glad I went ahead and changed them out. Even if it's just me seeing them most of the time, I love this room so much. It's one of my favorite rooms in our house now.
Thanks for stopping by to take a peek at the new drapes! They're such a great deal, I thought some of you might like them too.
Don't Miss a Post, join my list!