Awhile back I shared my plans for a guest room refresh, by adding new wallpaper, painting the walls, a new Queen size bed and new bedding and I'm happy to say it's done! I could not be happier with how it turned out. I call it a Grandmillennial guest bedroom now and it just oozes Palm Beach charm with all the blue, green and white shades. I'm so glad I took the plunge and bought a new bed. The whole room feels so much better with a smaller bed. This whole makeover has been so much fun for me and I adore this room so much more now. I hope this post shows you that you don't have to completely start over in a space. Most of us can't afford to do that, but just by changing out key elements and freshening up a bed, you can get a whole new look. I still loved many things in this room, so there was no need to start over.
I also brought back my beautiful French armoire that was in my old house, since that house just sold and all the furniture I had stored there had to be dealt with and I sold most of it. Selling these days on Facebook Marketplace is very easy and that's how I get rid of most of my furniture and it's a great way to score deals if you're looking for something. I sold my pretty chest of drawers that was in the room and opted to keep the French armoire instead, since both pieces wouldn't fit. I'm so glad I kept the French piece, it's still so pretty to me.
I didn't get my bed from shopping Facebook, but I ordered it online (it was a splurge, but I'm so glad I did it!) and absolutely love it. It's such a beautiful bed and just my style. Mark likes it too and the Queen size fits so much better in there. First I painted 3 walls and then added one feature wall of wallpaper behind the bed and it really makes the bed pop. I used much of what I already had, including the nightstands, armoire, lamps, drapes, and rug and so the bed and bedding are really the only new things I bought.
Affiliate links used below, see my disclosure statement here. 
I had a little help from a few brands and I'll share that with you too. It's always nice to get to work with a brand on a refresh. First I painted 3 walls in Alabaster, a pretty and warm shade of white from Sherwin Williams. It immediately brightened up the space. I also wallpapered one wall as an accent wall in Hygge Fern from Roommates Decor. I'll do a post about applying the peel and stick wallpaper later on, but it wasn't as hard as I thought it might be. There are several colors in this wallpaper to choose from and I had a hard time deciding between the blue and green, but I'm so happy with the blue and white. I'm so grateful that they sent me this peel and stick wallpaper, it really makes the space. I knew the bamboo bed would look great in here and I was right! I first saw this bed at the HGTV Dream Home last year and it was love at first sight. I'm so glad I bought it! You can find the Tommy Bahama bed here at Bellacor, where I ordered.(affiliate link)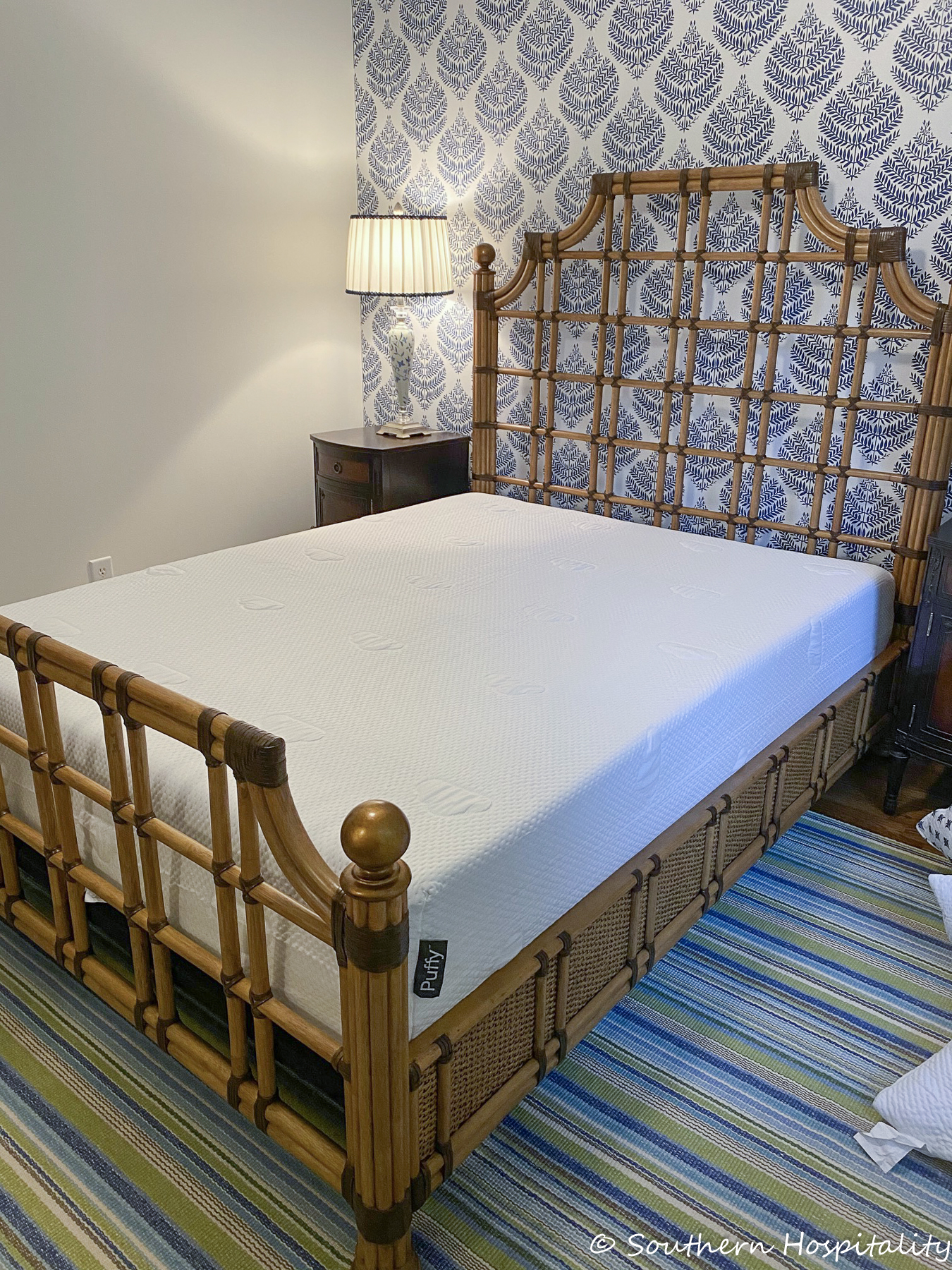 First up was the new mattress, the Puffy Lux Hybrid mattress. I needed a new one for this Queen bed and in perfect timing, Puffy mattresses reached out and wanted to send me a mattress which was so nice! We unboxed it and I did a video on Facebook, which you can watch. It feels like a cloud, I can tell you that! Very soft and comfy and they sent pillows too, which is a nice bonus. I ended up getting a bunkie board for the mattress since a regular box spring was way too high. New one for me, the bunkie board is only 1 to 2″ tall and it's under the mattress for support.
Another brand who I partnered with is John Robshaw and they sent me the most beautiful blanket with tassels and this set of sheets. I'm waiting for the rest of the sheet set to come in, but I wanted to go ahead and mention them. They have some beautiful linens on their site, so please check them out, it's all so luxurious.
Here's a look at the room! It just makes me smile so big when I go in there. It has such a nice feel and look to me now. I'm so glad I decided to do this refresh.
I used a mirror I already had over the headboard as well as the Ballard Designs canvas on the big wall.
I had fun shopping at Homegoods for this bedding and found the 2 Euro shams and the comforter there. I love how the shams mimic the look of the wallpaper. I already had the middle 3 pillows and reused those. I had the green malachite pillows on my old screened porch before I moved and bought the middle blue pillow at Ballard Designs outlet. The green pillow in front was gifted from The Inside, another fun shop that I've recently discovered. They have custom made furniture and pillows with lots of beautiful fabrics to choose from. I love this pop of green floral pillow with the rest of the bedding.
The comforter is from Homegoods, Nicole Miller brand and the shams are from Homegoods too.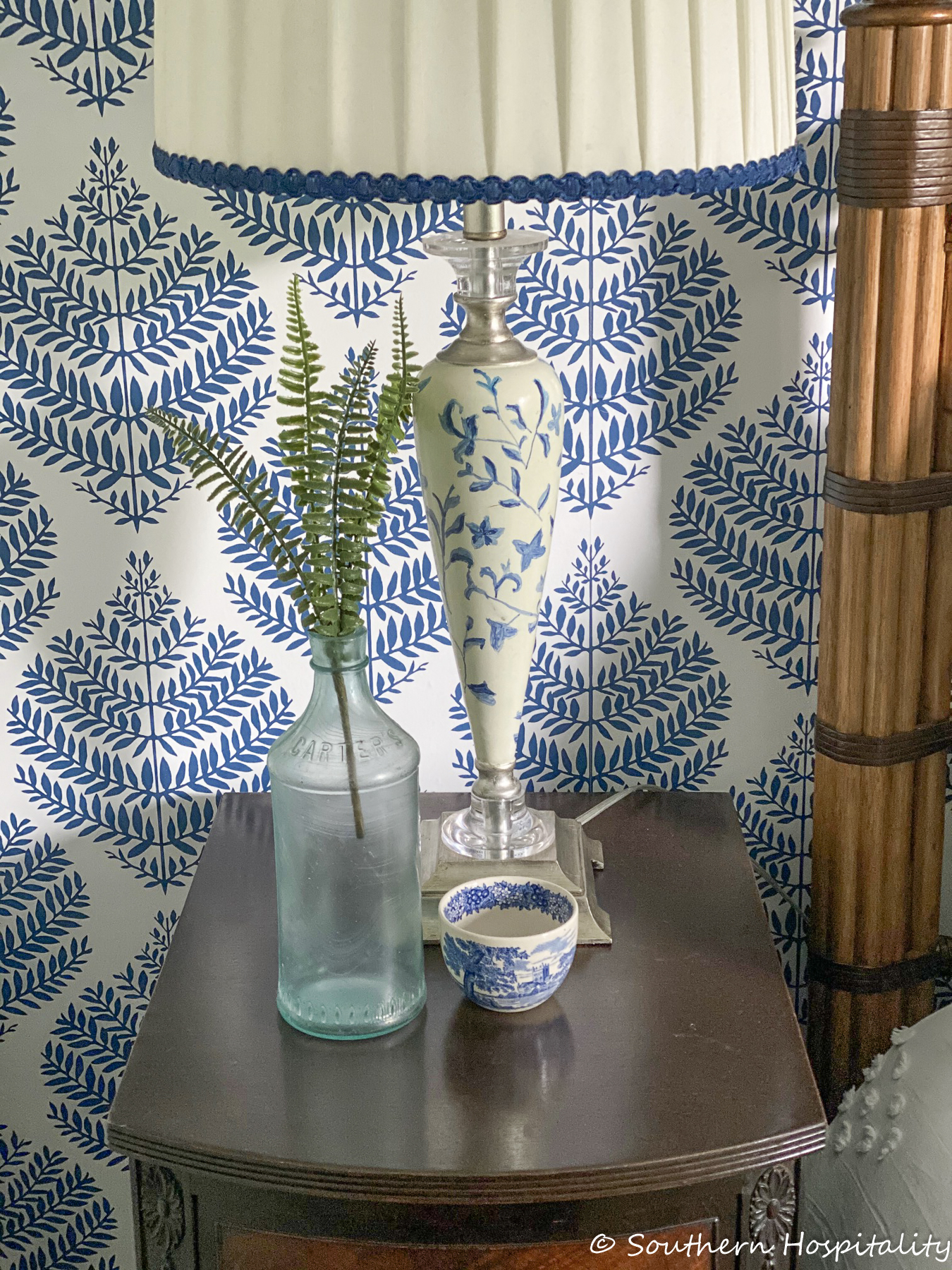 I kept the two blue and white lamps I already had, I didn't see a need to replace them. They still work in here. I added some simple accessories on the nightstands and kept things minimal in here.
Another look at the pillows. I just love the raised diamond pattern on the comforter.
I added a plant stand and fern in the window.
My vintage nightstands blend in just fine with the new bed. The bed is gorgeous and has lots of shades of brown in it as well as so much texture.
Alabaster on the walls looks so good and my old French armoire does too. I've had this piece for about 25 years and still love it, especially with the new bed.
I love that it has a full mirror on the front too. I'm sure we will have a few guests in this room especially with my family coming to visit at times.
I picked up this pretty oil painting on our recent trip to Ocean Springs, MS and love it. It's a local artist who lives there now, but is from Atlanta and I bought this gold plein air frame for it on Amazon. I just love it! Landscapes are my fave!
Closer look at the bed, it's a work of art all by itself. The straps are darker and look so good with the bamboo.
I love the shape of it.
Left side and a look at the Dash and Albert Fisher rug which I had in my old bedroom and kept. A few people told me on Instagram that they don't like this rug in here, but I have to disagree. I love it, the colors are perfect with all I'm using and I love a mix of graphic patterns and stripes so it's a great backdrop to me. Don't tell me if you don't like it, I'm keeping it anyway! The cotton rug is casual and colorful, just perfect for this bedroom in my book.
I've had these vintage nightstands for over 20 years as well. They are petite and work well with the bed, so I kept them too and so glad I did. They are still so useful and pretty.
Right side with nightstand and Mark's grandmother's chair. He loves this chair and it fits nicely in this corner. It's not that sturdy so people can't sit on it, but it can be used to place a bag. I love all the additional green hues I added to the room which ties it all together.
There's so much more floor space in here now with the Queen bed and I like it so much better. That green bottle is vintage Italian and I love the color in here too.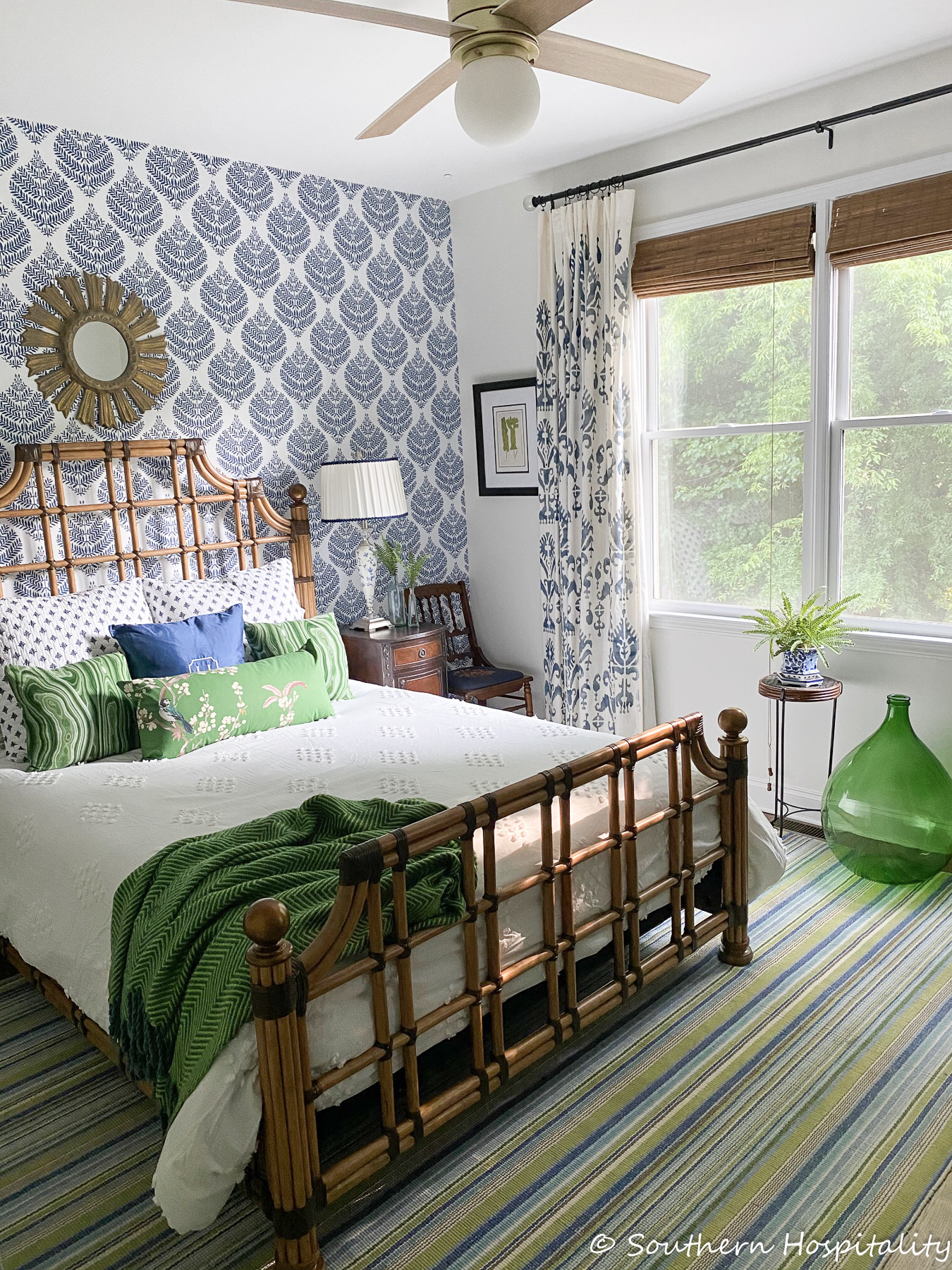 One more look at the whole room and the new fan. I got a sleeker more modern Hunter fan in here and love it too, it really elevates the space. As much as I love a pretty light fixture, we need our fans in the South! Can't live without them in summer.
And more angles of the bed. I adore this comforter and glad I found it at Homegoods. I can usually count on them for some pretty linens when I need them.
Those drapes are from my old house too and I stencilled this Ikat stencil on them several years ago. They worked well in here so I reused 2 pairs of these drapes on this window. The drapes are from Ikea and I did the stencil. Those green botanicals I've had for several years and used them at one time in the dining room.
This throw was on my old screened porch when I did a revamp a few years ago. I still love all these colors together and glad I had a room to keep them all. That clock on top of the armoire is from Mark's grandparents. We put it out of the way up there and I don't mind it on top.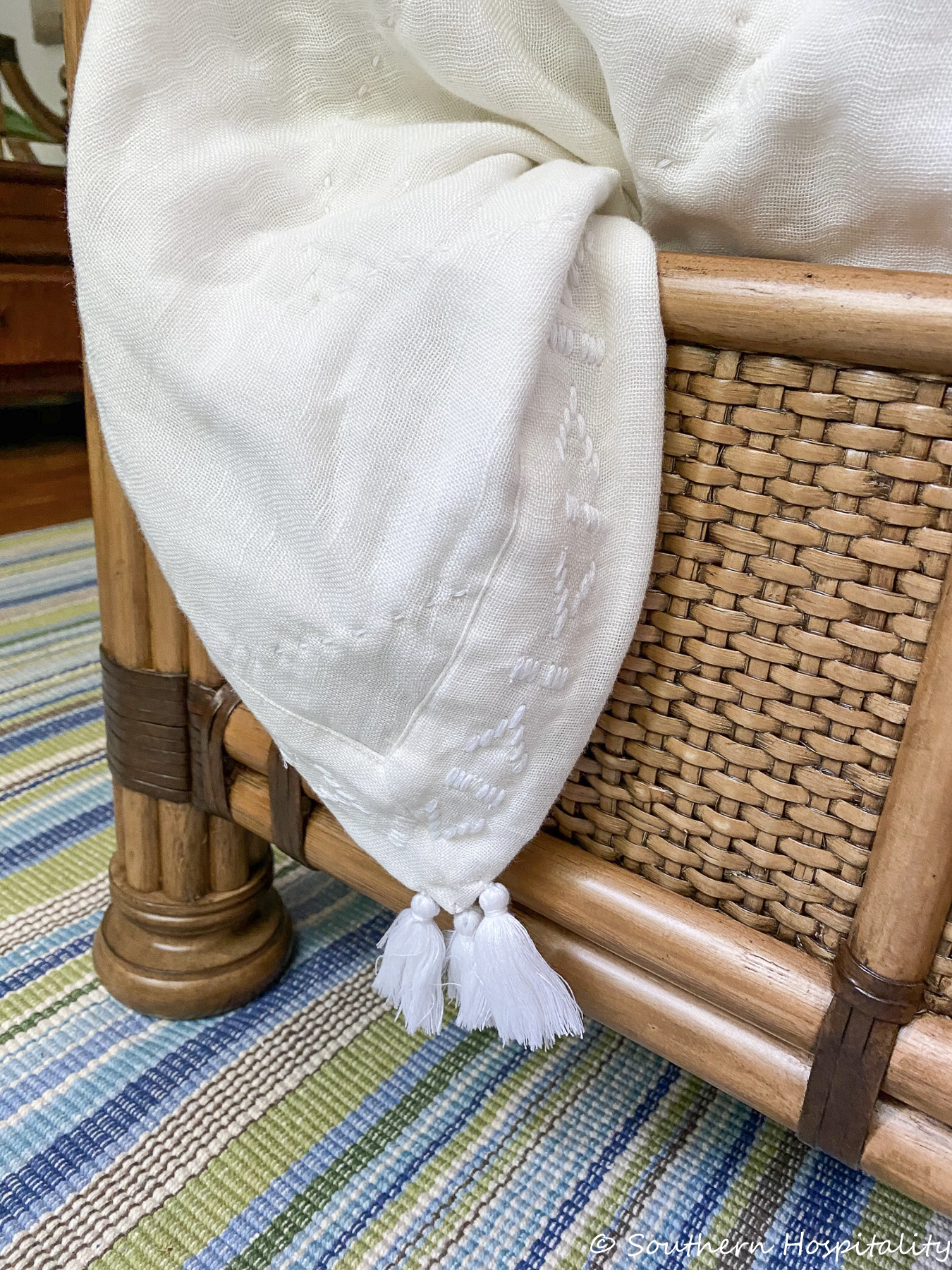 Here's a look at the John Robshaw Nissita white blanket. It's a beauty! I'm so glad I got to partner with them for some of the bedding. This blanket will be such a nice addition to the guest room bed as well as the sheets.
And that's a whole look of the bedroom refresh. I'm head over heels in love with it and as I said, the bed is the star and all the bedding came together so well. I hope you like it too! I can't wait until I get to have a guest in here, maybe my family first. It's so cozy that I think Mark and I will have to sleep in here one night and try it out!
A few weeks after I completed this guest room, I found the perfect drapes that I couldn't pass up. Stop over to this post to see the beautiful floral drapes with birds that were added to completely finish off the room. The drapes I stencilled were fine, but these take it to another level. 
Here are the things I can link again (affiliates links used). Much of it I can't link, but if you're interested in the new bed and other things, here you go!

Don't Miss a Post, join my list!