Hey, friends!  The holiday weekend is fast approaching and even though we aren't going out of town on a fun trip, I'm looking forward to the 3 day weekend with Mark having an extra day off.  I love it when he's home and we can work on things together. We do have a few projects coming up that I'll be sharing with you all, one being we will be adding a glass tile backsplash to his mom's kitchen.
Speaking of DIY, a few weeks ago, I was invited to Home Depot's New Homeowner's day (May 1st) along with some other bloggers, where we learned more about DIY and how to accomplish things around the house in an efficient manner.  It was a fun event so I'm sharing that with you today.  I've worked with Home Depot as part of the Haven Conference for 7 years now and they are wonderful folks!
We were treated to a delicious dinner the night before at Canoe Restaurant in Vinings, which if you live here, you know what a great restaurant it is.  The next day we met at Home Depot headquarters in Vinings for a fun tour of some of their facility.  I had been to headquarters several times, but not in this capacity and it was really neat to see it in person.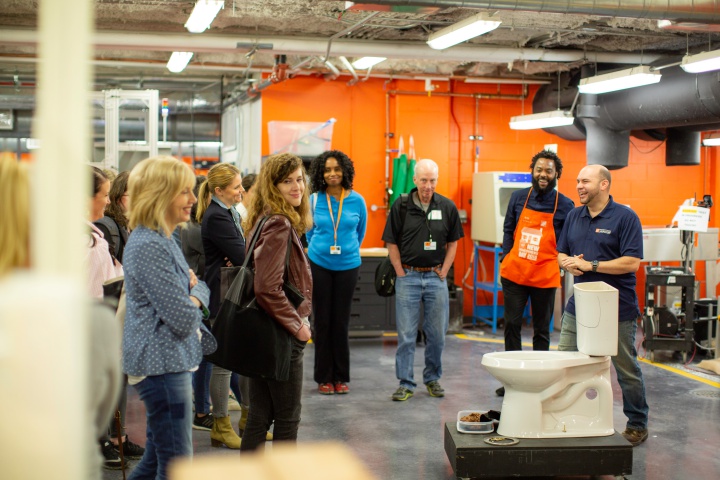 Their test lab was really interesting, such as this one for testing out a toilet for hundreds of flushes to see how each performs over time.  I was pleased to hear that they test out so many of their major products before they put them on the shelves for consumers to buy.  We saw many machines testing out so many products including outdoor furniture being exposed to weather elements that speed up time to see how they weather outdoors over years of exposure.
We then headed down to Pinewood Studios south of Atlanta for a day of DIY and interaction with Home Depot and Chip Wade, a TV producer, HGTV personality, and all around celebrity craftsman!
I've met Chip before and he's such a talented guy, it was fun to spend the day with him and everyone else. Pinewood Studios is a film studio which supports the growing movie industry in Georgia. It's a huge place with lots of room to spread out.
We were divided into 4 teams and we each had a space to create.  My team had the dining room.
So it was basically a big white room challenge.  We got to pick paint colors for the top of the wainscot and the flooring was already in progress and we got to try our hand at installing that as well.
We also tried out products from Wagner, like their sprayers and paint rollers, making this job quick and easy.  We learned some tips along the way too from Chip and the Home Depot folks.
The ideal split between prepping and painting is 30 percent plan/prep and 70 percent
painting.  Create a paint legend for your house to help you keep track of the colors.
Definitely a good idea to keep your paint colors in your house handy for future reference. I always think I will remember this infomation when I look at my old paint cans, but down the road, we tend to forget.
Here's the Wagner sprayer we used, made quick work of that wall.
More tips:  10:10 is the ideal styling for decorative, non-functional clocks with hands.
At 10:10, the hands denote happiness because they resemble a smiley face and
have relative symmetry. This styling became mainstream in the 1920s when
advertisers and watchmakers moved away from 8:20. Why? Because it looked
like a sad, frowning face.
That's an interesting tidbit!  I was hanging up a hanger for the mirror in our space.
We all got to try out installing this vinyl plank flooring which is floating and doesn't require glue. They lock into place and can be easily cut with a cutting tool for the ends.  We learned how to stagger the seams and how to mix up the colors and textures as the flooring is installed.  It's a pretty easy DIY project, but I'm not sure my knees and back could handle a whole room!
When it comes to flooring, don't ask, "What plank flooring holds up

best to kids and
dogs?" You should ask, "Wha

t

disguises

wear the best" Kids, pets and wear-and-tear are
a part of life!
Here's our finished dining room space. They had several pieces of furniture to choose from and we all got to chime in on how we wanted our space to look.  Accessories finished things off. It was fun to put it all together and envision a pretty dining room space.
We all thought our spaces turned out cute for the amount of time spent on them.
Fun to see a room come together in less than 2 hours!
It was a very interesting and informative day centered around Home Depot, their vendors, and the DIY community, of which I'm happy to be a part.
I also connected with a few local bloggers and Katie with The Rustic Boxwood was one of them. She's so sweet and down to earth and we had a great time chatting and it was great getting to know her more. She shared a post about the day too, so go and take a peek at her post!
I thought this study was interesting, so read along to see how you fit into the DIY mindset in America.
The Home Depot commissioned a study (by Wakefield Research) of U.S. new homeowners ages 25+, who purchased a home in the past 12 months and found:
Not surprisingly, most Americans feel the price of completing a project is the biggest factor in determining whether to take on a new project after purchasing their new home (62 percent).
Midwesterners are particularly price-conscious about their projects especially when compared to Southerners (70 percent vs. 59 percent, respectively).
City dwellers want to take on fixer-uppers with big remodels more than people living in the suburbs and in rural settings combined (43 percent vs. 19 and 23 percent).
When it comes to which area of the home to tackle first, 33 percent of Americans say they are most likely to renovate the kitchen first, followed by the bathroom (27 percent).
Midwesterners are more likely than West-coasters to start with the bathroom (31 percent vs. 24 percent). Northeasterners are more likely than Southerners to hit the ground running with the kitchen (37 percent vs. 31 percent).
More than 57 percent of Americans feel confident they could remodel an entire room in their new home completely by themselves.
Millennials are extremely confident when it comes to tackling an entire room remodel, with 64 percent saying they could complete the project without any help from a professional.
Americans' biggest motivations for taking on projects in their new homes are to make it feel more like "home" (42 percent) and to add more value or upgrade (32 percent).
Baby Boomers (44 percent) renovate with the goal of adding value and upgrading, more so than Millennials (35 percent) and Gen Xers (34 percent).
Nearly a third (32 percent) of those surveyed want their home to look updated without undergoing major renovations; 28 percent want to start with simple changes; 26 percent want to buy a fixer-upper and make big changes; and 14 percent want to make minimal changes without taking on the stress of renovations.
What do you think of those findings?
Mark and I definitely take price and budget into consideration when we are thinking about a project at our house. I definitely agree that kitchens and bathrooms are the top areas to renovate in a home.
As a Baby Boomer, I also agree that we do have the goal of adding value and upgrading our homes when it comes to renovation projects.  It's also for our own comfort and asthetic as well!
It did surprise me that Millennials say they are confident they could tackle an entire room remodel without help from a professional, but maybe this age group is more industrious than I give them credit for.
What do you think?
Are you and your family DIYer's or do you mostly leave it to the pros?  Mark and I are a mix and the older we get, we definitely know which projects to let the professionals handle.  But, I'm proud to be a DIYer and to have accomplished so many home projects with my husband, Mark and especially with my daddy in my old house.  We saved so much money by DIYing the way we did and I'm very grateful for those sweet memories and a house to show for it! 
SaveSave
SaveSave
SaveSave
Don't Miss a Post, join my list!