So, the little mama, Lauren, is in full fledged nesting mode and since we painted stripes in the nursery, she has been busy getting that room ready for little baby girl, Parker.  Knowing that the baby is a girl is very helpful in planning the nursery and so when that was determined, she began pondering her color scheme.  Lauren is a pretty traditional girl and loves things that I wouldn't normally expect her to love as a young early 30's gal, but she's an old soul in a lot of ways and decorating is one of them.  She decided to make drapes for the nursery and we began looking at fabrics online.  I have a fabric contact that was one of our Haven sponsors this year and this company is wonderful to work with and they have beautiful fabrics, all from their online store.  In fact, it's called Online Fabric Store and you can find so many delicious and beautiful fabrics on their website.
I began talking with Abbey at Online Fabric Store about helping my niece do a project in her nursery, namely drapes.  So, we worked out a deal and Lauren got some fabric to sew with and they are sponsoring this post so that I can share it with all my readers.  They really do have some fabulous fabrics and great prices too, so I have no qualms about sending you over there to look around.  They are a super online source for fabric.
This Covington pink ticking will be an accent fabric for pillows. 
After browsing and the three of us (me, Lauren, and her mom) chatting back and forth by text, she decided on a beautiful toile called Central Park by P. Kauffman fabrics.  With those khaki and white stripes, this toile is a perfect complement to the room, giving it a traditional feel along with the fun and whimsy of striped walls.
Lauren got in the fabric and started sewing on them, keeping us posted along the way. I'm so proud of her for tackling these drapes all on her own! She has always loved sewing and in college bought herself a fancy monogram machine and has been whipping out monograms for the family for several years now, so sewing has been something she's been interested in.
Oh, just a little sidenote. If you notice in the above pic, Lauren already has their Christmas tree up.  Yep, the girl loves Christmas, just like her mama.  She wanted to get a jump on things this year.

Lauren used a tutorial she found online at Design Sponge to make these drapes and she said it was very easy to follow and she would highly recommend it if you want to try pinch pleated drapes too.
She must have gotten that love from her Nana, because it seems to have skipped a generation and her mom and I don't love sewing much at all.  I have a sewing machine that I bought at a yardsale, but about the only thing I've sewed is pillows.  Oh well!  At least someone in the family can carry on the sewing tradition.
Lauren finished up all four panels and got them hung just before she comes home for Thanksgiving this weekend, so I'm so happy she has them finished.  They turned out really cute and when she gets the room finished with more accessories and baby things, it will definitely come alive.
If you missed the post on painting stripes in the nursery, you can check it out at that link.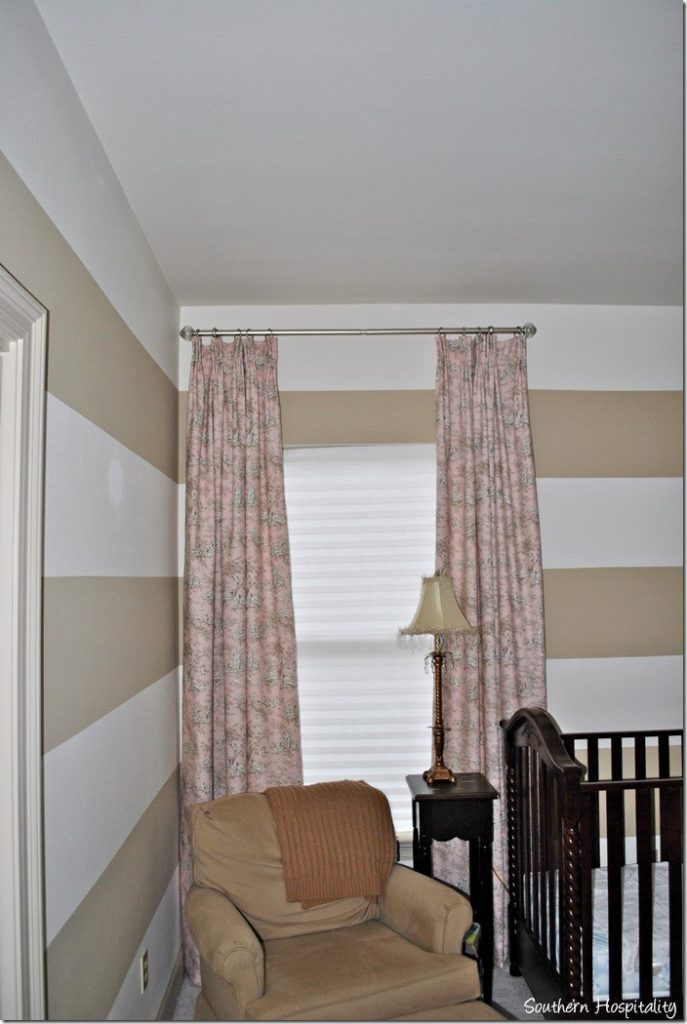 She did a very nice job with them and I'm so proud of her sewing abilities.  The toile has a bit of brown/tan in there and that picks up the khaki walls very nicely.
They look really pretty in here!
She even did some pretty pinch pleats and hung them on rings.
This nursery is well on its way to welcoming the new baby girl.  I can't wait to see which bedding she picks out and how the rest of the room will evolve.  Stickers, the dog, looks like she approves of the progress!
Exciting Giveaway from Online Fabric Store:  $150 worth of fabric
Online Fabric Store wants to make someone else's Christmas happy this Holiday season with a project wish come true, so if you'd like to win $150 worth of fabric for yourself, sign up with Rafflecopter below and leave a comment telling me which room in your house needs a fabric update!  I can't wait for one of you to win this prize too and you can shop for some beautiful fabric online too.  These girls are so great to work with and I know you won't have any problem finding a fabric you love too. 
Leaving a comment is mandatory, but there are 2 other options to enter too!
I've got my eye on a few fabrics too and hope to do a faux Roman shade in my kitchen in the spring.  Online Fabric Store has lots of fabulous choices in fabrics and their prices are really great too!
Note:  This is a sponsored post from Online Fabric Store, but all the ideas, opinions and projects are mine and Lauren's.
a Rafflecopter giveaway

Don't Miss a Post, join my list!