While in New Orleans, I couldn't pass up the opportunity to enjoy some time with my niece, Lauren.  She's been living in New Orleans over 2 years now. Can't believe it's been 2 years since she got married at the most beautiful wedding of 2011, but time does indeed fly.  So, when I found out I was heading to New Orleans, I let her know when I'd be there and she arranged to meet up with me. She's a practicing lawyer down there now, after passing the Louisiana bar, which I hear is no small feat.  She's a smart one, that girl.
We were checked into the Royal Sonesta, right on Bourbon Street in the heart of the French Quarter and it was a beautiful place to stay.
I got settled in and ready to do a little sight seeing with Lauren that first day.
The lobby is really pretty.
Snapping a quick pic in my hotel bathroom, I was ready to get out and about in New Orleans.  I've been here a few times before, so not my first trip.
Lauren and I took a little walking trip to lunch.  New Orleans definitely has a flavor all its own.
We passed some pretty buildings on the way, like the Supreme Court.
The French Quarter has such unique architecture and makes you feel like you're in Europe.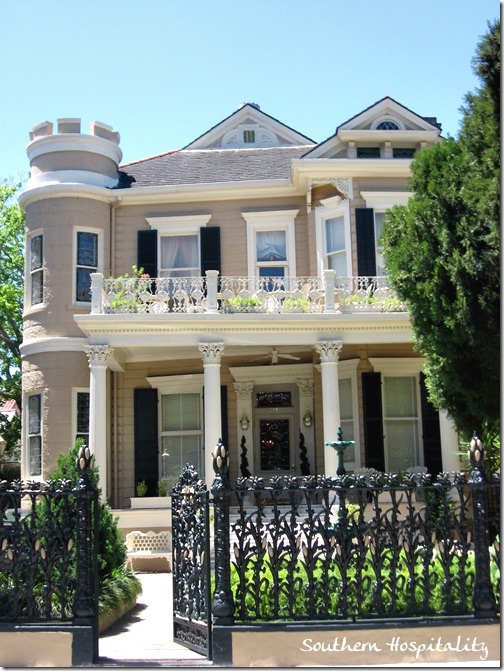 Pretty homes everywhere.
We took a walk a few blocks away to a restaurant that Lauren loves, called August.  You know how there are famous chefs in every city?  Well, John Besh is one of the best in New Orleans and his restaurant did not disappoint.  Every morsel was delicious.
When this French bread came out, I almost cried. It was SO good.  I declared it to be the best French bread I've ever put in my mouth.
They also brought us these cute little fluffy egg cups, filled with a creamy egg salad.
Strawberry salad was superb.  My fish entrée was so good, but the pic I took was blurry.
Suffice it to say, I cleaned my plate.
And saved room for dessert.  The cool thing about this restaurant is they offer a 3 course lunch for the same price as the year, so for $20.13 we got all this gourmet food that was expertly prepared.  I loved it all!  I really, really enjoy good food.
We were just down the street from Lauren and Philip's loft, so we took time to go by and see their place again, since I haven't been back since they got married.  Check out the snowcone art on the wall.  Louisiana is known for their fantastic snowcones.
Lauren's dog, Stickers, was happy to see me too, even though you can't tell in this pic, she sat in my lap for a bit.  She is getting to be a butterball.
I love their cute loft, but they are now looking at buying a house a little further out.  They have no more room to expand in this space.
New Orleans is a walking city in the French Quarter and there is plenty to see.
Lauren and I got to meet up twice and she met me for breakfast the 2nd morning before I left for home.
So many fun sights to see in this city.
Riverwalk
Jackson Square
Making fresh pralines
And Café Du Monde, one of my fave stops in New Orleans.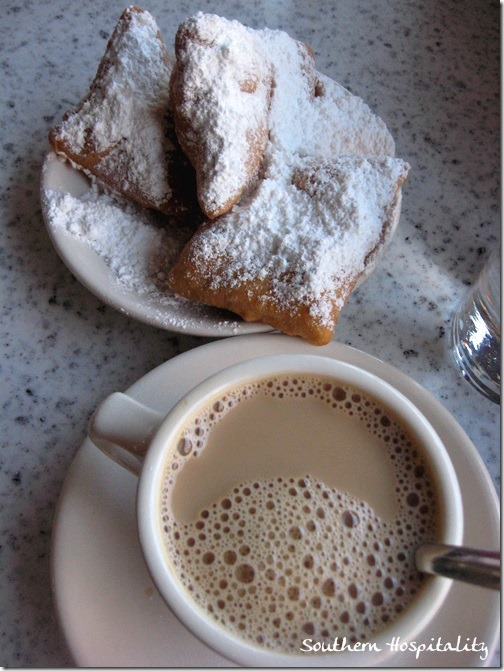 I can't leave with out beignets and coffee. They are to die for!
Can you believe Lauren doesn't like beignets?  I can't either! Oh, well, we will keep her anyway.
Don't Miss a Post, join my list!