Thrifty Treasures is back!
Can I get a big YIPPEE!  I can't wait to see all the finds out there and I'm glad y'all are excited about starting this party back again.
I got a couple of things on  Saturday, but I'm going to showcase my friend, Debbie's recent find first.  She and her hubby have a new cute little condo in Gulf Shores and Debbie's been working hard to get it spruced up.  So, she picked up 3 ladderback chairs at a flea market out near her in Wilsonville for $35 for the trio.  The above pic is not hers, but this is similar to what they looked like in their BEFORE state.
Debbie (on the left) and her daughter, Tiffany, have been really busy with projects lately, so they got busy with a pretty shade of aqua on these chairs and now they are beach-worthy for sure. 
Debbie said they look perfect at the beachhouse and hopefully, I'll be seeing them in person really soon.  A yummy shade of blue-green is perfect for sprucing up some vintage ladderback chairs, don't you think?
I got Debbie and Tiffany up early on Saturday and we hit a few sales in our area. Here are the 3 things I found:
A cute little old bird to add to my white dish collection in the dining room. He was only 25 cents, so that was a no-brainer.
$1 for this nice old hammer, I can always use an extra of these.
I spotted this for $2 and wasn't sure what it was, but I knew what I could do with it.  I've had problems with moisture getting underneath my clay planter in the foyer that holds my corn plant.
Now, it's up off the floor and moisture shouldn't be a problem anymore.  That might be what it was intended for, not sure but it was the  perfect solution.
So, now it's YOUR turn!  What have YOU found lately.  Add your link to the Linky list and remember our guidelines for the party:
Add your permalink to the link list, which is the actual post that you did for this party, NOT your general blog url.  To get the actual post, after you publish the post, just click on the title and THAT will be your party post url.  Last year, I can't tell you how many links I had to fix.  This year I might get mean & delete them, so PLEASE try to get the correct url in the first time!  🙂
Please add my button to your post or blog OR at least link back to this post in your post. That's all I ask. It's common courtesy to link back to the person having the party, so that all of your readers can find it too.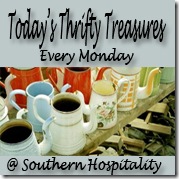 Thanks and let's have some fun this year with Monday's Thrifty Treasures party!
This post is sponsored by Gina at The Shabby Chic Cottage AND Gina has graciously offered a giveaway from her adorable Etsy shop. Click over to the giveaway page for all the details. You MUST leave your comment there to be eligible to win.
Gina offers free shipping on all her products too (great deal).  And if you purchase anything from her shop and mention "Rhoda" in the comments to seller when you check out, you'll get a "free gift with purchase".  How cool is that?!
Let's get the party started!
---
---
Get your free Mcklinky here…
Don't Miss a Post, join my list!