Just a few months after I moved in, in October 2012, I  had an open house and many of you came.  It was such a fun time of sharing the house post-renovations and getting to show off the hard work that my dad and I accomplished (along with some contractors along the way).  It was truly a wonderful moment to have many of my readers and fellow blog friends stop by and visit.
Since so much had been done since that time, I decided to do it again.  Over 100 of you signed up and it was a great turnout.  I want to apologize to those of you who did not get my email with the address.  I used Eventbrite to sign up, so I could keep up with who was coming and know how to plan.  Five days before the Open House, I sent out a personal email via Eventbrite to all who had signed up.  It said that 114 emails went out, so I thought things were good to go.  I began to get emails toward the end of the week and a few comments from folks who had signed up, but didn't get my email with the address.  Eventbrite then sent out an automated reminder email 48 hours before with only my city listed on there, since that is all I had on the original form.  The personal email should have reached everyone, but unfortunately it did not.  I still don't know why, but I'm so sorry for those of you who were driving around trying to find me.  I really tried to keep it simple and easy and for some reason the emails didn't all make it.
Anyway, just wanted to get that out of the way to let you know what happened on my end.  The day was so much fun and many of you did turn out and I loved meeting every one of you.  It was such a pleasure for me to open my doors to my readers and let you all inside the house that we worked so hard on.
I had lemonade ready in the kitchen.
With my special Southern greeting on the chalkboard.
I had some friends volunteer to  make some desserts for me and I set it all out in the dining room.
I made Pecan mini muffins and my roommate, Rhonda, made pumpkin muffins.
Sweet friends from church brought pecan pie tarts and lemon tarts, which were to die for!
Water with lemons and limes on the porch
Fresh flowers around the house too, makes a special touch.
My friends from church (we are in choir together), Andrea (married to David below), Beth from Orlando, and my mom.
Dad had fun talking to David since they are both former preachers.  David is the baker and brought those delicious tarts to the party.
My friend, Karen, snapped pics for me with her phone. I took a few with my camera, but then got too busy talking and meeting everyone, so Karen took over.  Thanks, Karen!  My family was there, my mom and dad and sister, Renee.
It just amazes me how many loyal readers are out there reading my blog all these years. This sweet couple, Carole and Ted, drove all the way from Little Rock, AR to attend my open house and make a weekend of it here in Atlanta.  I was just astounded at that and so honored and humbled that my blog reaches so many folks.  She was the sweetest and told me how much she loves my blog and my family.  She calls me Rhody-girl, which completely cracks me up.  My niece, Lauren, has been calling me Rhody all her life and I'm sure Miss Parker will be calling me the same.  Sweetness!
I loved meeting so many wonderful folks who know my house inside and out and all the projects we've done, as well as feel like they know my family.  My dad and mom were busy chatting too.  Dad, about the projects we have done and many talked to mom about those family meals we eat together.  It was a precious time of sharing and getting to meet so many of you wonderful people out there.  I don't remember everyone's name (forgive me, I'm terrible with that), but your faces will be with me forever.  Thank you to all who came by, it was such a fun time.
We tried to get pics with everyone and it was a joyous day for sure.
Lots of hugs going on.  I remember this lady is Kat.  So fun to meet her and get a hug in person.
I told everyone they were going to be on the blog, so hopefully all of you who were here will see this.  I want to show you all off!  I really do have the best readers around and am still amazed that I get to do this blog thing.
I wish I could have listened to my dad talk to everyone, but we were all scattered and I only heard bits and pieces of conversations, but I'm sure he was entertaining telling everyone about what we did.
Mom got to talk to a lot of folks too with the topic of conversation their garden and food she puts on the table.  People relate to down to earth and that is what my family is….down to earth.
Dad holding court with a group of folks in the den.  I am quite sure he was entertaining and funny, he's such a good man.
My sweet mama with one precious reader who stopped by.
The porch was a popular spot too, since it was warm outside and it was a comfy spot to sit.
More sweet faces.  One blog friend came by, Bobbi from BluWater Life (2nd from left, sweet lady!).
The first 2 hours were busy and bustling.  I asked my family to stay for 2 hours and they did, meeting a lot of folks in the process.
Lots of talking and laughing ensued.
That's my friend, Karen, there on the left, my picture taking buddy.
We tried to take pics with most everyone who came.  This sweet lady to the left of me goes to my church, so fun meeting her.
My wonderful friends, Rachel and Douglas, came by and I was so happy they did.  They are old house renovators themselves and I've blogged about their beautiful Trammell House before, that they restored from top to bottom.  They live off the Marietta Square.
Everyone had fun roaming around every single room.  My roommate, Rhonda, hung out upstairs to chat and answer questions.
So nice to sit and visit with these sweet folks from Arkansas.  Still amazed they drove that far for my Open House, they definitely get the prize for distance driven!
Cheers and fun!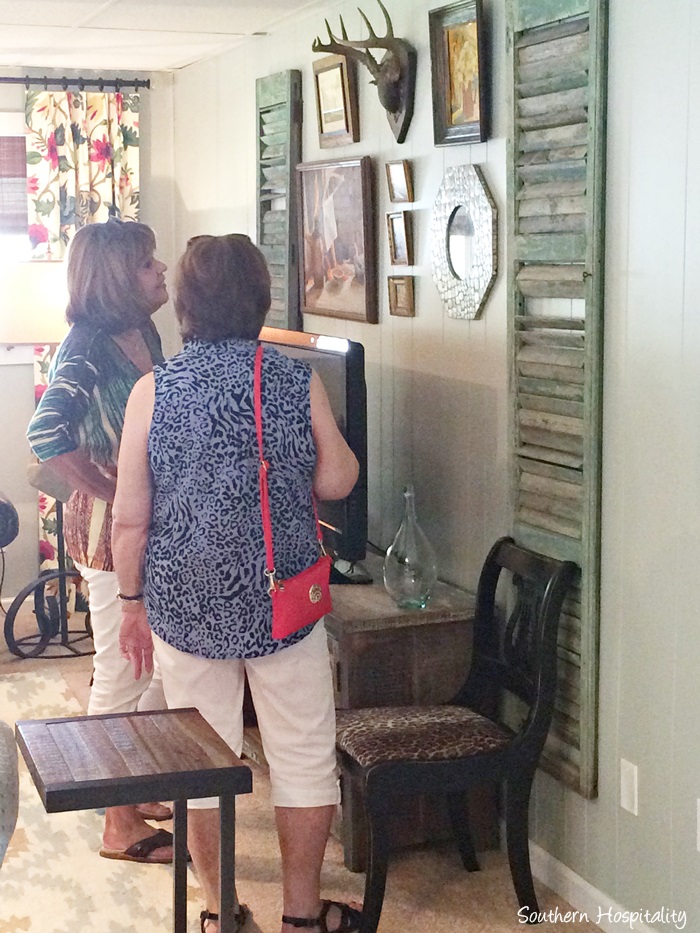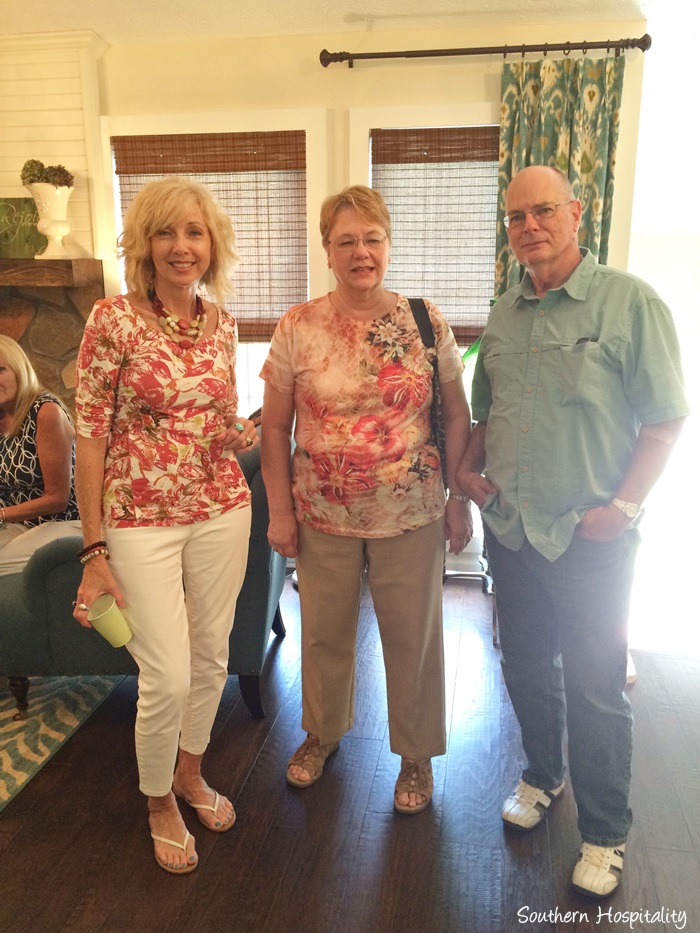 Dad telling stories again.  He's so good at that.
He can't talk without talking with his hands.
Another couple traveled from Anderson, SC to attend and it was great meeting them too.  There are so many nice folks out there.
Beth got some great candid photos for me and I'm so glad she did.  This will be a memorable day for me.
Dad getting ready to leave and chatting with someone on the sidewalk.
These sweet gals had me all teary-eyed when they talked about the impact my blog has had on them.  I'm so happy my story can inspire others that when life is hard, keep your faith.  Faith has gotten me through some very hard days and I'm so happy to be living on the other side of grace.
Such precious and happy faces all through the day.
I wanted to share the Open House for all of you who didn't get to attend and again, I'm so sorry that you all didn't receive my email with the address.  Writing this blog  has been the happiest thing I've ever done and I'm still so grateful that God has allowed this to be my job now.  I don't take it for granted and I don't take all of you out there for granted either.  I'm truly SO honored that you still stop by and visit with me and want to hang out on my corner of the internet. There are so many blogs out there now and I know time is limited, so the fact that you are all still here just blesses me to no end.
Thank you again from the bottom of my heart for following my blog, house renovations, travel adventures and family life!  I couldn't do it without all of YOU and your support and friendship.
Don't Miss a Post, join my list!