My story is a great testimony of how God can take ugly life circumstances and turn them into something beautiful and good and looking back 2 years ago, when my life seemed to be falling apart beyond repair, it's with His amazing grace that I celebrate my Open House with all of you.
I so had a great time at my Open House!  The weather couldn't have turned out better.  After a few weeks of rain, I was so glad to see sunshine again and the sky was blue and the air crisp. A perfect day to get out and about.   Meeting many of my readers from the area was so much fun. They feel like they know me and my family and I feel such a kindred spirit with all of them as well.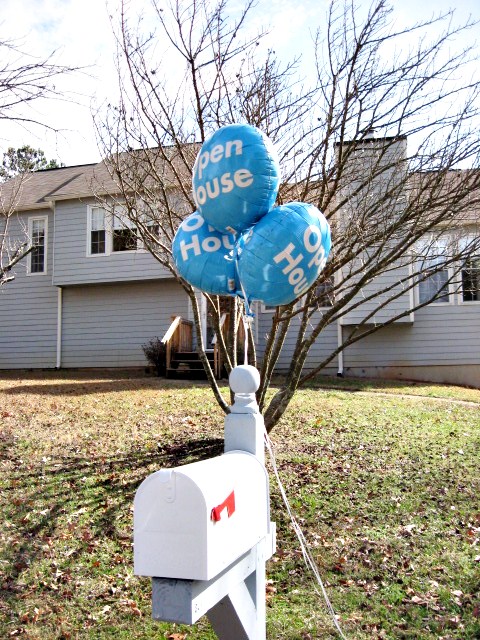 With three Open House balloons flying high, no one could miss my house.  Was so happy that the sun chose to shine too.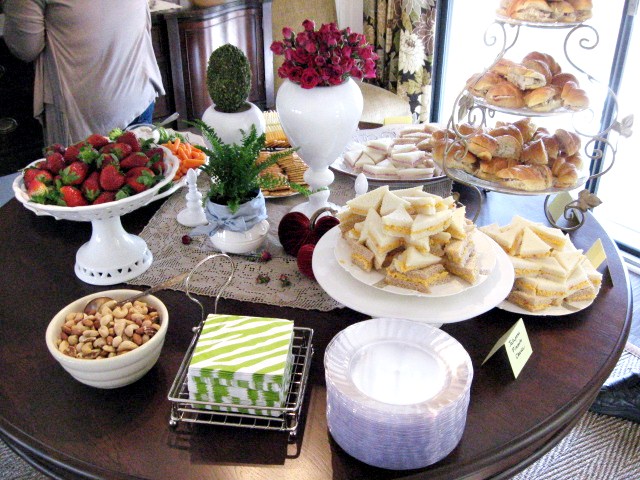 My sister, Renee, came over early and she and my roommate, Rhonda and I all worked together on getting some food on the table to serve the guests.  Finger sandwiches, shrimp, veggie tray and cheese platter were all ready to go.  The shrimp wasn't on the table when I took these pics.
Veggie tray ready to go.
My mom was so sweet and baked lemon tarts, brownies and cookies for everyone too and they looked so pretty on my 3 tiered stand on the buffet.
Strawberries are just coming in from Florida too, so I had to get some of those.
Dad was ready too and I gave him instructions to not leave until 3 pm and he accommodated me by staying and visiting. I think he really had a good time talking to all those ladies and I know they enjoyed meeting him.  I told him he has a lot of fans online, but he's not sure about all that stuff.
You can see I got my new drapes up in the dining room.  Love them and I'll share details on those later on.
Mom was ready to meet and greet as she always is.  I learned everything I know about hospitality from her, she is a gracious hostess and always has been.
My sis, Renee.  We were all caught up, food ready and waiting for the guests to arrive.
Rhonda, me, and Renee. I wanted to be sure and take lots of pics to  remember the day.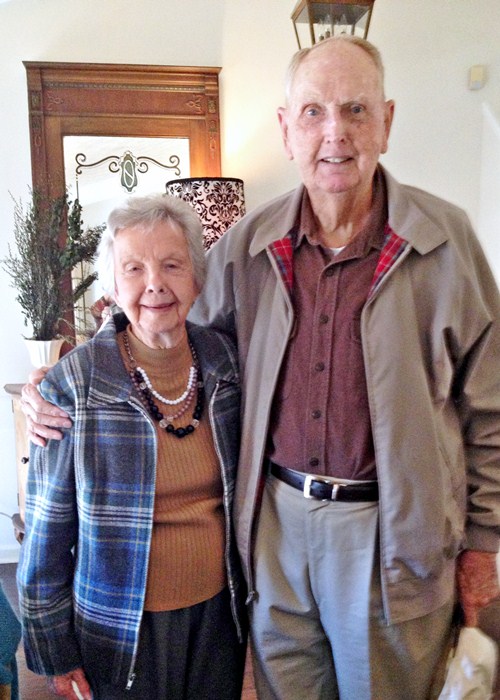 One of my guests, Nancy, snapped this nice pic of my parents and shared it with me.  It was a happy day all around.
These 3 delightful ladies were some of the first guests to arrive and they cracked me up when I went to the door to let them in!  I had a blast talking to them and I'm so sorry I didn't get all 3 names (I know it's Rita and Helen from left to middle), but they knew everything about the house renovation and my family too.  They were so much fun and I loved showing them around the house.  They definitely looked at every single detail.
One of the comments I kept hearing was that the house was even prettier in person than on the blog, so there you have it!
My friend, Judy came in early too and she knew some of those girls above as well.  In fact, it was so funny how so many people that came in, knew someone else that had arrived.  Lots of connections between them all and that lets me know that it is, indeed, a small world at times.
Sweet blog friends, Heidi and Laura.  Love these girls and have so enjoyed getting to know so many bloggers from Atlanta now that I'm back here living again.

More sweet blog friends, Shirley and Kim.  Blogland is full of creative women and they are all so supportive.
At one point, the living room was buzzing with people.  It was so much fun to see all those smiling faces come through the door.
This sweet gal, Rebecca (I think I got her name right!), came over from Birmingham, just to see my house.  We had met when I lived in Birmingham about 3 years ago and she knows some of my old friends from church.  I couldn't believe she made the drive over with her son, but was so happy to see her.   She's a sweetheart!
Quirky Kim, one of my new blog friends, who wanted to pose with my Dad.  Dad is a hero to many out there, I do believe.  I had several ladies try to hire him out, but he's not going for that. 🙂  Besides, we have a screened porch to tackle next!
Kim and Sally, another Atlanta blogger, checking out the kitchen.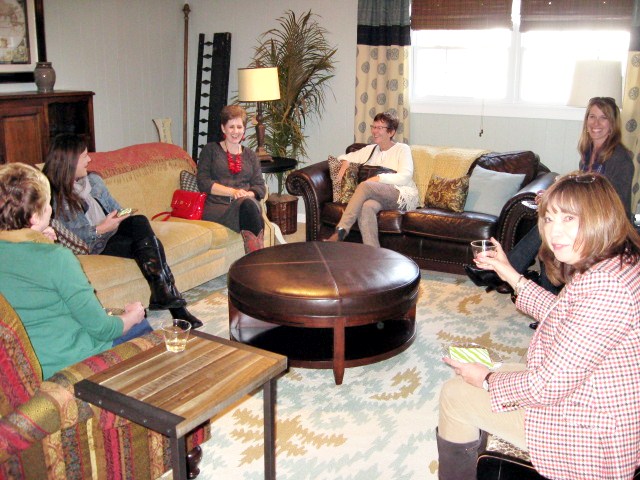 These ladies took over the den and had a good ole' girl party. I was bouncing around the house, trying to greet everyone.
Some of our old family friends dropped by too and mom had a great time catching up with them too.
This mother and daughter duo were so much fun to chat with.  They are beautiful ladies too.
I only got a snippet of all the people that did drop by, but I imagine it was at least 50-60 people total.  Talk about fun,  it was thrilling for me to be able to show off our handiwork to everyone, since you all  have been reading along and being so supportive through my journey of getting into a house.
My real estate lady, Dottie, came by too and she was blown away by the house in its after state. She knew I was serious when I said I was going to transform this place and transformed it is.  I can honestly say that I'm so glad I went ahead and jumped in there when I did to get a house.  From what she tells me, the market is really even tighter with foreclosed houses getting snapped up by investors, so chances are I would have lost out on even more houses and the prices have risen too.  God's timing is perfect timing!
Thank you ALL who came by the open house, I so enjoyed meeting every one of you!
I'm so content in my fixer upper house and it really is home, sweet home.
There's nothing like having your own place to call your own, is there?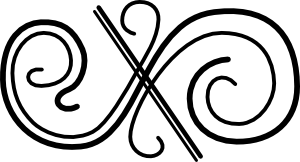 The Lovefeast Valentines winner has been posted here!
Don't Miss a Post, join my list!