We had another wonderful family Christmas. I always say we don't take it for granted that mom and dad will be with us for another Christmas, but truly it is something we don't know for sure. At anytime, health can decline, things change year to year and we are grateful that we had them again this year to celebrate with our family. My mom's younger brother is experiencing a health decline and it's so hard to watch that generation leave us. We must cherish each and every moment with them. In fact, we just got back from Central FL yesterday.
We (me, Renee, Lauren and Parker) decided on short notice to take mom down to visit her brother who is not in good health. We have no idea what the near future holds and it was important that she see him again. Mom and Dad are both getting to the point where they just can't take long distance travel anymore, so those days will be coming to an end too. I'll share that trip with you later this week. It's been a long week (I'm tired!) and today I'm leaving for Hilton Head Island, SC where I'll be touring the HGTV Dream Home tomorrow. Mark is going with me on this trip and I'll have lots to share from that trip too, so stay tuned for that.
So with that, let's get on to the pictures from Christmas. Lauren and her family were home and the girls, of course loved Christmas. They got too many gifts as usual and I think they enjoy opening the presents and ripping open the packages almost as much as what's inside! It gets overwhelming after awhile.
They start out in pj's, Parker with Bailey on the sofa.
Mark was with me for Christmas festivities at my sister's house and then later that afternoon, we had Chinese with his girls and their families. It was a full day! We had a big breakfast that my sister made and it was delicious as usual.
Bruce, my brother-in-law dressed up for the part as the conductor in Polar Express. There's a back story to this. He's an engineer for Lockheed and they had a big fund raiser and departments made over wagons for the children's hospital, Scottish Rite. Bruce's team did Polar Express and they all decorated the wagon and also dressed up in character. So naturally, Bruce was the Conductor and looked great! They won the contest too!
Here's their wagon and Bruce made this at home and painted it. So cute!
So that's why Bruce is wearing a conductor outfit. There are the smiles!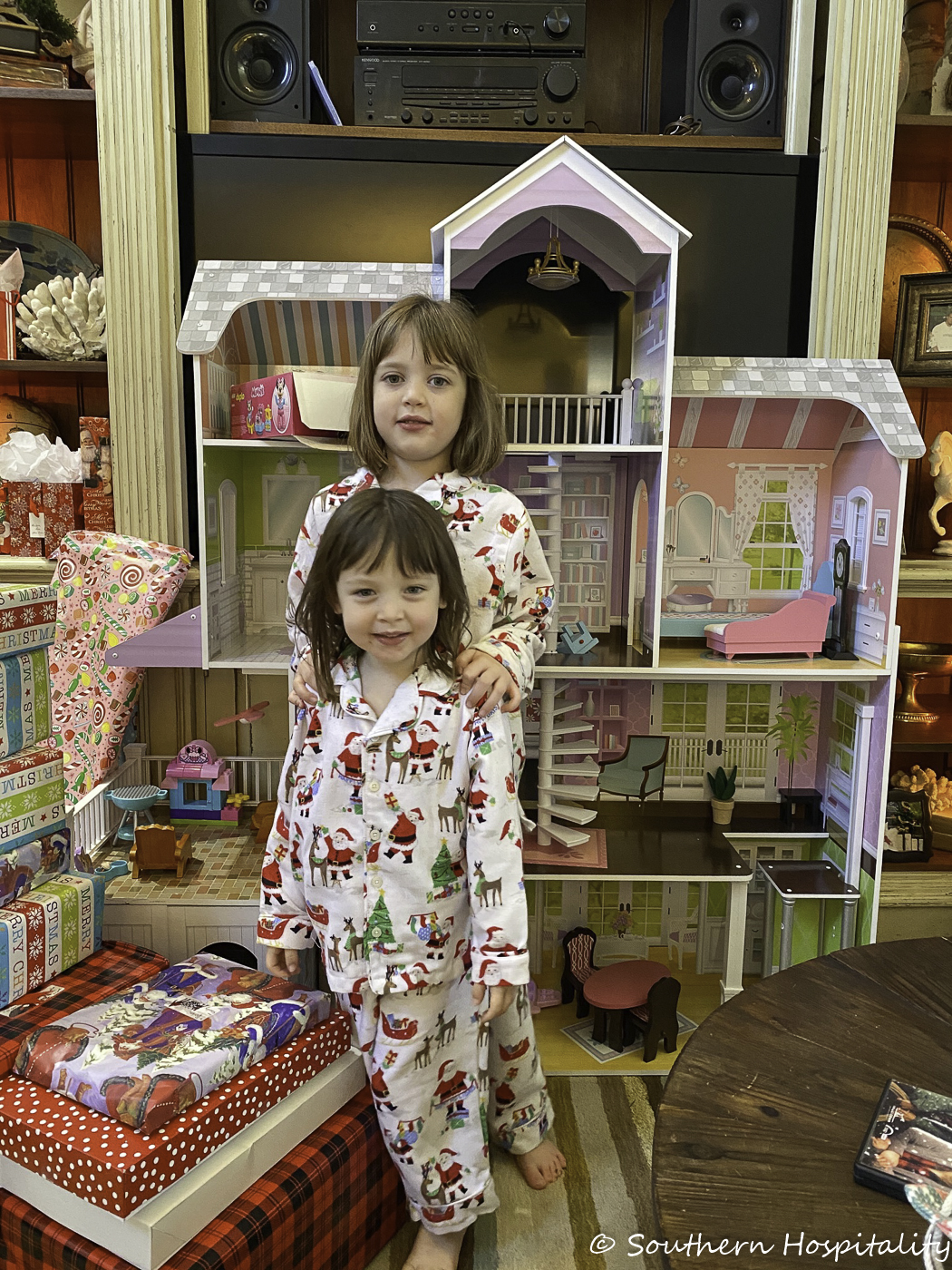 Parker and Iris got a giant dollhouse from Renee and Bruce. I hear it's staying here in GA, which is a good thing because it would take a truck to move it. I heard she got it at Costco.
When dad sat down, Bailey headed over and jumped in his lap. He likes daddy.
Mom, Dad and Bailey.
And the little photobomber who wanted in the picture, with powdered sugar on her mouth.
Mom and Dad are doing pretty well these days, thank goodness.
Lauren, Philip, Parker and Iris in their Christmas pj's.
Bruce, Parker and Iris ready to open presents.
We all took turns getting pics in front of the tree. We have to document and take pics of special occasions while we have them.
Mark and I.
We managed to get a family picture this year, so that was a score!
The present opening commenced and that took awhile. Parker got a pogo stick. We'll see how that works out, she's not known for being graceful.
Iris and a light up star pillow. I think she likes it.
An arts and crafts library, that looks fun.
Renee got the girls princess dresses.
Parker had to try hers on.
Books for Iris.
Pop-up book for Parker.
And matching personalized cups with straws.
Iris made this for her mom in school and proudly pointed to the picture and said, "my picture is on there!".
We've been talking about doing this for awhile and Dad got a marker board to keep at home. His memory is so bad these days that he can't remember from one minute to the next what is going on. It's sad, but that's where we are these days. When mom leaves, he doesn't remember when she's coming back, so we thought a board would help and it has! She left last week for a couple of hours and wrote it all on the board so he can read it and watch the time. We should have done this ages ago, but it should really help from now on when she is out of the house.
So that's a tip for you care givers, a marker board to write messages and keep them informed of the daily events so they can keep track of them. He really liked having the board when she was out. We are going to use it all the time now.
Mom did this for us growing up and continued the tradition with Lauren and now she is doing the same tradition with her girls. Lifesaver books, simple and easy. It would not have been Christmas without the Lifesaver books growing up. I am sorry to see they are not as big as they  used to be, only one side is filled with Lifesavers now. No more ButterRum, boo!
The girls have a chance at their schools they go to, to buy gifts for their families, so the girls gave us our gifts. It was so cute and they got each other gifts too, hence the hugs.
Iris helped me open her present to me, this cute green and red jingle bell bracelet. I wore it the rest of the day.
Here are those Dr. Scholl shoes (affiliate link) I got! Love them!
I also got these pretty little glasses I had asked for. I saw these La Rochere French glasses  (affiliate link) at the B&B we stayed at in Madison and loved them, so put them on my Christmas list. Here's the link for those if you're interested. I'm going to use two of these in our new bathroom makeover, we need a drinking glass in there and these are so cute.
I got the girls new outfits from Macy's, they wore them the next day and look adorable in them!
On Mark's side of the family, we didn't get many pics from our gatherings, but here's a cute one of Rose in her new Minnie dress that we got her. She loved it and she spun and spun in front of the mirror admiring herself.
She loves candy canes too and sucked on those after dinner.
We enjoyed Christmas with both our families and now it's time for a New Year. It's fun to celebrate, but I'm glad it's over now and I can get the house back to normal. The Christmas season goes way too fast, but celebrating with our families is the best way to do it.
Happy New Year to you all! Thank you for hanging out with me all this time.
Don't Miss a Post, join my list!