Hey, friends!  It's a busy week for me this week, as I'm heading to Austin, TX for the week to attend a conference that my ad network is hosting. I'm also going to see my good friend, Judy, while I'm out there for a couple of days and can't wait to get to experience Austin for a few days.  I've only been there once a couple of years ago and it was a very short and sweet trip, but this time I'll get to see a little more of the city and surrounding areas, I think.
I've got some fun things going this week and Thursday, I'm joining a fun spring blog tour with a group of 30 bloggers total and we'll all be sharing our spring homes.  I can't wait to share with you!  I took so many pictures of the house, so I'm going to share every space in more detail, but do a shortened version for the spring tour on Thursday of all the spaces, so stay tuned for lots more individual spaces and all the details.  I'm so excited about how our house is looking right now!  It's all come together so well since Christmas when I showed you where we were then.  Plus, decorating for spring is so inspiring this time of year with sunshine and flowers happening.  All I really did was buy flowers to spread through the house and had everything nice and clean to photograph the house.
Today, I'm going to share our guest room, since I did get that space put together too.  We were finishing up the bathroom that goes with this space and it was a dumping ground for about 6 weeks, but it's looking so good now too.  I got drapes hung and everything!  I can't share the bathroom yet, but as soon as I can, I will!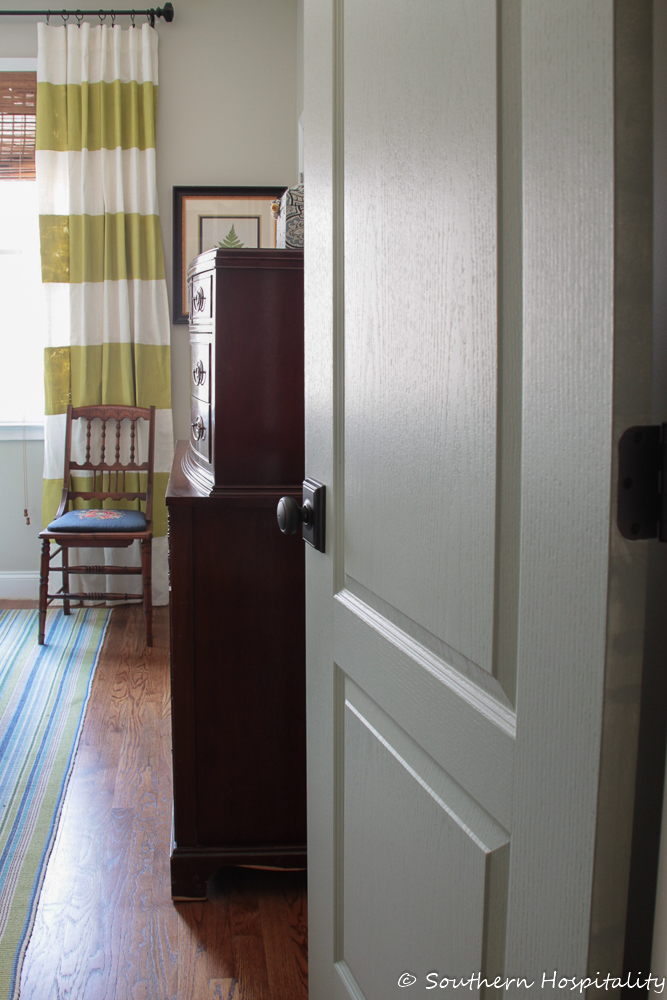 Come on in!  You've seen the painted doors and they look really nice and flowy with this space too.  This is all my old furniture that I've had for over 20 years that was in my master in my old house.  It fits nicely in here and I'm glad about that.  I didn't have room for the big French armoire I had, so it's still at my old house, but I did bring the nightstands and chest.
I wanted to mention the bamboo shades in here again, thanks to Payless Decor, they provided all our bamboo shades and you'll see in my home tour that they all look so good and go so well with our wood floors.  The style is Premium in Bali Natural on the main level in case you wanted to know.
You'll notice I hung some different drapes in here. These are the same Ikea painted drapes I had in Rhonda's old room and she didn't want to take them with her, so I decided to put them in here with my blue and green things and I really like them for a change.  I left the 3 sets of Ikea stenciled drapes in my old master for Traci to use and since I only needed one pair, these worked great in here.
That vintage chair belonged to Mark's Nanny and he cherishes that piece, with the needlepoint top. It's too flimsy for people to sit on, but it can work in here since it will be out of the way.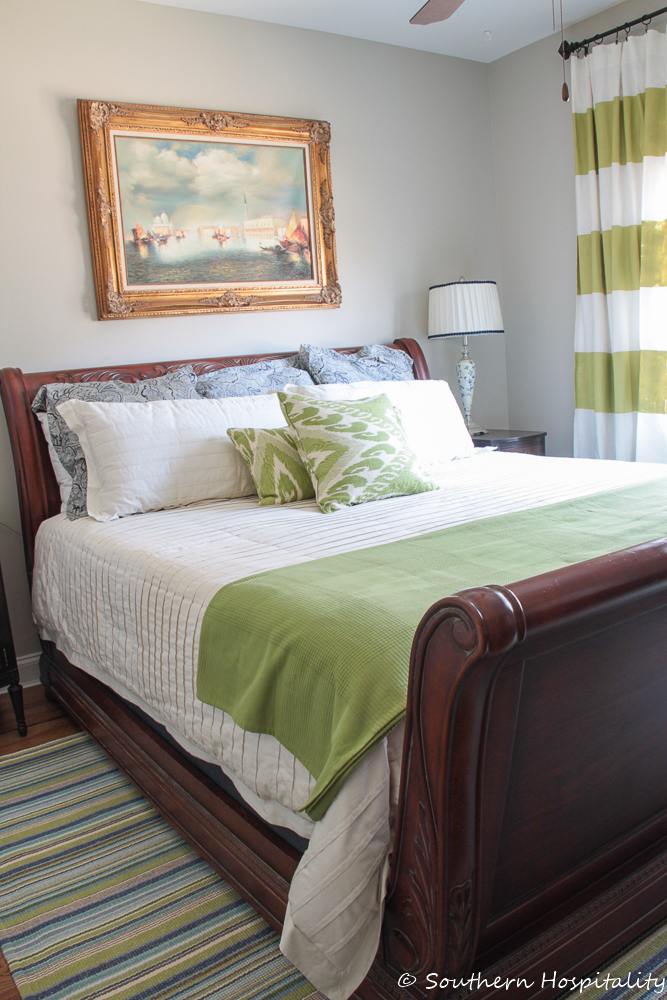 I hung the same oil painting of Venice over the bed with the same nightstands, lamps, bedding, and rug. I still love all of this and happy to use it in our guest room.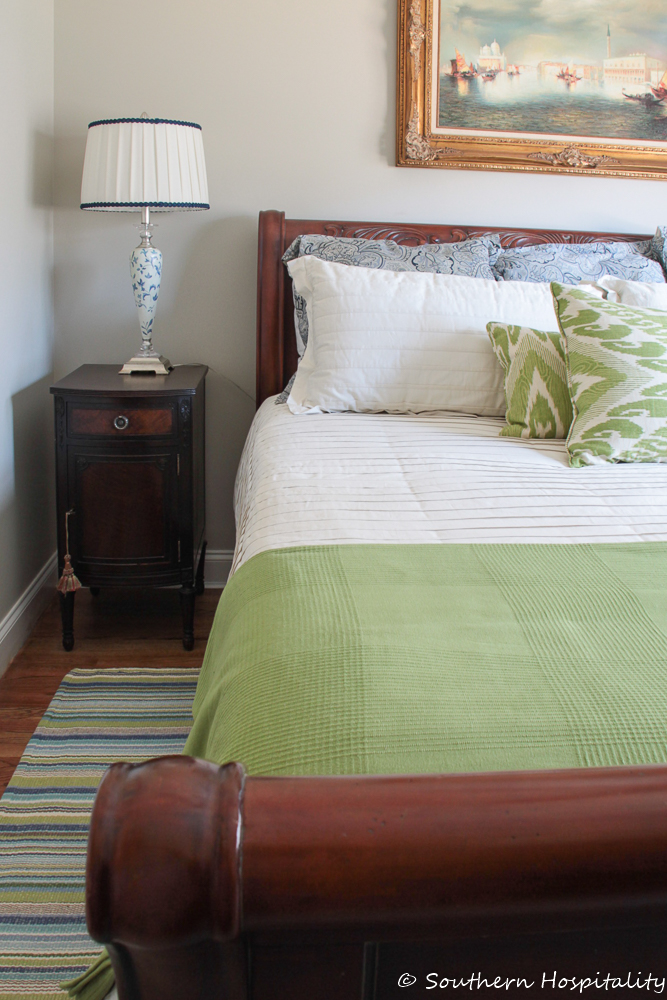 My mom had made those blue shams for me years ago and they are still going strong. The rug is a Dash and Albert Fisher (affiliate link) and I just love the colors in it.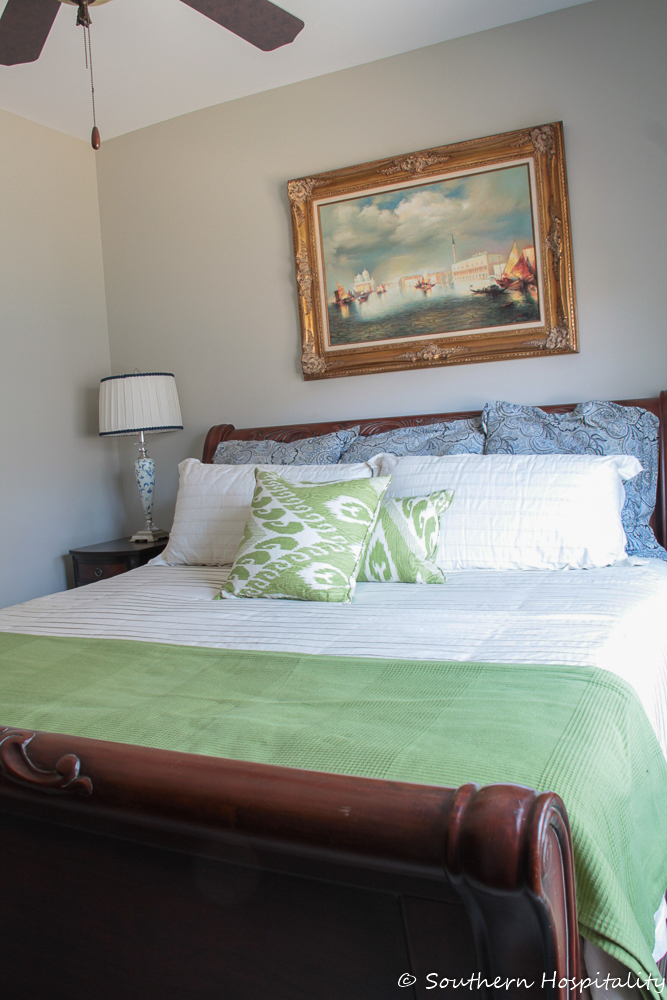 It's a light filled room with a pretty view of our woods in the backyard, so I think guests will be very comfortable here, especially with that fancy bathroom we just renovated.
Cozy and comfy and perfect for anyone visiting, it's the smallest bedroom in the house, so makes a great guest room.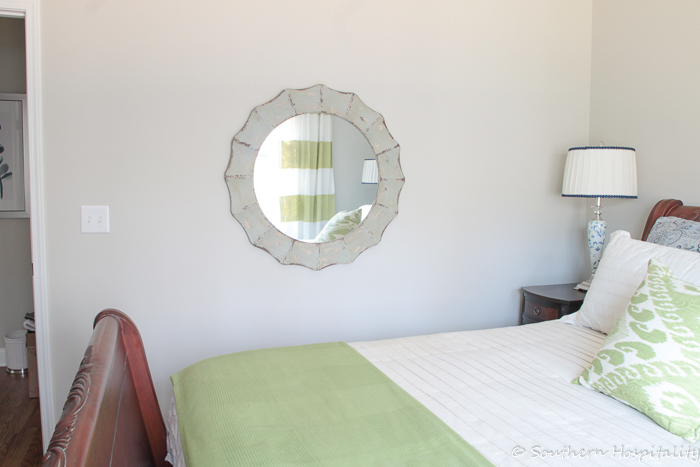 I added this mirror that I've had for a few years from Kirkland's on this wall.  I thought it would be nice for guests to have a mirror in here and it reflects the windows.
This chest of drawers is a vintage Thomasville piece I found while living in Birmingham and it's still a nice piece.
I hung a couple of my botanicals over the chest and still love these pieces too.
And here's a good shot of both doors, including the closet door.  That's a peek at the finished guest room and I'm so happy to finally have it cleaned up and looking pretty.  I'll be sharing all the spaces on our main level with you soon, so stay tuned for all of that.  We are just thrilled with our new house and how it's all come together in the last 6 months.
We are almost completely finished with the main level, but I still have plans for Phase II of the kitchen and some plantation shutters in the living and dining room.  But, other than that, we are so happy and content with everything! Thanks for stopping by for a visit!
SaveSave
SaveSave
Don't Miss a Post, join my list!