This post is sponsored by Signature Hardware. Affiliate links used below. 
I'm going to be sharing more up close details of the bathroom and today, it's the free standing tub and the faucets I chose. I'm happy to be partnering with Signature Hardware for all of these products and we couldn't be happier with how they look and function. I'm so happy that they wanted to work with me on this master bathroom project. It was a BIG project, the biggest project I've ever planned and overseen, so it's so nice to have it all finished and we are so enjoying it all now. I've never had a free standing tub, so it was fun to choose one as well as the faucets for our space.
Wall Color:  Gray Owl by Benjamin Moore.
Door Color: Oyster Bay by Sherwin Williams
Vanity Color: Acacia Haze by Sherwin Williams
Let's look back at what the old bathtub looked like, a very large jetted tub that took up a lot of real estate literally. It was surrounded by a faux marble that was less than desirable. Taking out the old tub and adding this new free standing tub gave the new bathroom a breath of fresh air. It was as if it could breathe now without this huge tub in there.
The new Odenwald Acrylic Free Standing tub is the perfect fit in this space at 59″ long.
There's a few inches to spare on either end with the new faucet mounted on the wall. This new tub set up feels so light and airy especially with the addition of the Plantation shutters. All that white woodwork adds texture and lightness. I've taken 2 baths so far in the Odenwald tub and couldn't be happier with the experience. It's comfortable, smooth and the water stays warm for at least 20 to 25 minutes which is plenty long for a soaking in the tub for me. I can lay my head back and really relax in there, even listened to a podcast and read by book too. Very relaxing soak! I can already tell that the acrylic tub will be easy to clean too.
This modern brushed nickel wall mount faucet was a new type to me, but I love how simple and elegant it looks. The hand sprayer will come in handy for spraying out the tub and keeping it clean. I opted for a wall mount instead of the floor mount because I like how clean this looks and it was less work to install this way I was told.
The new bathtub makes the bathroom feel even more spacious than before. Getting rid of the massive jetted tub was a good move and we're glad we did it!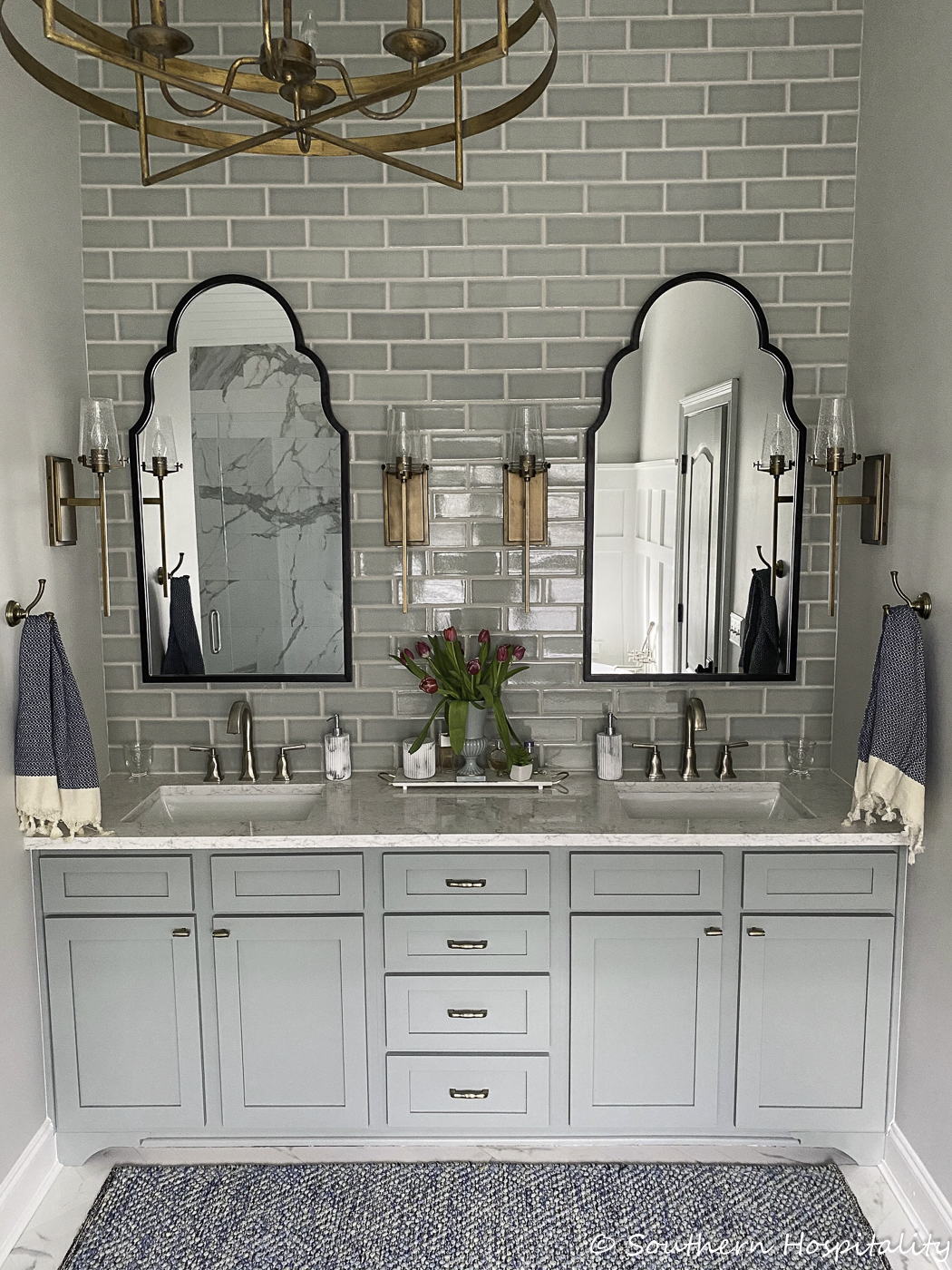 Moving over to the vanity area, these bold widespread Carraway faucets (looks like these are no longer stocked at Signature Hardware, but the tub faucets are) in brushed nickel really caught my eye. I loved their sleek design, modern yet traditional shape and thought they would really elevate our newly remodeled vanity.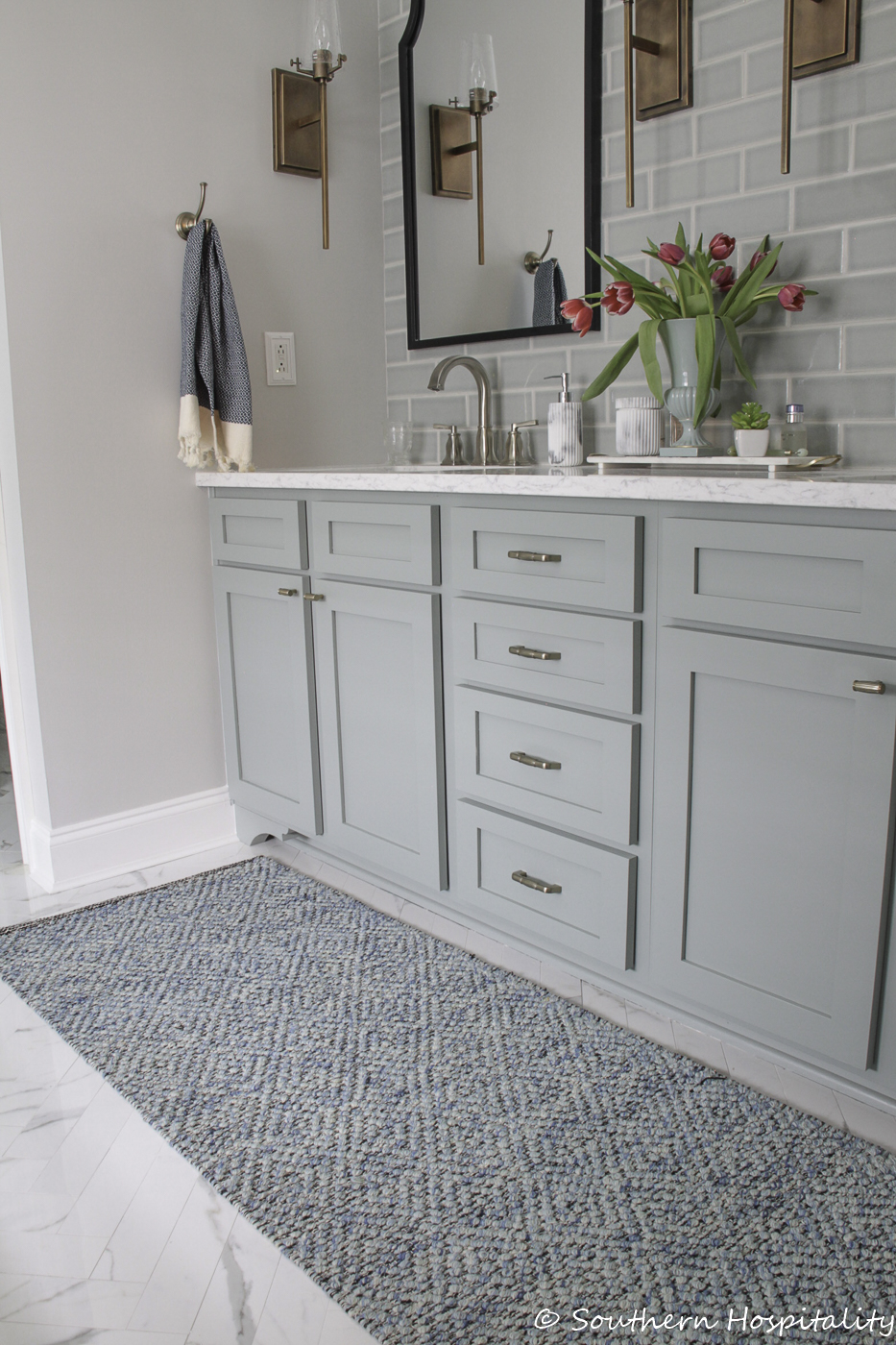 When I got them in and took them out of the box, they were huge compared to our old ones and I was a little bit worried at first, but there was no need to be.
These beauties really take our vanity up to a whole other level and they are bold and beautiful.
I think these were the perfect choice and we love them so much!
Satin nickel is easy to keep clean and it's always a classic.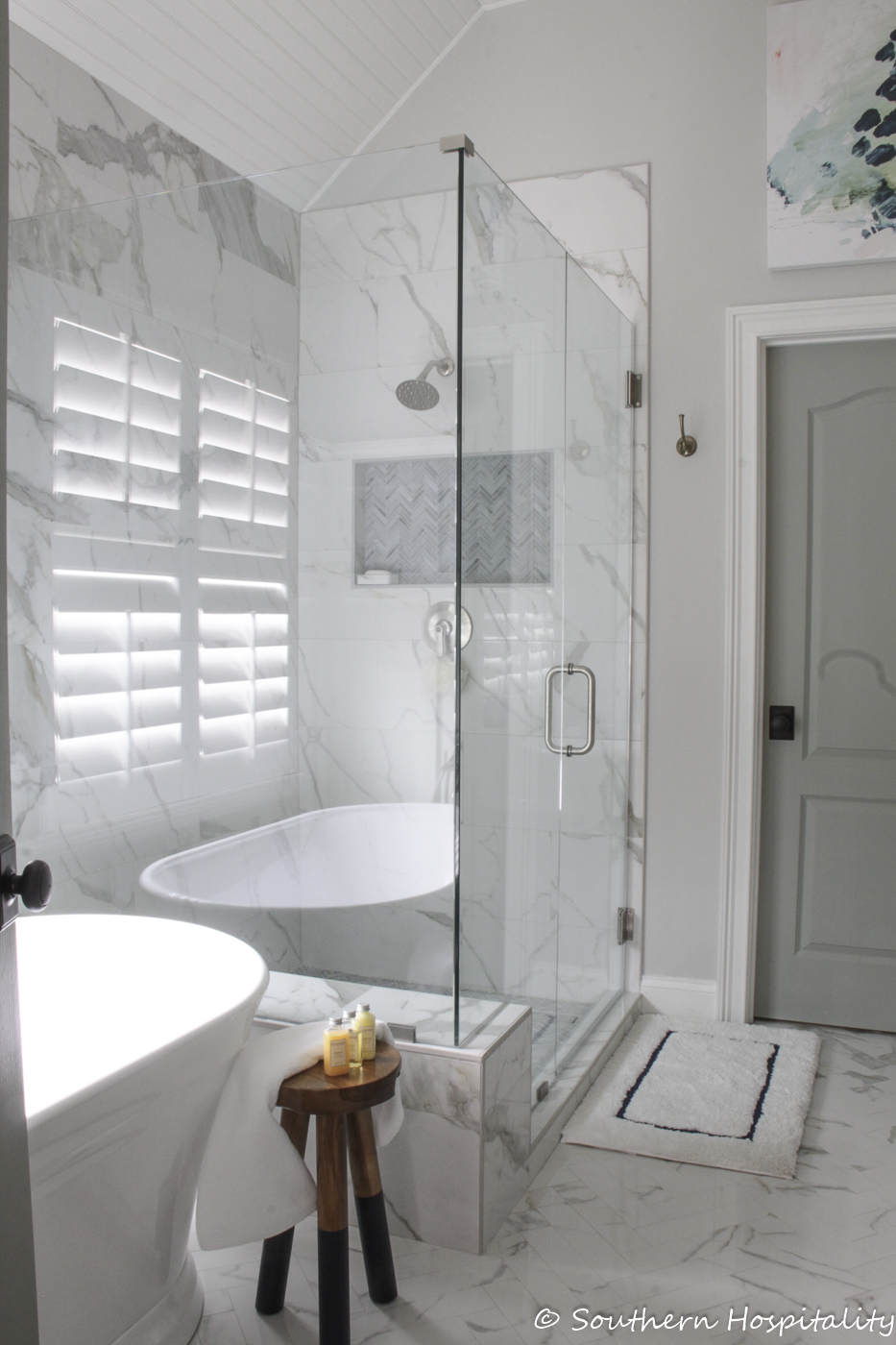 Looking to the shower, we needed a new shower faucet and this one was simple and elegant. We didn't go crazy in the shower with all sorts of shower heads, but I just needed a nice shower set to complete our space.
This Cooper pressure balanced shower set fit the bill and we are very happy with it.
The shower head is nice and large and makes for a very enjoyable shower in here. Mark tells me all the time how much he loves this new shower compared to the old one. The old shower was so boxed in and this one feels so much more open and spacious. We were able to add a couple of inches in each direction and that helped as well as the glass walls we have now. We could not be happier with how this entire master bathroom turned out. It truly is a dream come true space.
Getting these beautiful faucets and our new free standing tub in there was a big part of making this space our own and we love it so much. It's spacious, beautiful, functional and lovely to look at. All the things you want in a bathroom renovation.
A big thanks to Signature Hardware for partnering with me on this project. They were great to work with and I highly recommend looking there for projects if you're in the market for a bathroom renovation too. The products are very nice quality in looks and performance and we love them all!
Thanks for stopping by the bathroom today. If you want to see the entire reveal and cost breakdown, go over to my Master Bathroom reveal post for all those details! And click here to see how to update an old vanity with new drawers, doors and paint. 
Don't Miss a Post, join my list!