We had a few projects we wanted to get completed right off the bat in our new home and painting the exterior was one that was at the top of the list, along with a few other interior projects.  Mark really didn't love the existing paint color. I didn't hate it. But we both agreed that another color would totally enhance the house and make it look visually even more appealing for better curb appeal.
We settled on a painter who was recommended by a good friend of mine (friend recommendations are always the best, you know you can trust them!) and we got an estimate for the interior and exterior painting.  They usually give a discount if you are getting both done at the same time and our painter offered $500 off for booking both interior and exterior painting jobs. So glad we went ahead and got it all done!  It's going to be nice to move into a freshly painted house and it feels brand new now.
Our painter's name is Nicholas (his company name is Nicholas Romero) and you can reach him at 770/900-6740 if you are here locally in the Atlanta area.  He gave us a very fair price for painting the interior, exterior, and spraying the kitchen cabinets.  I'll share what we paid for the exterior in case some of you in the area want to use him too. I told him I'd be sharing his name and contact info, so I do not hesitate to recommend him after the great job he did for us!  Our exterior painting labor cost was $3,125.00 total and that included pressure washing, caulking, small wood repairs on window sills and all the painting.  I'll give you the interior breakdown when I get to that post.  Again, he gave us a $500 discount for booking the whole job, interior and exterior.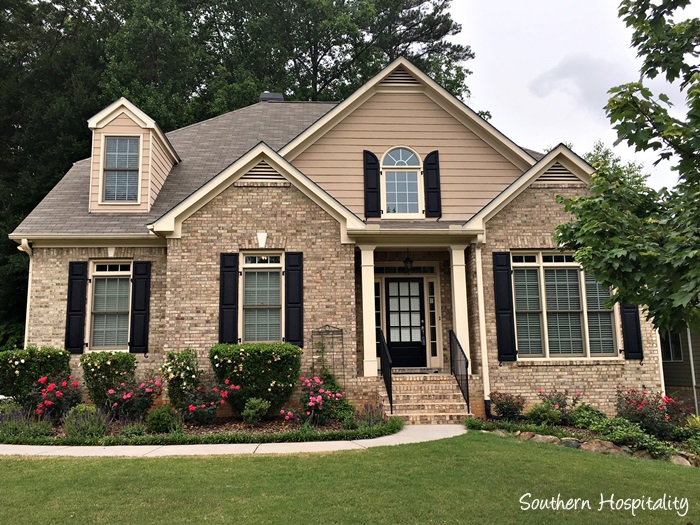 Again, the paint color that was there was very nice and the house captured our attention the first time we saw it in the real estate listings online.  It was nice, but we visualized bringing out the gray tones in the brick that would also complement the roof better.
We were super excited to partner with Sherwin Williams on this project as a sponsor. We used their top of the line exterior paint, working together on this project and they sent us 15 gallons of paint for the siding at no charge. Huge blessing!  We did pay for the trim paint, but it was really nice to get help with the main paint color.  Our painters did a fantastic job with the house and we couldn't be happier with them.
We used their top of the line Emerald paint for the exterior and got Satin for the siding and Semi-gloss for the trim.
Paint Colors:
Siding:  Backdrop by Sherwin Williams
Trim:  Simple White by Sherwin Williams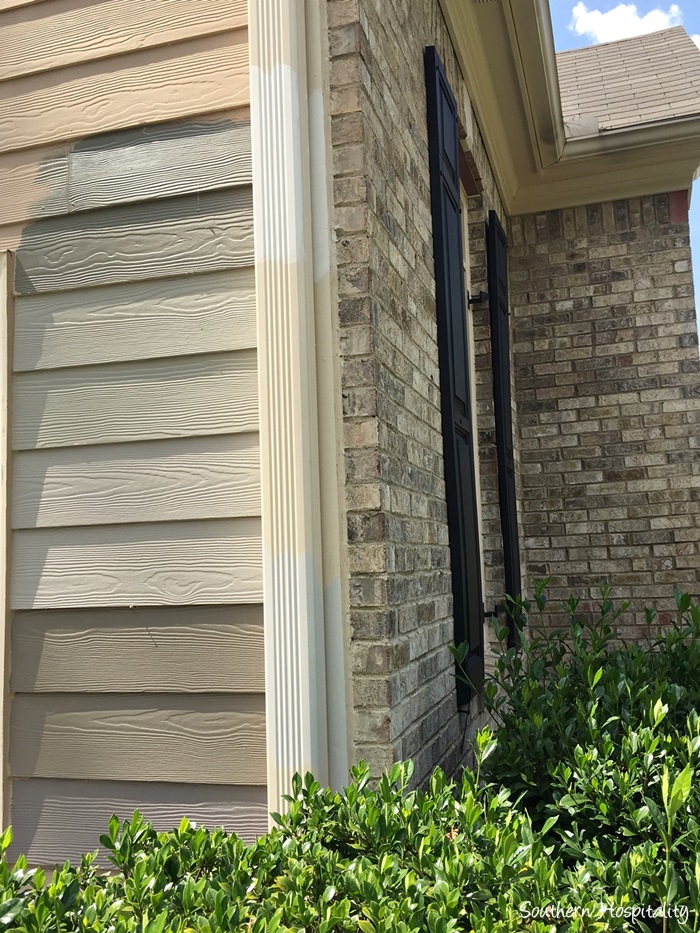 It's nerve wracking to pick a paint color, squinting next to the brick and roof to try to determine which color is the best.  We got several samples and Backdrop won out for both of us.  It's the 2nd from the bottom paint color. The top one was a contender too, but I think Backdrop has a little more brown undertone, which we needed with the brick.  We liked the richness of the darker shades and we are so happy with the outcome!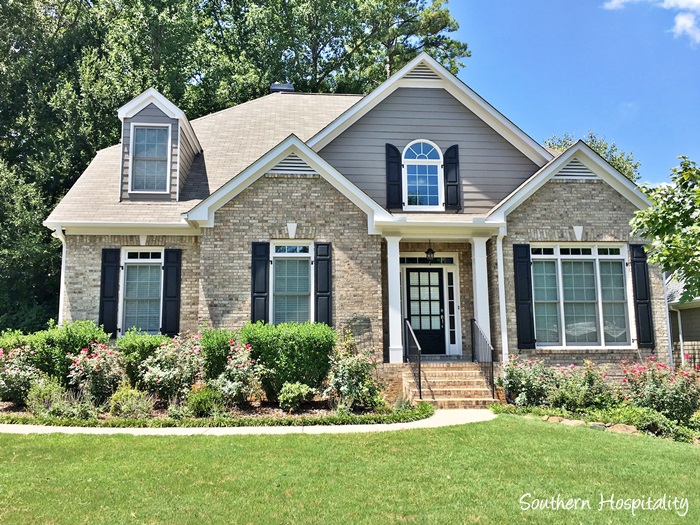 It's amazing what a new paint color can do!  We love the changes and it totally enhances the look of our house even more, we think. We went lighter with the trim color too.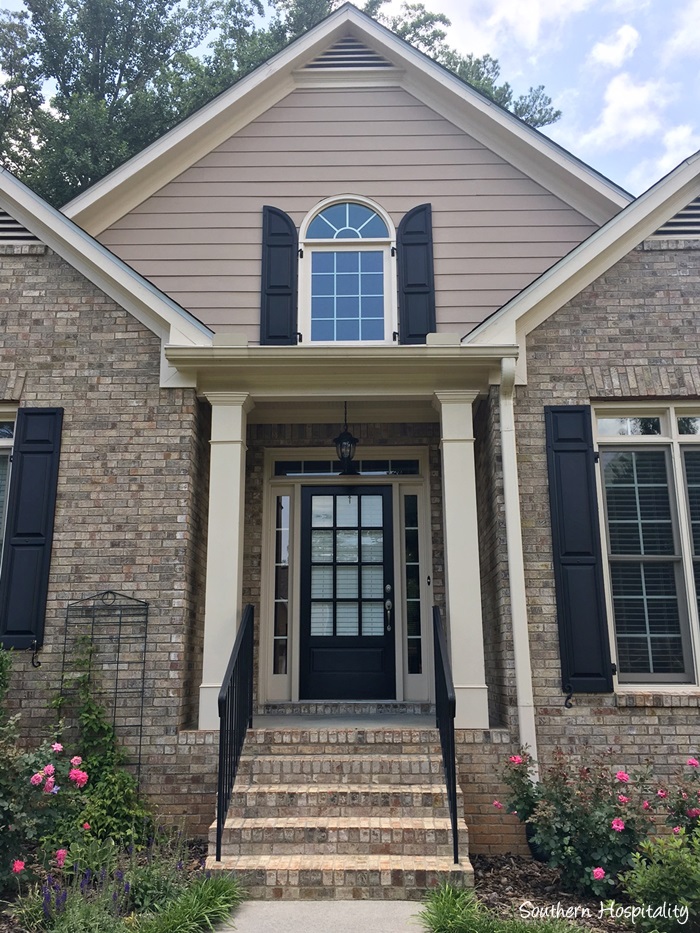 Before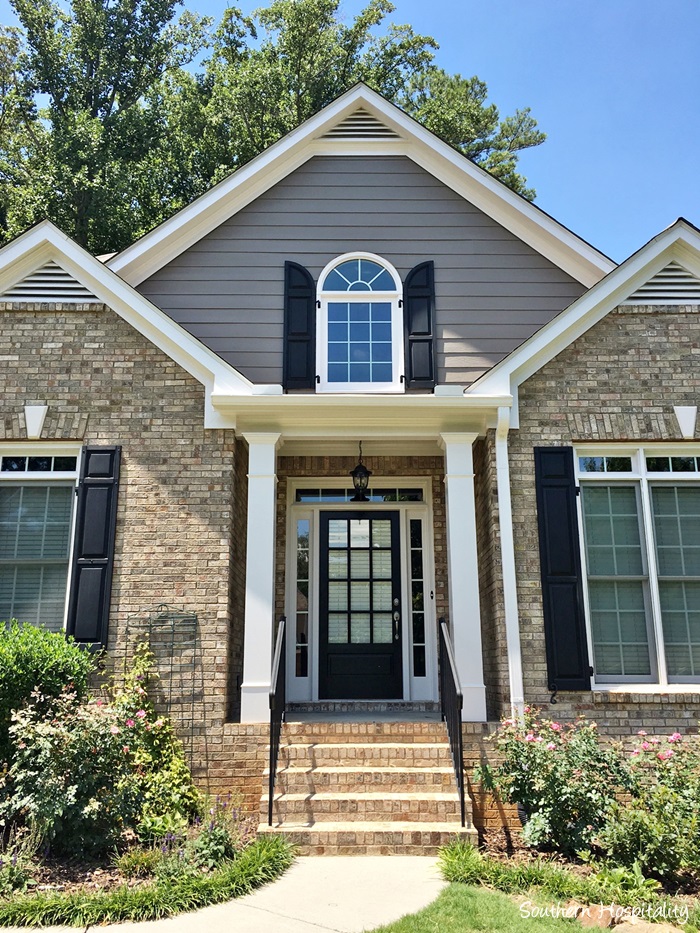 And After!
Backdrop is a taupe/gray shade and we love it with our brick.  We went with Simple White to bring out more of the white tones of the brick. The yellow based trim color before was a little drab for us and we like the crispness of the lighter white.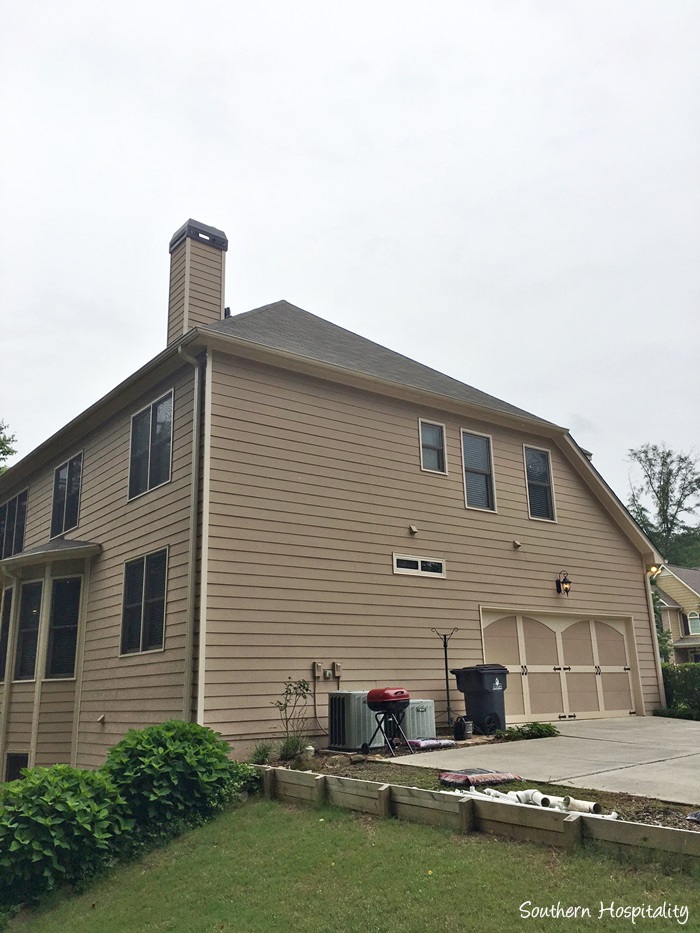 Before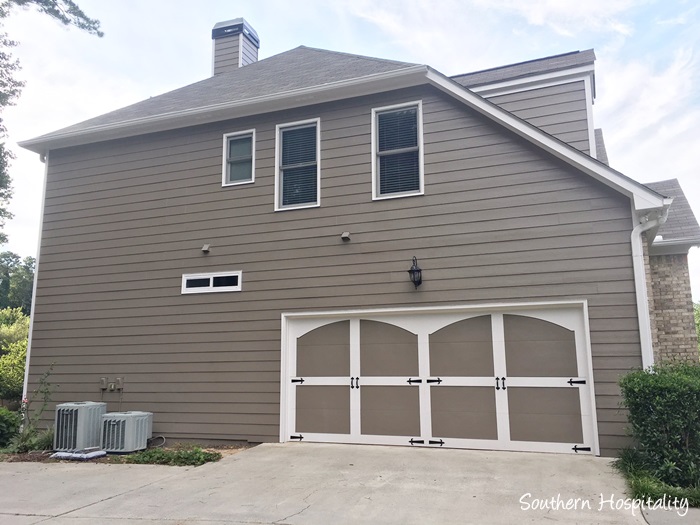 After
Before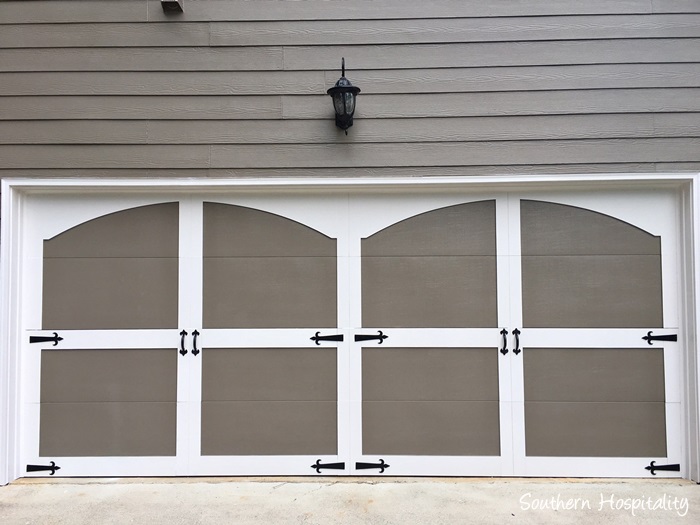 After
Before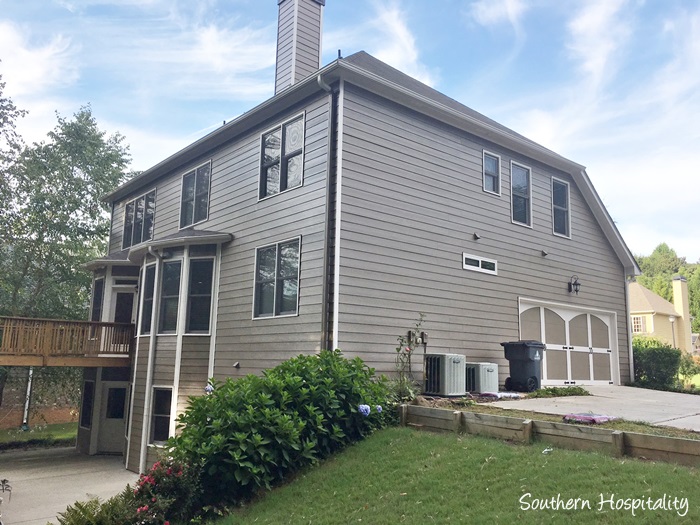 After!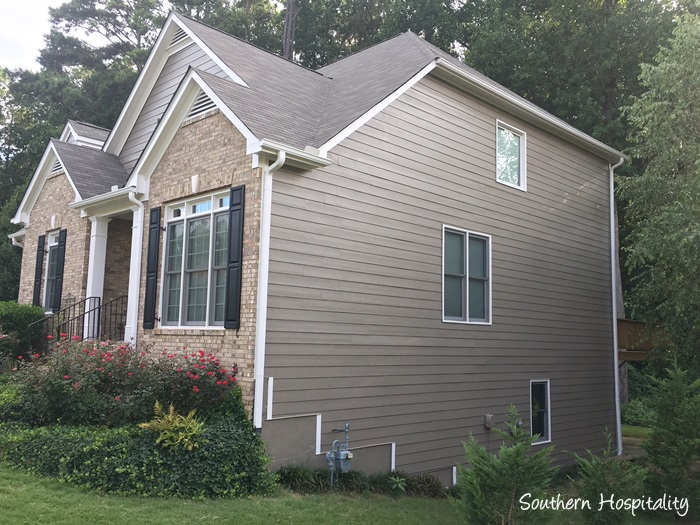 We just love the new color and how fresh and clean it makes the house.  So, so excited to get in here and make it our own. Those are some shadows on the siding from the late afternoon sun, it's not all splotchy as it looks in this pic.  We are going to paint out the white boards that step down to blend in with the siding color.
That's our big project for this week! It's been so exciting to see all the changes happening over the last few weeks, inside and out.  I'll have more to share next week, thank you all for stopping by!
Note: Big huge thanks to Sherwin Williams for providing the siding paint for us. It's a beautiful paint and we know it will last for years to come.
SaveSave
SaveSave
SaveSave
SaveSave
SaveSave
Don't Miss a Post, join my list!