This post is sponsored by Viking Cruises. We were guests of Viking River cruise line on this Rhine River getaway. I was not asked to write anything, this recap is all our experience and opinions. 
I asked Mark to chime in on the cruise and he agreed to add his thoughts on our experience from his point of view. Mark always has a great point of view filled with humor too, so be sure and scroll all the way to the bottom for his cruise recap! It's a good one and you won't want to miss it! 
If you missed Part 1, be sure and start there before you read on! 
On the last post, we were leaving Strasbourg, France and the next stop was Mannheim. We arrived there early in the morning on Wednesday, day 4. If you missed Part 1 of this Viking River Cruise, go there first and start your read.
Day 4: Heidelberg, Germany
We had a great shore excursion in panoramic Heidelberg, one of our top 2 favorite stops on the cruise. Heidelberg was a like a fairytale village with a castle ruins on top of a mountain overlooking the town. We loved walking the cobblestone streets of this quaint German town.
One of Germany's oldest and most romantic cities, Heidelberg  has a beautiful baroque Old Town and a magical, partly ruined fairy-tale castle that overlooks it.
Heidelberg as left in ruins by French troops under the command of Louis XIV. We learned lots of these tidbits of history from our Viking Daily newsletters that were left in our rooms each day, so it was nice to know where we were going and a little about it.
Before we left on our Heidelberg excursion, I'll share breakfast with you! Can you tell I was super impressed with the food? Breakfast, lunch and dinner were all exceptional meals. You could order French toast or pancakes and Eggs Benedict off the menu.
Or go through the buffet line and pick any of these beautiful things.
Every day breakfast buffet.
A chef was there preparing fresh made omelets too, which was really nice.
We fueled up for our excursions each day and headed out to sight see.
Heidelberg castle was really breathtaking. A red sandstone ruin perched 330 feet above the river in Heidelberg, the castle was home to the Palatinate princes until it was partially destroyed by fire in the 17th century.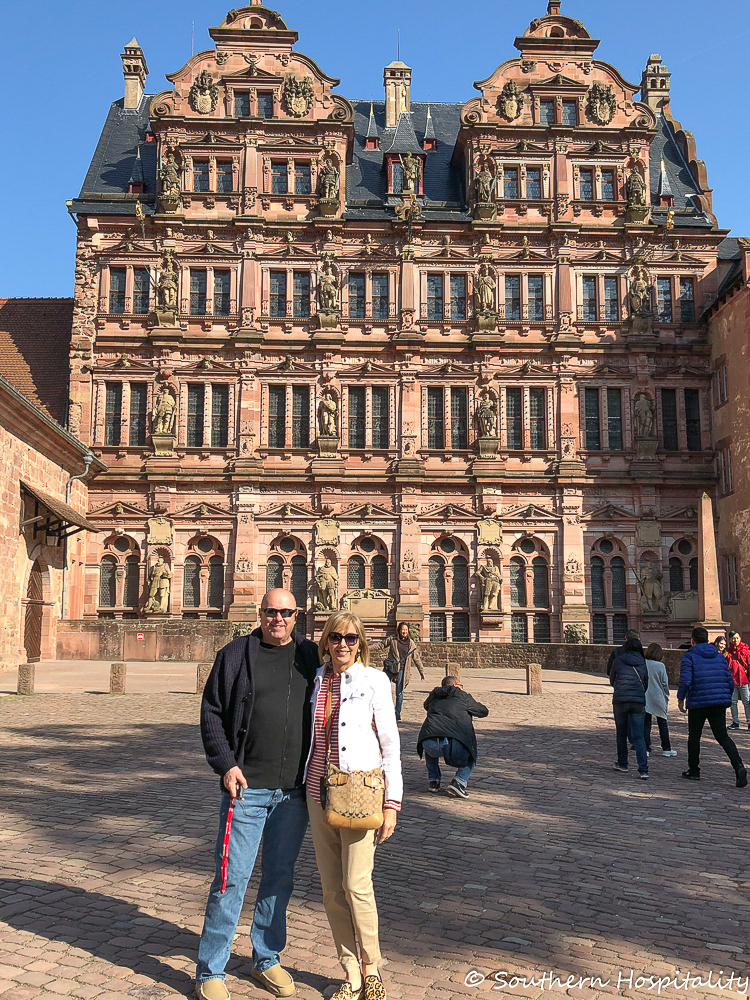 It is said that Heidelberg's cityscape is so beautiful and so admired that American forces deliberately chose to avoid bombing it during WWII.
It was such a beautiful structure to see in person.
The grounds surrounding it are gorgeous too.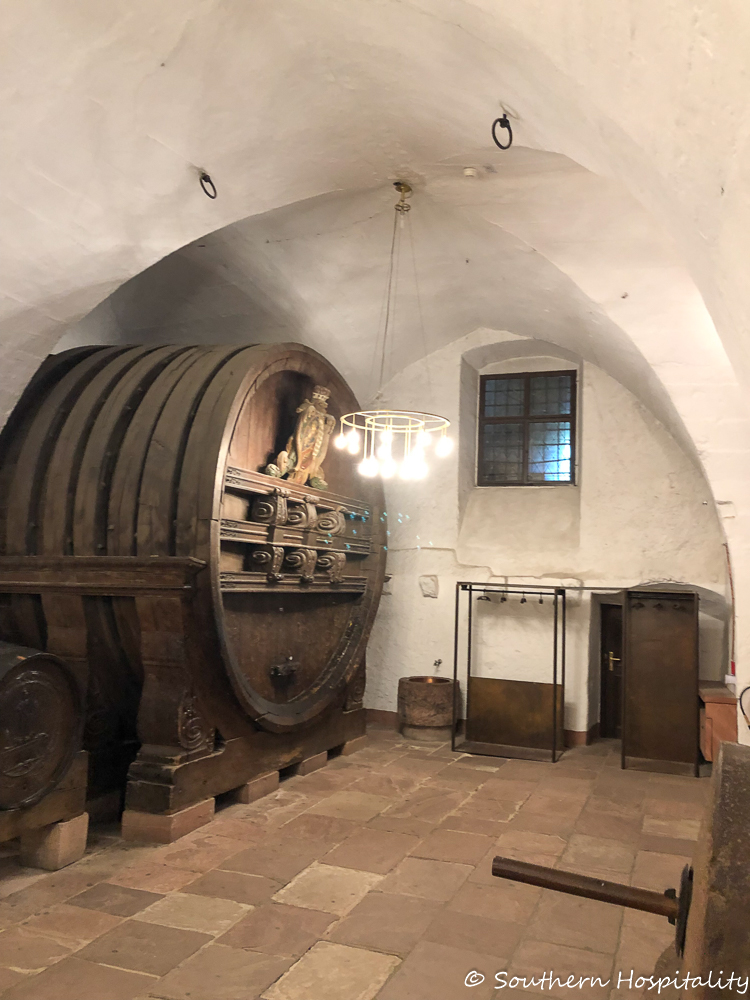 Inside the castle is the world's largest wine barrel, a 250 year old vat that once held 50,000 gallons of wine. This was not that wine barrel but it looked similar to this one.
There's a little cafe inside. We didn't go inside the castle walls, but got to see the gorgeous views from up above the city.
The castle walls look out over Heidelberg and had the most spectacular views!
I insisted that we take selfies in front of all of these gorgeous backdrops. It sure was breath taking that's for sure!
Doesn't this look like a fairytale?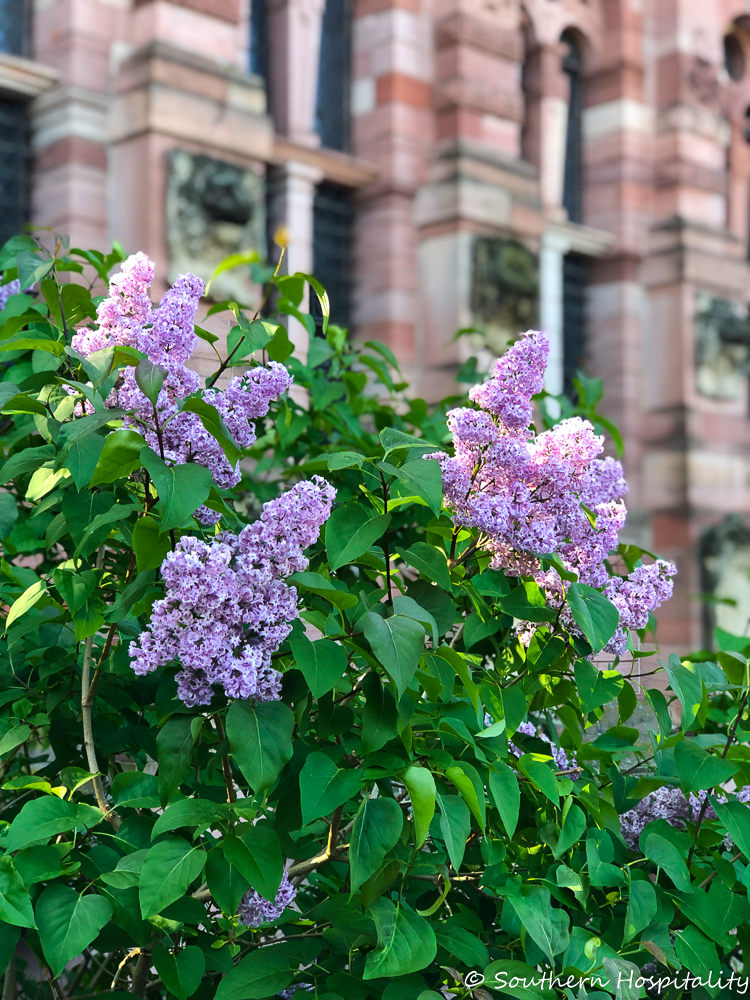 Another photo opp in front of these stunning arches.
Amazing aren't they?
More of the ruins.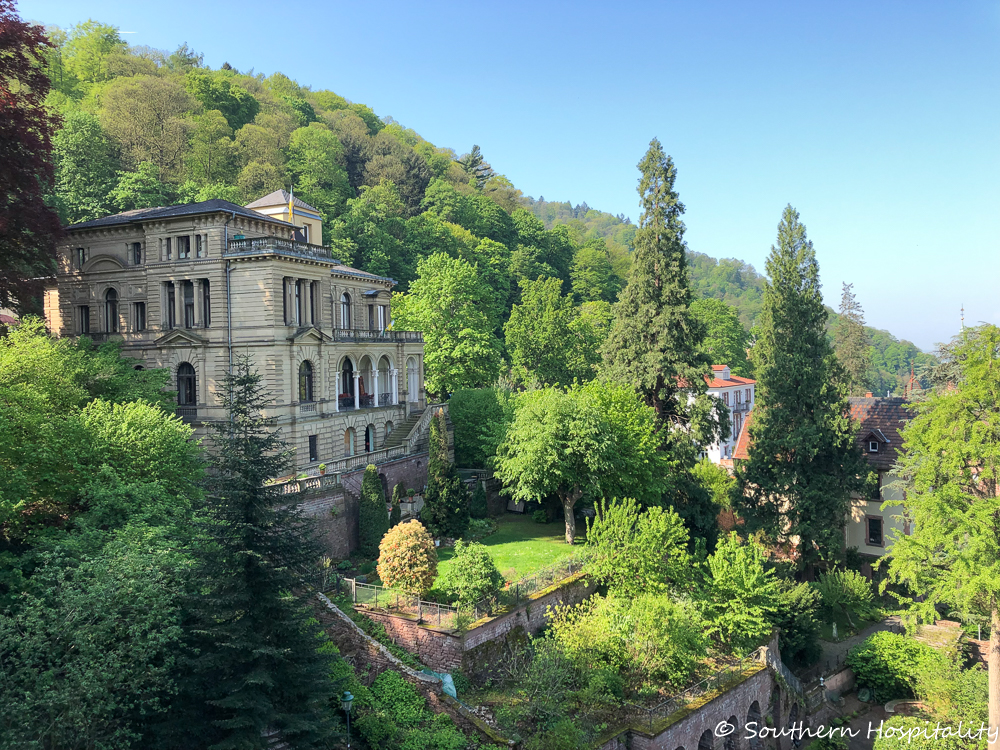 Beautiful views as we were heading back to the bus to go back down to town.
From down below, you can see the ruins up above the town.
I loved the cobblestone streets and how about that top down bus tour?
Strolling the streets of Heidelberg were really nice, such a beautiful and quaint town.
Heidelberg has it's own beautiful cathedral too and we went inside to check it out. I loved all the old cathedrals on this trip.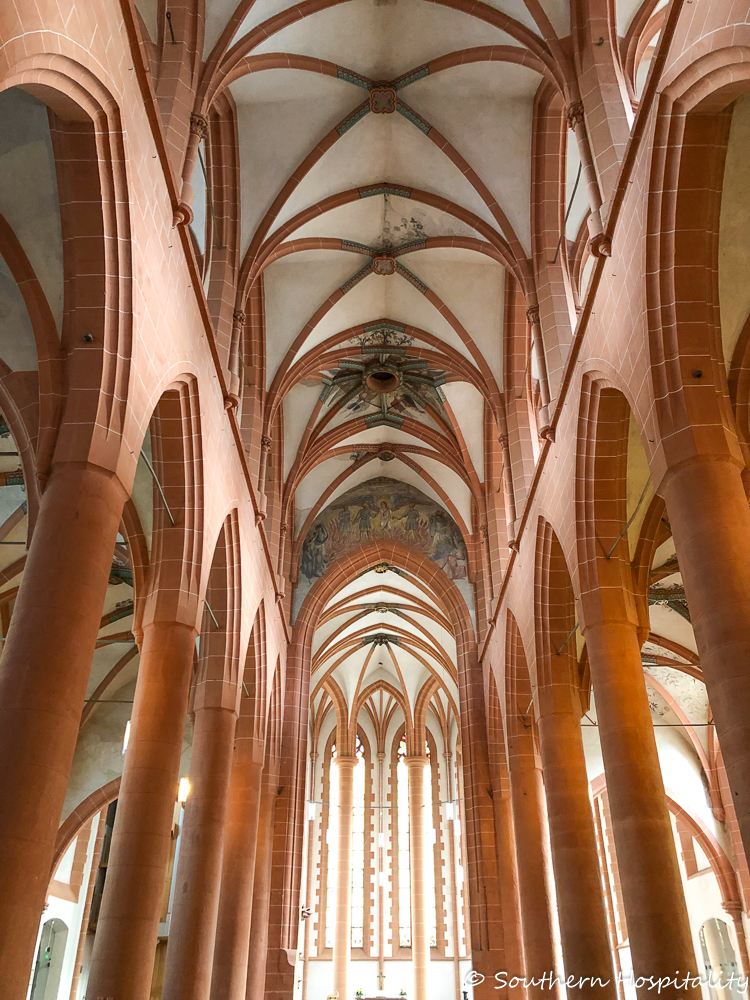 Inside was just spectacular.
I saw that you could climb up to the top of the tower, so talked Mark into climbing all 200+ steps with me. He's not a fan of heights or small stairs, but he was a trooper.
We made it to the top and were rewarded with this majestic view from the top.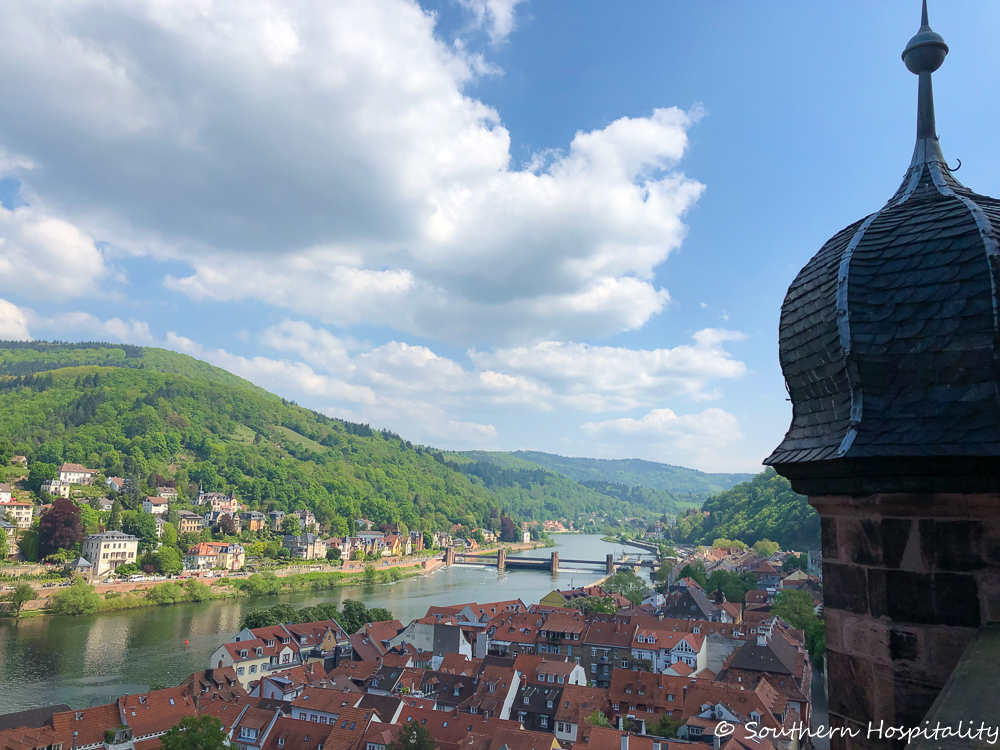 So worth the climb!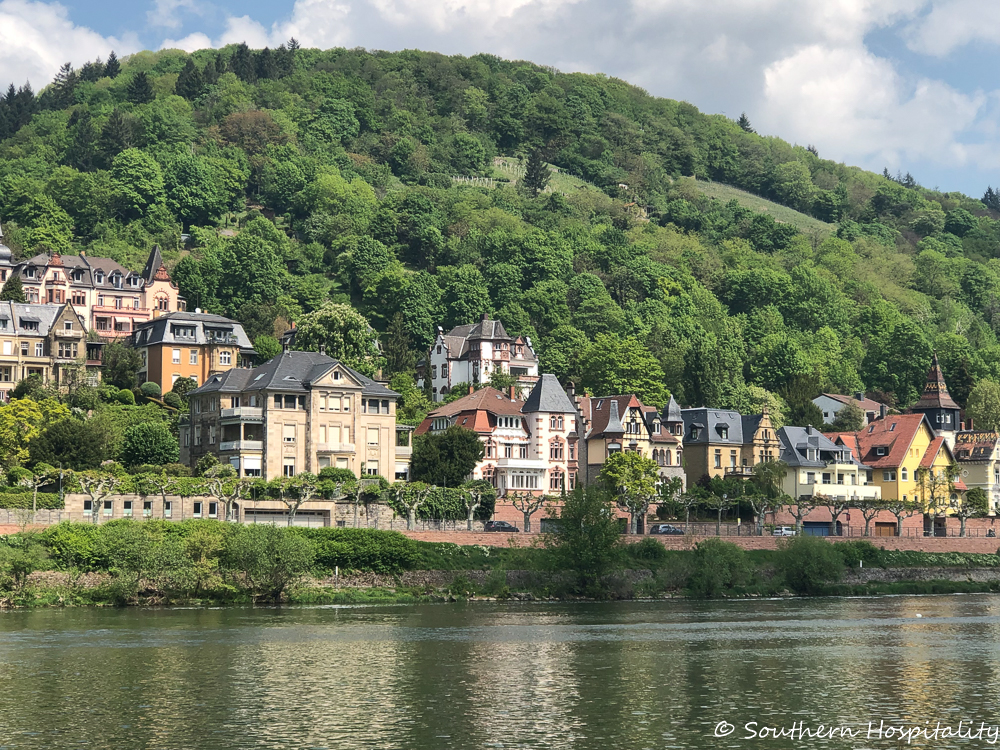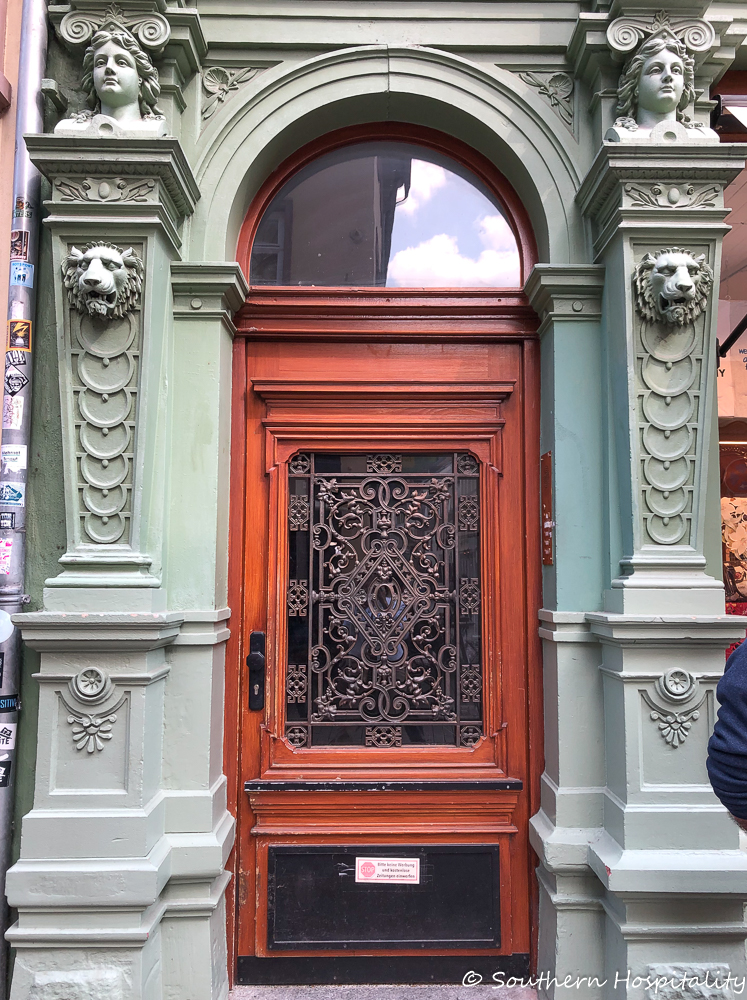 This town was captivating.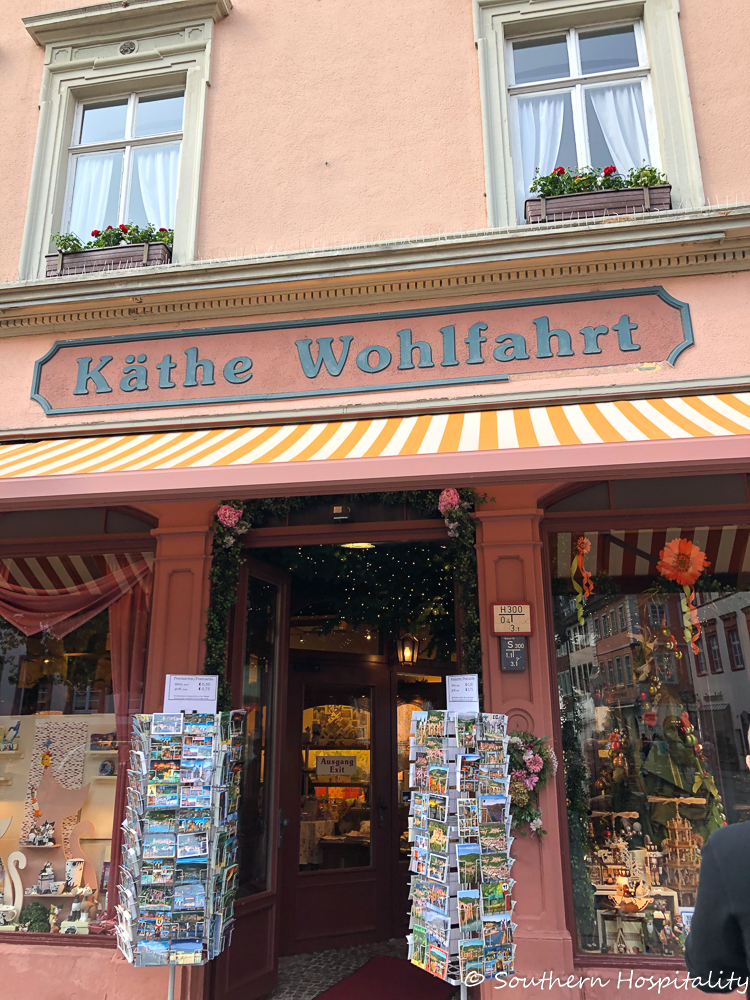 We heard about the Christmas shop, so found it and of course looked around at all things Christmas.
It was just a treasure trove of Christmas!
I ended up buying one ornament for our tree! It was a little overwhelming trying to figure out one thing to take home.
Here's what I ended up choosing, a cute glass snowman.
Back to the Viking Kara.
And lunch!
The ship left in the afternoon heading to Rudesheim, Germany and we arrived there at 5 pm.
There was an optional excursion for wine tasting and dinner at a monastery or another excursion to dine out for dinner in Rudesheim. We didn't do either of those optional excursions and just stayed on the ship. Maybe we missed out by not taking a peek at the little town of Rudesheim, but we were fine with that.
Dinner that night. I wanted to share a lot of the food we ate, because I know how important food is to all of us. The outstanding food is a huge part of a Viking cruise.
After dinner, there was a glass blowing demonstration by a local German glass blower, which was interesting. He had lots of neat glass items for sale and I bought 3 small orbs of colored glass for our Christmas tree. I thought these were so pretty!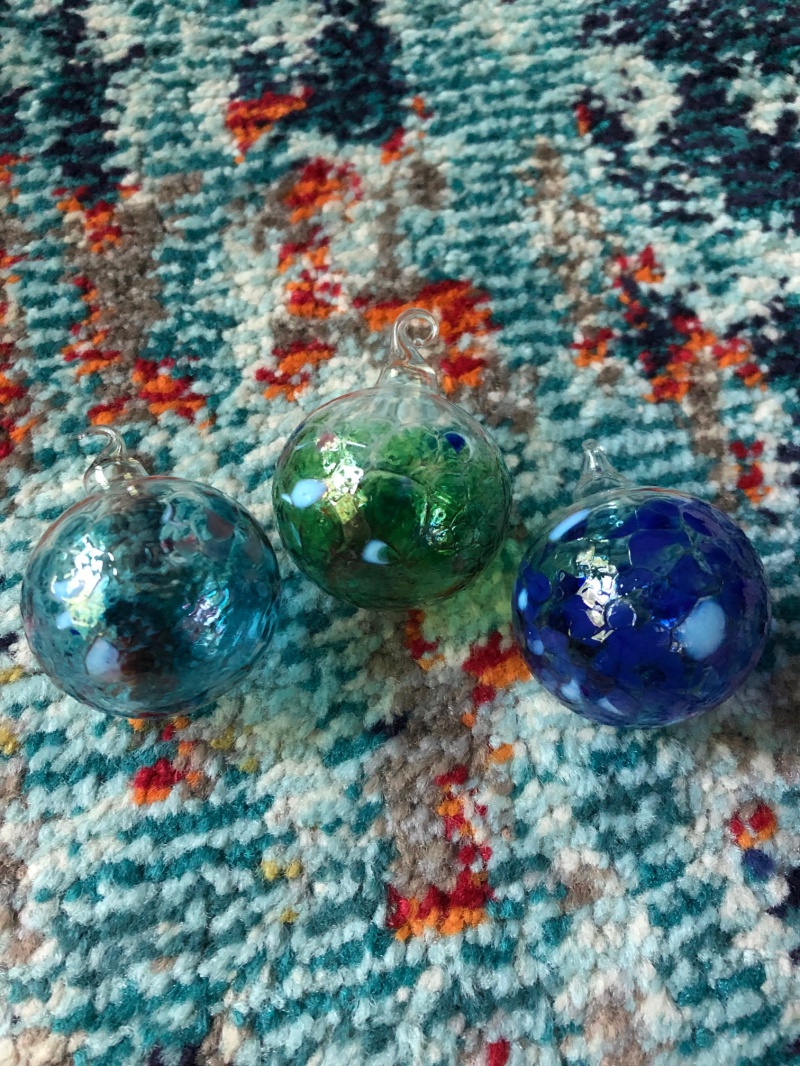 On Thursday morning, Day 5, we left Rudesheim for Koblenz. This was day sailing which was a real treat. Just a note about when the ship is moving. Many of our ship sailings were at night. A few nights, we left right as we all sat down to dinner at 7 or after and that was fun to see the the ship moving down the river as we enjoyed our dinner. It would travel all night and arrive at the next destination in the morning hours.
On Thursday of our cruise, we had a full day of the ship moving along the river, with the beautiful sights sliding on by. It was cold and windy that day, but we were all so enthralled by the scenery, we just took hot beverages up on the top deck, bundled up in blankets and made the best of it.
We passed so many beautiful villages along the Rhine and were completely captivated by the beauty we saw.
Enjoy the tour with us!
Remnants of medieval times were all along the trip too.
This statue of Lorelei sits down stream from the rock of the same name, where according to legend Lorelei lured sailors to their death with her beauty and siren songs.
This stretch of the Rhine boasts the most castle viewing of anywhere in the area and we sure enjoyed spotting them on the left and right banks.
You just have to take a picture when there's a castle looming over you in the background.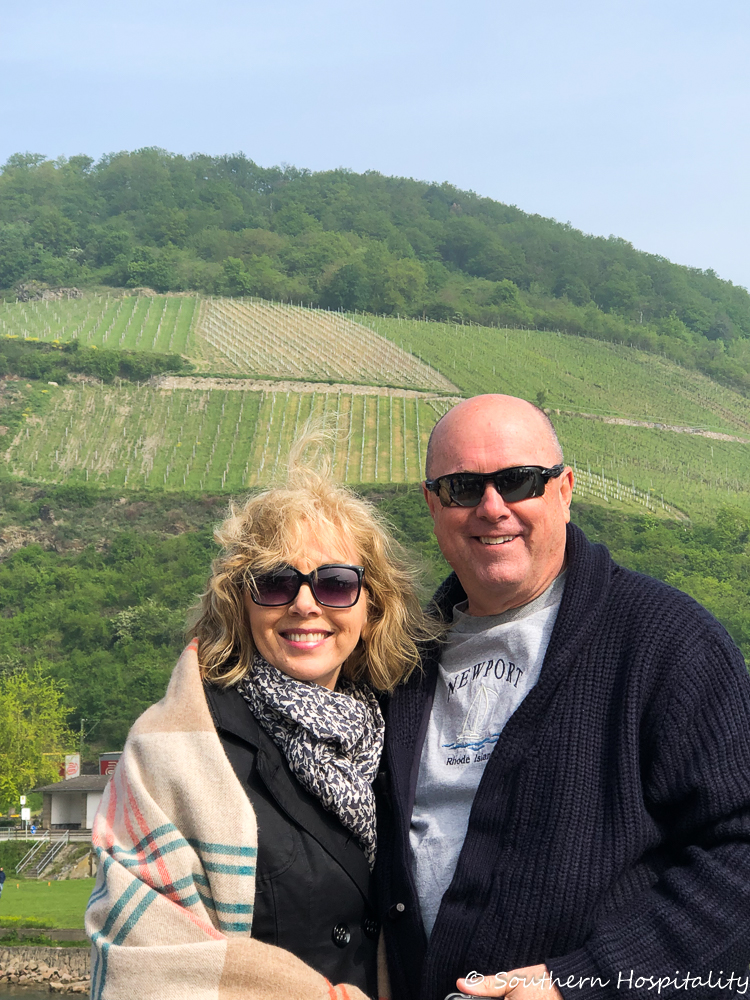 How often do you see a backdrop like these carefully tended vineyards still going strong along the Rhine River. We marveled at the beauty of these tiered grapevines.
Bundled up and enjoying the views.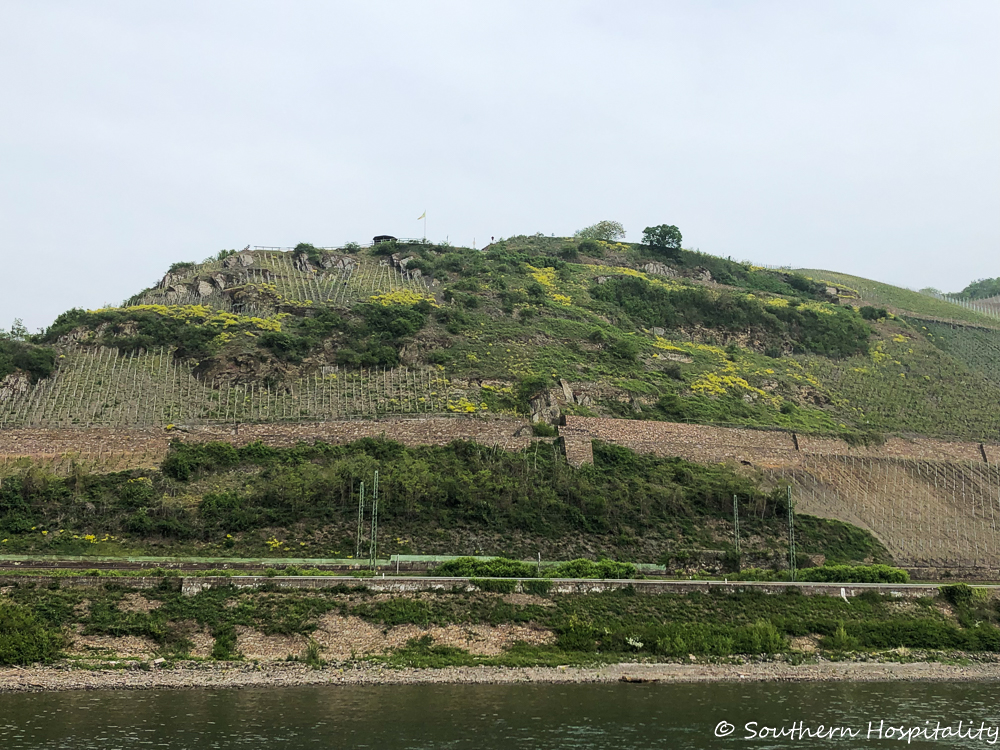 More of the tiered grape vines.
This castle was especially striking sitting way up on the hill.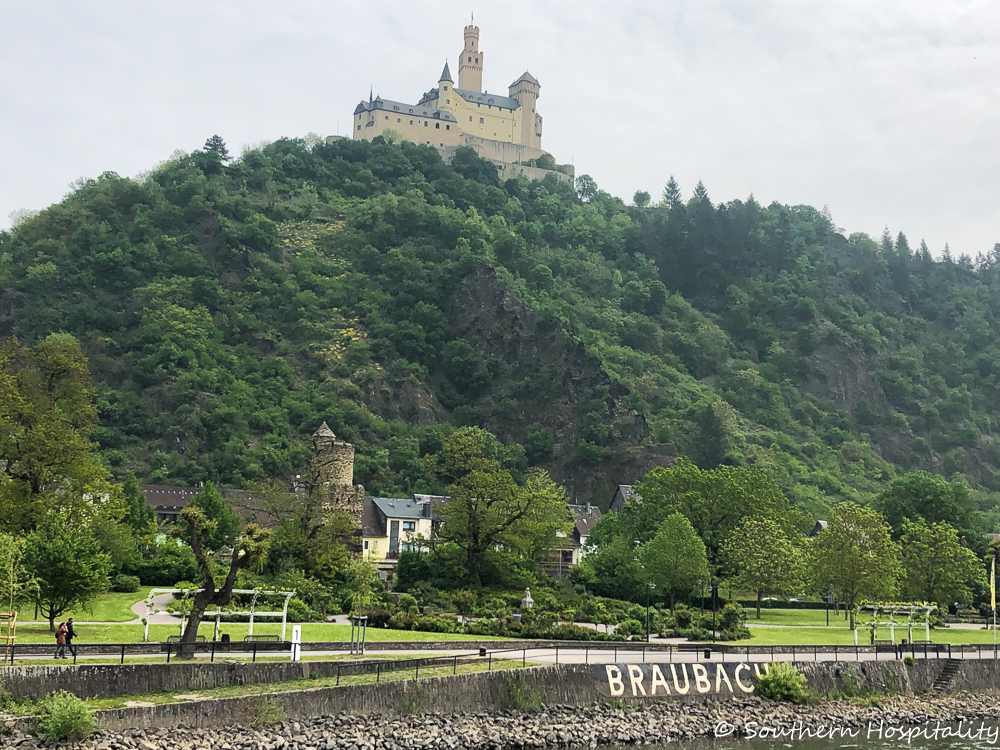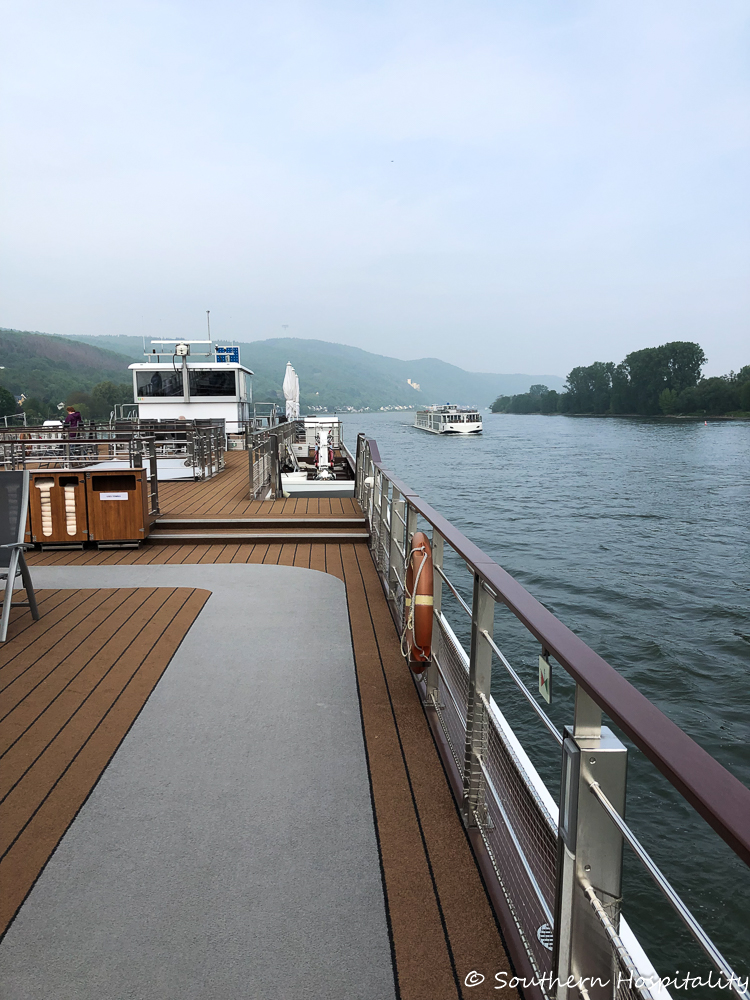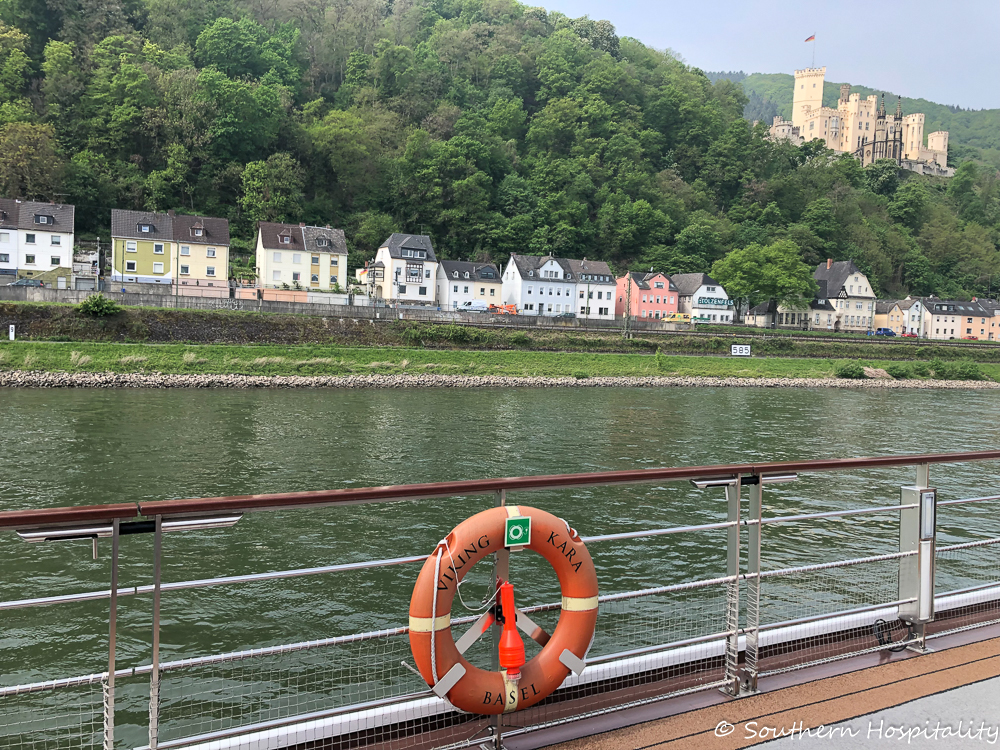 We arrived into Koblenz and found out this is the castle we'd be touring that afternoon, Marksburg. I'll be back with one more post to share the rest of our trip. I had so many pictures and wanted to be sure to cover it all, so I'm stretching it out further, hope you all are enjoying hearing about the trip.
And now for a recap you'll really enjoy….here's Mark! 
Rhoda asked me if I would say a few words about my take on our experience on the Viking long boat tour down the Rhine. I reluctantly agreed and as I am not much of a writer, let me preface my remarks by saying, I'm just a good ole southern boy and about as far as I ever wanted to get from home was Colorado to ski, or New England to enjoy the fall (and lobster rolls). I've never wanted to leave the country…I was always afraid someone might realize I was off shore and decide not to let me back in!
Like most men, I like being home and have enough here to keep me busy for years to come. The thought of traipsing across Europe with a bunch of strangers who probably don't speak the king's English ( aka southernese) and living out of a suitcase when I could be home working on my backlog of projects, did not appeal to me at all.  Now, Rhoda was on cloud nine and couldn't wait to go. She went on and on about how much fun we were going to have, so I kept quiet and kept the nightmares of getting trapped across the pond to myself!  All I can say is, boy, was she right….it was truly a blast  I do not remember ever having as good a time as I, we, had on the Viking Kara.  I have had PVB syndrome (Post Vacation Blues) for almost a month now and would go on another river cruise in a minute.  I keep finding myself thinking, this time two weeks ago, we were in Heidelberg, etc., etc.
Now it didn't start off without a little bump, as the airline lost my luggage for almost two days, but even that worked out to my advantage as it became a bonding event when several people at our table came to my rescue with some clothes. The Viking representatives on the Kara were working on finding my luggage for me before we even got on the ship and even our Room Steward (Mila) offered to have my clothes washed and prepped for me overnight so I would have clean clothes in the morning.  This was just the beginning of many positive interactions I would have with the ship's crew. Viking really has the concept of a positive sailing experience down pat and I have absolutely no negative experiences to recount.
Oh, when my luggage arrived, I believe I hugged it for several minutes…not sure if I shed a tear or two between the fits of hysterical laughter, but I might have!  Amazing how wonderful it is to have your underwear and toothbrush back…just saying.
The passengers on the ship were all as friendly as anyone could wish for, especially the ones who shared our dining table…they came from Tennessee, New York, Ontario and Maryland. Total strangers who were almost like family by the time the cruise was over and I still think of them almost every day. The food was incredible, the drinks (thanks to Joe) were quite tasty and the music and dancing (thanks to Blondi and Rhoda) went on until all hours. Sitting on the top deck watching the country side pass by, the castles, the old cities, the friendly people (who almost all spoke English), daily excursions, Cologne, Heidelberg…it was the experience of a lifetime.
So, I guess you can tell, I had a great time and thanks to Viking and Rhoda (who was right as usual), I am forever over my fear of traveling abroad.  I couldn't recommend a Viking river cruise more highly. So, if you are burdened with a husband like me, somehow get him to go and you will have a willing travel partner who will thank you forever when you get back.
Don't miss Part 3 of our trip! 
Don't Miss a Post, join my list!