Hey there and Happy Wednesday to you all!  Today on Fashion over 50/60, I'm talking about makeup and skin.  One of those topics we don't often talk about as we get older, but it's probably something you think about sometimes and it might be helpful to talk about as a group effort.  I know it's on my mind, so it's probably on yours as well.  We all want to look and feel our best, no matter what our age might be, don't we?
I wore this outfit over the weekend and it's an oldie, you've seen all these pieces before, but you know I don't get new clothes all the time, so I reinvent my closet.  This sweater is from Chico's about 3 years ago at least and those pants are cords from Kut from the Cloth in Winter White.  Those are the newest booties I got recently too.
I've had a few people ask me about makeup and would I share more about the makeup I use, so I thought this would be a good time to do that. I'm not an expert by any means, but I'll share what I use and how it works for me. I used to wear a lot more makeup when I was younger, but I think as we get older, less is better.
Here are some observations on getting older and how our skin changes with aging.  In my 40's, I had a few lines, but overall my skin was still very tight and taut.  Remember that?  As I've watched other women aging, it made me feel bad when I would see sagging skin, knowing that one day I would be there too.  And now, it's happening. I'm there too. Sometimes I look in the mirror and think to myself, how in the world are you 60+ years old??  It happened so fast! I bet you can relate to that too, can't you?
In my early 50's I had some lines and wrinkles, but still not a lot of sagging skin on my face.  I'll be turning 62 in just over a week and I can definitely see in the last 10 years more changes in my face and skin.  It's just part of the aging process, but hard to adjust to.  I've never even considered plastic surgery or anything permanent like that, but if I found a non-surgical way to fight sagging skin, I would sure consider it.  But, plastic surgery scares me.  I just don't think I could ever let someone cut on my face. I'd be scared to death of looking like a clown!  I see women all over who have had plastic surgery, although I don't know that many personally.  I see them on TV and celebrities out there who have had "work" done.  Some of them look decent and some of them seemed to have ruined their faces to me.  It seems to be hard to get a really good job done with plastic surgery and even the celebrities don't always get it right, with all their money. There's usually something that gives it away when someone has this type of facelift. It's hard to explain, but I'm sure you've seen it too. The taut tight look, lips too puffy, just an overall shape and look to the face that you can tell they've done something. And it's not necessarily better to me.  I've seen some downright grotesque facelifts out there, haven't you? (Michael Jackson comes to mind!)
So, that's out for me!  I'm going natural with this aging thing even though it's not fun to deal with, is it?  I'd love to hear from all of you on what you've done or doing to try to age as gracefully as possible. So many women get Botox these days too.   I've never even considered that, but I hear it's not harmful.  I'd love to hear if you have tried it!
If you've done some of the treatments in a dermatologist office, I'd love to hear about it. It seems like there are so many new procedures out there these days that are non-invasive, so I'd love to hear about them. I know the cost is not cheap though to do these type of procedures.  Feel free to leave comments if you have tried something you'd recommend and I'd love to know cost too.  Trying to stay younger and beautiful isn't inexpensive is it?   And we know it's only a matter of time, time will always catch up to us!  I think about my sweet beautiful mama who is 91 now.  Each decade brings more and more texture to our faces, doesn't it? And we are probably more into staying younger than ever before in the history of man.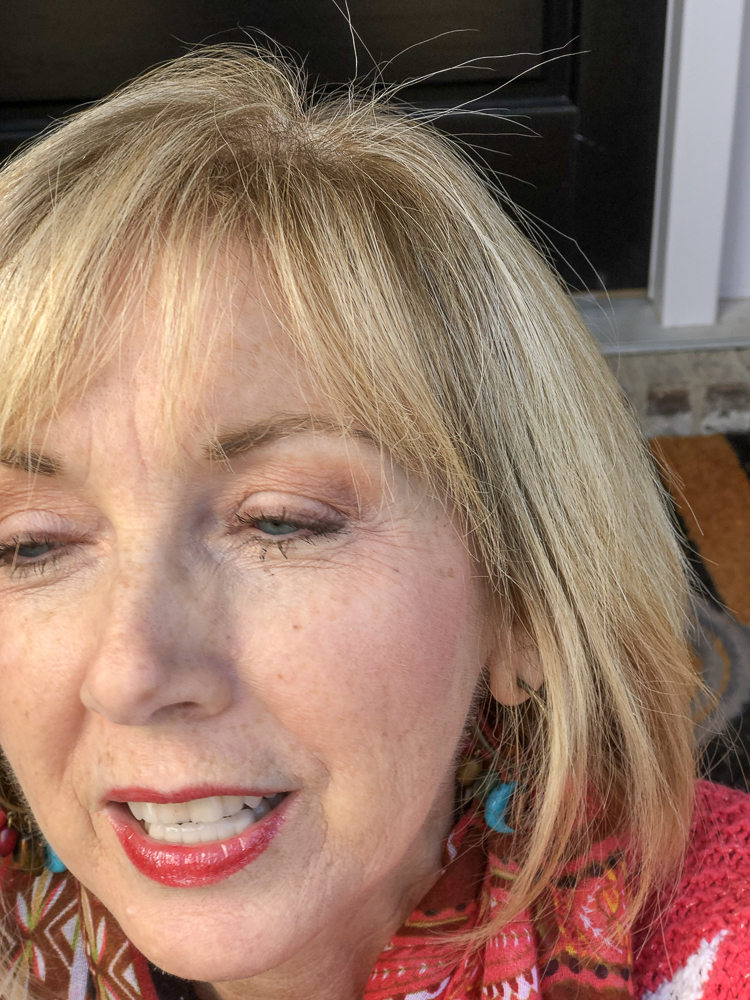 With that said, I'm going to share my makeup I use with you all.  I do think makeup is a wonderful thing!  Every woman to me looks better with some makeup on.  I've been using it since I was about 15 and it just makes me feel better to have my face made up.  That's not to say I won't go out without makeup on, I do occasionally do that. These pics are pretty closeup, so be kind. I sure don't have perfect flawless skin anymore.
When I look at the younger fashion and style bloggers out there sharing their makeup tips, I've noticed that the younger girls are obsessed with long/fake eyelashes and eyebrows.  I don't know when these two things got so popular, but they definitely are for the younger women I see.  I don't put a lot of emphasis on either of those.   I think they're important as part of an overall look, just not as important for those of us who are older.  As part of the whole package, yes, but not that important on their own.  That's just my opinion, of course!
I have a couple of different makeup bases that I use:
Bare Minerals powder and also It Cosmetics CC cream. They both have their place and I'll share them both below.  I'm wearing the Bare Minerals powder in the above picture. It's a soft coverage and you can layer on more or less depending on the coverage you want.  As I've gotten older, I wear less makeup. It just seems to look better on aging skin to me. I don't want that caked on look.  We all have to use makeup that makes us feel good, so these things are what I use and love.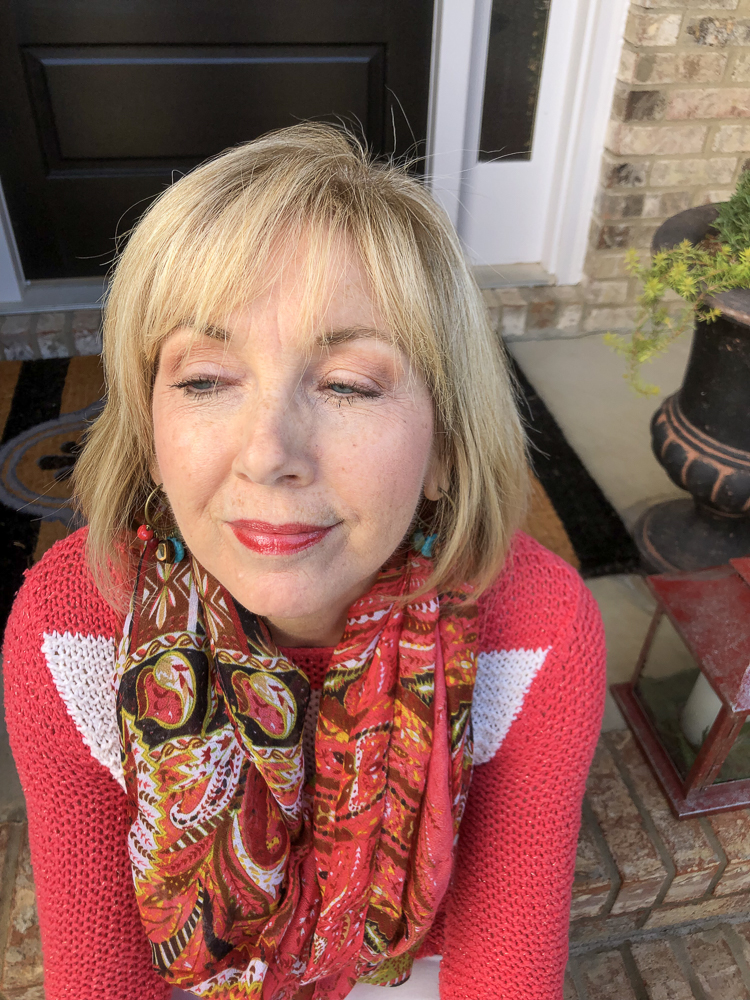 For eye shadow, I have several palettes with many colors and I gravitate towards soft pink/peach/brownish tones with my blue eyes.  I usually use 4 colors, a base color on the lid, a darker shade on the crease and a little bit darker shade on the V, outer corner of the eye into the crease for a little bit of depth. And I use the 4th, a lighter white/beige shade right under the brown bone.  I tend to use matte shades most of the time, but sometimes add a little sparkle right on the lid. Matte definitely is the best look for us older gals, I think.
In this pic, I'm wearing the It CC cream. I apply it with a big brush and it's easy to apply that way, blending it in all  over my entire face.  You can't tell that much difference in these pics, but the CC cream is a little bit heavier in coverage and I usually wear it more when I go out and dress up on the weekends.  I use the Bare Minerals during the week for quicker applications.  I like them both, so I'll share them both below and how I use them.
My skin is definitely more dry than it used to be. I was very oily back before menopause…good ole' menopause changes a lot of things, doesn't it?  I went through it at about 52, so slowly my face has gotten more and more dry over the last 10 years and I have to use moisturizers even more than ever now.  I used to be so oily on my face and I think that really helped with keeping wrinkles and lines at bay.  If I could only get the sagging to stop, I'd be happy about that, but there's no way to stop it.
So, use a good moisturizer on your face before applying makeup to help things go on smoother. I am not loyal to any particular moisturizer or skincare line. I've used so many of them, cheaper and expensive, so I'm no help on that.  I haven't seen a ton of difference between the cheaper ones and the more pricey ones.  I use a serum and night cream, as well as moisturizer during the day.
Got any you'd recommend?  Leave a comment below!
Here's a look at what all I use (left to right):
It CC Cream (medium)
It Bye Bye Illumination concealer (medium)
It Bye Bye Pores primer
It Bye Bye Pores loose powder
I really love these products together, they give a nice smooth look to my face and I feel good when I'm wearing them all.  I use the Primer after moisturizer and before the CC Cream goes on.  The primer just smooths out the skin and feels good on, very silky soft. You can use that under the Bare Minerals too.
All links below are affiliate links: 
I use the concealer right under my eyes to conceal dark undereye circles. It adds a little bit of brightness under the eyes too.  A very little bit goes a long way with the CC concealer!  Just a small dab is all it takes. The loose powder goes on last after I'm finished with the concealer, CC cream, blush (see below) and everything is done.  I just brush over the loose powder with a big brush to a smooth finish to set everything.
I also like using Bare Minerals and here's what I use.  Bare Minerals in Medium Beige topped with Mineral Veil.  Pretty and soft coverage, just enough for most days.
Here's the blush I've settled on, Nars Orgasm (yep, that's really the name) and I really love the color, a pretty pinky peach with little bit of sparkle.
Here's what I use to line my eyes. I've been using Almay liner in a brown shade forever and these are 2 of them. The Mac stick is an eyebrow pencil in a Dark Blonde shade. I do use this on my brows when I'm going out, since my brows are turning gray too. I never over plucked my brows, but they are definitely turning white some, so I color over them to darken them a bit when I feel like it. Again, I'm not obsessed with my brows. I just darken them a bit and brush them to groom them with an old toothbrush.  But I don't need to try to look like a Supermodel with big bold brows!
This mascara, I've shared before, but it really does help get my lashes a bit longer and fuller, Loreal Voluminous Superstar.  It has a primer on one end that coats a white coat, then add the mascara over that for longer lashes. You can't really tell in these pics, but it does work well for me. I don't use it everyday, but for weekends and special days or nights out.
And the 3 eye shadow palettes I use all the time.  This one is called Naturally Pretty, it's all matte shades.  Love it!
This is the newest one, a neutral Urban Decay Naked palette and it has some nice colors too.
I got this Tarte kit in a Fab Fit Fun box and love the colors in this one too.  The sparkle ones are fun for the lid and to add a little shine.  In this one, I'd use a little of the Hype color on the lid, Drive on the crease, and Stylin or Crisp right on the outer edge into the crease for a little drama.  Blend it all in with a soft brush.  I linked a Tarte kit below that's really pretty as well as the ones I have.
Here's a look at the main brushes I use. It's really important to get a good set of brushes too.  These are all different brands, but there are many out there. I'll link to a couple below.
From top to bottom, here's how I use them:
White tip eye shadow brush – I use this for my lighter colors
Dark tip eye shadow brush – I use this for my darker colors
Wide brush – I use this for adding highlighter and blending under brow bone.
Short stubby brush – Use this for adding in contour to crease with a little darker shade.
Blend well with a brush to blend all colors in well.
Makeup sponge for blending in base makeup or I use the brush with the IT CC cream.
Large fluffy brush for Mineral veil or loose powder to set it all.
It Cosmetics brush to apply It CC cream.  Really helps to smooth it all out on your face.
These look like a good starter set of brushes if you don't have any.  You'll also need blush and powder brushes so look for those in a set too.
Here's a link to QVC (affiliate link) where I bought It CC Cream the first time with the brush. It was cheaper to buy it all together.
After that, I bought from It Cosmetics online directly and they often have 25% off sales on their products, so that's a great time to buy.
So, that's a wrap up on my makeup and what all I use and love.  I'd love for you all to chime in on this subject too. What are some of your favorites and do you wear the same makeup every day or do you change it up depending on what you're doing that day?
Let's talk makeup and aging skin. Would love to hear from you too!
Don't Miss a Post, join my list!