Save the Date:  I wanted to give you all a heads up if you live in Atlanta.  I'm having an Open House!!  Yay, I know, I'm excited to open my doors to all of you who live in the area and want to stop by.  Maybe I'm crazy to do this, but it just seems appropriate since you've all cheered me on for all these months on the house.  So, mark your calendars for Saturday, January 26th from about 1-5 for the Open House and I'll be posting about it again later too to remind you, just wanted you all to save the date.
How's your New Year going so far?
I'm still getting geared up for the new year and working on getting organized and straightened up around this place.  Still have a few more things to get finished and putting the runners on my stairs is one of them.  This month, I'm getting that done! I just finished the stenciled drapes in my bedroom and I can't wait to show you that, hopefully next week.
I have a bunch of decluttering to do (you too?) and moving will just make that more evident at all the stuff you need to get rid of or find a place for.
So, I'm sharing some fun inspiration pics today of painted floors.  Do you love them or not?  When we were fixing this house up, I considered doing a fun paint treatment for about a week on the old wood floors that were originally in the kitchen and dining room, but I quickly realized that wouldn't really be the look I wanted for the long haul and getting the entire house done in the same hardwoods made the flow of this house so much more appealing.
But,  if I had a room of old wood that I was trying to salvage, I would totally paint them!  Check out these inspiration pics and you'll see what I mean.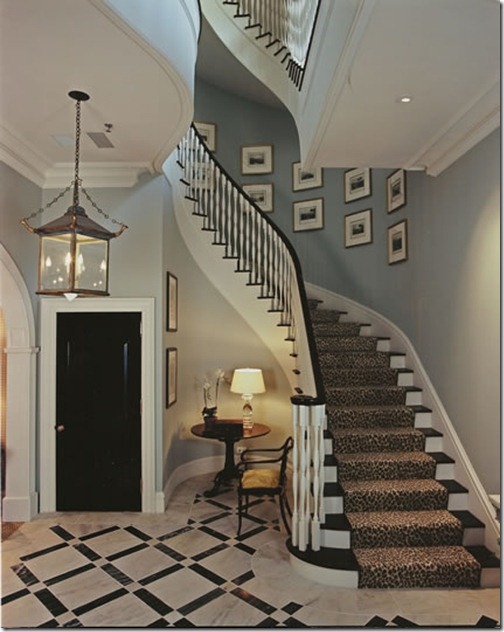 (via The Enchanted Home)
I love this runner and now can't wait to get busy and put my runners down.  They are going to be so pretty.
(via Stinemos)
I've always been a sucker for diamonds like this and painted black and white diamonds in my old screened porch in GA many moons ago.  And I have always loved painted plank floors.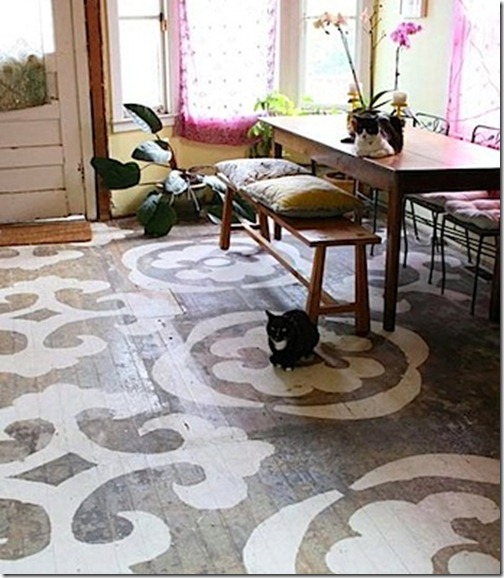 (via Dreams Happy Things)
So, for your viewing pleasure, here are a few more painted floors I found around the web.  This one is pretty cool too.  Aren't these fun?
(via Row House Nest)
This one is simple and cottagey. Love it!  Those diamonds draw me in every time.  Have loved them for years and will more than likely paint the planks on my porch in a diamond pattern this spring.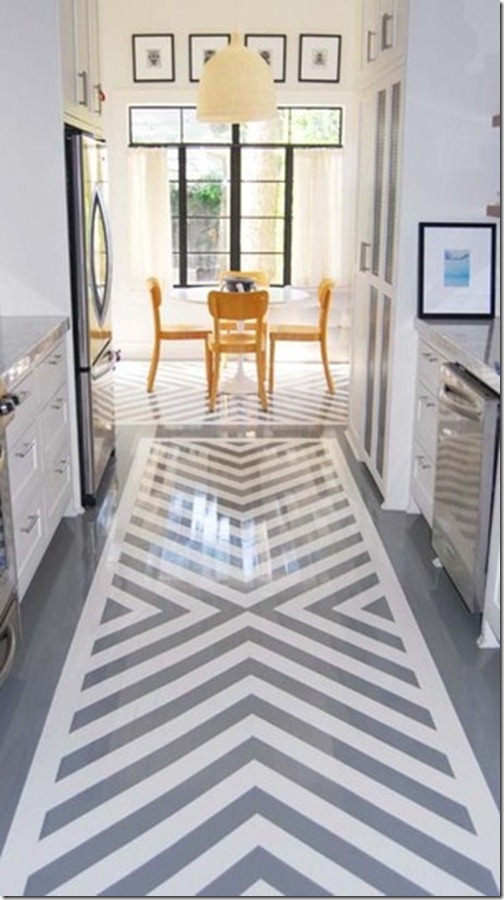 (via Apartment Therapy)
This Chevron is really cool too, but you might get tired of it quicker.
(via Paisley Wallpaper)
Check out what this family did with their old wood floors.  Very cute and so colorful!  That would be a happy room.
(via Bungalow Jax)
This kitchen is beautiful with the cabinets and those pretty diamond floors. Love, love it.  You can do diamonds in any color and it's gorgeous!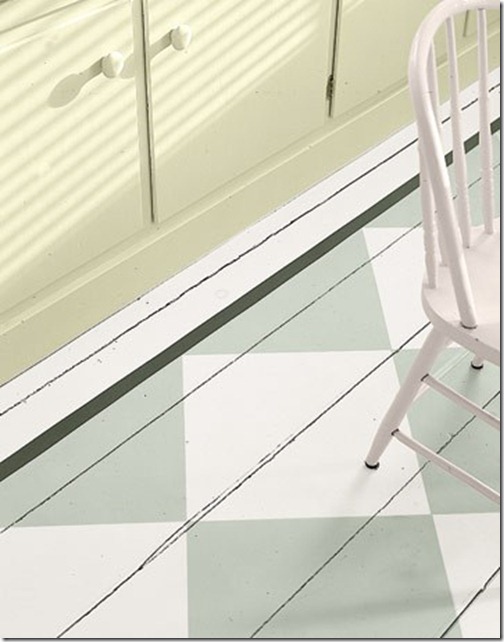 (via Country Living)
More cottage feel with aqua blue and white.  Lovely!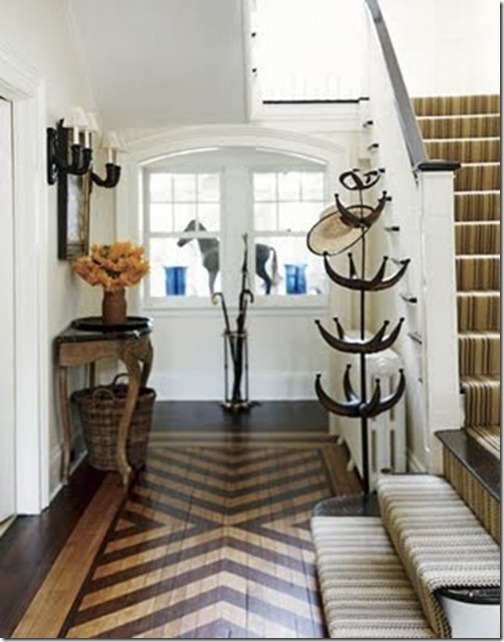 (via Splendid Design)
This would be a good transition for a dark wood floor if you could do a pattern with stain.  This one would be more tricky than paint, but very eye-catching.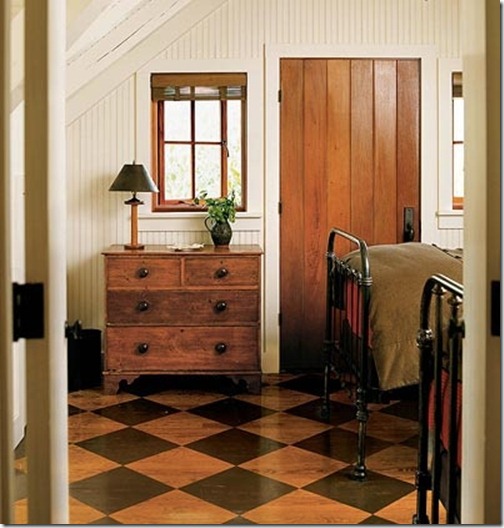 (via My Home Ideas)
Here's another one on that same vein.  Love the ebony squares mixed with stained wood.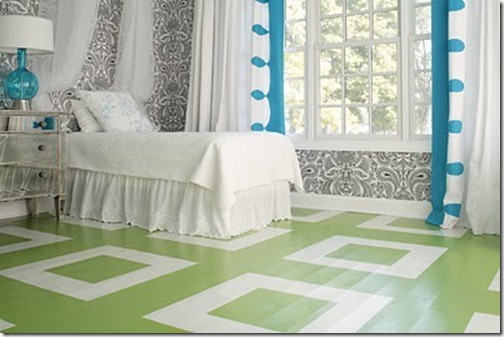 (via Area Fare Home)
And is one more bright and happy lime green and white painted floor.  How cute is this?!
I totally think it's a great solution when you have old floors that you need to do something with.
What do you think?   Would you paint wood floors in an area to make them last longer?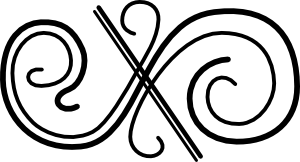 In other news, I'm going to be on another radio show today, Radio Sandy Springs and I'll be chatting, along with my friends, Heather, and Hometalk,  with Paisley McDonald all about home decorating and how Hometalk fits in with this niche.  At Home with Paisley is a one hour show all about home decor, organization, renovation, and design.  If you're interested, you can listen LIVE from 3-4 PM EST. at this link or listen later here. 
Would love to have you listen in!
Don't Miss a Post, join my list!