A trend started about 10 years ago that I took note of then, but didn't do and that trend was painting interior doors black (yes, both sides!).  Have you noticed that one?  It's one of those subtle little changes that can make a huge impact and I'm loving this one.
I have never painted all my doors black, but I have some friends who have done it (like my friend, Renae here in Atlanta) and the more I see it, the more I likey.  And I'm about to do that in my new/old house.  Paint every interior door black.
(via Habitually Chic)
Let me show you a few inspiration pics to show you how great it looks.  The one above is a good example of a normal 6 paneled door painted black. Note that only the door and not the trim is painted.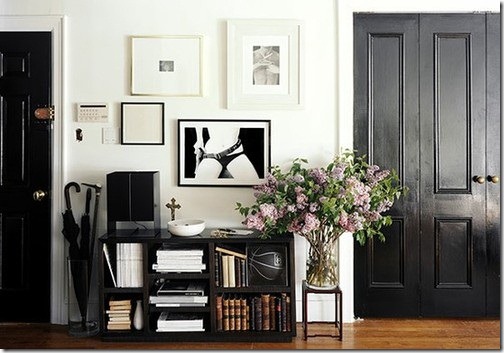 (Via Shelterness)
This dramatic double black doors shows the impact they can make, especially with lighter walls.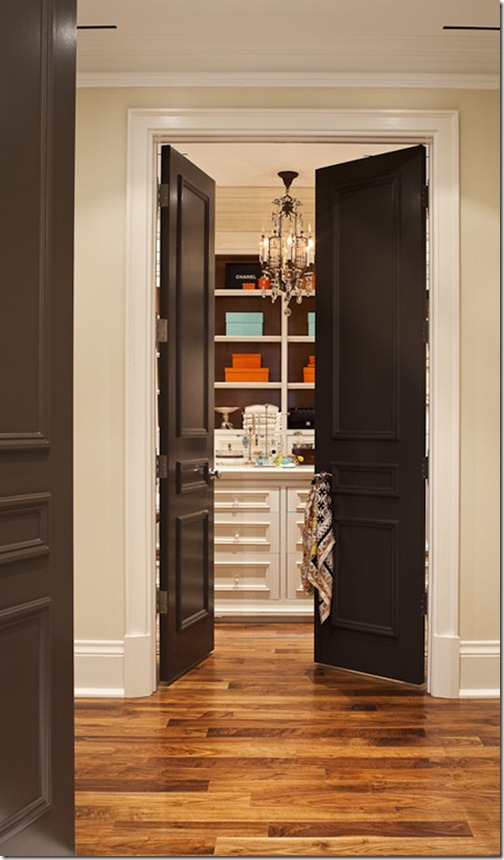 (via Shelterness)
More black doors and wood floors.  Beautiful!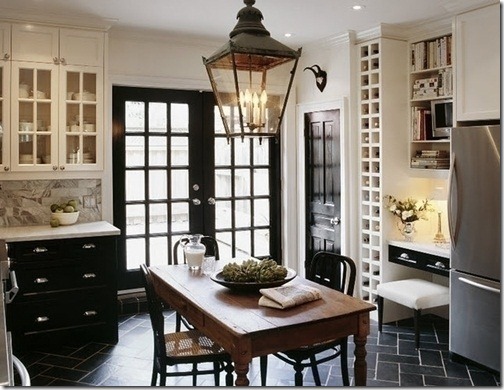 (via Decorpad)
This dramatic black kitchen French doors along with that stunning lantern makes this kitchen swoon-worthy.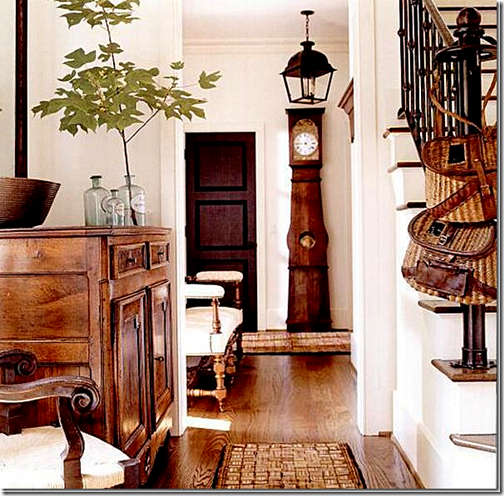 Not sure where this photo originated from, but it's been all over blogland and I still love this foyer.  It is perfection in my book and look, a black interior door.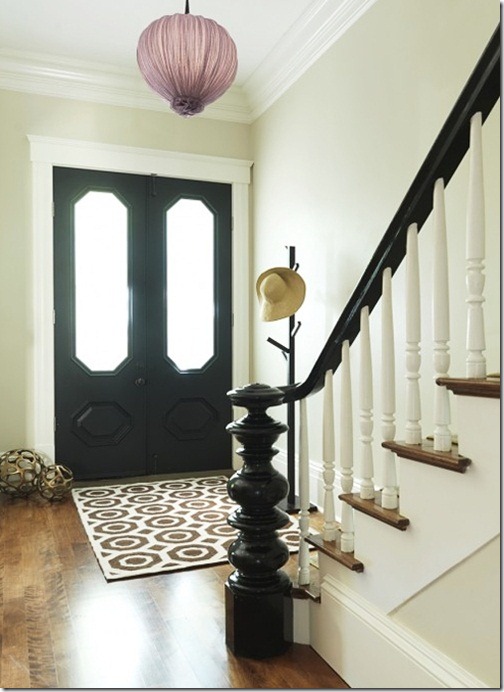 (via WoolAcorn)
Black inside the front doors and painted black stair railing adds an extra wow factor in this pretty foyer.
Just to show you that everyday homeowners can get away with this one too, check out Sarah's breakfast nook.  I've highlighted Sarah's house before on Feature Friday and love the impact this black door has with the wide striped curtain panels at the windows.
Joni, at Cote de Texas, covered this back in 2010, when she posted about updating your decor and stated that all of her builder's grade interior doors were painted black.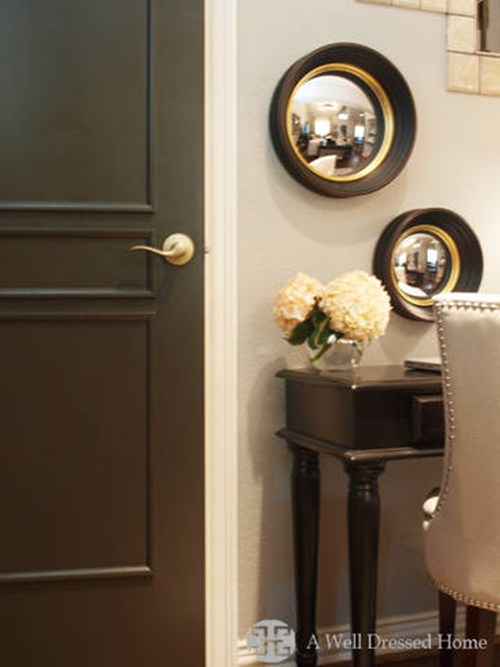 Now this one, this one, really got my inspiration going.  Let me tell you about Emily's (A Well Dressed Home) black doors.  I came across her post doing a Google search and got so excited when I saw what she started with.
Look at these smooth as a baby's butt doors!  These are white and mine are stained brown, but smooth, very smooth, with no architectural details AT ALL.  Boring!  I had contemplated changing out these doors, but that will be awhile down the road.  I've got hardwoods and a kitchen to install first, so anything like this will just be on the back burner for now.
But once I saw how gorge Emily's doors turned out by adding molding.  Wow, oh wow!  I can just do this and keep my doors for the long haul.  Save myself some bucks.
Molding was added.  Love how she did 3 panels of different sizes (she got inspiration from some fancy door place online).  She had a handy man come in and install them.  I can do this using liquid nails and my nail gun.  And the miter saw.
Here's another peek at how great Emily's doors look now.  Are you as amazed as I am?  I am SO doing this.  I'll keep my plain ole' smooth doors and just buy the trim for them.  I am already painting my doors black.  Now I will add the molding too which will really up their presence.  I'll paint mine with Black satin paint instead of semi-gloss.  I think I'll like that better.
It might be awhile before I can get to the molding, but painting them black will happen from the get-go.   When I mentioned it to my dad, he looked at me with the usual, "what in the world is she going to dream up now?" look. 🙂
So, do you like the whole paint your interior doors black trend?
Or not?!
Me, yes, yes, yes, I'm loving it and you will see black interior doors in my house!
Don't Miss a Post, join my list!