Happy Mother's Day to you all! We've been getting ready for our Mother's Day celebration this year at our house so I thought I'd take you along and show you what we've been up to. Lauren and the girls are home as well as Bruce and Renee, so we are all gathering today at our house to honor our moms. Bruce's mom, Doris will be here too along with his brother and sister-in-law, so we will have a full house. The weather is cooperating and will be low 80's and sunny. So glad for that.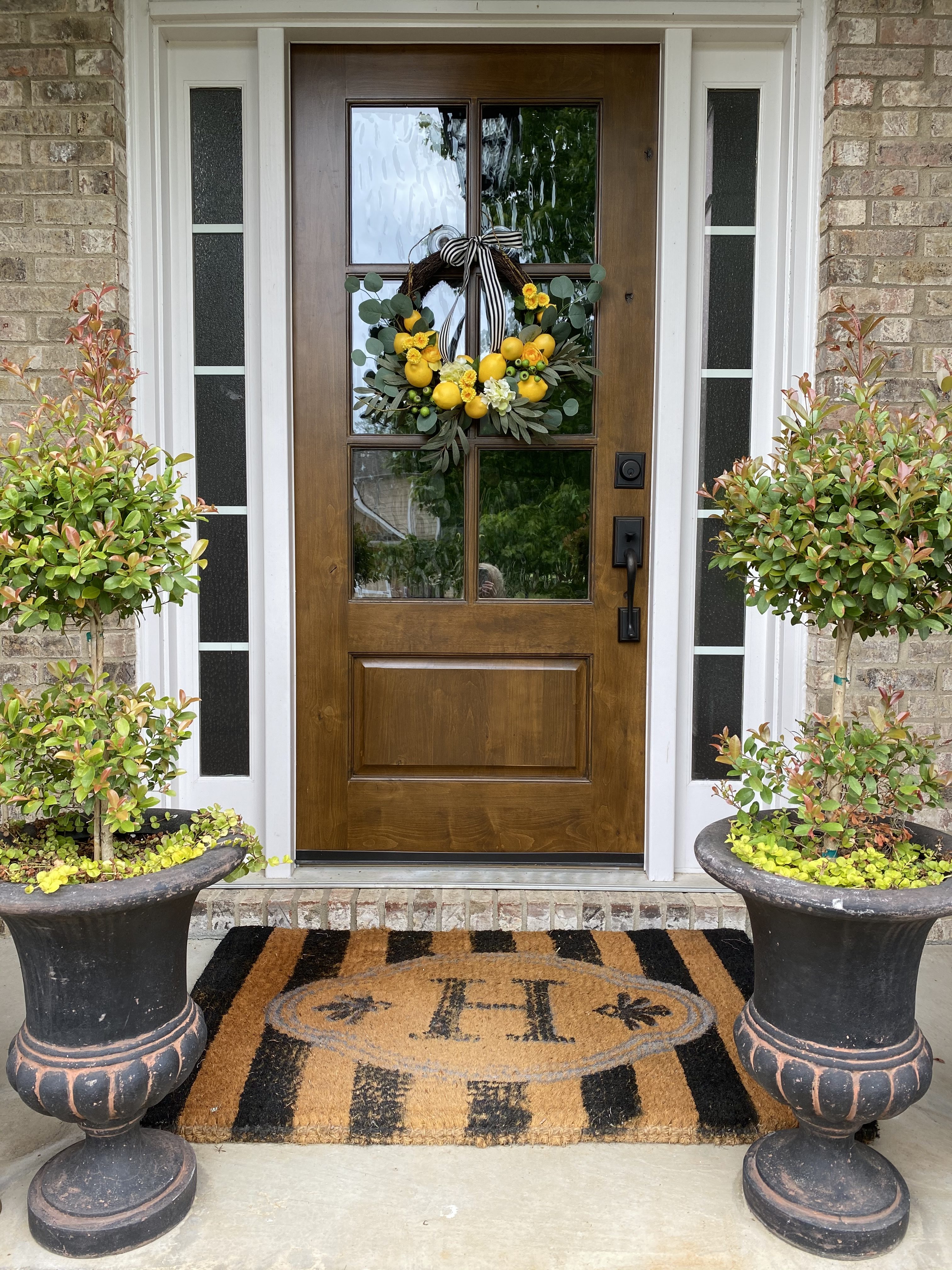 I picked up a new wreath for the front door.
This mixed lemon wreath popped up on an ad from Belk and was on sale, so I grabbed it. Not an affiliate link, but here is the lemon wreath if you're interested. Great price and adds a lot of color for summer! I added the black and white ribbon.
In the meantime, Mark and I have been very busy getting the backyard cleaned up for the summer season and that means pressure washing the patio and cleaning the deck. They both get so grimey from summer dirt and all the things falling from the trees as well as winter rains and spring pollen. The pollen was horrible this year as usual, but the pressure washer took care of that.
I scrubbed down the deck with Magic Erasers, that gets all the gunk off from the tree debris falling on it so it looks way better than it did. I had to do the stairs too since they get so much grime over a year. I don't have the cushions out yet, but I'll get them out soon. We still have seed pods falling from the birch trees right over the deck so that's always a mess too. Luckily that stops after a couple of weeks.
I'm still so happy I did the faux tile treatment on the patio a year and half ago. This Spreadstone faux tile product worked so well and it still looks great. I was hoping we wouldn't have to pressure wash every year, but it looks like we will have to do it on the low setting. Mark got some Zep outdoor cleaner that goes in pressure washers and that worked well. He put the soap setting on and sprayed out the soap, let it sit for 5 minutes and then used the lighter pressure nozzle to clean the grime off. It's amazing how dirty it really was once we started cleaning it. We had to keep going as there was a definite line on the concrete. The side of the patio that gets the most shade was the dirtiest and it gets green mildew on it. We were able to get most of it off with some extra scrubbing.
Someone told me about a product called Wet It and Forget It and I ordered it on Amazon and will be trying it out soon. You spray it on areas that get a lot of green mildew and it's supposed to make it disappear. I have to read all the directions but if it works, I'll be thrilled. Maybe it will help over the summer months. Here's what I ordered, see the Amazon widget below and click to read the reviews (Affiliate link):
You can definitely see the line here where the grime was and now it's all clean.
We moved all the furniture around to get all the areas clean.
And now it looks like this again. I'll be putting all the cushions out for today's celebration and then taking them back in again since we are getting rain this week. I don't leave my cushions out all the time, that really keeps them nice longer.
I also went to Home Depot to buy my summer flowers so here's what I painted. I got basil to plant on the deck along with impatiens. I love those flowers!
Geraniums for the deck too, I'm partial to pink flowers.
My Meyer lemon tree that I've had for about 14 years or so is still going and I bring it in during winter months. It's loaded with baby lemons this year so I might have a good crop. Last year it had one. I've only gotten one year with more than 6, but this year I see a lot of baby lemons forming. I'm not sure what makes them produce, anyone know?
See these babies? I'm so excited to see that.
Also on the deck, I like to add flowers to these planters too. Much of my Creeping Jenny came back and asparagus fern did too, so all I did was add more flowers to the planters. I did petunias, impatiens and a few coleus. They should all fill in nicely this summer.
On the patio, I planted the big white planter and since the old center spiky green plant from last year was still living, I left it as well as the Creeping Jenny and added my favorite Rio mandevilla vine. Those do so well and are very drought tolerant.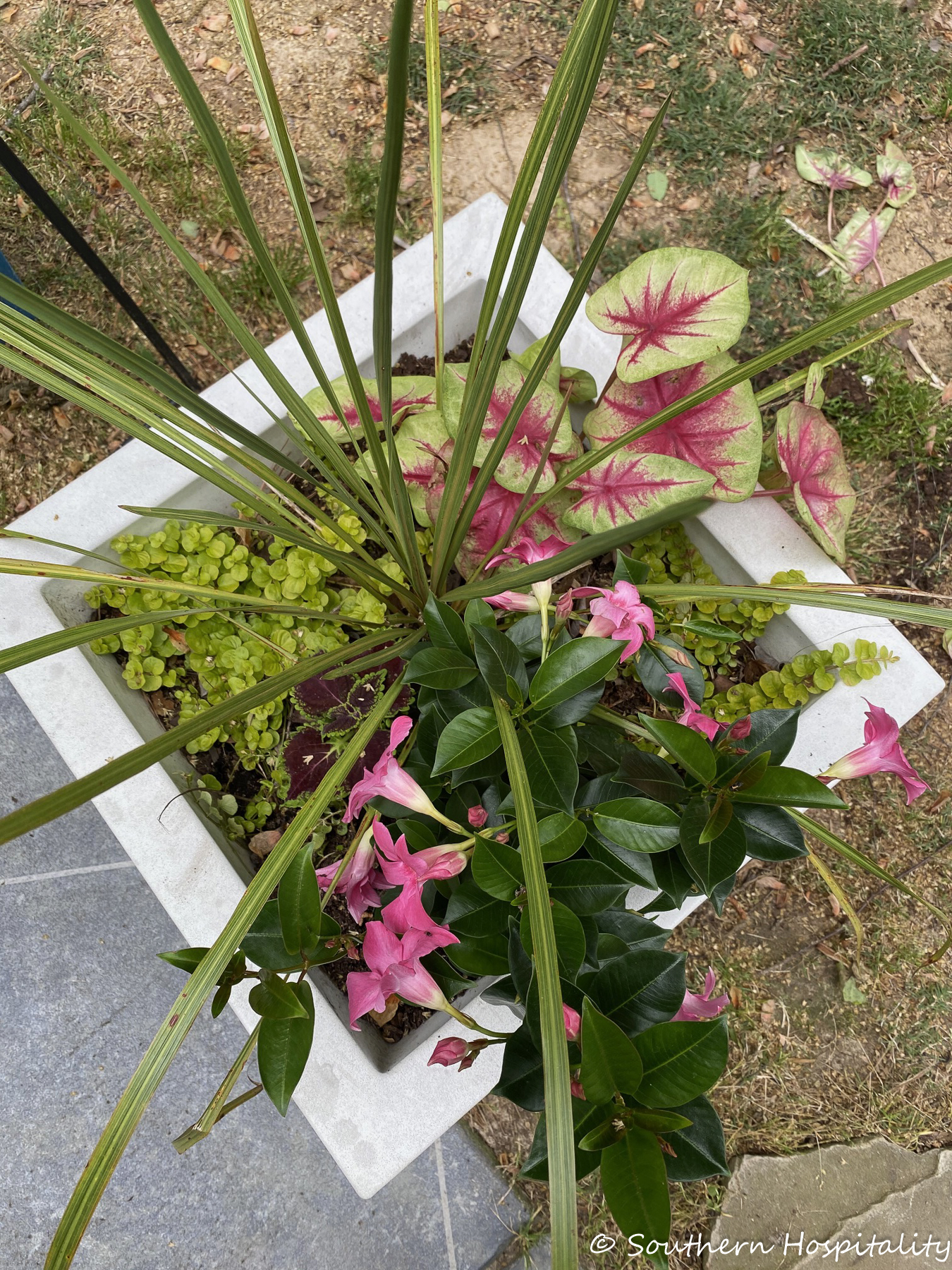 Rios and some beautiful pink and green caladiums. All of this should do well and get big and full during summer.
I added the same plants on this side. That's sedum in the nearest planter that comes back every year too.
I got new Boston ferns back in my hanging baskets and I love how they look out here. Really adds a lot to the patio.
I love this bank of ivy, ferns, azaleas and hydrangeas. The first owners of our house planted this and I'm so glad it's established. It gives us privacy from the house next door when we're on the patio.
Not to mention these hydrangeas are SO gorgeous when they are blooming. I'll be sure to share once they do bloom and they are loaded this year. They are going to be stunning! We did that Airstone faux stone wall a couple of years ago so check it out if you're interested. It sure made a difference too in our patio space.
The blue hydrangeas are SO loaded with buds and I can't wait to watch them explode with color. I'll share later for sure. And I'll share our Mother's Day with you next week when I get pics together after our fun day today. We are serving BBQ on the patio.
Thanks for stopping by! Are you getting ready for summer entertaining too?
Don't Miss a Post, join my list!