Hey, there friends!  It's been a busy weekend for us.  We just about killed ourselves on Saturday getting the fence sprayed, but I'm happy to say, it is finished!  It went a lot faster having the spray gun and I'll be sharing that project soon. It feels good to check that one off the list too!
In the meantime, over a week ago we had some exciting happenings going on at our house.  We had new plantation shutters installed in the living room, dining room, and Mark's man cave.  And wow, at the difference they make.
Plantation shutters are not inexpensive and I really never thought I could afford them, but we do save up for our projects around here and pay cash for them, so I'll tell you all about this one.  I am working with a sponsor, Sunburst Shutters, but we had the dining room comped and we paid for the rest, so even though that was a big plus, we still had a pretty penny to pay.
Just as a back story, I did have a company come out and give us an estimate a few months ago for plantation shutters.  Their price was $2500 for all 8 windows we were covering.  That seems to be about the norm, I've heard around $300 per window is to be expected.  We ended up paying more than that with Sunburst Shutters, but we are really happy with the results.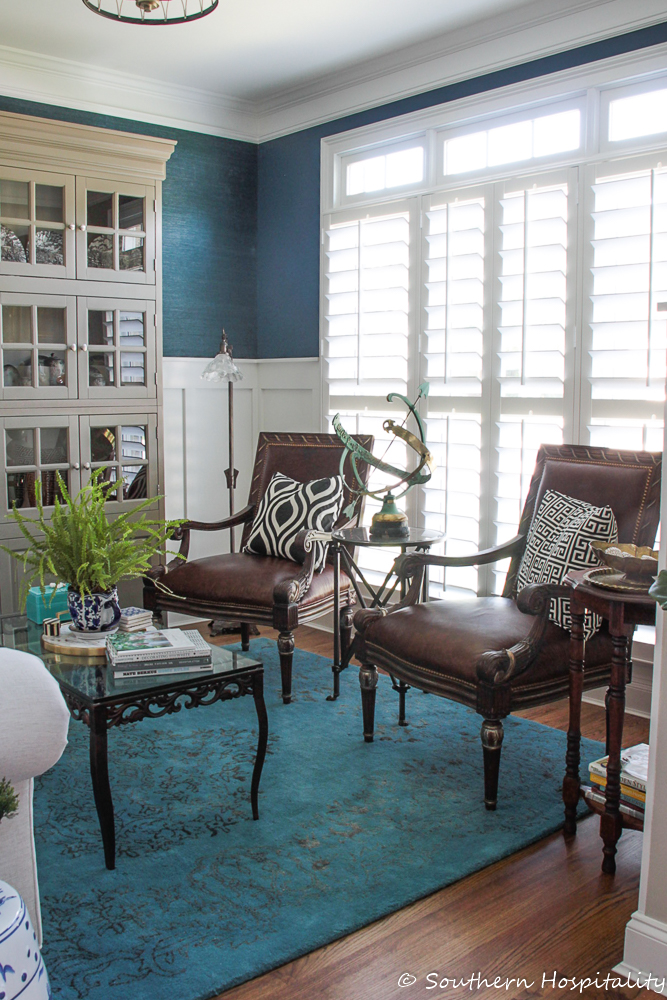 Why Get Plantation Shutters? 
I'll be the first to admit that I knew practically nothing about plantation shutters and the particulars about how they are made and put together.  So, I really didn't do a lot of research. When I had the first quote done last year, I had a quote for all wood shutters. I've since heard that all wood can be problematic as they can warp and crack over time.
So when Sunburst Shutters contacted me about their Polywood line of shutters, with 100% lifetime warranty and the fact that these are non-wood shutters made of a solid engineered wood substitute that won't chip, crack, warp, or split, well, that sounded really good to me.  I knew we wanted the widest slats available and 4″ slats did the trick!
The owner of the local Sunburst Shutter company, Dan Taylor, is a super nice guy and came out first and measured all the windows precisely and did the installation himself.  In our initial meeting he showed me shutters from a competitor that were no more than laminate covered pressboard.  The coating had been chipped away in spots and they looked terrible.  So just be aware when you're looking at shutters exactly what they are made of.  It took about 3 hours to complete the job and get our windows shuttered.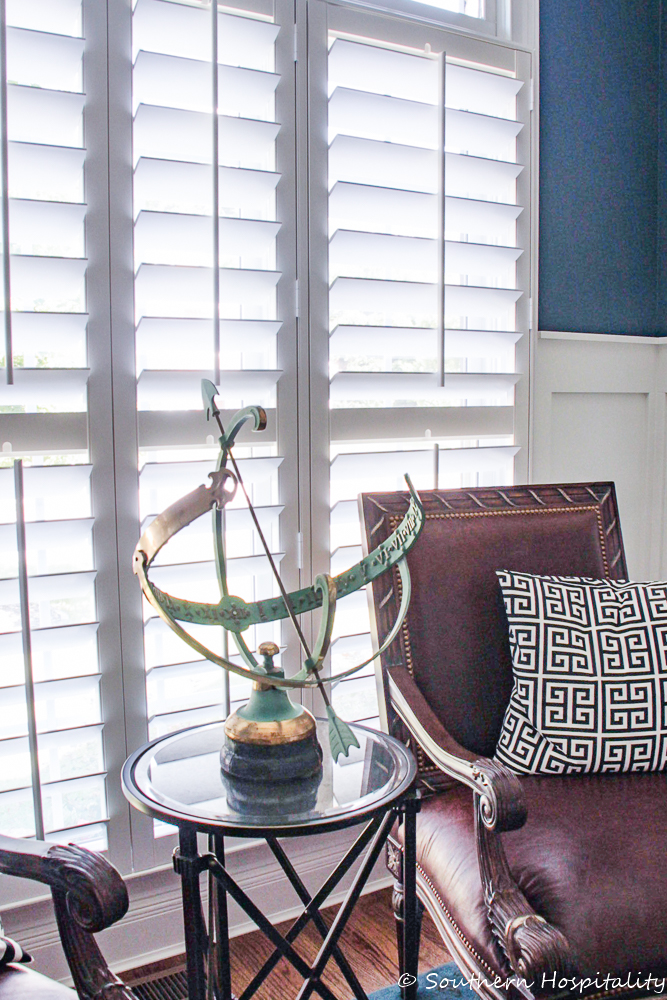 We were walking around the house oohing and ahhing over our new plantation shutters and could not be happier.  I took lots of pics, so please indulge me.  We waited several months to get this done and are so happy with the outcome.
Shutters offer energy efficiency too and I think they will definitely keep the heat out more in summer when they are closed.  We got the traditional style with the rail in the middle and the tilt rods, but you can choose different configurations now, including no tilt wand and no middle rail.
They really do make the living room so much better and high end and a great way to welcome people into our house, looking to the living room and then to the dining room.
It's very hard to photograph windows properly, but I tried to give you a good idea of the size and feel of these. The 4″ slats are so bold and beautiful.
The view from the dining room to the living room is outstanding and stunning!  Those 3 windows with the transoms are just all kinds of pretty in my book. Such a nice architectural detail now!
Now let's peek into the dining room.  The 2 dining room windows are the ones that were comped and they are valued at about $850 (with a discount offered).  We paid right at $2500 for the remaining 6 windows in the living room and Mark's man cave, which I will hopefully be showing you later. He's actually going to write a post for me about his man cave and I'm so excited to read that myself!
Just for fun, let's look back at the house when we bought it, the BEFORE shot! 
Quite the change, isn't it?!
Oh dining room, you are so pretty to look at! Even though the vintage buffet has to sit in front of the windows, what a back drop it makes to all my things.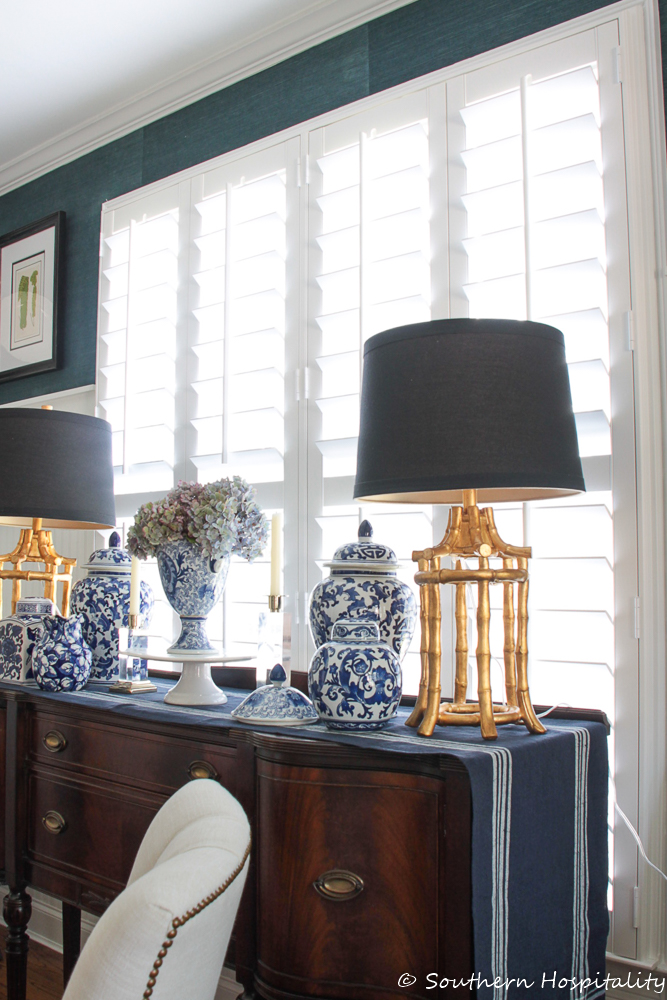 The architectural interest that plantation shutters bring is second to none. My lamps even look better in front of these shutters.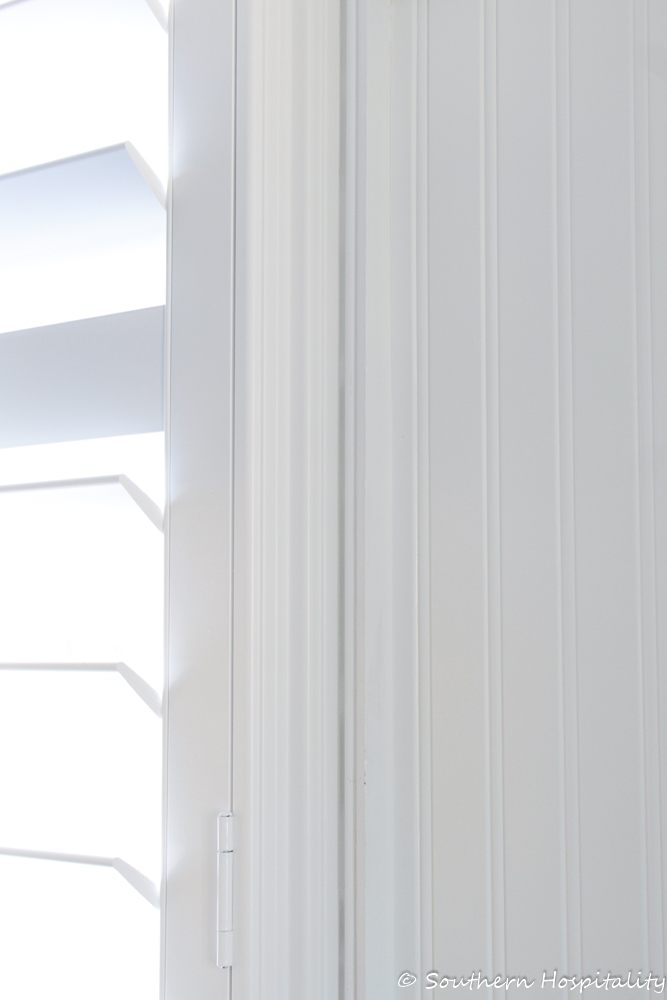 Here's a close up look at the casing detail, the frame that the shutters sit in.  Dan showed me a few different styles of frames and this one really fit our house well and looked great with our existing moldings.  There are several whites to choose from and we chose the one that went best with our white trim. I love how chunky this frame is and it mounts right on top of our trimwork.
Aren't they gorgeous?
Another look at the frame and white hinges. I can't photograph this really well, but there are pieces of weather stripping on the sides of the frame and in the middle of the shutters when they shut that helps keep out cold and heat from the windows.  I really liked hearing that part too. They just impressed me so much with the quality and how they felt, so I'm very happy with our decision.
I tilted the slats at different angles so you can hopefully see how they look.  Again, it's hard to really capture a window without blowing it out with the camera.
Here's a shot with the slats all closed.
And tilted up.  I had originally planned to put up drapes with the Plantation Shutters, but after getting them installed, I've changed my mind and won't be putting up any other window treatments.  I just love the clean and classic look they bring to the room.
Slats closed and wow what a pretty room!  We are more than thrilled with our plantation shutters from Sunburst.
Again, they are not inexpensive and when I hear people say they have them all over their house, I'm amazed, because that would be quite expensive. So, that's why we decided to use them in a few key rooms to add architectural interest and detail to those rooms.  I still love my bamboo shades in my other spaces too, but there's room for both in a home.  Of course, plantation shutters would look great throughout a whole house (makes me think of Cape Cod style), but most of us are cost conscious and have to consider the budget too.
If you're in the market for plantation shutters, I'd defiitely tell you to check out Sunburst Shutters.
Dan Taylor is the local Sunburst Shutters rep and you can reach him at 404-962-8517 Office.  You can check out Sunburst Shutters website as well, to see if there's one in your area. We could not be happier!
Sunburst Shutters comped the dining room windows in our house and we paid for the remaining windows in the living room and man cave. All opinions are my own!
SaveSave
SaveSave
SaveSave
SaveSave
SaveSave
SaveSave
Don't Miss a Post, join my list!