A couple of years ago, I planted paperwhites for Christmas and loved watching them poke their green heads up out of the rocks and then those beautiful delicate white blooms pop up just in time for their debut during this special time of the year.  You have to plan ahead, at least 6 weeks is needed to force bulbs to bloom, so I got busy last week and got mine prepared for this year.
You still have time if you get out there right now and get you some paperwhite bulbs!  You will love watching them grow!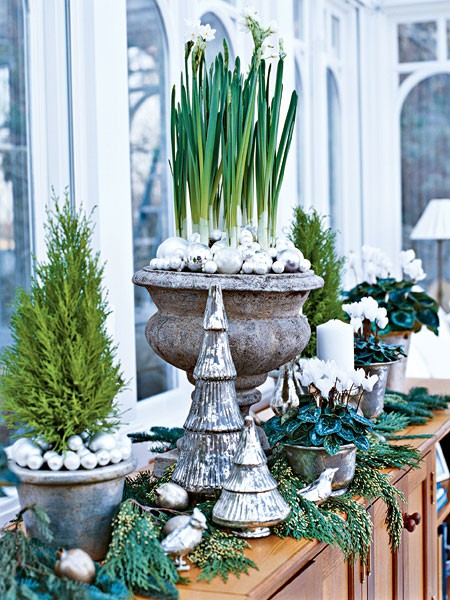 Here's my inspiration pic again, this is from Coastal Living.
I've got a mantel party in a few weeks, after all and have some plans with these beauties, along with some fresh greens.  So in case you've never planted paperwhites, here's an easy tutorial for you.
Start with a pretty container.
Instead of filling my urn completely with rocks, I opted to use a plastic container inside to hold the rocks and water.
I shaved some of the top off and it sits just below the rim of the urn.
Place the bulbs on top of the rocks.
And then pile the rocks around the base of the bulbs to help hold them in place.  Then you will fill the plastic container with water so the bulbs are sitting in water.  You can see they are already poking their heads out ready to grow.
See how cute they are?!  With water and some sunlight coming in, they will shoot up their sprouts in a short time and hopefully by Christmas, they will be in full bloom.
And here they are just one week later!! 
You'll see them in a few weeks when I report back!
I did get an email from someone who said that paperwhites (and most bulbs) are toxic for cats and dogs, so keep that in mind too and perhaps put them up high enough that it wouldn't be a problem for your pets.
Are you planting paperwhites this year? 
Don't Miss a Post, join my list!