Before we left on our trip, I made a trip to the garden center and rounded up my summer annuals to plant in containers on the back deck and our patio and pool area. Flowers make all the difference in outdoor living during summer months, don't they? I can't imagine not planting my planters, they bring me so much joy. The price of plants has sure gone up, but I have to buy them anyway for the pure enjoyment of them all.
I spent about $170 on all these plants, which is way more than I ever expect it should be.
I chose the same plants to go in all 3 of my big planters by the pool and these all came from Home Depot. I love Caladiums, so those are paired with calla lilies and the green spike plant, as well as a trailing Tropical Sunrise Superbells Calibrachoa. I haven't grown these before, so will see how they do. I hope the calla lilies will bloom all summer.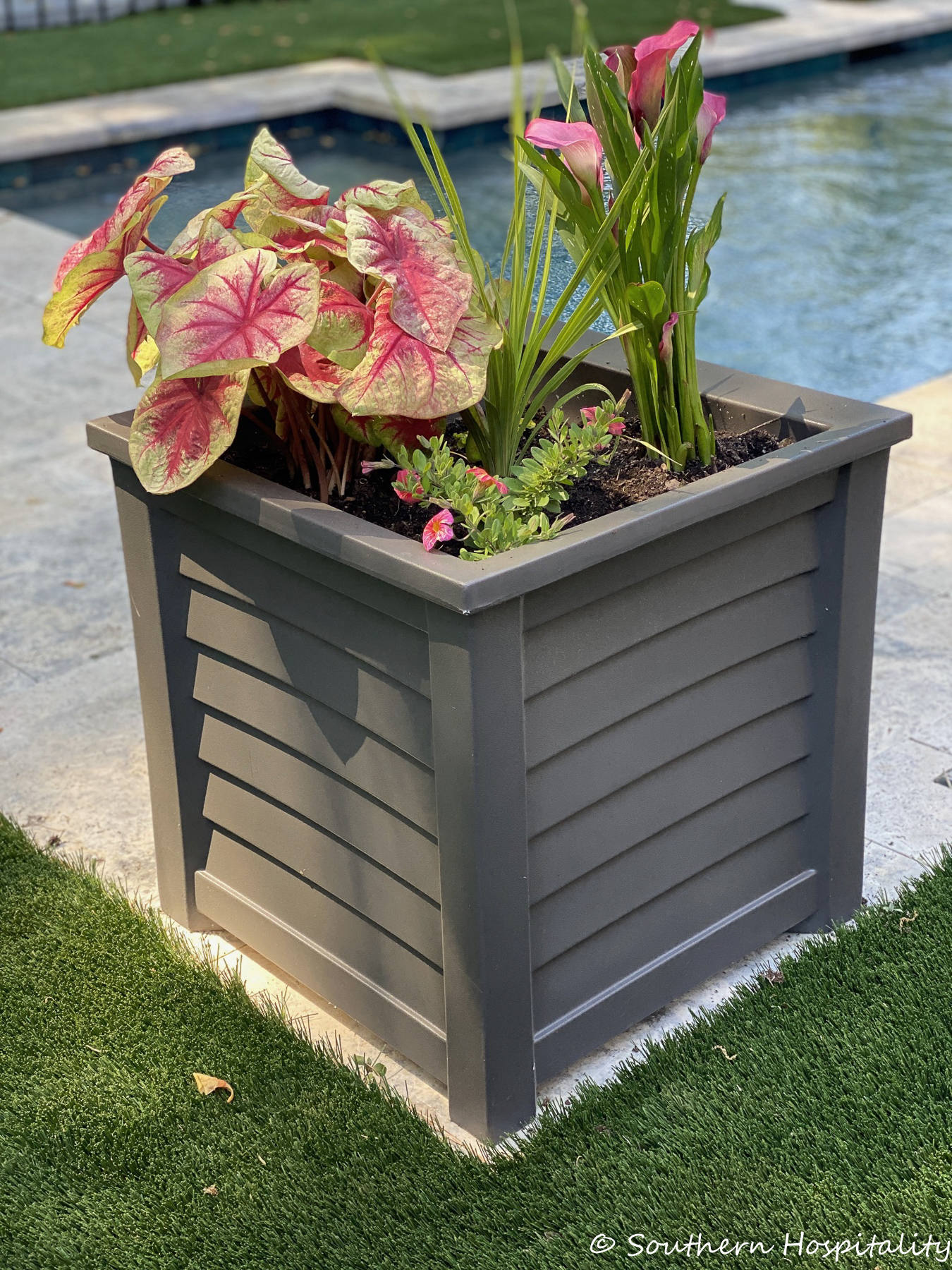 They sure look pretty all planted up. I wanted to get them started before I left so they can start growing in and getting bigger for the hotter summer months to come.
They should all spread out and take over the planter eventually. As you can see, I'm a pink lover when it comes to flowers. Pink shades are my favorite and I can never resist them. Those caladiums are just gorgeous, aren't they?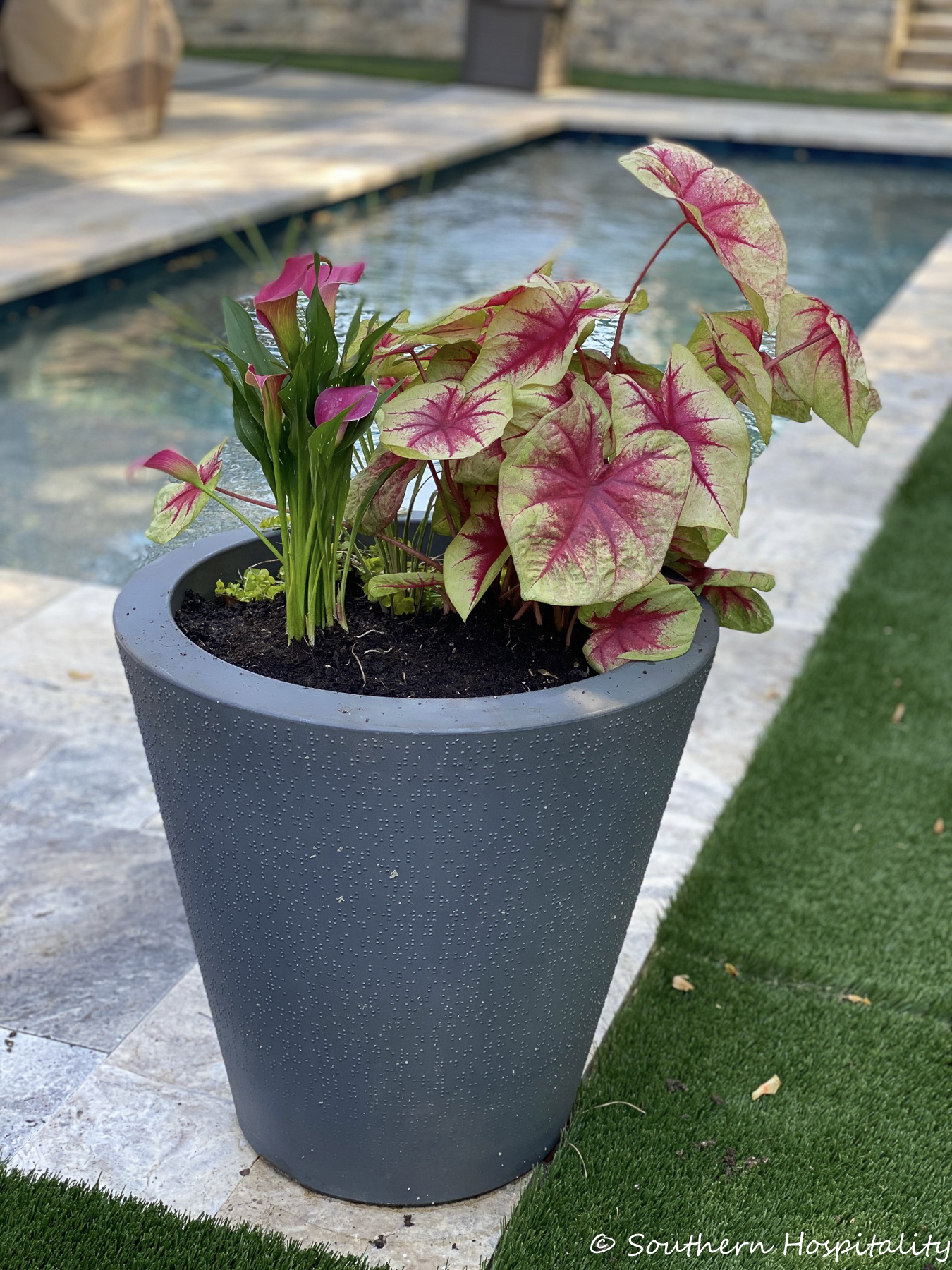 Even though keeping this pool area clean because of the falling debris from the woods behind us is challenging, it sure it nice when it's all cleaned up and we so enjoy our new pool. Mark has his work cut out for him with keeping the leaves and debris out of the pool and off the grass and patio. Our woods are no joke!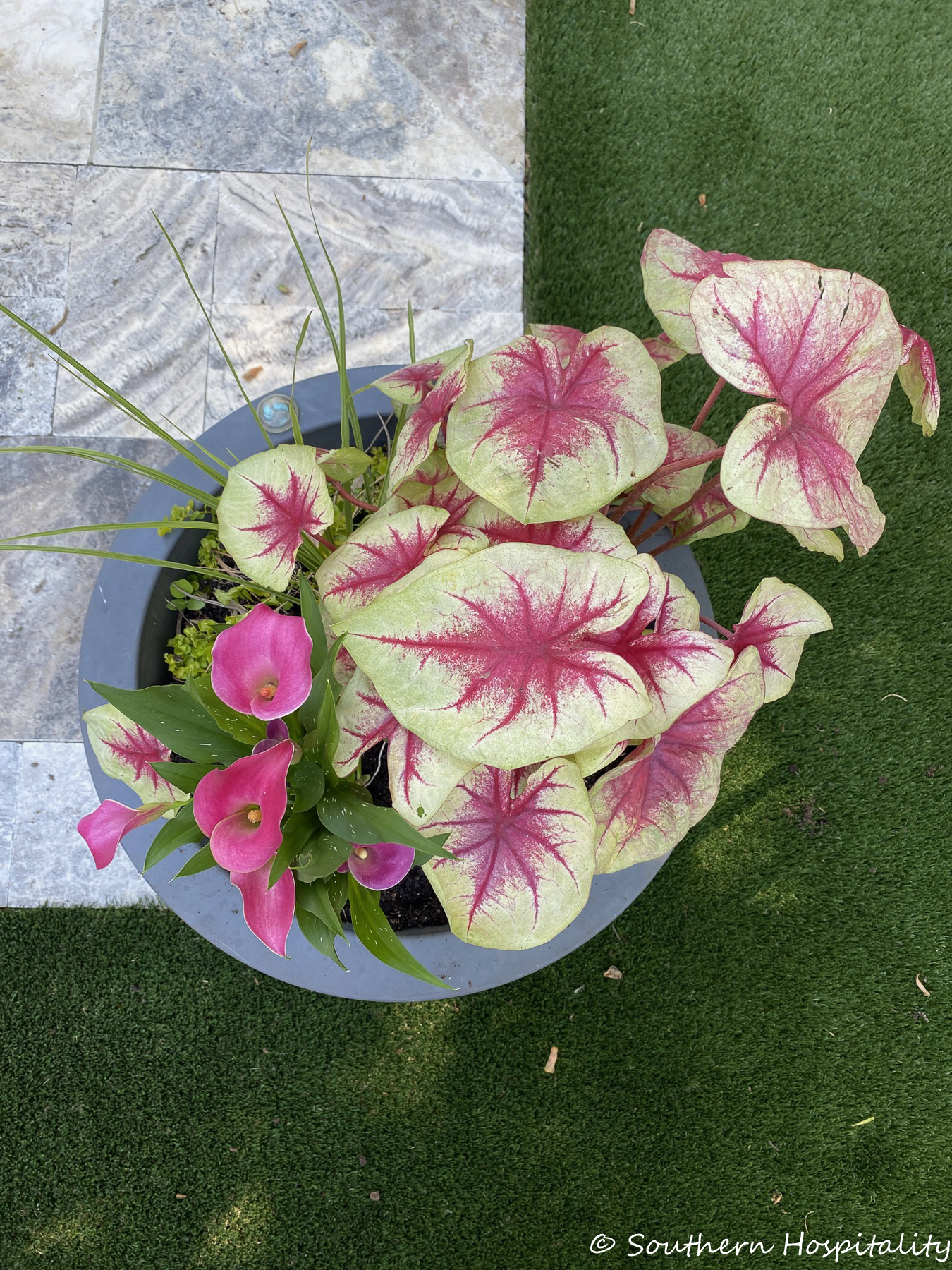 These plants will definitely brighten up our patio space for months to come.
Up top on the deck, I also love to plant basil every summer to have it handy when cooking, so I planted basil and mint in this old crusty container.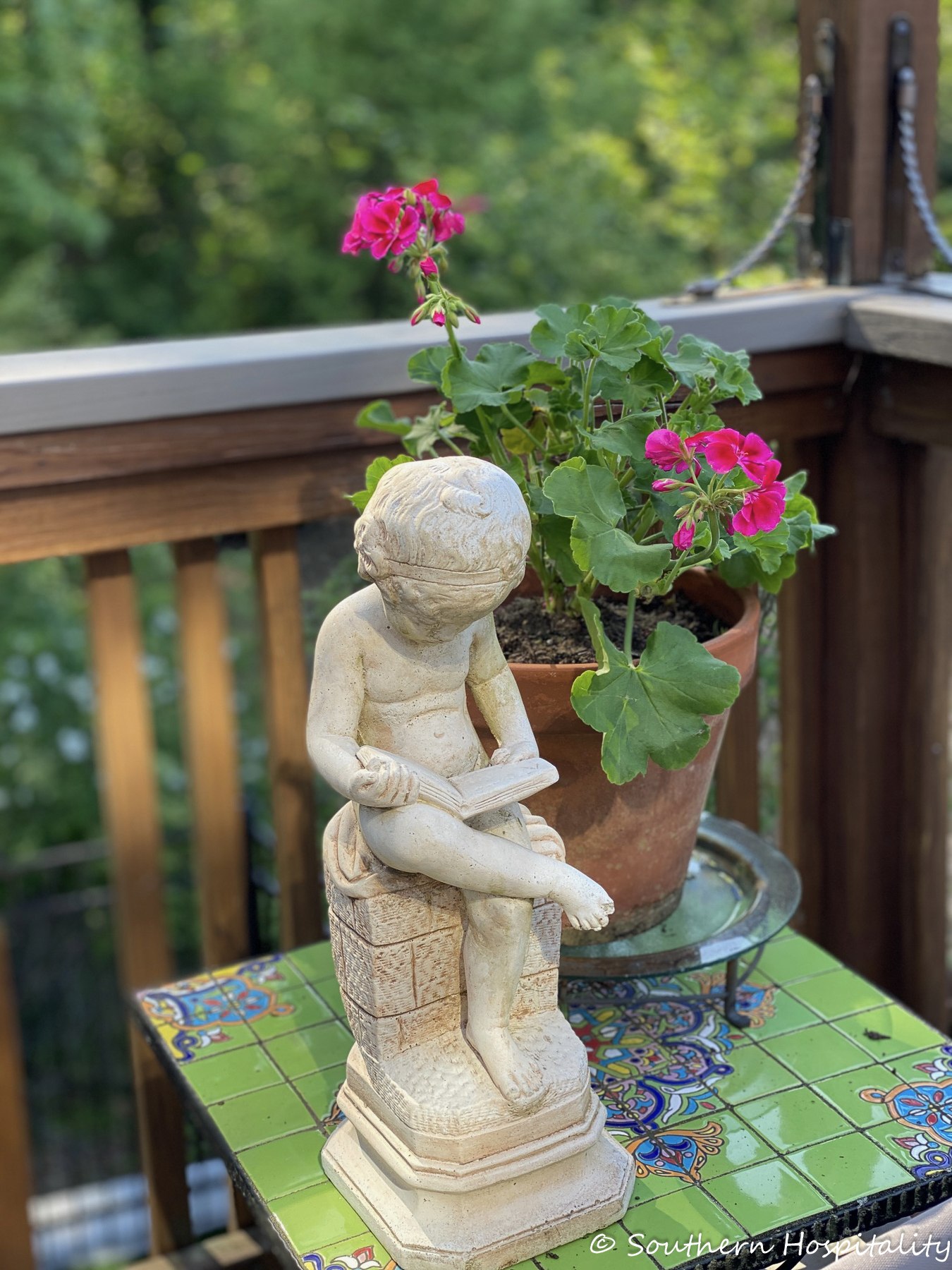 I always add a pink geranium on this side table for added color on the deck. These bloom all summer long.
Since we get a lot of shade on the deck, I can grow impatiens, one of my favorite summer annuals. I  have loved them for so long! I paired these pink ones with a trailing white Bacopa.
I have Creeping Jenny coming back too, so I let it all grow.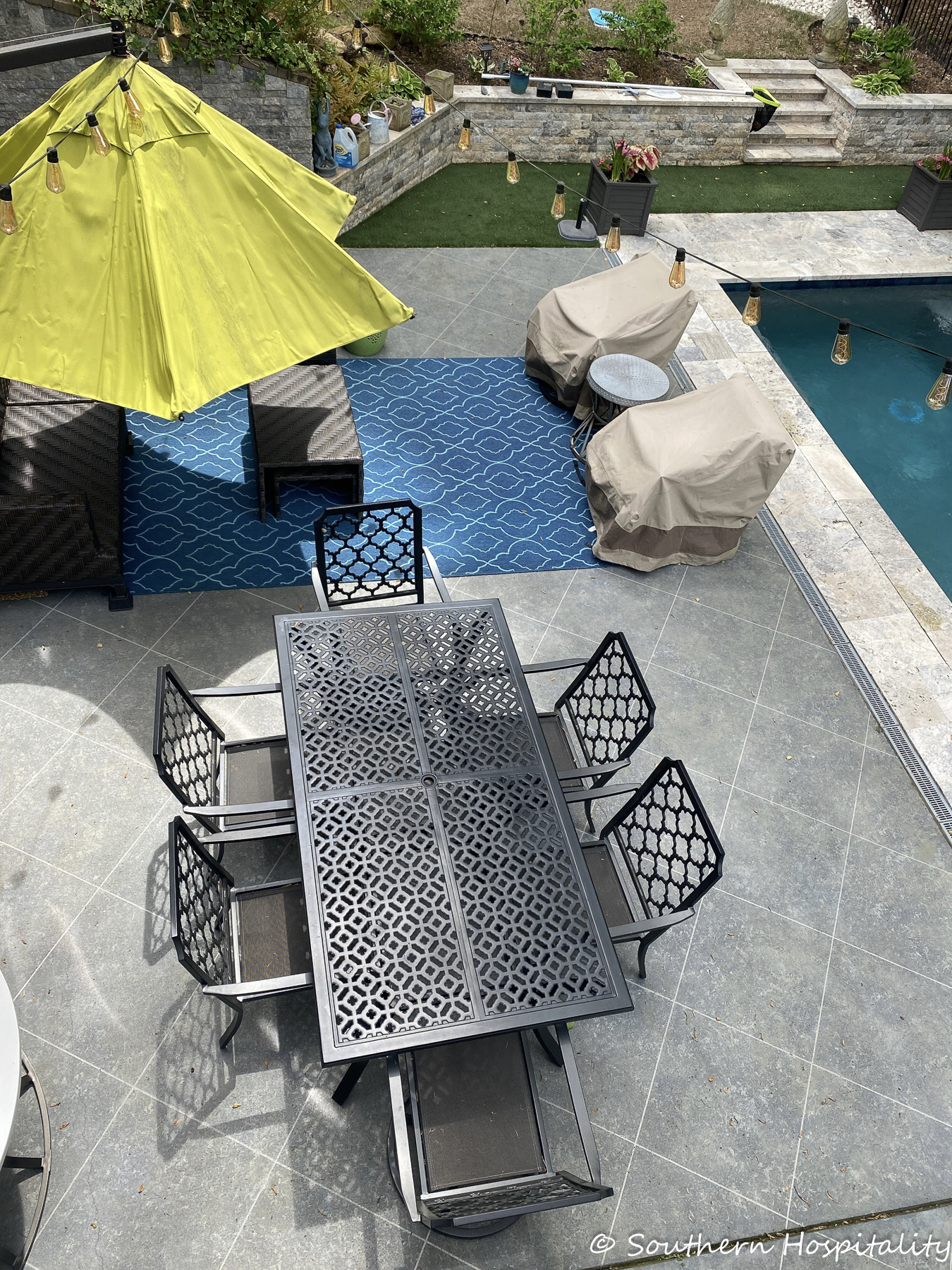 Mark pressure washed the patio and I cleaned upstairs on the deck and under the deck porch, getting everything scrubbed down from the winter grime. It feels so good after it all gets cleaned up for the season and we so enjoy this outdoor space we've been blessed with. If you missed my post on how I added this faux tile effect on our patio a few years ago, you can read all about it. It's been one of the most rewarding DIY projects I've done outside. This product has held up so well and 3.5 years later still looks fantastic. It was well worth the effort and our patio space is much improved because of it.
Happy Summer, are you planting yet? We still have a raised bed garden to work on when we get back. We want to plant all the tomatoes we can cram in one little area.
Don't Miss a Post, join my list!