Continuing the conversation once more on Bed and Bath ideas, by pondering more on the subject.  I think it was half and half on who had TV's in their bedroom.  Many of you were totally against the idea and I can understand that too.
So, let's talk about ways to make your bedroom a sanctuary.  What do you do specifically to give your bedroom the feel of a haven and a place you enjoy hanging out in?
Here are a few ideas I have for making your bedroom a lovely place to relax and retreat: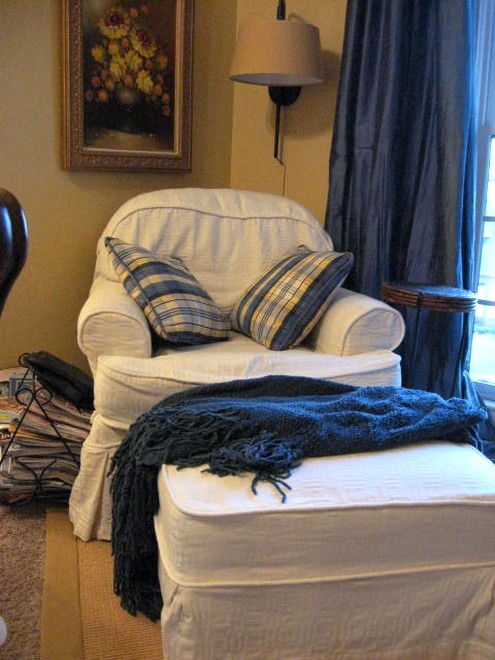 Have a cozy reading chair with a lamp nearby for curling up with a good book.  I think every bedroom should have a little corner for a chair and ottoman, if there's room.  Luckily we have just enough room in our bedroom for a cozy chair.
Fresh flowers would be nice too, if you have a spot to display them.  Not so much if anyone has allergies, but think how pretty they would be to enjoy for a few days.
Our room is right next to the kitchen, so we don't have to go far for drinks or snacks, but if you happen to be on a different floor than your kitchen, I can see why some folks put a small fridge in the master bedroom.
Music is good!  Back to that TV in the bedroom, we have Direct TV with all the music channels you can imagine, so this comes in handy when we just want some nice music in the background. 🙂  Nothing like Jazz for us, you know with the

sexophone

…uhhhh, make that saxophone. 🙂
And how about some sweetly-scented candles for good mood-inducing bedroom relaxation?  I usually have a few of those around too.
So, those are some ideas to get that started.  I'd love to hear some of yours, so do tell!
By the time you are reading this, I'll be in Oklahoma at the ranch and having a good ole' time, I'm sure.
Head on over to the Putting it All Together page for more on this subject from the other girls who getting in on the discussion.
Don't Miss a Post, join my list!