I would imagine that most of you have recovered chair seats sometime during your decorating life, haven't you?
If not, today is your day to learn how easy this project is.  I have recovered my share of chair seats and it really is as easy as cutting fabric to fit and stapling.  Nothing to it.  An electric stapler works great but if you only have a regular one, that's fine too.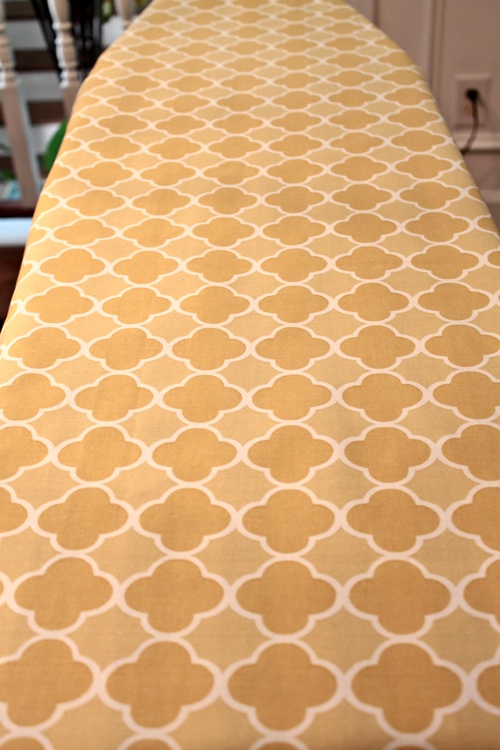 This is the first step to changing out the fabrics in my kitchen and I'm excited to get this part done.  Then it will be on to the window treatment, which might take a bit longer than this project did.  I'm not so good with sewing. 🙂
First things first.  Make sure you iron your new fabric really well. You want all those creases out before you start stapling.
Unscrew the seats from your chairs and start taking off the old fabric.  This fabric is almost 9 years old and as much as I've enjoyed it, a change will be refreshing.
A screw driver and needle nose pliers are helpful for getting out all the staples. 
Get your staple gun ready to work!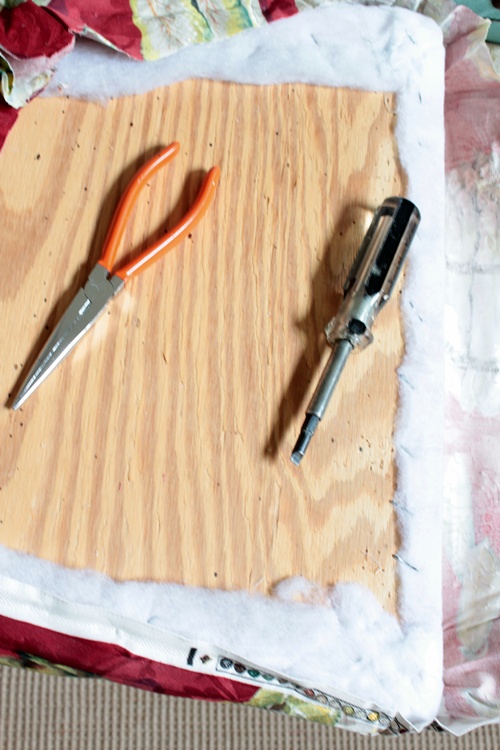 Once all those staples are out, you can pull off the old fabric.
You're left with the foam and batting underneath, ready for the new fabric.
Bye-bye bunny fabric!  You can see this fabric has some wear after this many years.
Use the old fabric to cut the new piece.  Sit the chair seat on top and start working your way around the 4 sides of the seat cushion and pull that fabric nice and taut, stapling along the way.
It's best to start on one side, then move straight across to the other side, pulling the fabric taut and adding staples as you go.  Do the first 2 sides and then move around to the other 2 sides.  Then, you just keep pulling your fabric and stapling until you get to the corners.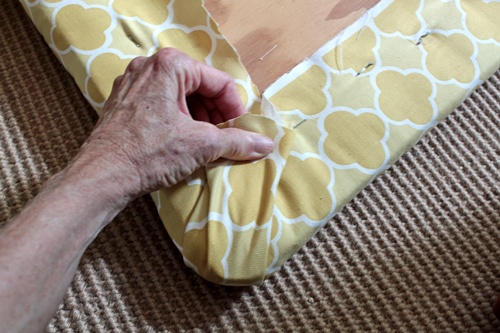 Once everything is in place and stapled well, I simply fold the corner down into a pleat and staple on top.  You really don't have to worry too much about getting this perfect, it will look just fine once it's back on the chair.
How in the world did my mother's hands get in my pics? 🙂
And here's the seat all ready to put back on the chair, all swankified with new fabric.
Looking good!  You can see I wasn't 100% careful with keeping my fabric straight.  Ooops, should have paid a little more attention, but since I'm not a perfectionist, I can live with this little flaw.  I really don't think anyone will notice once they're all back on the chairs.
Screw the screws back in and you're all done with this one.  I did add a little piece of white lining fabric on top of my new fabric, since I had already cut them the last time.  Just reused and this gives a little more finished look.  Not that anyone is going to look under your chairs.  Let's hope not! 🙂
Four screws will get your seat back on tight.
And there you have one finished chair.  I had 4 to do and now this part of my little kitchen update is done.  YAY!
Let's see how they are going to look with the black table.  I love the contrast of this new sunny yellow fabric with my black chairs.  You can see that I have 2 arm chairs and 2 without arms.  I bought these chairs unfinished years ago and they started out stained until I painted them black .  I chose to mix it up with 2 and 2 when I went with this round table and I like the variety.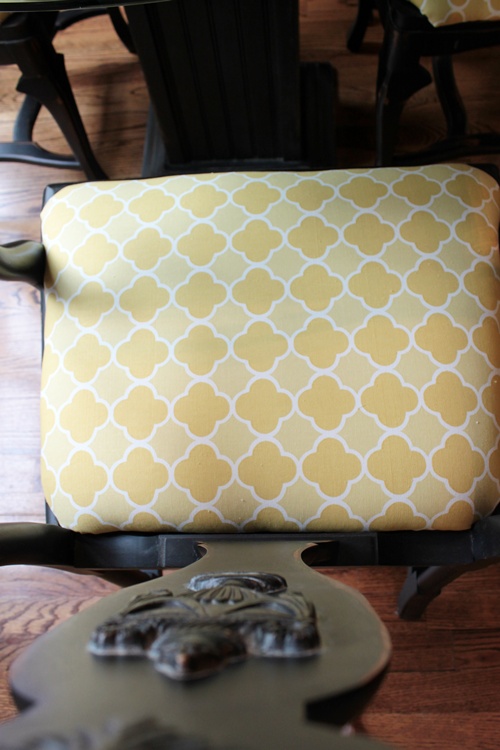 Very pretty.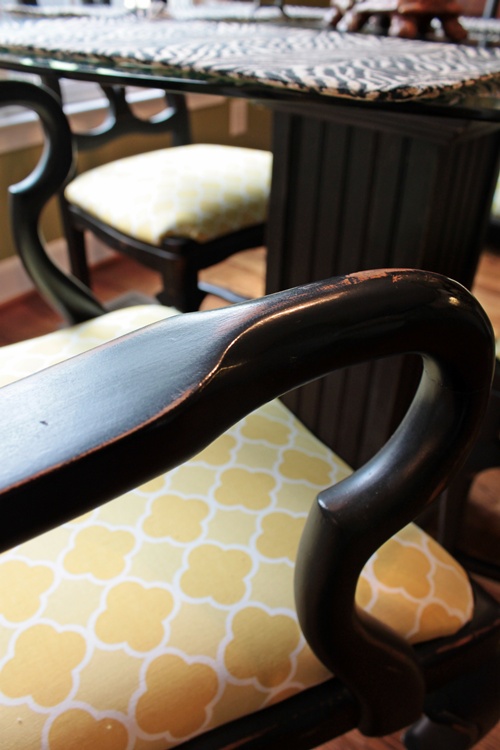 I painted these chairs about 9 years ago too and they have held up just great.  You can read how I did those here.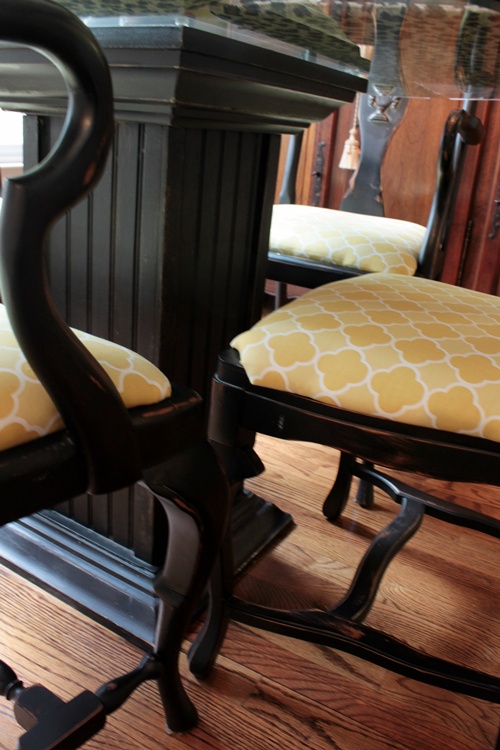 A fresh new fabric will update every single time.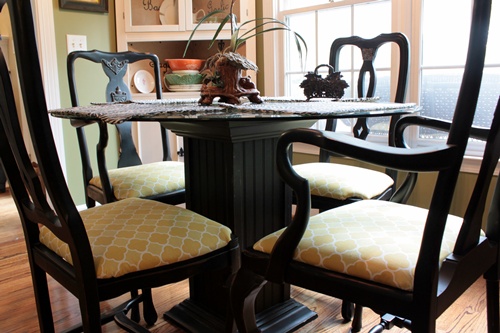 Done!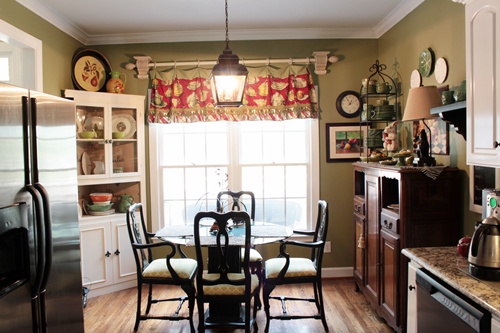 I still have the red fabric up, but in a short while I'll have a new window treatment in here too.   Excited about a new look.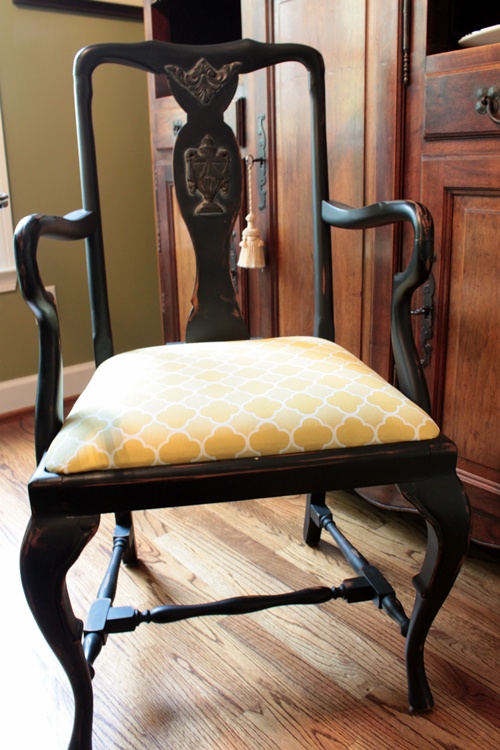 New fabric for old chairs. 
I've got some fun new things going on here with my antique buffet too that I can't wait to share with you soon.   I'm experimenting with lighter plates on the walls and those ferns that I dried will play a major role in here too. 🙂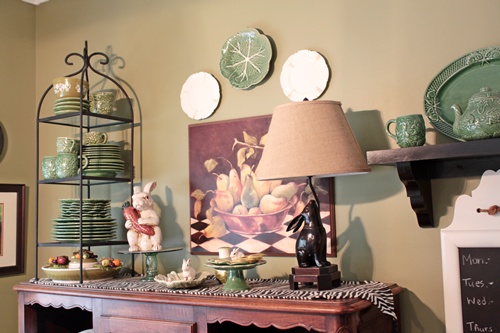 I found a new shade for my bunny lamp.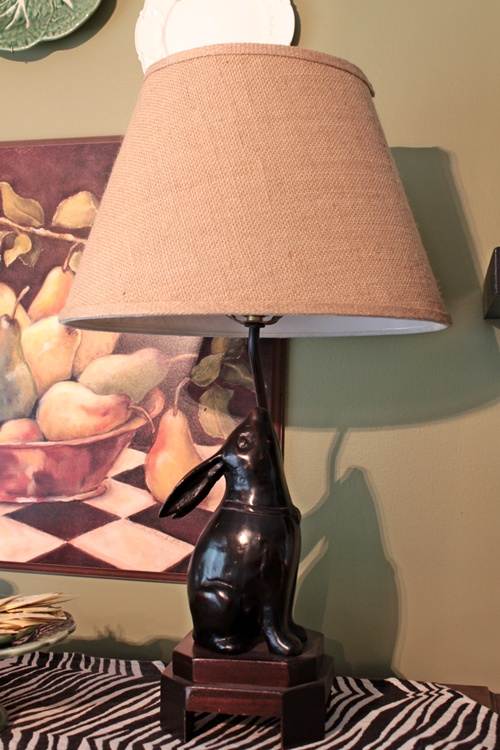 A cute burlap shade at a yardsale.  Love how it gives a nice update too.
A lot of this is moving around and changing too.  It's fun to move things to get a fresh look.
In case you missed the post on Decor Longevity, I talked about how long I usually keep fabrics before changing them out.  Usually between 8-10 years is about the norm for me.
So, these are the new fabrics I'll be using in the kitchen and I'm SO excited to see it all come together. I've bought a board and am planning to make a window treatment stapled on the board, so fingers crossed that it comes out like I'm envisioning.
I think this white background and those yummy colors will really brighten it up in there! And I hope you learned something on recovering chair seats, if you haven't tried this one yet.
Once I get all of this together, I'll share my thought process on how I decided on these fabrics without changing my green wall paint.  That is staying and I'm only changing out fabrics and moving a few things around.
Are you in the market for some fun new fabrics?  Fabrics can really change a room from stale to fresh in a snap.

Don't Miss a Post, join my list!