Happy Memorial Day weekend!  I hope you all have a wonderful holiday weekend and remember the veterans we are celebrating with this holiday.  It's been beautiful in Georgia this week and we've made more progress on the porch which I'll show you soon!
We finally finished up the girl's cottage at the United Methodist Children's Home, which was Room Service Atlanta's spring project this year.   Lori, Angela, and I, worked together just as we did last fall on the boy's cottage.  We had a little extra time on this project and things went pretty smoothly, although there is still lots of worked involved to coordinate a whole suite transformation like this one. We are very happy with the way it turned out and couldn't have done it without lots of donations from companies that we all work with.
Let me remind you where this project started. This is how it looked when we first walked into the room:
And here is the AFTER!  Ahhh, much better, don't you think?! 
One of my sponsors, Payless Décor generously donated the bamboo blinds which really made this room so much better and Angela installed them. The shades are the same ones I have in my house, Tibet.
Again, here's the Before…..
And AFTER!
We found some of these fabrics donated from Award Fabrics and the accent punch of pink and orange fabric from Lewis and Sheron.  Angela Thee graciously donated her sewing time for us. Rug came from Rugs USA.
We painted thrifted items and repurposed many things that we all had at home, to bring this room together.  It was fun seeing it all come together and looking beautiful.  That's a thriftstore lamp above that Angela painted navy blue and that sweet little painting was one of the pieces we found in the thriftstore at UMCH.
All the fabrics worked together to bring a much needed punch of color to the room.  We thought this palette would be great for a young woman 18-21, who might end up in this room.  These young women are on the verge of adulthood and we are excited that they will have a nice place to stay.
Looking towards the small kitchen, into the bathroom, it's totally changed from the Before.  Adding all the texture and color makes a world of difference.
Angela donated that bookcase as well as that cute chair and the pink side table came from Homegoods.  Lamp is thrifted.
Talented Angela also donated one of her larger paintings for the space and it really fills up that wall with color very nicely. Table is from Ikea.
Here's a reminder of where the kitchen started….
We were so happy that Glidden donated four gallons of paint–Polished Limestone on the walls and White on White on the trim and bathroom/kitchen walls.  Gainesville Paint donated four gallons of Benjamin Moore paint–white ceiling paint and Bold Blue for the doors and kitchen cabinets.  We so appreciate all the help with paint, since we all know that paint makes a world of difference.
Another big shout-out to Moen, for donating the faucet. They always come through for projects like this!  And Karran, generously donated the countertop (Concrete from Formica) and the integrated sink to us, which made such a difference in this little kitchen.
Amazing what some well-placed accessories can do.  Pink striped paint in the bathroom courtesy of Sherwin Williams. What a fun little accent that is!
The white shelf is one of my old ones and I'm happy to see it put to good use, as well as the blue plates.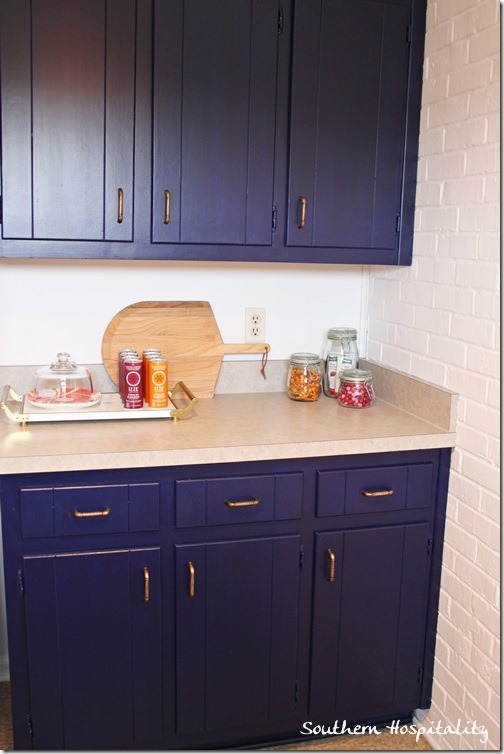 The navy blue with antique brass pulls really add to this kitchen, don't you think?
Angela found this pretty Greek key shower curtain at JC Penney (Jonathan Adler) and it's perfect in here.
And the pink stripe behind the sink helps to add some much needed color.  I'll be back later this week to show how I did that one.
So, that's the project this time around.  I know you'll agree that seeing a space go from blah to fabulous is such a rewarding thing to watch.  I love how any space can be improved upon with some elbow grease, paint, and imagination and this space is living proof of that concept!
There's a wrap party at Mitchell Gold again this time on Thursday, June 6th and you are all invited to attend.  Here's the particulars, I hope to be there again. Mitchell Gold is a sponsor of Room Service and has always been so supportive of the efforts.
The Charles Emerson Jewelry giveaway winner has been announced!
If you need a little summer entertaining inspiration, click on over to My Way Home, where I'm sharing ideas on outdoor living and porches!
Don't Miss a Post, join my list!