So, it's been an exciting week!  My friend, Ruby, and her hubby, Bill, moved into their new lake cottage last weekend.  I could hardly wait to get over there and see the finished project.  Well, it's mostly finished.  As with most new construction, there are still things to get completed and touched up.  That punch list will be going for awhile.
And with any new construction, things don't always go as planned, so Ruby has had to go with the flow in working with her builder and his sub-contractors.  You know how that goes.  Communication doesn't always happen, so there were a few things along the way that Ruby wasn't completely happy with, but overall she is ecstatic to be in their new house.  Some of the things that didn't get done to her satisfaction will be fixed and some she and I will work on making them better.  But, I have to say this is one pretty lake cottage and I would be so thrilled to live in it, as I know they will be.  They are so grateful to get this house and the builder is a friend of theirs and gave them a good deal on building the house.  So, along the way, paint colors didn't all get communicated well and a few other glitches happened.  But, they are things that Ruby and Bill can live with.  They have a beautiful  new home to enjoy for years to come!  And they are on the lake!
What is not to love about that?
Lake cottage plan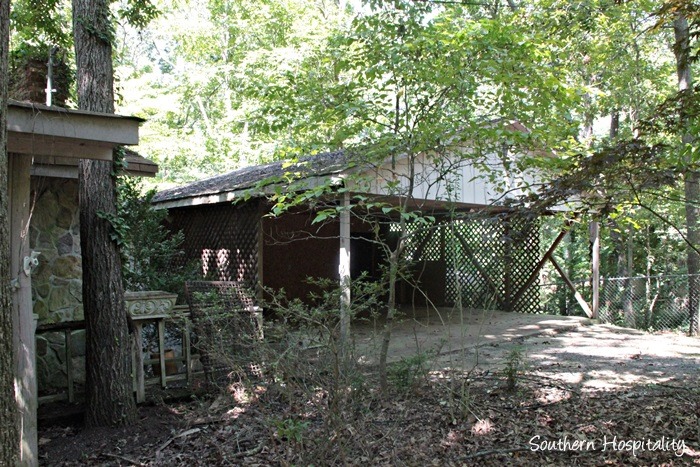 I posted about this lake cottage project last fall and showed the tear down house that was once in this spot.  Wow, has it come a long, long way since September!  Six months later and the house is done!  The new detached garage is in the same spot as the old one and they reused the concrete slab from the old garage.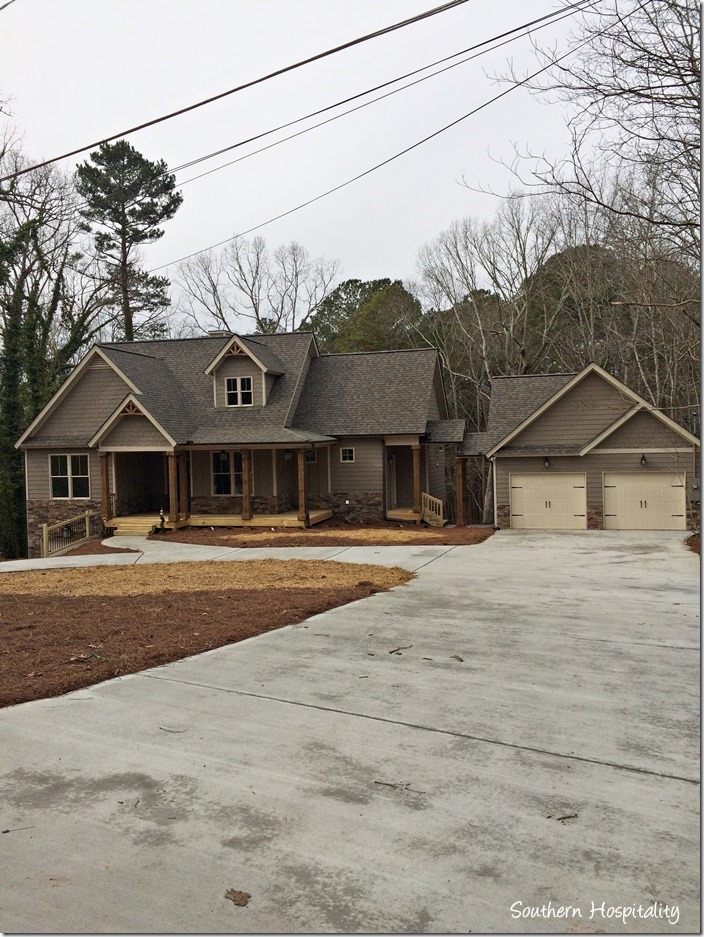 Since we were there last, the big circular driveway was poured and it all looks great.  One big tree was left out by the road, but everything else was taken out and they can do a landscape plan in the future. Ruby loves planting and landscaping too.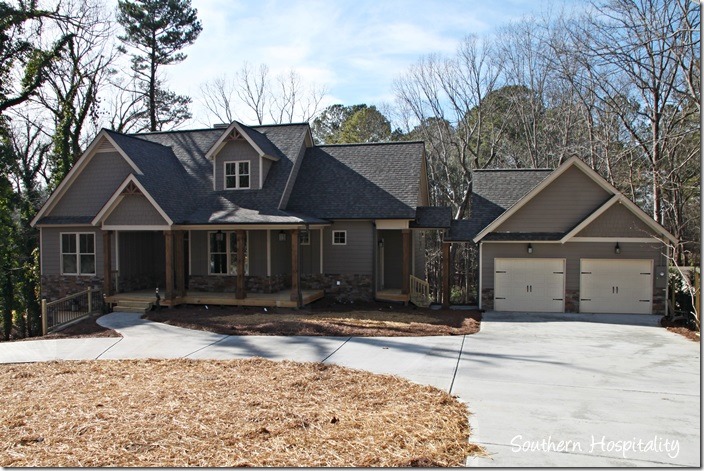 The driveway is nice and wide for the spacious 2 car garage and it curves in a circle in front of the house so they can get in and out from both directions.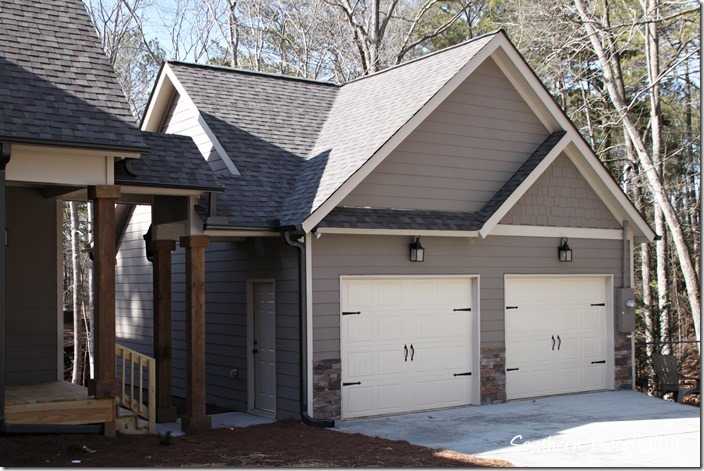 The 2 car garage has unfinished space above which can be finished later if they choose. The breezeway connects the garage and the house.
Rustic cedar columns have been added along the front of the house.
The body of the house siding and shingles are painted Backdrop by Sherwin Williams. I love the rustic columns and how it all works together. I think the plan is to do stone steps too. They have to wait a few months to stain the front porch and back deck, but eventually those will be stained to go with the house color too.  The stone adds such a great look, so there will be more stonework added before it's completely finished.
A railing was added between the house and the lower 2nd garage, which they are really going to enjoy having.  They will put their golf cart and some day will get jet skies for the grandkids and this will be great storage for that.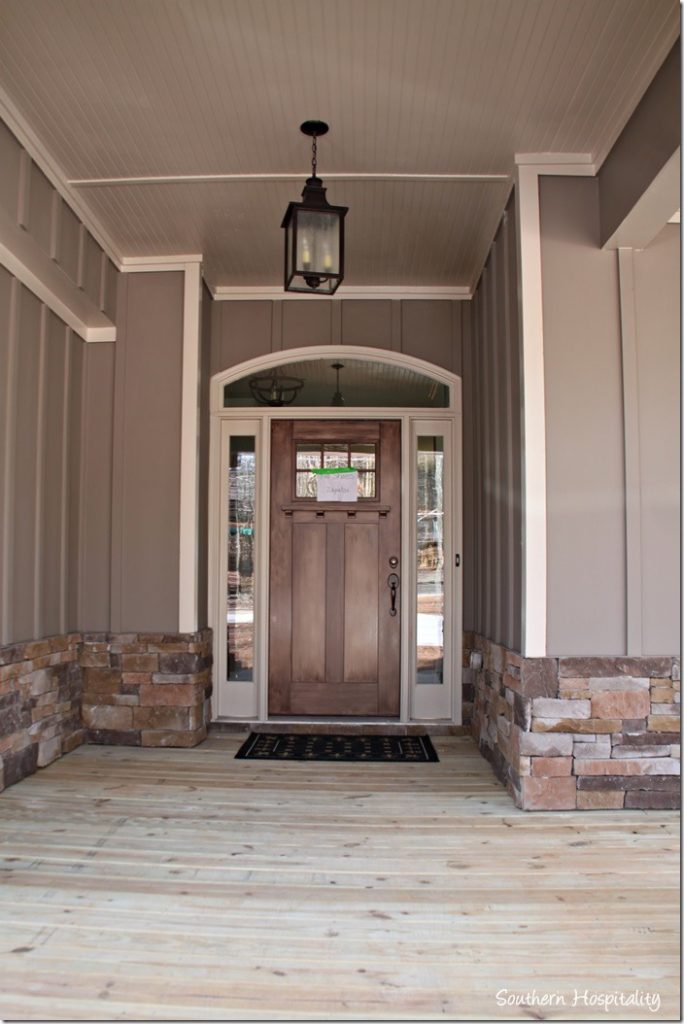 Front porch and front door, with a beadboard ceiling.
Many have asked the stone color on Ruby's house and here it is:
Mossy Creek Ledge stone by Horizon
Siding color:  Sherwin Williams Backdrop
I love the stained front door and all the glass around it.
Front porch windows with beautiful lanterns across the front porch.  Love those lanterns.
Those rustic cedar columns add such a nice touch too.
Board and batten and stone.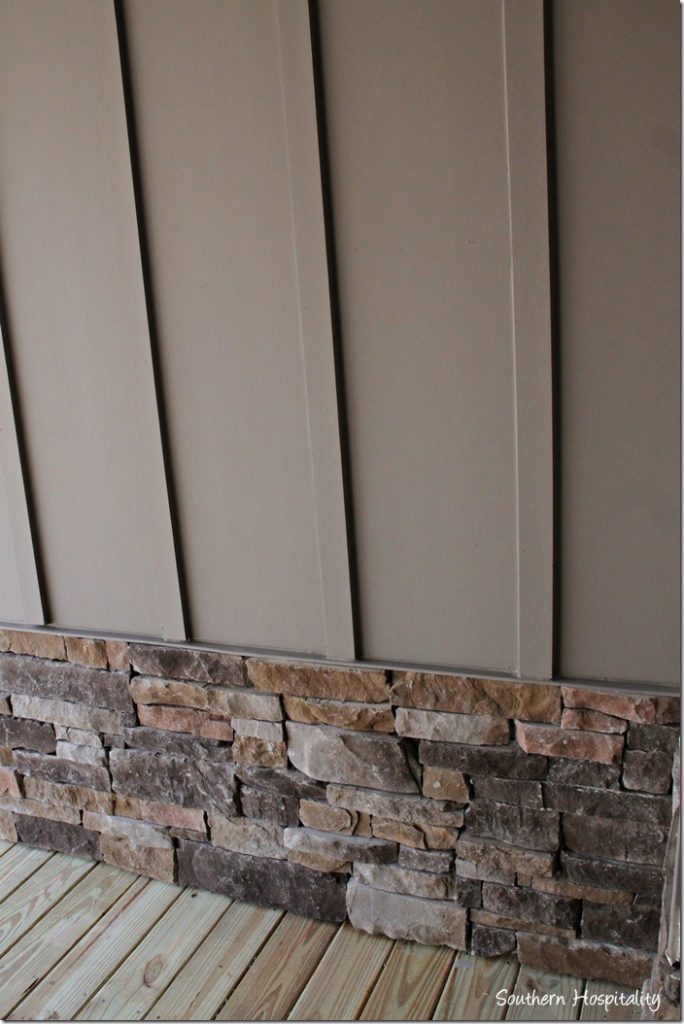 Another look at the stone.
Front door from the inside.  The paint in the main areas of the house is Benjamin Moore White Dove.  All the trim was supposed to be painted that color too, but somehow communication didn't happen and it was painted this taupe/khaki color, which I think is the same color as the outside trim work.  Luckily, it really works with the house and does look great, so it will stay.  I think she may change it in the guest bath to all white, since there is white beadboard in there, but it does look pretty and she likes it.
This arch doorway goes to the left bedroom area, with 2 bedrooms and a bath on this side of the house.  I love that arch detail.  All the lighting came from Progressive Lighting.
Guest room #1.  This will be where I stay when I visit.  I'm looking forward to spending the night there soon.
I helped her pick carpet and hardwoods and she was able to get this pretty diamond pattern in a soft taupe color as a bit of an upgrade.
All the bedrooms have this carpet and I love it.
Bedroom #2 will be hubby, Bill's home office.  Hi, Bill! Not much of their furniture is here yet, that will happen soon.  And she and I will be shopping for a new living room sofa and chairs.  That door to the right goes out to the back porch.
In between the bedrooms is a guest bath, with white beadboard and navy walls,  Naval by Sherwin Williams.
Pretty little bathroom.  We will have fun decorating this room too.  Ruby loves blues, so this house will have lots of blue in it.
Peeking back to the greatroom and kitchen.  This door goes to the basement.  We'll go down there in a minute.
Lighting inside front door foyer, looking to dining room.  We found these 2 rugs you see pictured at Ballards Outlet months ago and they will be used somewhere, not exactly sure yet.
Dining room to greatroom view.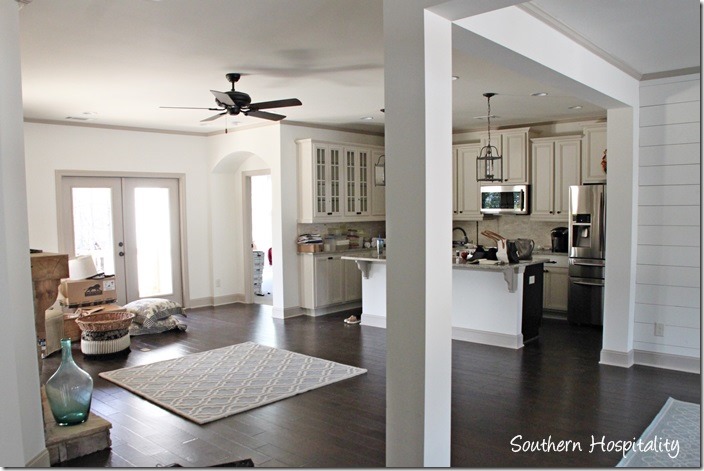 Greatroom to kitchen.  There is a lot of light coming in this house from all directions.  I just love this floor plan!
Dining room to kitchen.  I love how open and spacious the house is.
Looking back to the dining area.
The greatroom has a gas fireplace and 2 sets of French doors going out on the large covered back porch.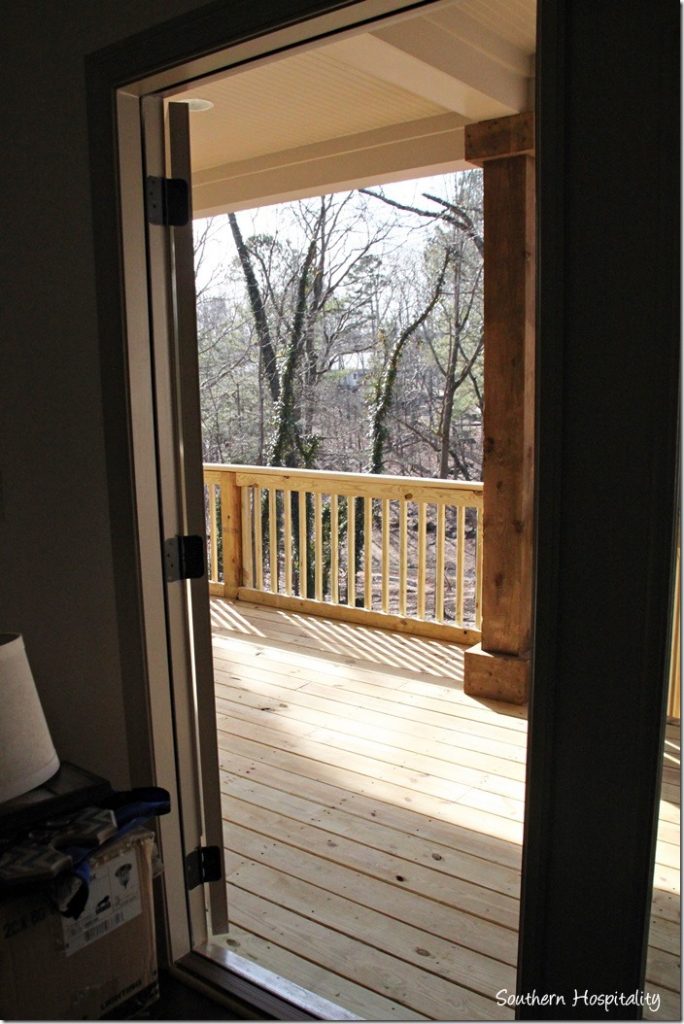 Looking out to the back porch, this space will be well used.  Ruby has some nice wicker furniture which will be so nice out here.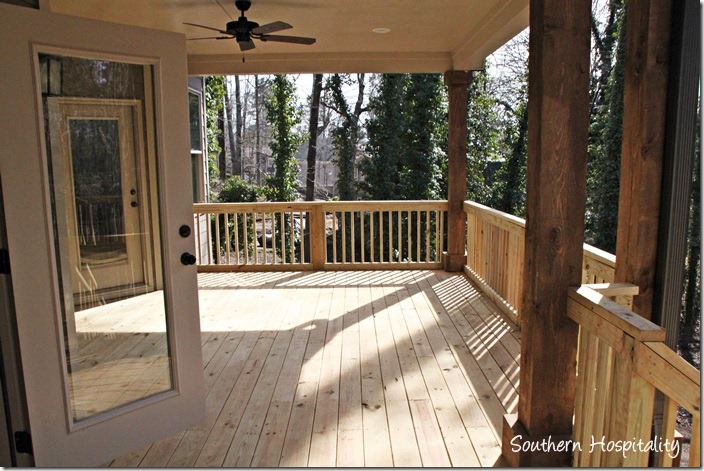 It's large and spacious and that far door goes into Bill's office.
Looking down to the finger of the lake, which has no water now, but will soon.
Steps to the back yard.  That arch will not stay there.
The back porch is so nice!  I can't wait to sit out here and have coffee with Ruby.
Greatroom and fireplace.  We are still pondering furniture layout in here, but we will figure it out. Those stairs to the right of the fireplace go upstairs to an unfinished space for now.  Eventually, that big bonus room will be finished out with drywall and an extra bathroom is stubbed up there already. It will be a great place for the grandkids to hang out when they visit.
Another rug from Ballard Designs outlet.  I think there is going to be more stone added to the top of the fireplace, it's not quite done yet.
The kitchen is open to the greatroom and has a nice big island.
This ceramic farm sink is Italian and is so pretty.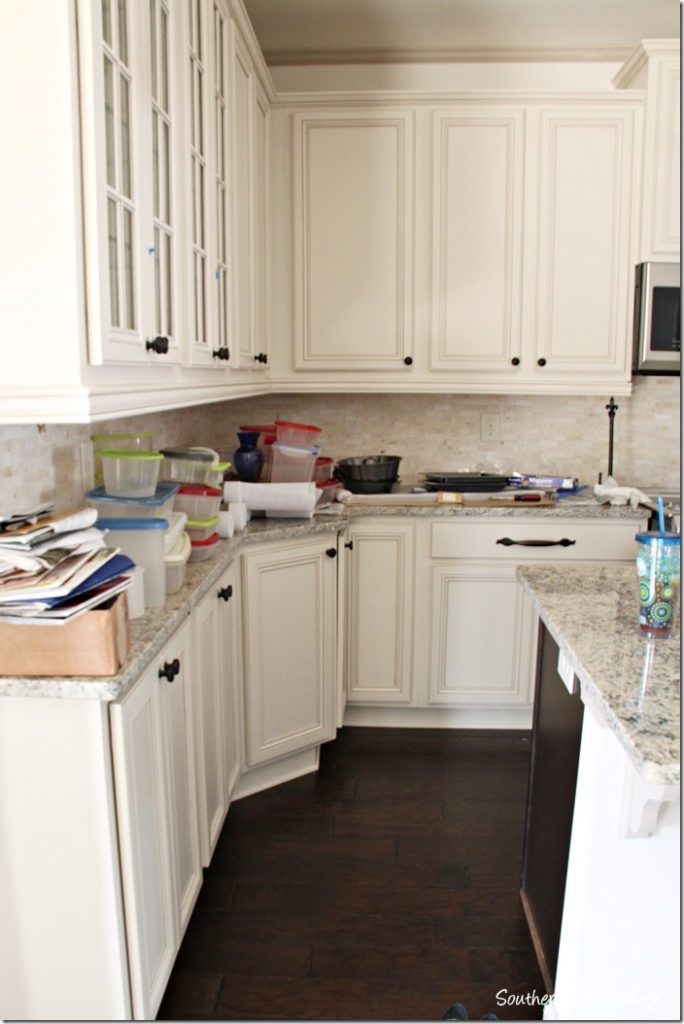 This side has narrow cabinets, but those will come in handy for storage.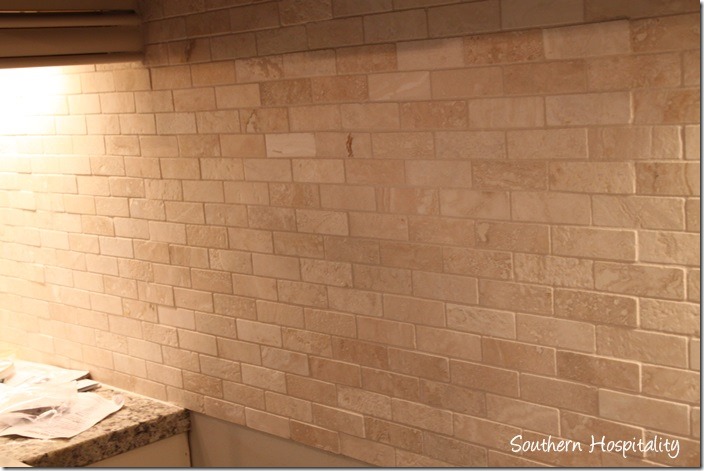 Backsplash of creamy tumbled marble in a small subway tile.
The island is another area that missed communication.  Ruby thought it was going to be one dark island in a furniture finish all the way around.  It has a knee wall with corbels added and the granite overhangs so she will add some small stools here.  So we are trying to figure out how to save this one.  She may get a carpenter to come in and do something with it, not sure yet.  She had so many things going in the house at one time and had to pick her battles.  She sent me more than one exasperated text along the way. That's the way it is with home building.
Kitchen island to dining room and front door.
Standing in greatroom looking into kitchen.
To the right of the kitchen is the laundry room and the breezeway to the garage. They will add some upper cabinets and shelving in here later. The wire shelf will come down.
Left of the kitchen is the master bedroom.  Don't you love the arch details on the doorways?  I sure do.
Now keep in mind, they had just moved in, so don't judge!  They got their bed set up, but not much else and the furniture pod hadn't even been delivered yet.   Wall color in here is Sherwin Williams, Oyster Bay. 
The master bedrom has 3 large windows looking out in the backyard.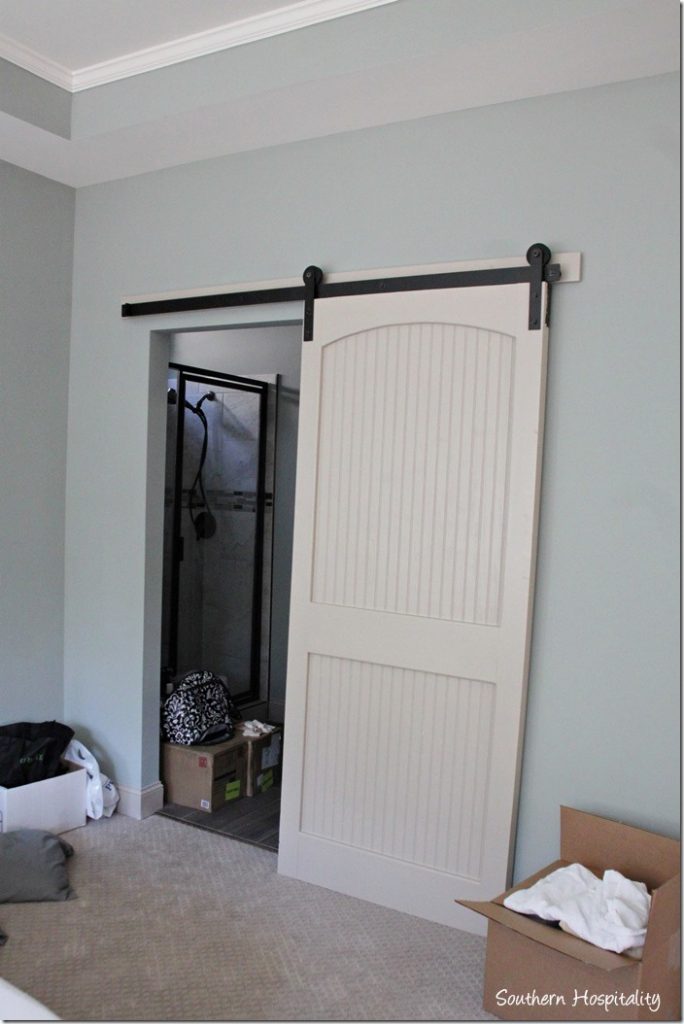 A sliding barn door was built for the master bath.
Master bath with porcelain tile planks and a long dark wood vanity.
Master tiled shower.
Now let's head to the basement.  To keep some costs down, they used pine treads and stained them to match the hardwoods.  Turned out great!  Of course, they are dusty right now, but things will get cleaned up soon.
The downstairs basement is very spacious with a concrete floor and lots of room. This space will be a downstairs man cave with big TV and leather sofa and chair.
The door on the right is an extra full bath and the door on the left is a bonus room that is huge.
Ruby is talking about finishing out this bonus room and making it a nice guest suite, so we will see how that evolves.
She and I took on a project last week and painted these concrete floors.  I used the same method I did in my laundry room and used concrete porch and floor paint from Sherwin Williams and added a glossy topcoat.  I'll be blogging about that project and showing you the process. It turned out great and now these floors are nice and fresh and clean!
The walk out basement has another concrete patio space below the porch upstairs.
This house has so much storage space, with this extra garage bay under the house next to the basement.
The other end of the garage bay.
We can't wait to get going on the decorating and I'll be sharing all of that with you all along the way.  Ruby is just beside herself with joy and I can't say that I blame her.  It's going to be a fun process of helping Ruby decorate the whole house and I can't wait to get started. This is a dream come true for her and I'm thrilled for my friend!
For those of you who want the floor plan of Ruby's lake house, it's the Merveille Vivante floor plan. Click that link to go to the website. The plan is 1400 s.f. and they enlarged it to 1,800 s.f.
SaveSave
SaveSave
SaveSave
Don't Miss a Post, join my list!