Today, I'm going to share a story with you and it involves one of my long time friends, Ruby.  I've introduced you to Ruby before and shared her kitchen, master bedroom, porch,  Christmas dining and Christmas tree decorating and she and I have been buddies for probably 14 years now.  We met in church years ago and she has been a Bible study leader and women's ministry director for many years and now runs a non-profit called The League Ministries, partnering with churches all over the country to encourage women to get into Bible studies and home groups.  I love her heart and her vision and she is dear to me.
Ruby and her husband, Bill, have been married for over 40 years and lived in a beautiful home in Kennesaw for the past 20 or so.  They loved their home and Ruby made it pretty.  She and I did a lot of decorating in that house and it was fun to see the changes.  One of the things that has been on her heart for a long time is living on the lake.  Lake Allatoona is not far from Kennesaw and that lake spans a couple of counties here in our area.  With fingers and coves weaving in and out, there are lots of homes on the lake which was developed by the Corps of Engineers many years ago.  The Corps still owns the land surrounding the lake, but many homesites were bought and sold over the years and now there are some beautiful homes on Lake Allatoona. Of course, there are still some small falling apart shacks on the lake too.  Ruby has been looking for at least 10 years for a home to buy or a lot to build on and nothing ever seemed to work out, so she thought her dream of a lake house would remain a dream.
But, God worked in some mighty big ways, allowing them to sell their big house without even putting it  on the market for more than they expected to get for it and at the same time, Ruby found a lake lot that was perfect for them.  The house on the lot has been abandoned for 8 years, the elderly couple had to move out of the home that they have lived in since the 60's and the children were not able to keep the house up, so it fell into disrepair.  They were able to buy the lot with the house as a tear down and now are going to finally build their dream cottage on the lake.
I'm SO excited to see this dream come true for Ruby and Bill and I'm going to blog their lake house journey and share it with all of you.  Let's take a little tour of the house as it is now and see the potential in this lake lot.  They are building a Craftsman style cottage on the lot, which is a style I love.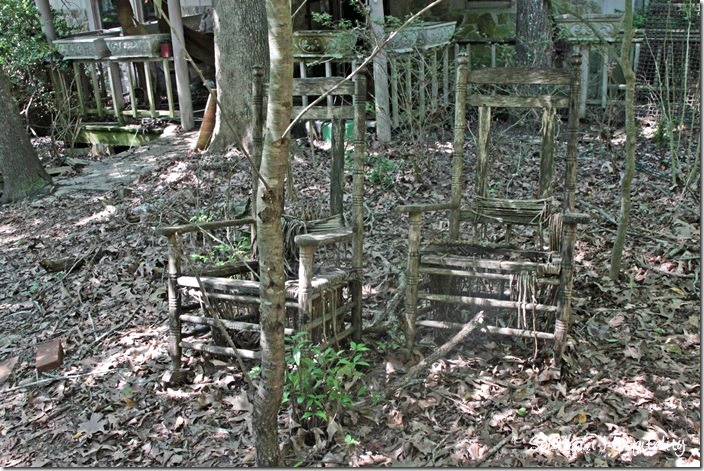 Falling apart rocking chairs in the front yard, tell the story of this abandoned home. I'm sure there were happy times in this house over the years, but it certainly looks sad now.
The  home is completely in disrepair with some limbs falling on the roof and the entire inside is a mess.
Not worth saving, but it will soon come down and the lot cleared for building.
The old detached garage.  They plan on building a new detached garage in the same spot.
The poor sad house is about to go away in preparation of new building.
Inside was equally sad and just a mess.  A little scary to walk through actually.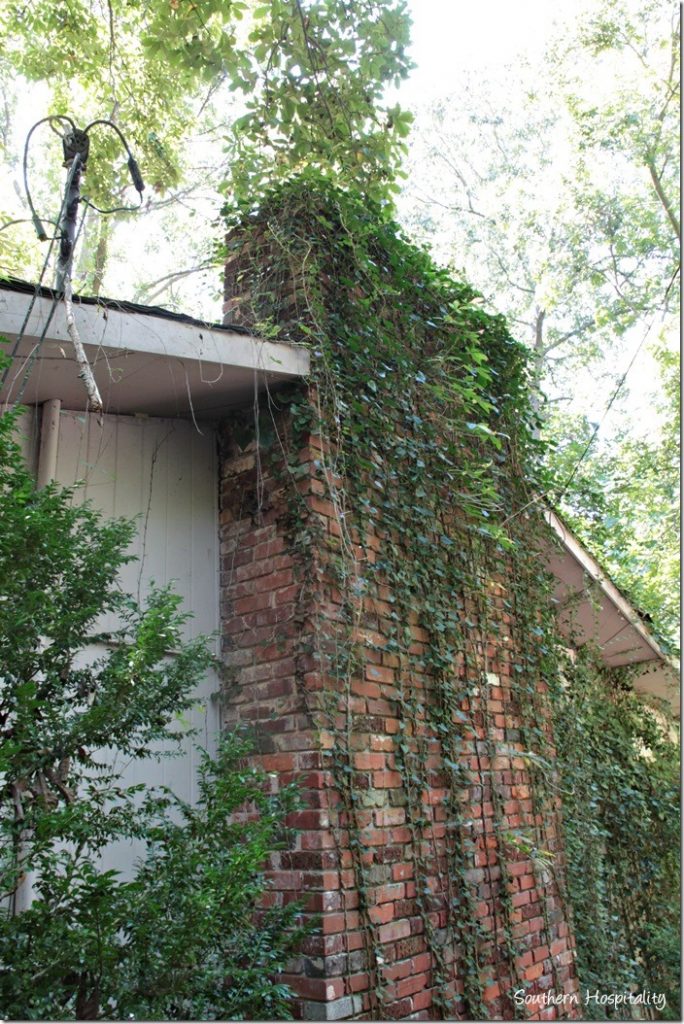 The old brick chimney.
Back side of the house with a scary dirt basement. I hate to think of the critters under here.
Back of house with the silt fence in place.
The lot meanders down hill to this pretty little finger of the lake.  A peaceful cove they will so enjoy.  They have 3 grand children with another on the way and I can see lots of family time here.
The old dock will eventually be replaced with a new one.
The lake view off the cove.
This is Ruby, smiling from ear to ear.  I am so happy for her and her lake house dream coming true.  It's been a long time coming.  Ruby is also a breast cancer survivor and that's been quite the journey too.
Neighbors down the cove include this A frame house.  I think some residents live here full time and others 1/2 the year or on weekends.  She has met a friend in the area who is a full time resident, so I know they will enjoy having each other close by.  I'm sure lake living can be a little isolated, even though they don't have to drive far to get back to shopping and stores.  It's not that far off the road.
Another neighboring house.
And yet another large beautiful lake home.  I heard this family stays here half the year and the other half in Florida.
Being on the lake is so peaceful and serene and I know Ruby is going to love this view.
Their little cove will be perfect for cooling off and adding a boat too.
Just down the hill from their new cottage, this view will be in store for them every day.
I love Ruby and she has been a true friend to me for so many years.  I look forward to seeing her lake house cottage come to fruition and a big dream come true.
Ever the bargain hunter, Ruby has found a couple of things left behind that she is going to repurpose.  Love this little table and it will find a place in the new lake house.
I spotted this little table in the garage too and told Ruby to definitely keep it. It's a drop leaf table and will be so cute all painted and looking at home in the new cottage, so hopefully she can find a place for it.
I wanted to share this story with y'all and let you know that I'll be posting updates along the way of the lake cottage.  They hope to move in by February, so it will be a fun journey to watch and she's going to let me give my ideas on decorating it.
A new house is so exciting!
Don't Miss a Post, join my list!