You quite possibly have never seen a tree like this one inside someone's house.
My friend, Ruby, loves to decorate for Christmas and I love seeing it when she is finished.  This year, I got to see her HUGE and festive foyer tree in place and it is quite the stunner.  And BIG.  Really BIG!
But first, let's look at the outside.  Ruby loves the Williamsburg look of real fruit and magnolia leaves above her doors and windows and when I first met her and went to her house at Christmas, this is what I saw all lit up and glowing for the holidays.  And it is beautiful.  I didn't get a night shot, but you'll have to imagine how pretty this looks in the evening all lit up like a Christmas tree.
Don't my friends have pretty homes?  Yep, they do!  Check out the pretty fruit and magnolia leaves over the doors and windows.  Isn't it stunning.  I know that she cut out lightweight plywood and stapled the leaves on there.
She adds wreaths with red bows and these beautiful real fruit plaques with real magnolia leaves.
How welcoming is this? Trust me, in person it is all just stunning.  OK, now let's go inside to the 2 story foyer!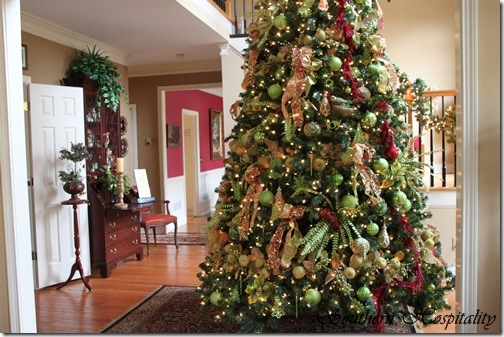 I've shared Ruby's new kitchen and updated bedroom with you, so now you get to see how she decks the halls in her home for the Christmas season.  As you walk in the front door, this is one big tree!
It reaches up to the two-story foyer and Ruby gets out the big ladder for this one.
See what I mean?  I think it is 15 feet high and wow, is it gorgeous.  I love the colors and textures she uses on her tree.
There's the top, as well as the draped and lighted garland at the top of the staircase.
Birds and pretty ribbons are festooned across this tree.
Top of the staircase is draped and lit for Christmas.
Birds, feathers, bows and baubles.  It's all pretty!
Foyer looking into the living room.
Top of the tree.  We love our bling here in the South!
Isn't it just gorgeous?!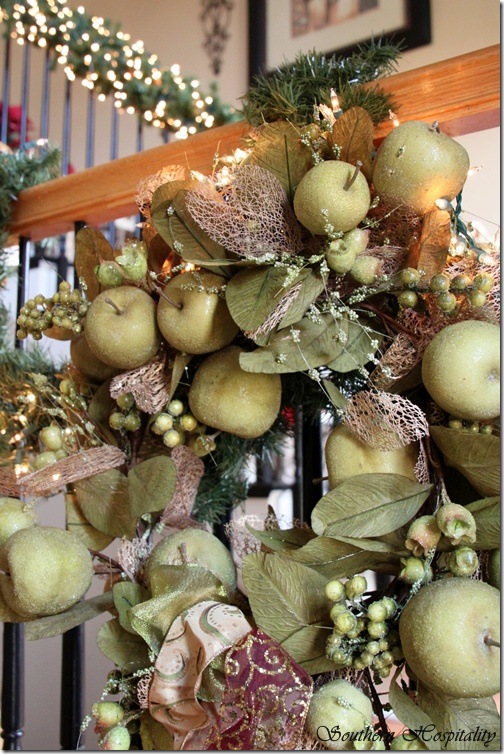 Sugared fruit wreath is hanging on the railing coming in the doorway.
The tree is so huge it's hard to show just how pretty it is, but I think you get the idea.
Nativity in the living room.
Family room tree and mantel.
I love the JOY moss letters.
And the lime green and red tree.
How is this for happy!
I hope you enjoyed Ruby's gorgeously festive foyer tree.  I'm so happy to be here celebrating with my friends this year.  I have missed them so much!  I'll be back later today with a look at Ruby's red dining room. 
Don't Miss a Post, join my list!