It takes me awhile to post all my pics when I travel, but I can't let these get away without sharing them with all of you.
There is truly not a more beautiful city than San Francisco in my book.  I've had the pleasure of visiting this seaside city two other times in the past and saw most of the touristy sites at that time.  I've walked up those steep hills on walking tours, strolled along the waterfront and eaten crabs at the restaurants in town.  I've had delish Italian food in North Beach and chocolate at Ghirardelli Square.  It was all good!
The charm and history of San Francisco cannot be beaten.  The sights are glorious!
Kate and I stopped at one of the parks going into the city and took some pics of the bridge.  Oh, that beautiful bridge.  It is such a pretty red hue and accented against the blue sky, it's a sight to behold.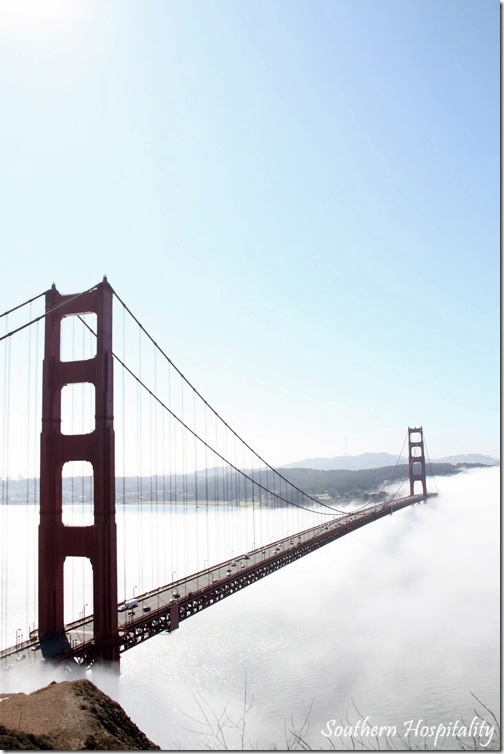 When we headed into the city, the normal morning fog had moved in and left much of the bridge in a hazy mist.  It's eerie and pretty at the same time.  We had a gorgeous blue sky day.
See the mist and fog hovering over the water here?  It's an awesome sight.
The Golden Gate bridge is truly a sight like no other you've ever seen.
Until you see it in person, you can't appreciate the full magnitude of the bridge and the city.
Awe-inspiring for sure!
I couldn't stop taking pics from all angles, trying to capture that pretty red shade.
Here's a shot of Alcatraz across the water, the old prison that is now closed. It sits out in the bay out from San Francisco.
So, this day we drove through the streets and stopped to take a few pics, just enjoying the beautiful day.
The city from the bridge side.
These winding streets are so pretty and picturesque.
Views from the top of the hills are something else.  I can see why folks love living in this city.  The views alone would be something great to wake up to.
The bay across from the city.
We stopped near the Presidio and took pics of the former military housing.  How beautiful are these houses?
I could totally live in a house like this, couldn't you?
Kate took me to the Palace of Fine Arts, which she told me was built for one of the World's Fairs.  I had not seen this sight before and it was truly beautiful.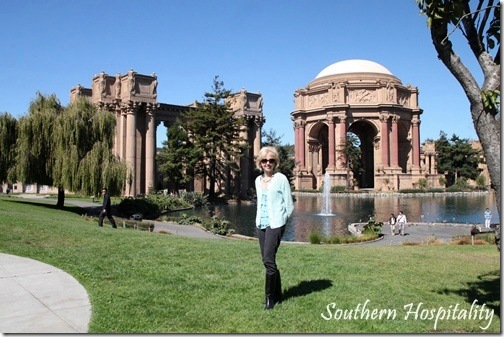 The typical pose of a tourist, that was me. 🙂
How gorgeous is this?  Reminds me of something in Italy.
I don't know all the history of this place, but it sure is pretty to look at.
Passing a pretty church.
I tried to take a variety of shots of the different architecture.  It's amazing!
Kate pointed out this house with the mailbag mailbox made from metal.  So cool!
These blue shutters were the bomb.
Streetcar lines
Kate  wanted us to have lunch at the Cliff House, which I had never been to before.
Gorgeous views, so of course I took lots more pics here.
Cliffs and surf.
Some beautiful rocky coast.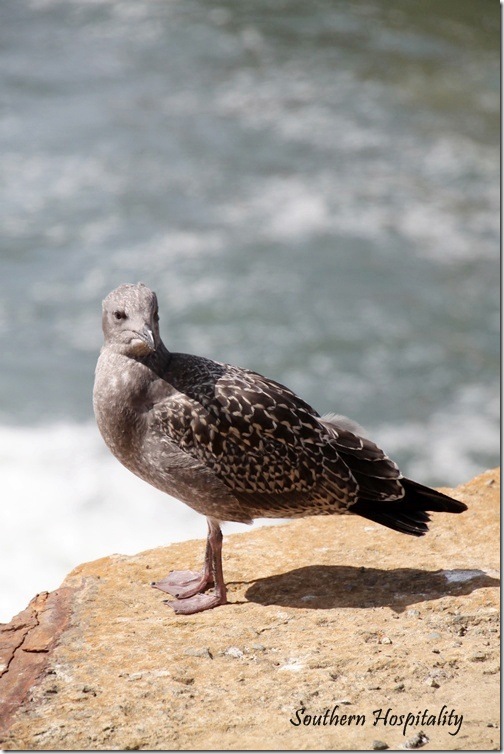 And a few seagulls hanging out.
There were plenty of surfers in the water that day too. I'm sure they all had to be wearing wetsuits to stand the cold water.
We had some calamari.
Kate had pot stickers and a salad.
I had a mahi-mahi sandwich.
What a memorable time in San Francisco.  Another lovely visit to this great city!
Have you been to San Francisco?  I'm sure you had to love it as much as I did, right?
Don't Miss a Post, join my list!