Last weekend, I had the pleasure of visiting Tybee Island again for a weekend getaway.  September might be the perfect time to go to the beach.  It was still very hot and plenty of folks were there, so apparently I'm not the only one getting the let's go to the beach in September memo.  I took a friend with me and we had a wonderful 3 nights there on Tybee Island staying in a Mermaid Cottage.  I was invited back to stay in a cottage by the Mermaid Cottages folks and loved every minute of our time there.  I also wrote about Tybee back in February with a girl's weekend there.
Tybee is a laid back beach town and so reminds me of what it might have been like at the beach back in the 1960's.  It's not quite caught up with the fast-pace world we live in these days and has such a nostalgic feel, which is a good thing in my book.  It's not all high-rises, traffic and neon, but definitely a more casual and non-hurried pace.  And it's small, about 4 miles long and not any wider than that, so you can easily ride bikes around the island which I also love.  The beach is not quite up to Gulf coast beaches (the sand is not as white or the water as blue), but for the Georgia coast, you can't beat Tybee Island.  I'd definitely recommend it for a girls' weekend, romantic get away, family vacation, spring break, really a nice little escape from reality and a perfect spot to chill out for a few days.
If you want rest and relaxation, Tybee is your place.  It's one of Georgia's best kept secrets.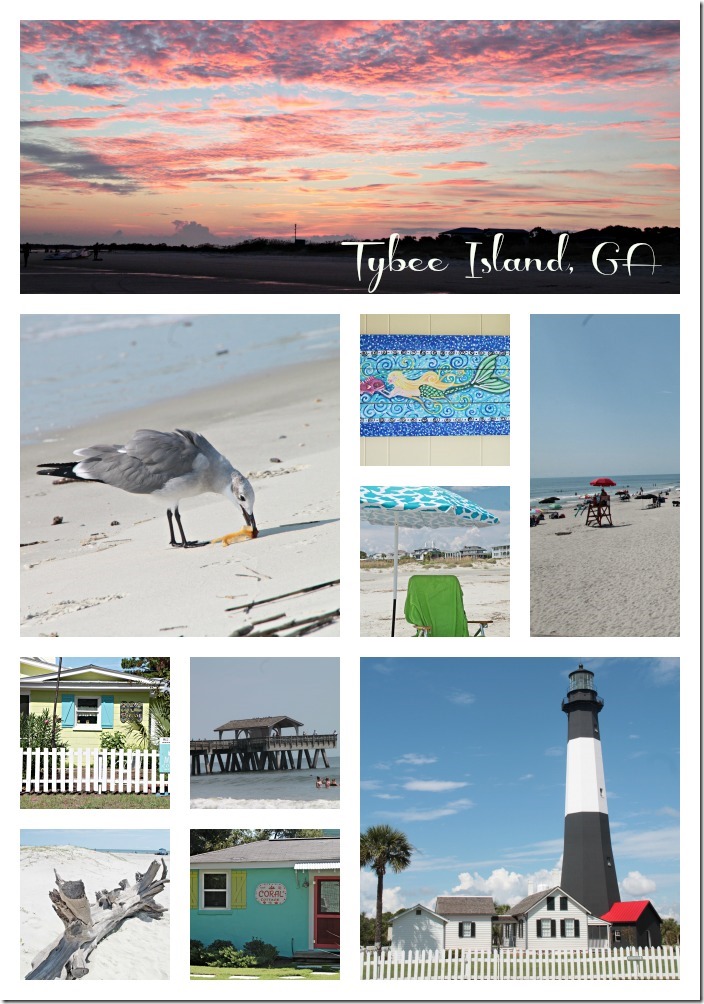 This collage captures the feel of Tybee, so true.
We arrived the first night just in time for a glorious sunset and I'm so glad we didn't miss this one.  I don't know those folks walking over there, but they worked in my pic.  A romantic walk on the beach.
I so love sunsets and being on the beach at sunset is extra special.
The sky just kept changing, the colors getting more and more vivid by the minute.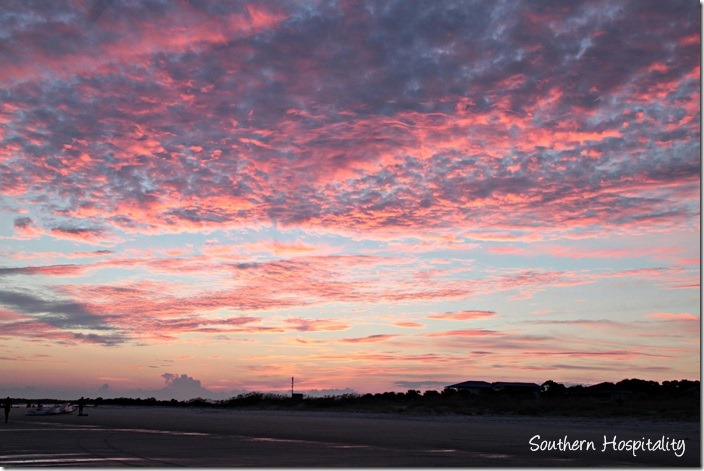 A wonderful end to the day. God sure paints a pretty sky picture.
Crabby Jo's was the Mermaid cottage we stayed in.  These old beach cottages are not fancy, but very comfortable and clean.  A place to kick back and relax.
Beach cottage style.

This wrap around porch was really my fave spot and we loved sitting out here eating breakfast and just chilling.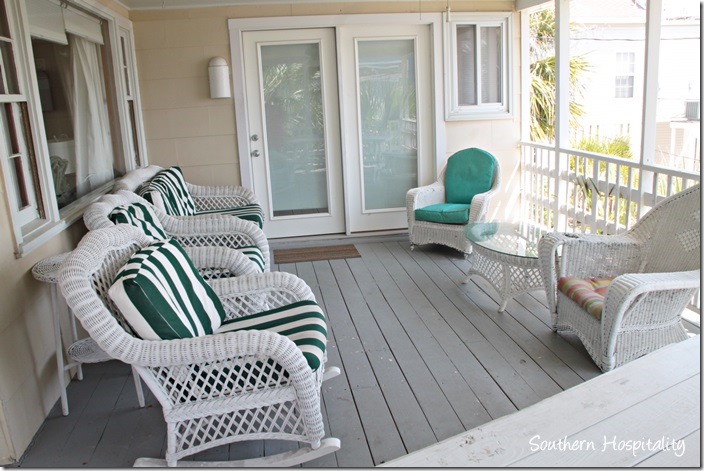 Plenty of seating of you have a crowd of people.  This particular cottage had 3 bedrooms and only one bath, but there are extra showers down in the basement area.
Comfortable living room.
Beachy pillows.
Lots of beach inspired artwork and accessories.
Seaside sailing.
One of the comfortable, but cozy bedrooms.  Nothing fancy, but you don't need fancy at the beach.
Sand Between our Toes book by the coastal lamp.
Mermaid artwork.
This is the view outside our porch, looking right over to the beach and water.
It was a quick walk through the sand dunes to the beach.
With houses close by to enjoy as well.  Lots of cottages clustered on this beach.
A huge piece of driftwood.
Tybee has plenty of sea oats protecting the dunes.
Looking back towards the cottages.
A whole spacious unspoiled beach to enjoy.  We were at the south end of the beach, the very tip of the island.
I love being on the beach, but my skin can't take hours and hours in the sun, so we found a beach umbrella for me to sit under the 2nd part of the day.  It felt wonderful under that umbrella!
Watching seagulls is always a favorite pasttime at the beach, trying to capture them with my camera.
Looking towards the Tybee pier.
This is the pier from the street side, right in the heart of little downtown Tybee.  So quaint and cute, this pier and boardwalk.
The Tybee pier.
Riding bikes the next day in Tybee was a lot of fun too.  Downtown Tybee is quaint with shops, restaurants, and plenty of ice cream.
Taking a tour on bikes was a highlight and I captured a few more beach cottages to share with all of you.
One side of the island faces a marshy area and it's beautiful too, with docks and boats.
I love beach cottages painted with all sorts of colorful hues.  That just fits right in at the beach.
Riding through Fort Screven was fun too. It's an old Army base and you can read about it on the historical sign. The old concrete fort remains along the coast line.
One of the cute colorful homes in Fort Screven.
Tybee doesn't have just small beach cottages. This was one HUGE beach house spotted in Fort Screven.  This place was gorgeous!  You can see the Tybee lighthouse right behind to the right.
The old Tybee lighthouse is a beautiful sight.
From the beach side looking towards the lighthouse.
It is a magnificent sight.
And a historic charmer for Tybee Island.
I managed to capture a night view of the lighthouse and it is really beautiful during dusk.
We checked out a few restaurants while on Tybee, so I'll tell you about those too.  We found Tybee Social Club on our last visit to Tybee and loved the ambience and food there, as well as the live music.  Fun place to hang out.  The last night, we ate at Sundae Café and the food was amazing.  I got the crispy scored flounder above and it was delicious with garlic mashed potatoes and veggies.  This restaurant is tucked in a strip center, but don't let that fool you.  Inside, it's white tablecloths and while laid back, the food was upscale and delicious.  Highly recommend the Sundae Café!
So, that's another report of Tybee Island and how much fun it is to get away for a few days. It's truly a relaxing place, so if you want to slow down your pace and get away from it all, Tybee is a great place to do that. It's only a few minutes from Savannah, which is such a fun destination too, so plan your trip so that you can do both.  This time, we only had time for a short visit through Savannah, with breakfast on the way out, so I'll share that later on!
September was wonderful on Tybee Island!
Don't Miss a Post, join my list!