As a child of the 60's (yes, I'm getting old, don't remind me), one of our fondest memories was going to pick out our Christmas tree from the Christmas tree lot, bringing it home, stringing the lights, and getting out the collection of ornaments my mom had so lovingly put together for our family.  Those pretty and colorful glass ornaments that many of us grew up with.
Do you remember them too?
Back then, there were no designer trees.  No special colors and trendy trees.  Most everyone did those big fat colored lights and all the ornaments were colorful too.  We never had just red and green on our trees.  It was an explosion of fun colors.  That's what I remember the most.  Those ornaments were so pretty and  magical to my little bitty self and I can remember sitting under the tree, with the lights all lit up, looking at the ornaments and dreaming of Christmas.  Don't forget those shiny silver icicles too.  That was the finishing touch on those trees of childhood.
My mom still puts up a little fake tree and was still using these ornaments up until last year.  We were over in Marietta over the weekend spending some time with my family for Christmas.  I had mentioned to her last year that I'd love to have them one day, so she got them out this year and gave them to me.    The oldest box was from a store called Christo's and the price tag was 59 cents.  Oh my, can you imagine?  They just don't make them like this anymore.  Well, maybe they do, but for a huge price, perhaps?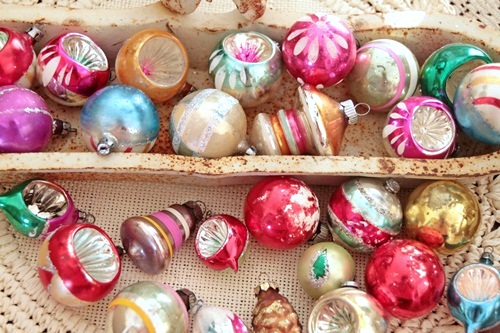 She said she was afraid to keep hanging them on the tree, cause she had dropped a few and broke them in the last few years and if they fell, they were history.  These fragile things are paper thin blown glass and about 50 years old, so what do you expect?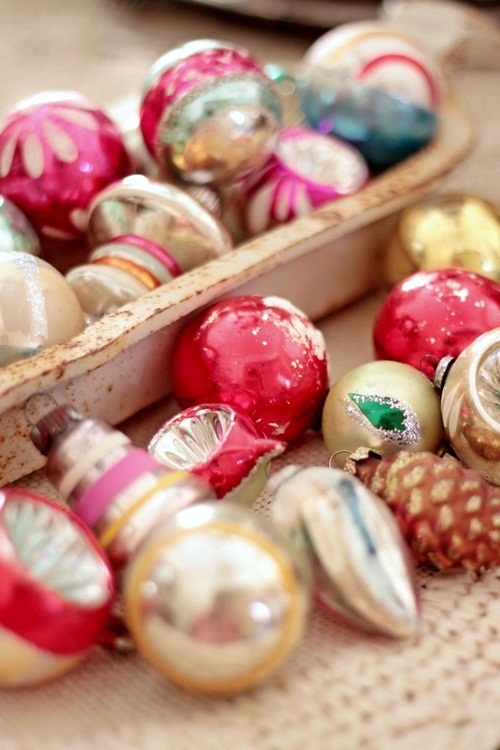 So, now they are mine to take care of and treasure.  And that, I will do.  I will probably pass them onto my niece, Lauren, at some point.  She will treasure them too.  There were over 2 boxes intact and they sure do make me smile when I look at them.
I love the colors and shapes. Remember the indented ones, with their inside of shimmery gleaming shine? 
The colors are just remarkable and so, so pretty. 
All shapes and colors.
I remember them so well.
These pinks are so hot and colorful, aren't they?
So many pretties to look at.
For these pics,I piled them in a white iron bird feeder, but they don't all fit inside here.  I'll have to find just the right spot to display them, while protecting them too. 
Here are a few of my faves.  This pretty bell, with its stripes and shiny silver.
Another one shaped so prettily and the colors are so soft and subtle.
This silver with teal and hot pink is one that I really remember, along with the frosted snow on top.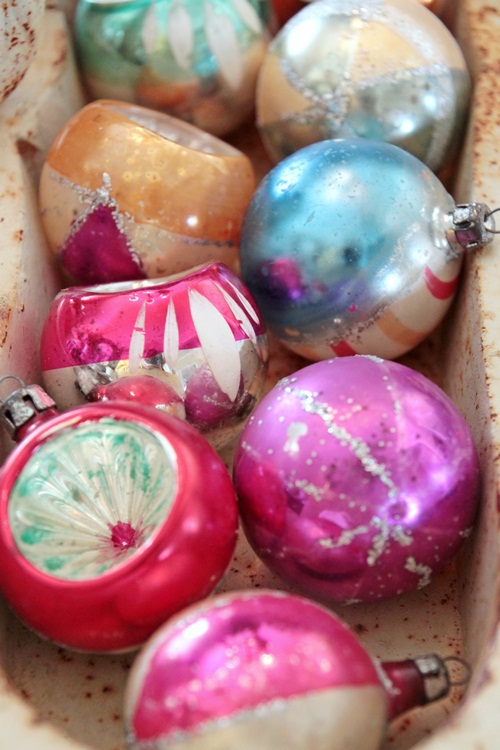 I'm so glad that they have survived and now I get to enjoy them too.
At least for this year, I carefully placed them in one of my crystal bowls on a side table in the living room.
How about you?
Do you have vintage ornaments from your childhood or have you collected some for yourself?
I've been on the lookout for some of these and have never found any that were a decent price. And I hardly ever see any just like this with all the colors and shapes.
The Gadanke giveaway winners of the journals are:
#30 – Cathy

#55 – Liberty Bain
#65  – Monique W.
Congrats, ladies!  I w ill email you, so just get back to me and I'll put you in touch with Katie to claim your prize.

Don't Miss a Post, join my list!