I know you are probably wondering what is happening with Andrea and David's 1950's ranch house renovation. Well, not so much at the moment.  Unfortunately, David has had some back issues arise and Andrea broke her wrist, so the last month has been pretty uneventful at their house for working on projects.  I think they are going to hire out the painting of the den and other areas to keep progress going, so that will be fun to watch.
I did go over recently and got the console table and stools painted for their foyer, along with David's help. They have more furniture painting to do, so that will happen along the way too.  In the meantime, we've been looking at fabrics to cover 2 wing chairs in the sunroom and haven't had much luck with that either.  With Andrea working full-time, it only leaves weekends to get things done and she and I haven't had a chance to fabric shop together. I've been getting samples of fabrics and bringing them to her, but we haven't settled on one yet for the chairs.  She really needs to see the whole bolt of fabric to decide on one, since small samples don't always show the whole pattern.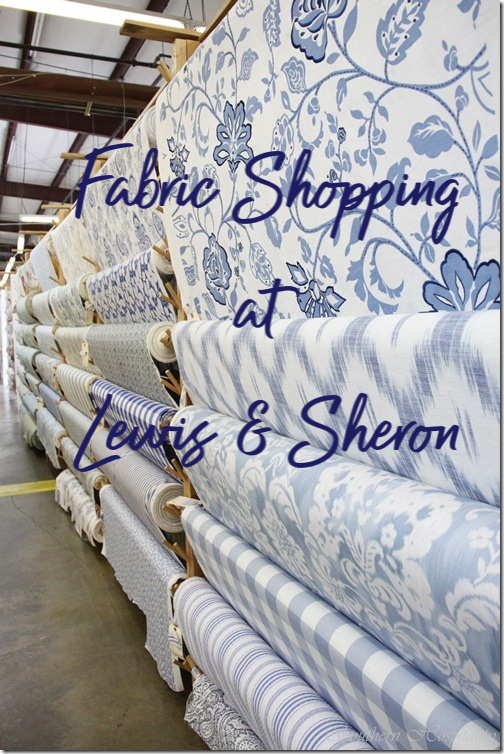 In the meantime, I was on the Westside last week and stopped in 2 of my favorite fabric stores to look at what they have available now, cutting a few samples along the way.  It made me think of how long I've been hanging out in fabric stores and it is a very long time.  When I was growing up, my mom was a big seamstress and sewed all our clothes.  She dragged us into fabric stores all the time and I can remember walking around looking at all the fabric.  I wasn't into decorating yet, but totally remember the smell and feel of those fabrics.  She even made clothes for our Barbie dolls, which made me get these out to show y'all.
I still have my original Barbie case from around 1964 or 1965, when I got my first (and only) Barbie doll, Bubble cut Barbie.
She's still in the case, along with those homemade clothes my mom made for her.  These are the few that are left.
I think all of these are homemade, but not sure about the red coat. It might be store bought. The wedding dress was definitely home made with love.
As were all of these pieces.  Look at that pretty gray suit and that cute striped frock and the a-line blue dress with the little apron that matched.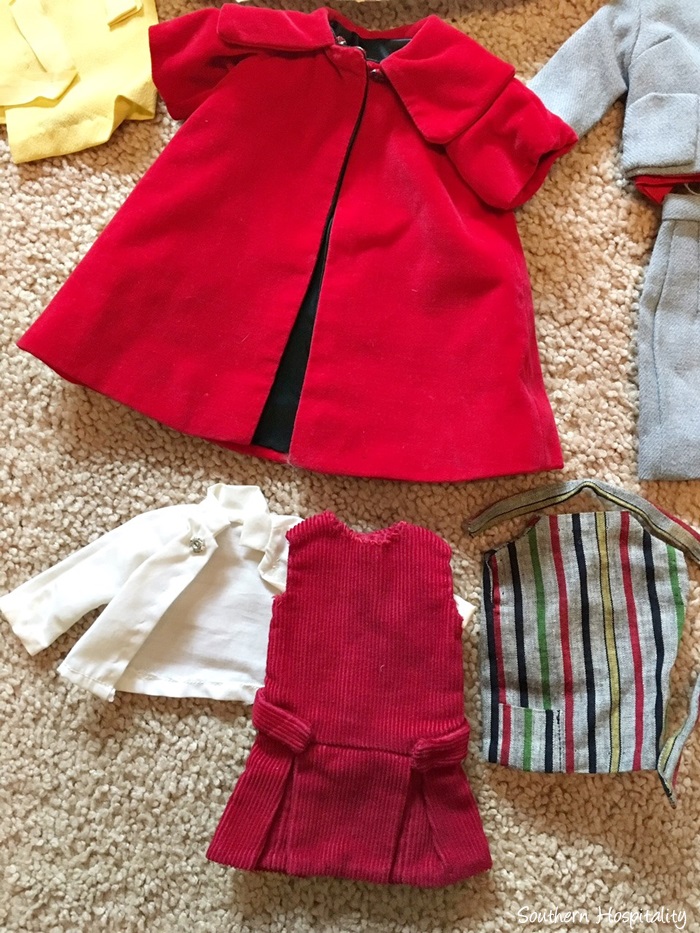 She is a Wonder Woman and sewed up a storm for us. She sewed so many clothes and then made drapes and pillows for me the entire time I've been in my houses over the years.  The sewing gene skipped me and went straight to Lauren. Neither my sister or me loved sewing, although I tried it in Home Ec class, but never got really good at it.
Going to these fabric stores brought up all those good memories.  I'll probably pass my Barbie on to Parker one day, when she is old enough to appreciate her and those homemade clothes her great grandmother made.  They really are treasures to save in the family.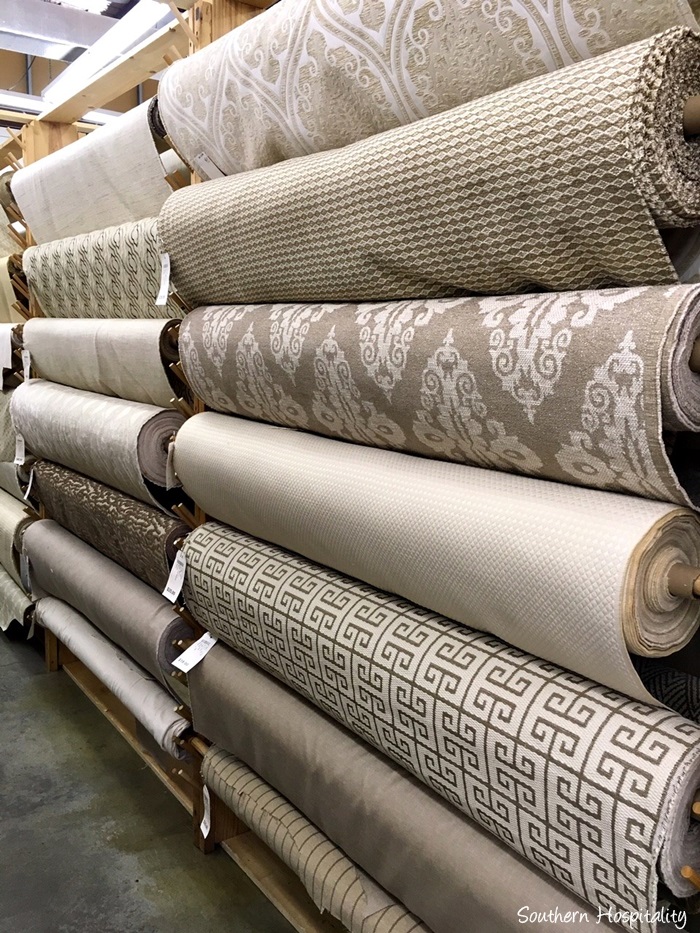 Anyway, back to fabric browsing.  Forsythe Fabrics and Lewis and Sheron are 2 of my favorite stores to browse in Atlanta and they have been around for many years.  They have racks and rows of fabrics and trims and I always get inspired in there. It can be very overwhelming to go into a fabric store and try to narrow down fabrics for a project.  But these are the places to go if you need lots of inspiration!
I took pics of lots of different colors, but one thing I did notice was the rows and rows of gray and greige fabrics.  You can definitely tell that this is a popular color way.
All of these next pictures are from Lewis and Sheron and they have loads of fabrics, plus you can buy furniture there and custom cover them too.
Even rugs are available.
Oranges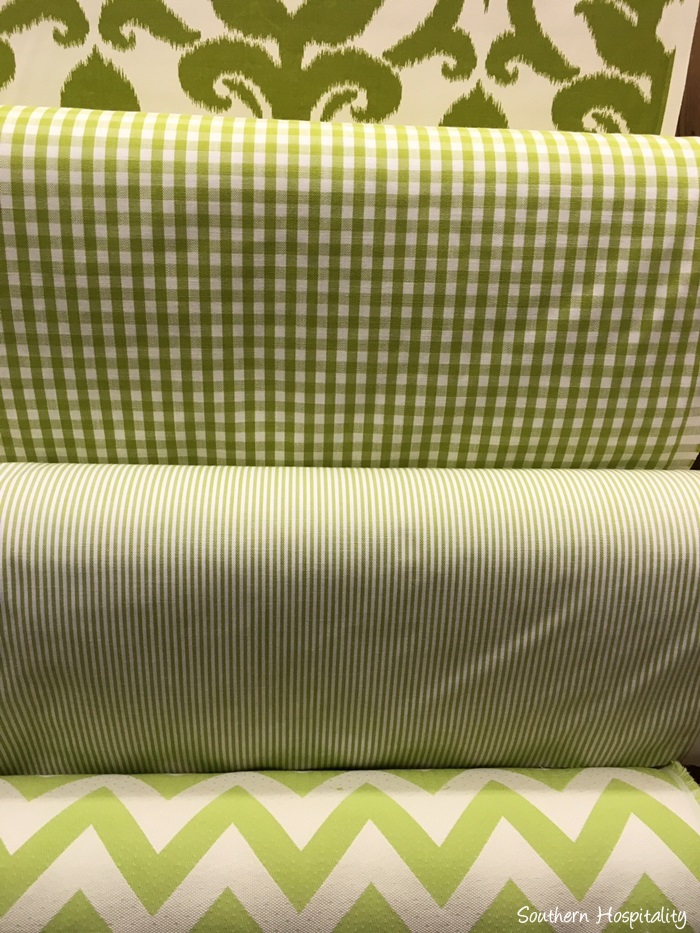 Greens….happen to be a fave of mine!
More green.
Blues are also really still very popular out there, with so many shade of blues, which I also love.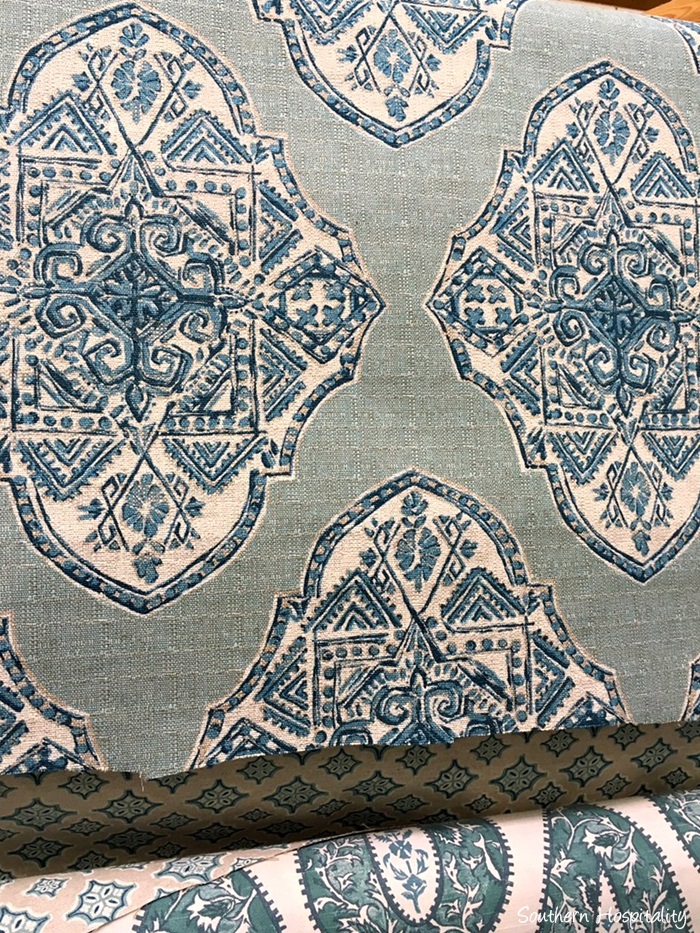 We were looking at this pretty fabric as a possibility, but not sure if it's going to make it or not.
See, lots more gray!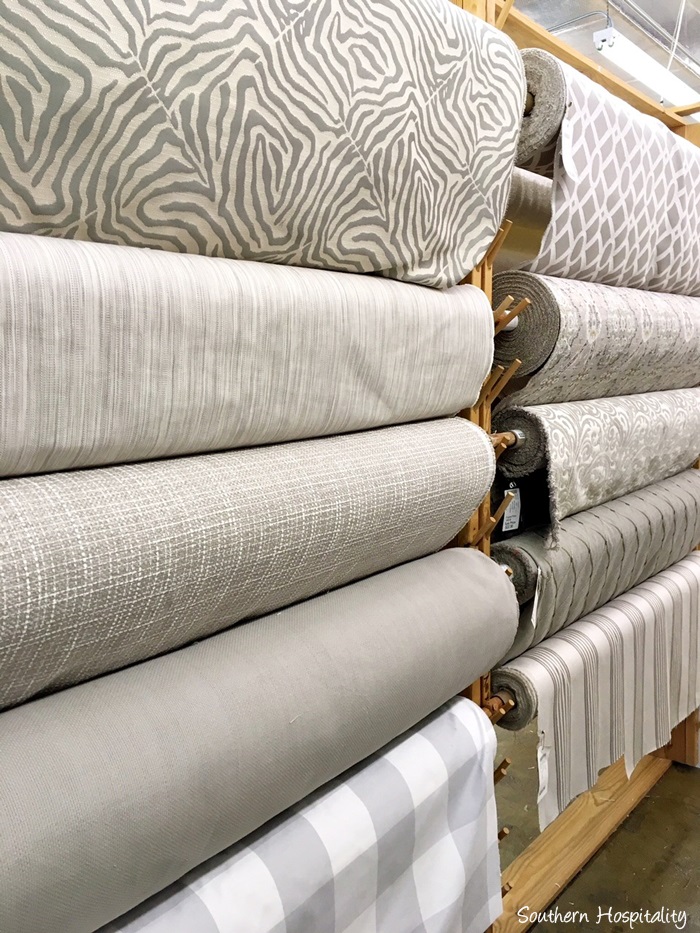 Gray, everywhere gray.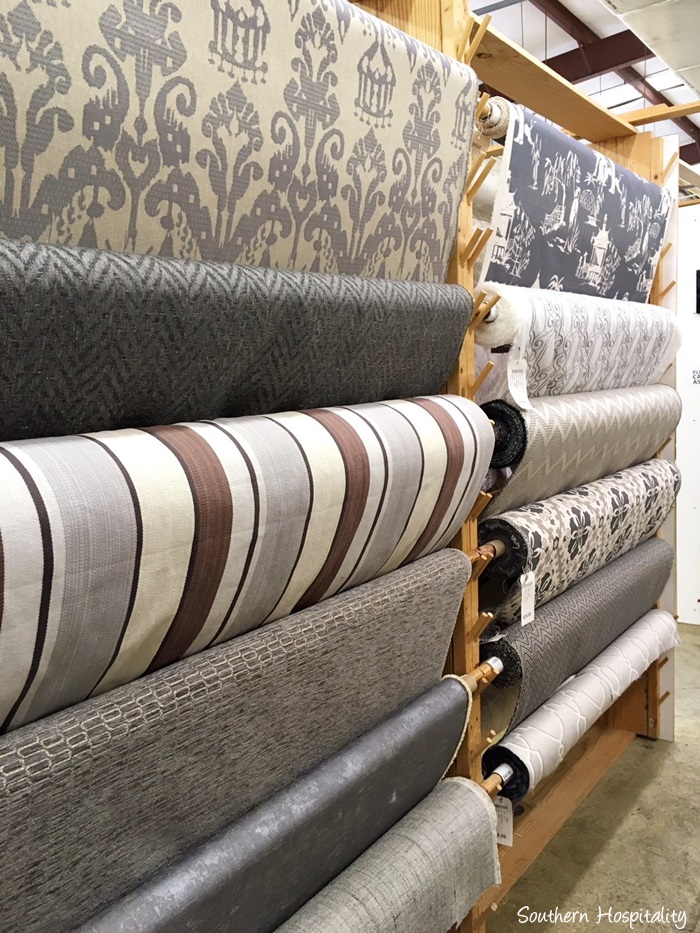 The neutrals have taken over.
But, there's still plenty of color out there too for the color lovers.
Rows and rows of fabrics at both places.
That sea life print on top always makes me take a second look. Love the colors in that one.
Lots of stripes and more stripes.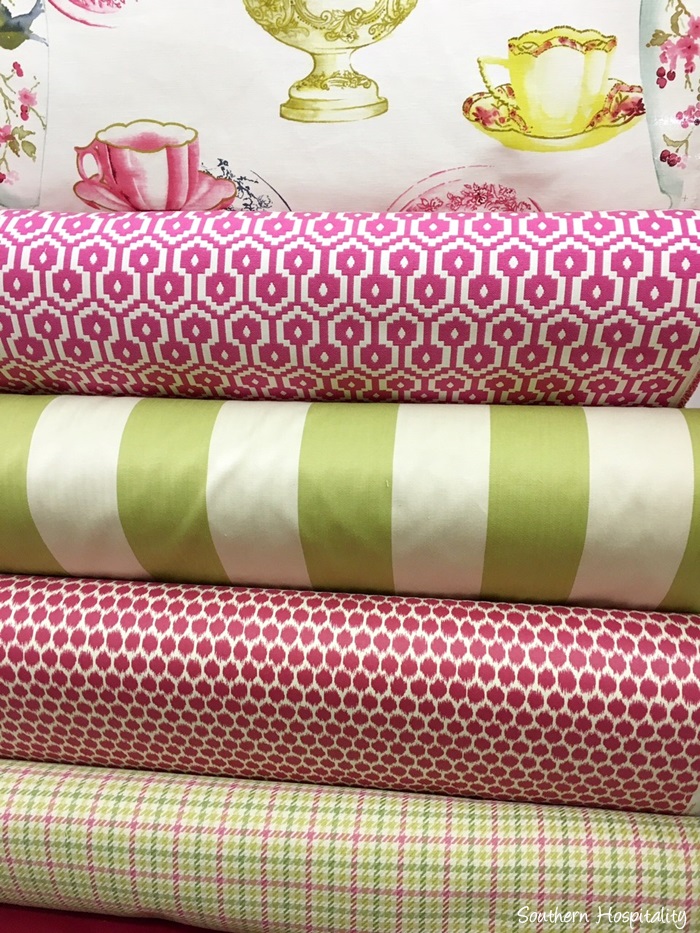 Happy spring colors!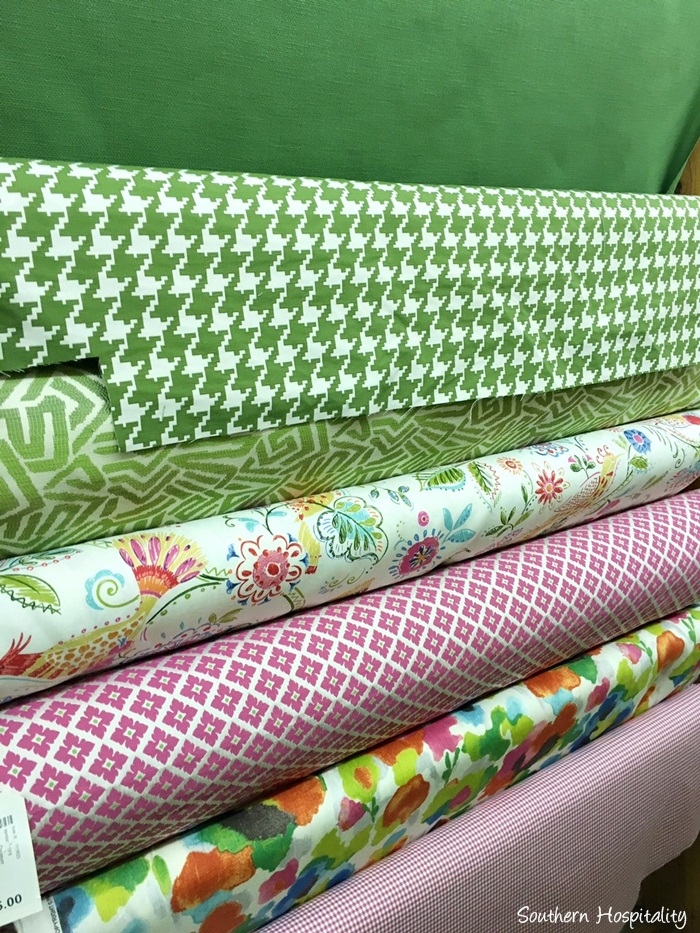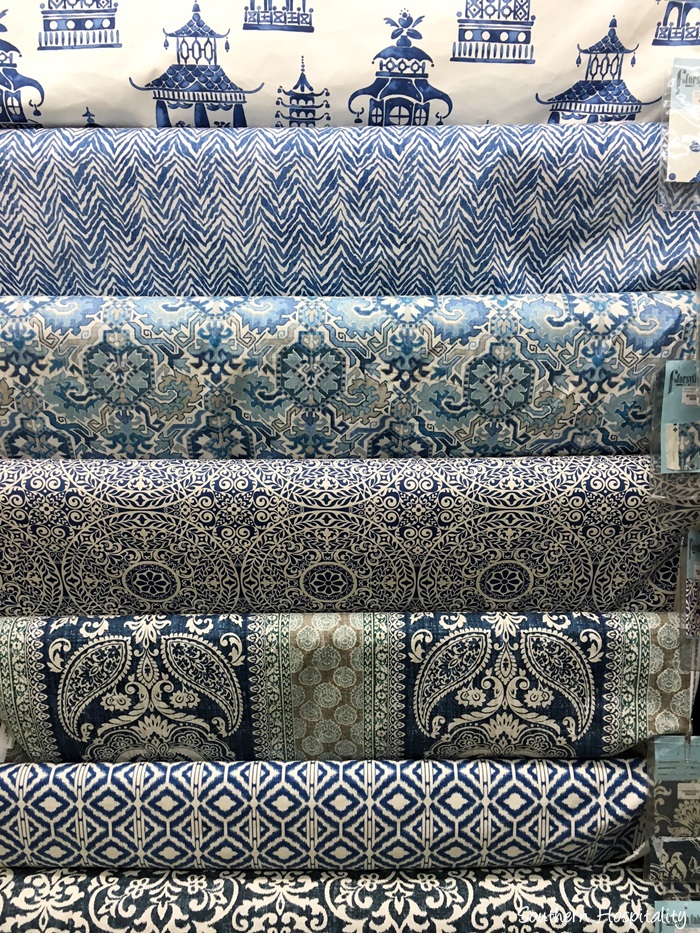 Blues for days!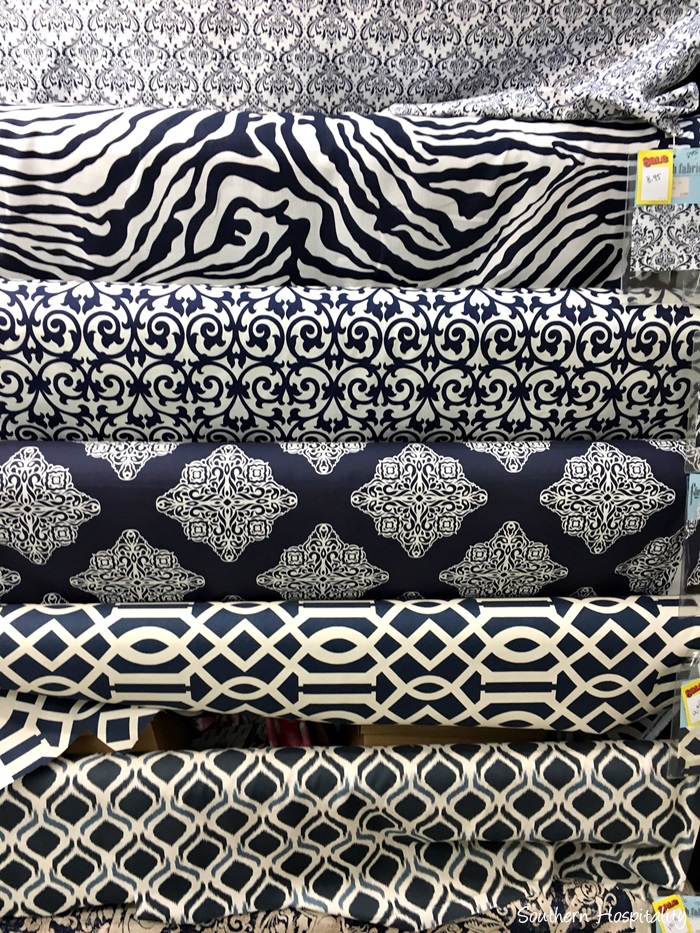 More blues!
Forsythe Fabrics are all below, another great place to browse in Atlanta.
They have silks and all you can imagine.
And they have ready made drapes available.  Does that Ikat look familiar?  Yep, that is in my living room.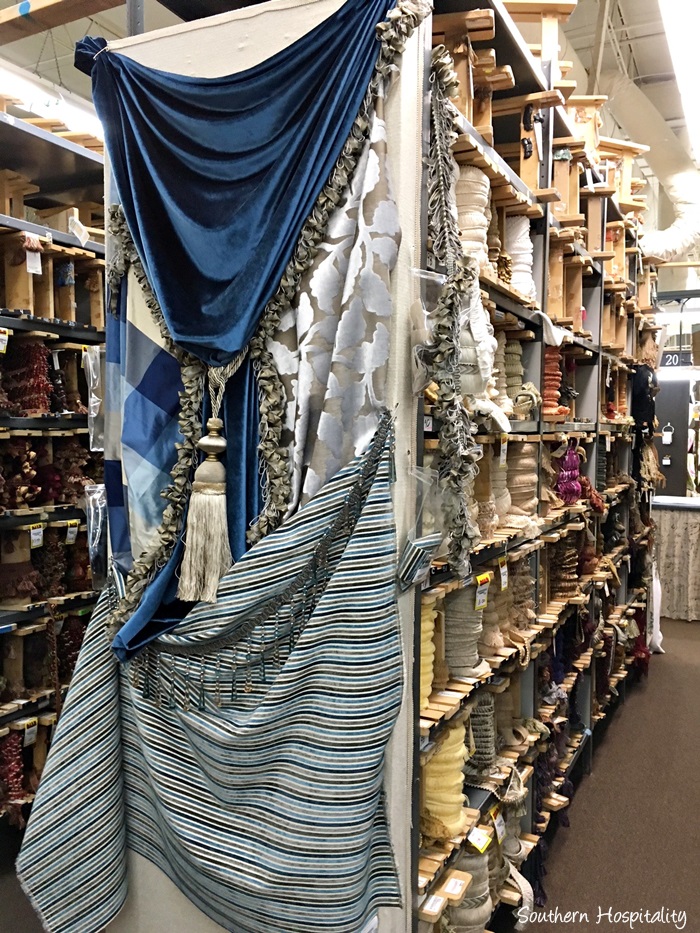 Fringes and trims galore too.  I used to love all the fancy trims, but go for more of a simple look these days on pillows and drapes.
Loved this one too.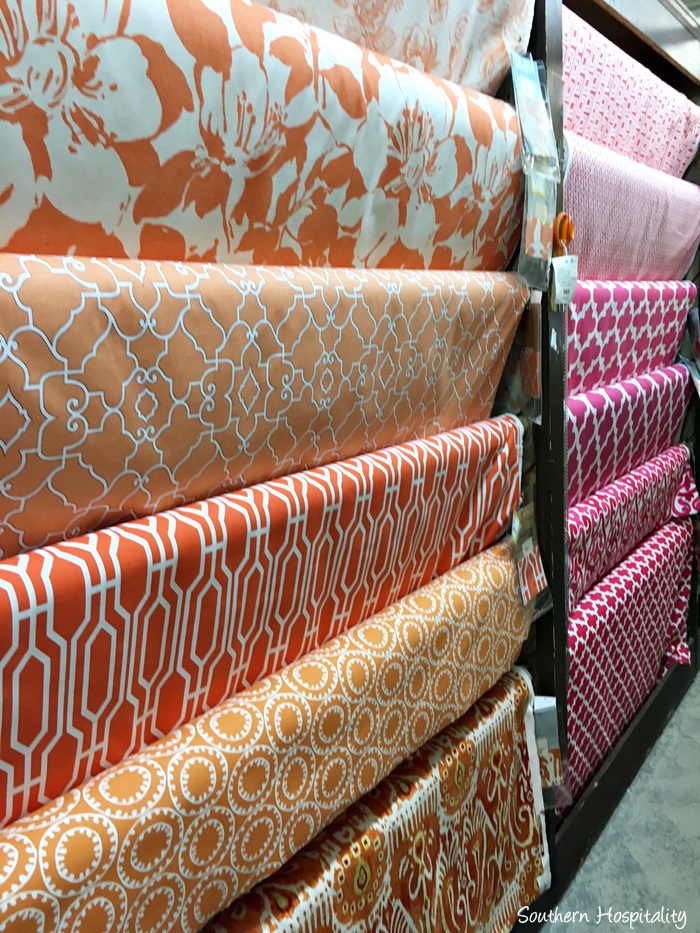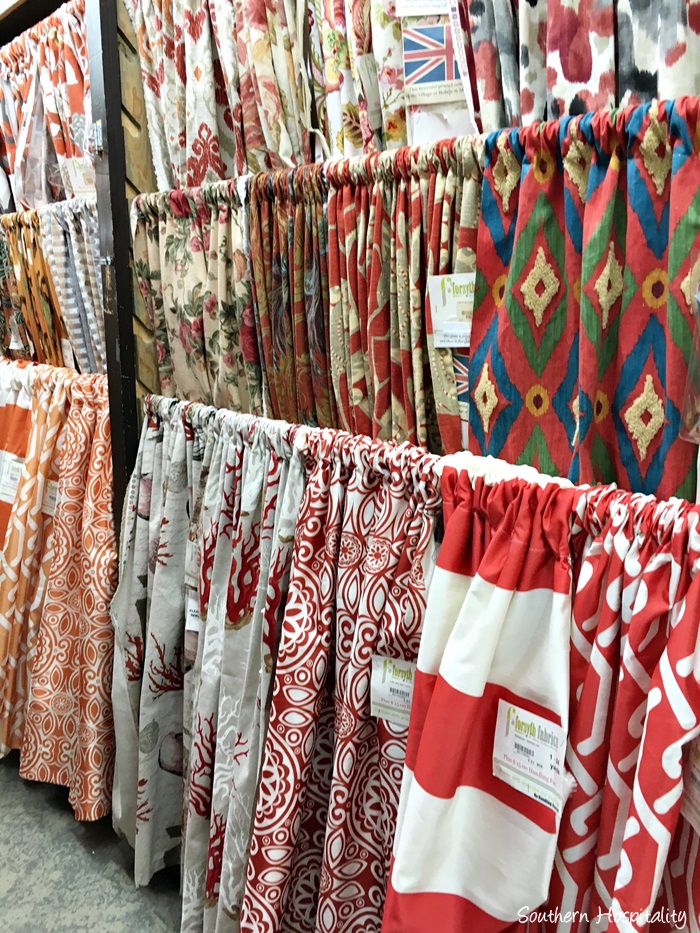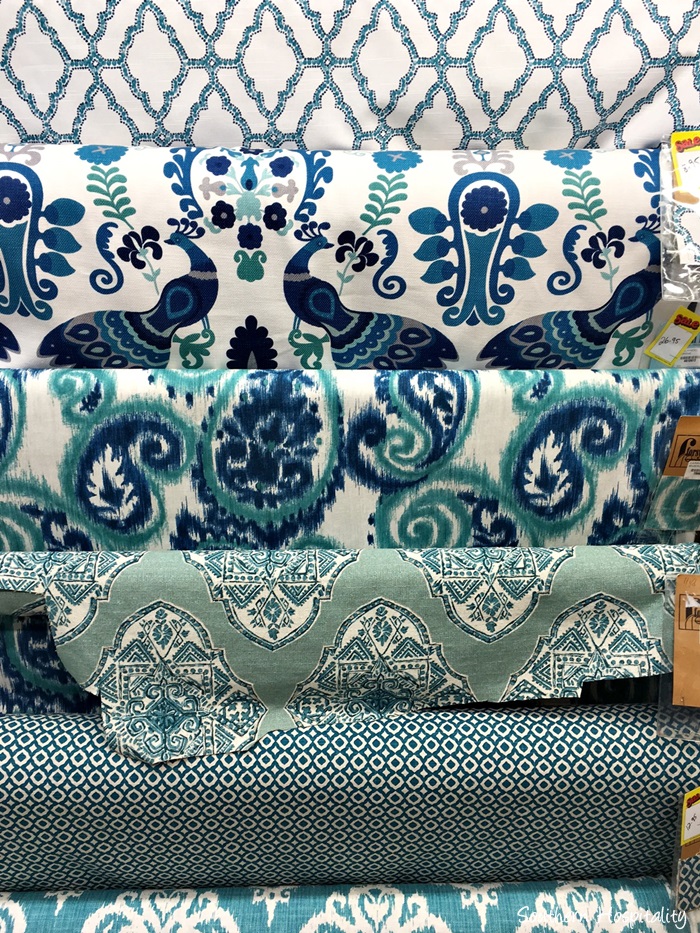 Loved all of these colors!  So pretty.
See what I mean about overwhelming?!  But fabrics are such a great way to update a room and make a huge difference.  That's why I've always had a fondness for fabric stores and all the decorating possibilities that are inside.  It's so fun to see a bolt of fabric and then have it come alive in  your home.
My den drapes come to mind.  This fabric sure made a difference in my den space.
And I love them dearly, the vibrant colors hanging on the windows.
Fabric dreaming is a fun thing to do!   Hopefully, Andrea will get some fabric picked out and we can keep moving along on her projects soon.
Don't Miss a Post, join my list!