I shared with you a few weeks ago that I'll be helping my friends, Andrea and David, update their 1950's brick ranch home here in Marietta, GA.  If you missed that post, go back and catch up.  The house hasn't been touched since the 50's and we are going to give it new life this year.
They started with the sunroom, repainting the walls and brick (you can see that in the first post) and got a fresh start in there. It will be slow going to get through the painting, decorating, decluttering, recovering of furniture and overall refresh of this house, but I'll be sharing progress posts along the way.  Hopefully, later on this year, we'll see a whole house reveal post and I can share it all when that happens.  There will be many steps along the way to get to the finish line and lots of planning and updating.
Here's the board and batten tutorial from my dining room if you want to look at how we did this at my house.
In the meantime, I'll share small updates along the way as well.  You'll remember this is the entry foyer to the house, with an L-shaped hallway.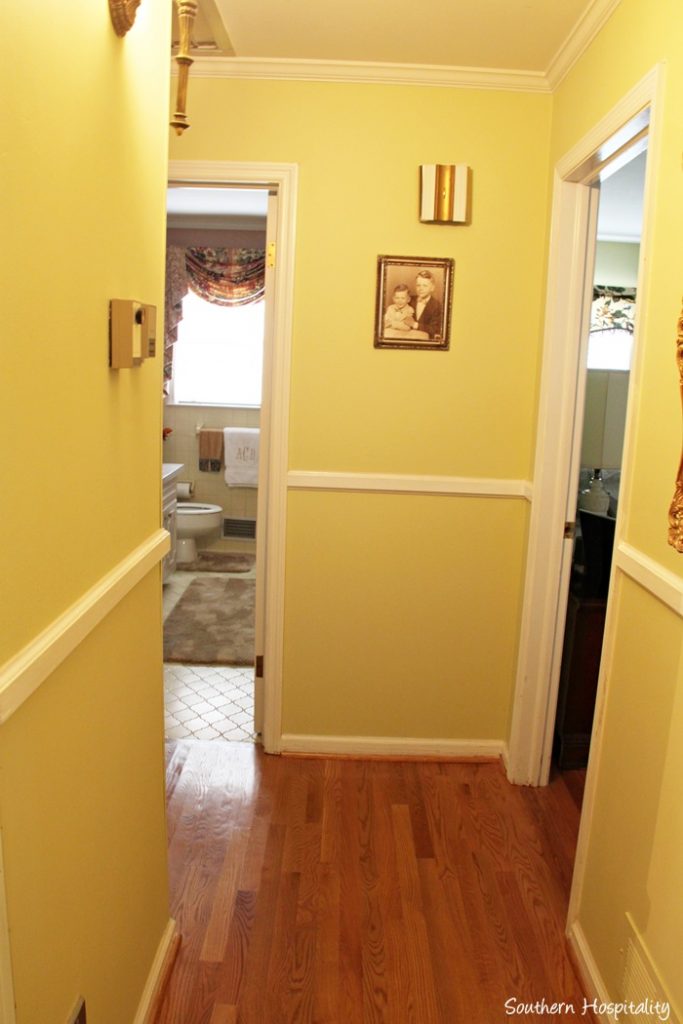 Andrea had chosen this yellow/green color awhile back and it never did turn out the way she wanted it.  Too bright.
Foyer with bench.
So, one of the first projects is to update the hallway with board and batten. They had seen my board and batten as well as online projects and wanted to add that architectural detail to their hallway.
They already had chair rail up, so it was just a matter of cutting battens and installing them. First, David painted out the entire lower wall in White Dove, from Benjamin Moore. That's the color that will be used on all their woodwork throughout.
White painted and ready for board and batten.  I didn't see the actually process of putting up the board and batten, but David got them all installed, caulked and painted.
And this is how it looks now! I love the lighter and brighter look.  We used Revere Pewter in the hallway, as we did in the sunroom.  It's a great greige color.
It's going to make a huge difference in this space.
Wrapping around the corner towards the bedrooms.
Outside the bathroom.
Hallway looking towards den.  We have lots of furniture painting projects too.  She has a lot of cherry Queen Anne furniture that needs some refreshing, so we are going to paint a few pieces to update them and not have an entire house full of matching cherry.
This bench will be one of the first pieces we'll paint. I think it will looks really cute in another color, with a new runner on the floor and new pillows.  Stay tuned for more!  We have lots to do in this house!
Don't Miss a Post, join my list!