Hope you all are enjoying this wonderful Christmas season and all that it offers.  I've been having a blast, from partaking in Christmas parties, plays, and dinners with friends and am thoroughly enjoying this month.
I've got a fun project I'm helping with and want to share it with y'all today!  You are really going to like this one.  One of my friends from my church and fellow choir member, Andrea, has lived in this 1950's brick ranch house off the Marietta square for 14 years.  She bought it from her mother and has never made it her own.  She got married  6 years ago to David and now she has a partner to help her with updates to this charming house.  It's in dire need of being introduced to the 21st century and that's where I came in.
She visited my house and had started reading my blog and decided I was the one to help her with this house, so I said yes, I would.  And I told her I would blog about it, which she is excited about.  We've barely gotten started on things, so it might be a bit slow, but I wanted to share the Before pics with you so you can see what we are working with.
It has really good bones and will be a great house.  It just needs updating with lots of paint and decluttering and it will feel like a whole new space!  I can't wait to see it evolve into the charming 21st century home that I know it can be.  Andrea has promised to do what I ask her to do and I think it's going to be a fun project. We are going to try to do it on a budget as much as possible, so I'm not sure that there will be any tearing out the kitchen cabinets or any of that, but new countertops in the kitchen and bathroom will happen eventually. We'll see how this goes as we work through, room by room!
Be kind and remember this is a work in progress! Andrea is ready for the challenge and change.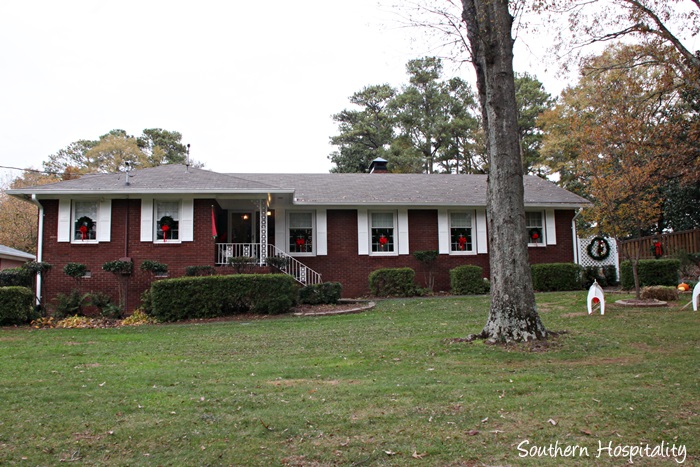 David, her handy husband, will be doing much of the work as they move through the house.  The exterior is traditional red brick and they are on a lovely street off the Marietta square.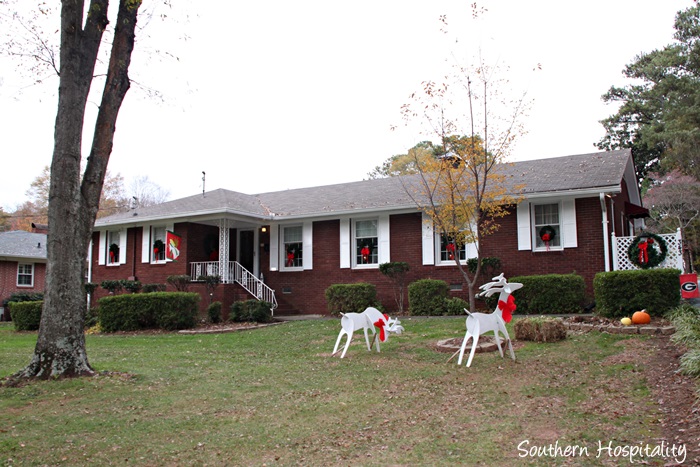 She is all decorated for Christmas.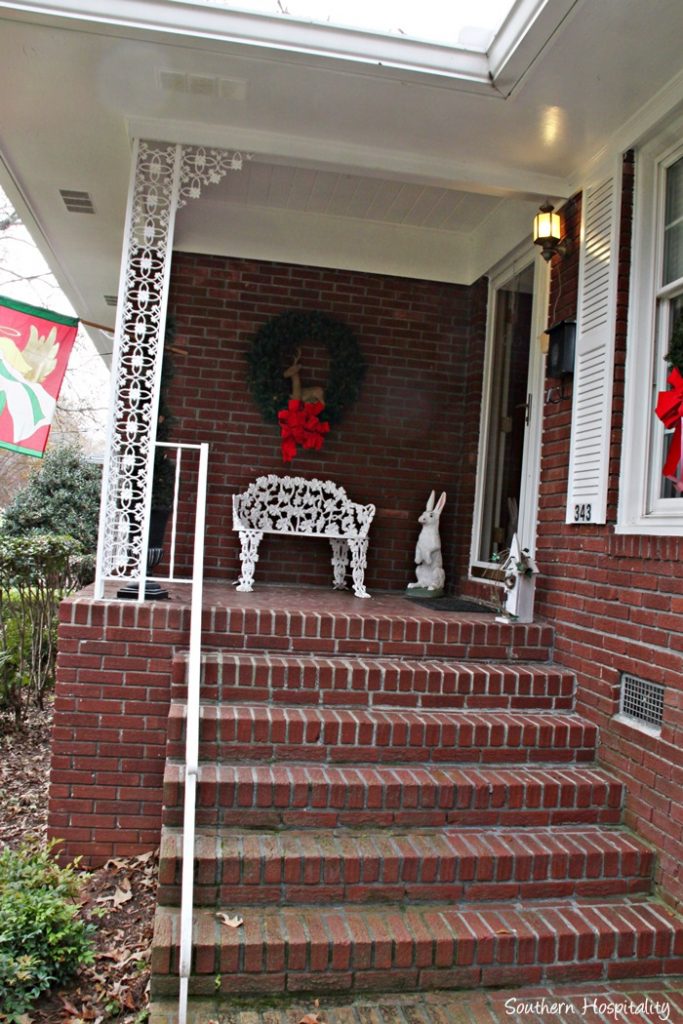 Front porch with brick stairs.  We will start with the inside of the house and hopefully move to the outside to give it some updates too.
Excuse my photos, I didn't have my tripod with me, so they aren't the clearest, but you can get an idea of the layout of the house.  Coming in the pretty front door.
Hallway coming inside the house.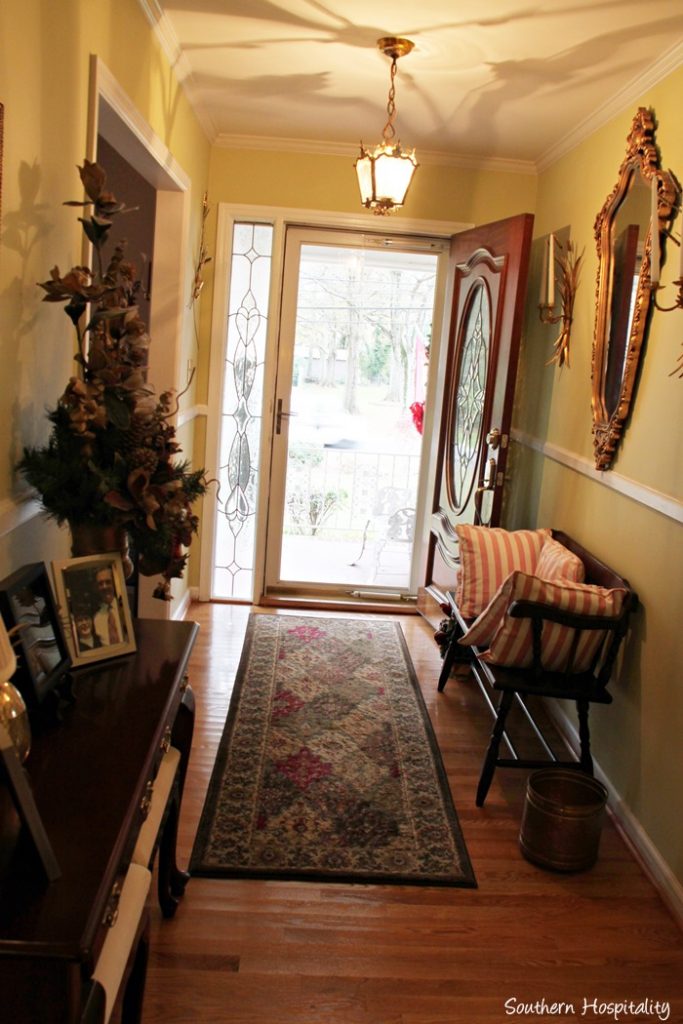 Looking from hallway back to front door.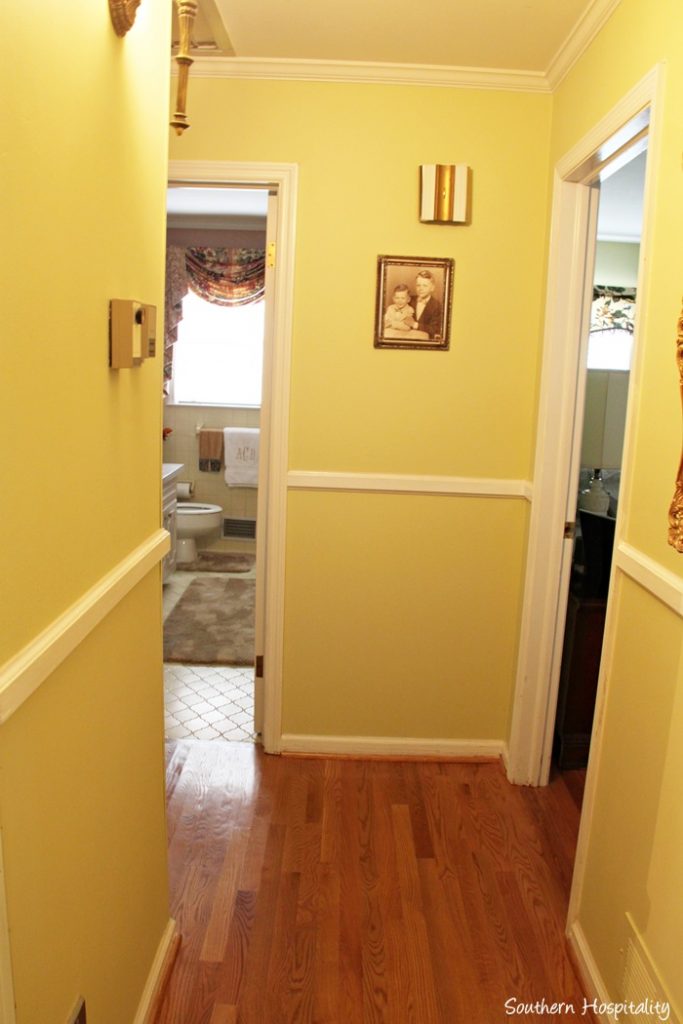 One of the first projects they are tackling is adding board and batten below the chair rail here in the hallway. And that yellowy wall color is going soon!
Main bathroom of 2. This is a 3 bedroom, 2 bath home.  The tile in here is actually not bad at all with a gray tint, so I'm sure we are going to work with this and update the rest of it.  Lots of decluttering to do and getting down the dated drapes and wallpaper.  Andrea is more than ready!
I'm pretty sure we will get the vanity painted in here and add new countertops, sink, faucet and lighting.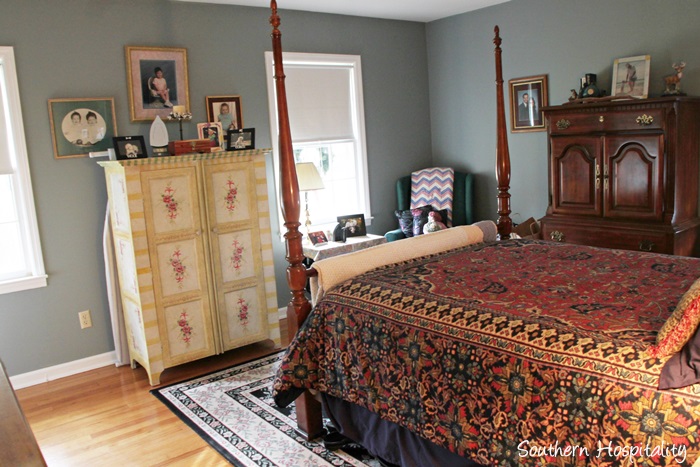 Guest bedroom.  We are going to have some of her furniture painted and reuse as much as possible.  I'm going to be looking at fabrics with her to update some furniture and bedding.
Master bedroom.  A pretty spacious room.
Looking towards the smallish master bath.
This tile isn't in bad shape either, although the color is harder to work with.  We'll be talking through all of this as we go along.
It's a very small space and I  know how that is, since my master bath is really tiny too.
Back to the foyer and hallway, now we'll head to the formal living room.
She would love to open up the wall behind the sofa into the family room behind it. We'll see if that happens along the way. I'm sure that's a load bearing wall, but it would really give more of a spacious feel if it was opened up.  I'm in agreement if they can do it reasonably.
Looking from living room to dining room.
Dining room.  David found this pretty wood dining room set at an estate sale recently.
It's very nice wood, so we are going to work with it and recover the chair seats.  Not going to paint this!  She would love to rip out the carpet in the living room and dining room and continue with the oak flooring all in here too.  I'm definitely in favor of that.
There are mirrors in several locations around the house, one here in the dining room.  All the mirrors are coming down!
Not a great pic, but this is a really pretty china cabinet.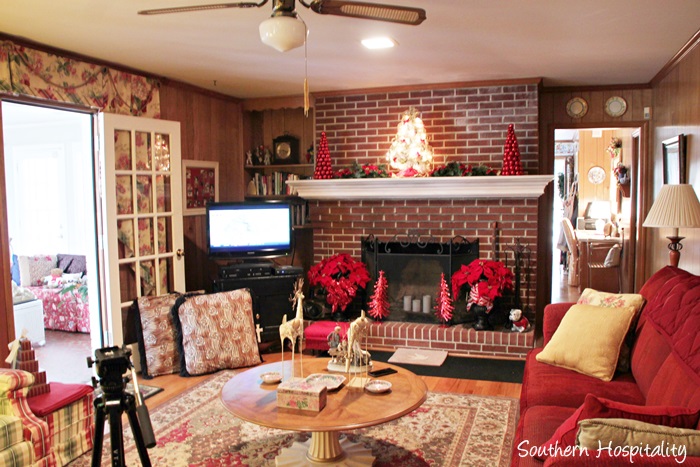 The family room is right behind the formal living room and the kitchen is through that door to the right.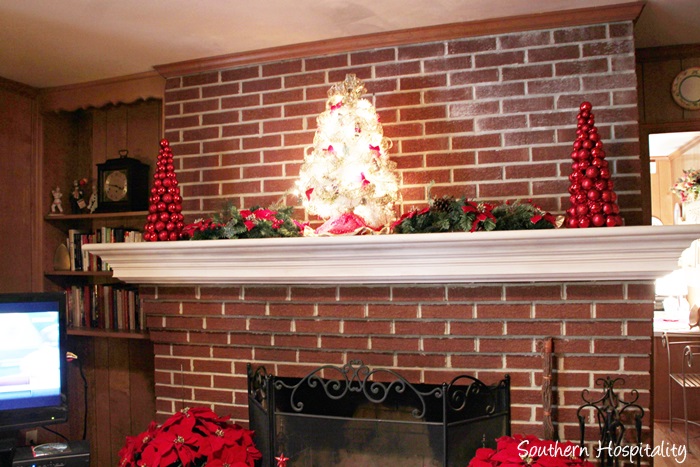 We are going to paint this brick fireplace and all the wood paneling. It will completely change the look of this room when that happens.  Andrea saw my painted paneling in my den and understood the power of paint.  Not sure yet what color for the fireplace.
One wall in the family room. All of this wood will be painted a lighter shade.  Not sure yet, but we are probably going with White Dove on the kitchen cabinets and some of this paneling.
Family room has a wall of mirrors too.  Time for those to go!  We are going to reupholster some of her furniture and I'll help her shop for new pieces later on.  All those curtains are coming down.
Kitchen is spacious but needs a lot of updates.  We are thinking that her hubby will build a banquette seat in the window in that corner.  That would be really cute.
Lots of things to decide on, but she'd like to keep these cabinets since they are all wood. I'm trying to figure out how to update the doors, maybe adding some molding.  All those curly wood trim pieces will come down.  All new hardware.
This is where the built in banquette will go.  All that wallpaper and window treatments will  be coming down soon.
It's definitely stuck in the past.
Look closely and you can see a mirrored backsplash, which is also coming out.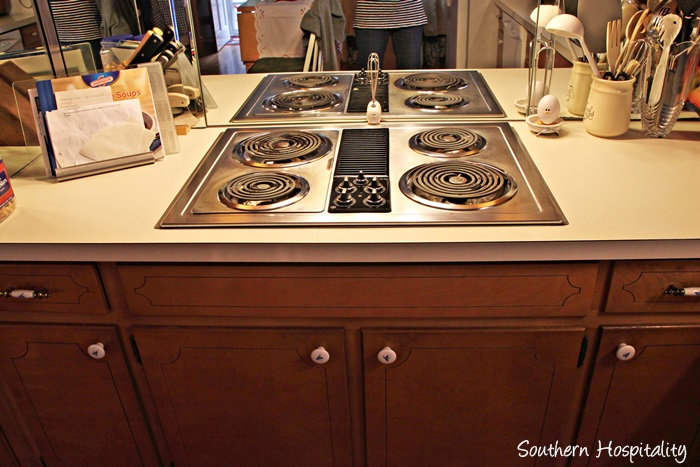 These appliances are all original and she's going to replace those as well, the oven and cooktop.
1950's finest!
Not sure what we will do with this desk area, may keep it or do something different.  But no matter, all this paneling will be painted.  Can you imagine how much lighter and brighter it will feel?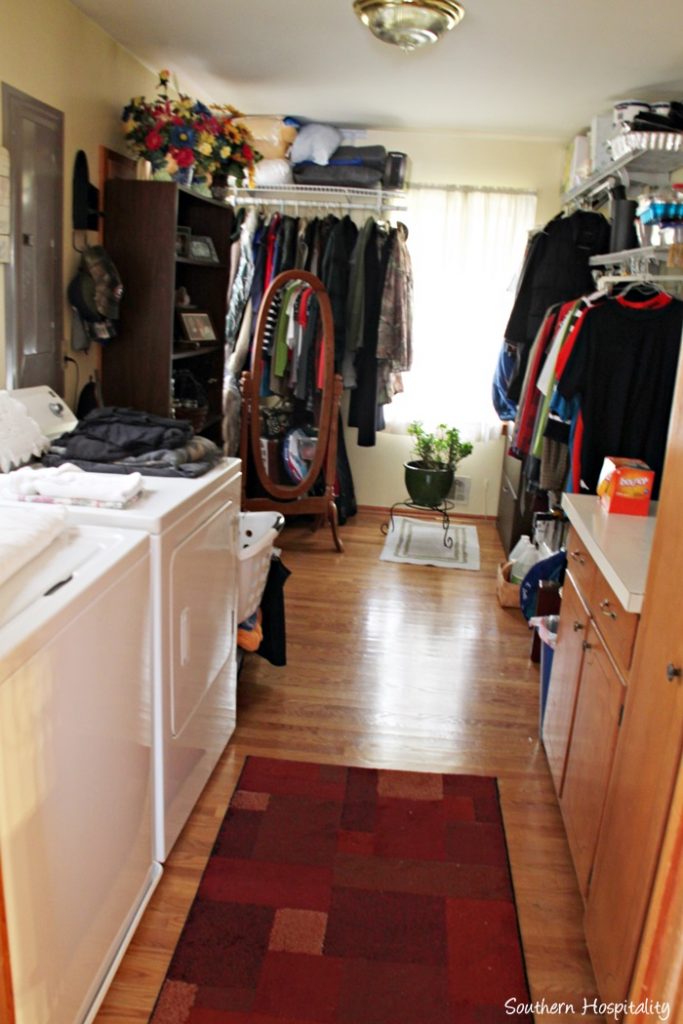 Laundry room.
Outside the family room, is this enclosed sunroom.  It is the first room that is getting a makeover.  Andrea had painted it this darker gray color, but when she said she wanted to start in here, I started thinking of a color that might work.  See that brick wall?  When I told her we were painting the brick, her eyes got really big and she said, we ARE?  I said yes, paint that brick. It's another wall in this room.
The gray isn't bad, but we want to lighten this up too. That sofa is going and we are going to recover those wingback chairs.  This rug is already out of there too.
The walkway from the garage is right in the middle of the room so we have to leave a traffic path.
So, they got busy and bought the paint I suggested, Revere Pewter, by Ben Moore and got it all painted out, brick and all.
It looks great in here now. We'll add a rug back in here eventually when we get colors figured out.
They love this new color and so do I. Revere Pewter is such a gorgeous color, now I want to use it somewhere.  Doesn't the painted brick look great?  The deer head is not going back up.
We are going to reuse some things in here and get these chairs recovered and make this room so cute and functional too. There's also a nice pool in the backyard right outside these windows, so that's an extra bonus.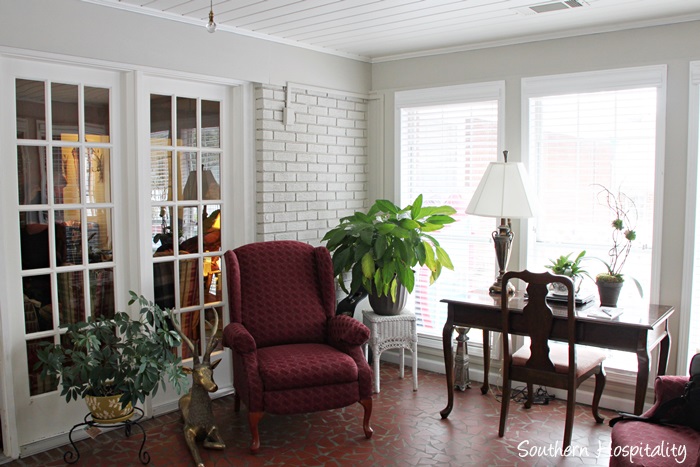 She already got rid of a lot of stuff in here and we aren't finished decorating yet.  The paint is only the beginning!
I'll keep you posted along the way as Andrea and David update this home and make it a beautiful space to live. It's got so much potential and I can't wait to see it come alive!  This is only the beginning!
Don't Miss a Post, join my list!