Finally, we have more progress at Andrea and David's house! Yay for that!  They are getting back on track with the renovation process of their 1950's home that I shared with you a few months ago.  It will probably be months in the making, as we choose rugs, fabrics, and totally paint the inside of their house.  Seeing the progress is exciting and Andrea is thrilled with the results so far.  Here's the update in the hallway using Revere Pewter.
They have moved into the kitchen now and are painting the cabinets (hired a painter for the family room and kitchen to move things along) and it's looking really good.
Today, I'm sharing their family room fireplace, a traditional red brick fireplace that was in need of updating.  There's nothing wrong with painting brick to make it look better and I don't think there will be regrets over this in years to come.  Painting brick is a gorgeous and classic look!  I partnered with Angie's List on this project and they are documenting it on their blog as well, so we were able to get new accessories for the project with this collaboration and that was a really good thing!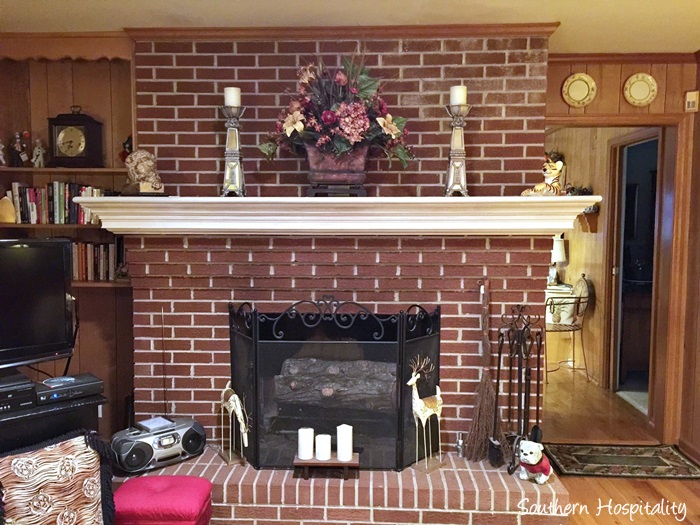 Here's the fireplace BEFORE, if that isn't obvious.  We are going to lighten and brighten up this space with paint.  The paneling has also been painted and I'll be sharing this whole room after we get new furniture and get it all decorated and accessorized.
It was time for an update!

I bought supplies to get started and first vacuumed the fireplace brick really well to remove the dust that was on there. If you think your brick might be dirty or greasy, then washing it down with soap and water would be ideal.  We didn't feel the need for that.
Tape off any areas that you don't want paint to get on.  I taped off around the inside firebox.
I bought a good primer that I've used before, Zinsser Bulls Eye primer and sealer (water-based) and that was applied first, then the Satin finish Benjamin Moore paint in Revere Pewter. This is the same shade we used in the sunroom and it looks great here on the fireplace too.  The rest of this room will be painted White Dove by Benjamin Moore.  I used Urbane Bronze, a Sherwin Williams color for the mantel and chose a Medium Lustre finish for that.
In process, priming the brick.
First things first, get the red brick primed.  It doesn't have to cover every little crevice, but adding this step helps the paint to go on smoother and it only took one coat of paint on the brick to cover.
I worked on the priming and used a paintbrush and small roller to cover.  The paintbrush comes in handy to work the primer on the grout lines.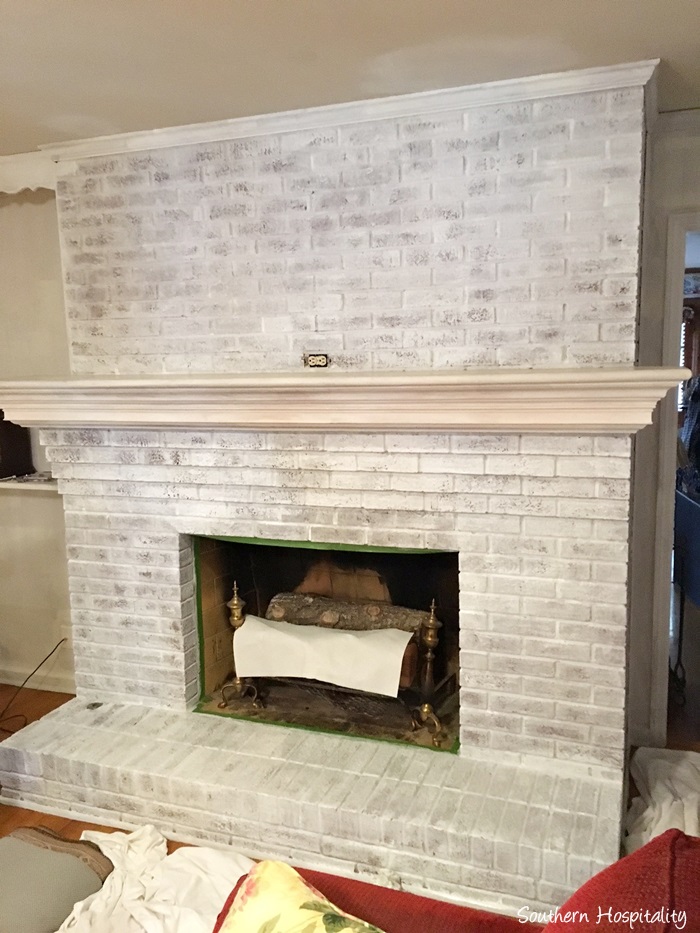 Priming completed and ready for paint!
I let it all dry well overnight and went back then next day to paint it all.  Again, using a small 3/8″ heavy nap roller, I rolled on the  paint as well as used the small paintbrush.
Once everything dried, it was time to accessorize.  We had a budget from Angie's List for this project and did a little shopping at Homegoods and Kirklands and we shopped for a new fire screen at a local shop, Casual Image.  It was fun to find just the right things to complement the newly painted fireplace.  We are working on decluttering Andrea and David's home of the smaller accessories and concentrating on larger pieces.  We'll keep things that are meaningful to them and work them in as well.
Tada!  The finished fireplace, all painted and accessorized!  I'm so happy with how this project has turned out and we can't wait to finish the room now.  You can see the paneling is also painted already and it's going to make such a difference in their home.  It was so cave-like before, but lightning things up makes it feel SO much better!
We found the birch tree print at Kirklands, as well as the lantern.  Home goods was a great place to score the ceramic garden stool, the big basket, and the 2 preserved boxwood topiaries.  I love all of this together!
The new and more modern fire screen adds a great touch to the final look as well.
They are going to love using this room and getting the rest of it together.
Fresh green topiaries bring out the green in the painting.
I love how clean and classic it all looks now.
The lantern from Kirklands is chunky and adds warmth with the rustic wood and iron.
Adding color above the mantel adds such a nice touch of calm and pretty hues.
Greens and blues are a nice addition to the room and blues will be used throughout the house for continuity.
I'm so excited to share this project with you and show the progress at Andrea and David's home and I know you have been waiting to see what was next!  It's so rewarding to see progress on this 1950's home and we are moving through, one room at a time, so I'll be sharing all the process with you along the way.  We are almost finished with the sunroom, with chairs recovered, rugs purchased, and all that's left is a little accessorizing in there and I'll be sharing it when it's finished.
I'm still waiting to get my master bathroom started and am chomping at the bit to get that project going.  My contractors are so busy, they can't even let me know when they can get started, so I will either have to wait on them or find someone else.  I hope to get that going pretty soon!
Don't Miss a Post, join my list!