Our Haven team spent the weekend in Nashville last weekend and it was the perfect little getaway.  We needed to meet up and just spend some girl time together to celebrate the huge success of Haven 2013 and to get ready for some planning on Haven 2014 and Nashville seemed to be a good meeting spot, so hello girl's weekend away. Always fun to do that!  There are 6 of us on the team and we all got in at different times and started the day in Franklin, a beautiful little Nashville suburb with a sweet little main street, with shops, restaurants and lots of ambiance.  Nashville is a great city with lots to offer and we saw as much of Franklin as we could in a couple of days.  This was my first time there (to Franklin, not Nashville), but I don't think it will be my last. There's nothing like small Southern towns like this on a warm Fall day.
The Haven team, who are all such special women and I'm so glad we are a team:  me, Beth, Chris, Sarah, (front) Kristin (our "da bomb" events planner), Traci
Downtown Franklin is so quaint and picturesque, just the kind of small town you fall in love with.

This beautiful Presbyterian church is awe-inspiring for sure.
The little town is just full of ambience and a great small town feel. I think I could live here.
Sort of like Mayberry.
We had lunch twice at this fun spot, 55 South and both times it was delish.
We had lunch al fresco the first day there and this spinach salad with grilled chicken was just perfect.
Next, we hit the sidewalks, strolling and looking and browsing the pretty shops, like this one, Lulu.
They had some fun typography pillows all over the place.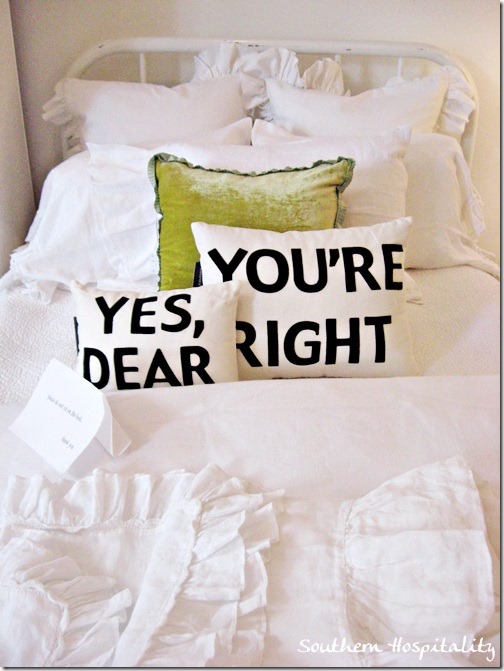 We all hooted at this set.  Would you sport these on your bed?
Loved this sign too and all the pretty bedding.
Happily ever after, what we all would love to have, right?  This shop was so soothing and serene, we loved it.
Beautiful bedding and lots of pretties to look at.
Next was Anthropologie and you can always count on this trendsetting company to have lots of eye candy.
I've been in their stores in several cities and it never disappoints.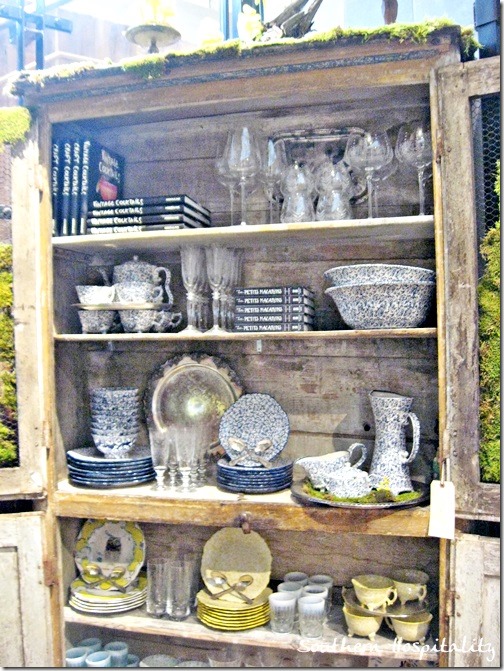 Beautiful displays and vintage feel.
They have neat-o clothes and home décor.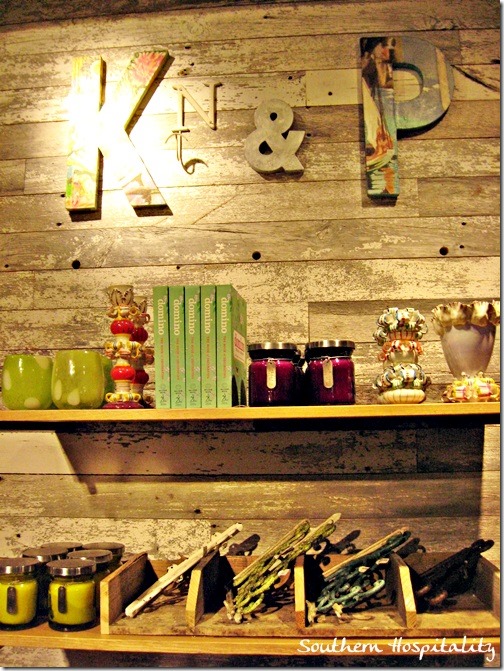 All with a rustic and vintage feel that is so on-trend now.
Loved this quilt hanging from the ceiling.
We caught the window-dresser doing his thing and Beth was asking him lots of questions.  It's amazing how creative they get on dressing these windows. It's like art and these mushrooms were made out of all sorts of things, like glue, wax and paper.
Next we hit The Iron Gate and when we walked in here, we all gasped.
Such pretty things to look at.  Old, vintagey, industrial, romantic, all wrapped up in one store.
Beautiful backdrop of brick walls and rustic appeal. Don't you love this stuff?
Check out this beauty of a bed.  Ooo-la-la!
Large wine bottles
And this huge clock on the brick wall.  Swoon!
Lots of garden inspired things too.
This planter filled with plans was so pretty.
We loved all the beautiful and unique lighting too.
So much to see and take in.
Beautiful handmade pottery.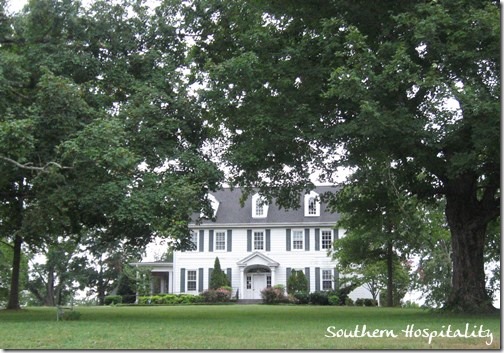 Passing through the streets of Franklin, there were many beautiful homes like this. I remember seeing Franklin on House Hunters a few times.  Lots of desirable neighborhoods and homes in this quaint town and I can see why it's a popular spot.  Right next to Brentwood, which is home to many country celebrities, the Nashville suburbs is a happening place.
Who knows which celebrity might live at this address?  Look at that winding white fence and beautiful green acres.  The rolling hills of Tennessee are a beautiful sight to behold, truly a pretty state.  We enjoyed our little visit so much and I'm sure I'll be back there again one day. Nashville is so fun to visit, have you been?
We also hit a few antique stores, so I'll share those later.  And we hit downtown Nashville on a big concert night with Taylor Swift playing in a downtown arena, so it was a bit crazy.  We ate some yummy food and listened to some country music and I wore my cowboy boots.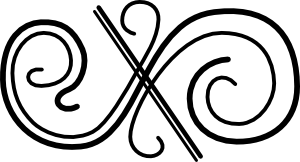 The House Beautiful book giveaway winner has been announced  and the winner has been emailed!
Don't Miss a Post, join my list!