Marburger Farms was our last stop on the Round Top shopping trip and it's the most exclusive shopping you'll find (I think!) during this antiques market.  I figured it would be more high-end vendors and that was true for the most part.  The only thing I bought at Marburger was some jewelry that I'll share with you, but it was fun to browse. The other girls found plenty there though I didn't get pics of what all they bought.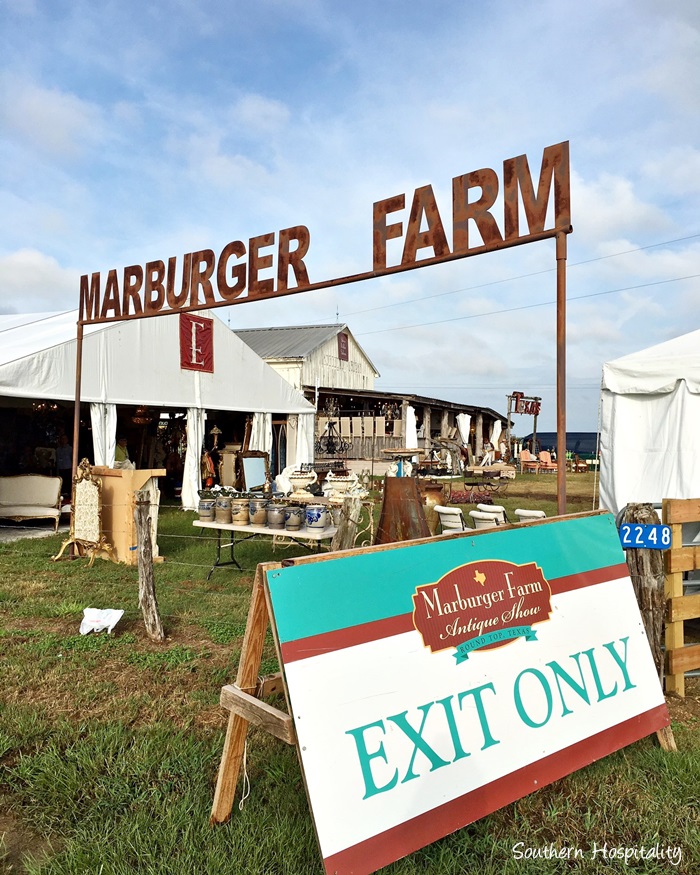 We got there before all the tents were opened and waited with the crowd.  At a certain time, everything opens all at once.  Marburger is definitely a popular spot and lots of people show up.
Our shopping crew! We all spread out and had about 3 hours here to look at everything.  They had a nice covered pavilion for eating and resting so that was nice.
I did get to see my friend, Anita with Cedar Hill Farmhouse for just a few minutes so we took a pic to share.  She's a sweetheart and looked so cute in her pink pants and boots!   She has a ranch house not far from here so she always shops the market.  Both her houses are gorgeous, so hop over and visit if you haven't already.  She has a wonderful French Country style.
This is the only thing I bought at Marburger, a vintage set of jewelry. Both pieces came in at $100, not super inexpensive, but a fun memento of my trip.  These are all handmade with vintage buttons and the shop is My Mother's Buttons.  I think she said these tags are old miner's tags.  The 12 is for my December birth month.  I loved the vintage look of the rooster button on the bracelet.
There was a LOT to look at in Marburger Farms, but to me it was pretty expensive from the price tags I looked at.  That's what I had heard before we went.
All the buildings at Marburger are full of vendors too, so there is plenty to keep you busy looking.
I loved these framed botanicals, always catches my eye.
We saw a lot of vintage fabrics and pillows too.  I think one of the girls bought some of these pillows to bring home.
Things are styled really well at Marburger and you can see the potential of beautiful pieces.
Plenty of vintage lighting at Marburger too, which a lot of people look for.  They are beautiful, but most are out of my price range.
That's a look at Marburger Farms and I hope you enjoyed shopping along with us from our Texas travels!  It was a once in a lifetime experience that I'm so glad I got to do.
Don't Miss a Post, join my list!