Getting a good night's sleep is so important.  I went through a few years of not sleeping well, sometime around the time I moved to Birmingham, my sleep patterns began to change. I blamed a lot of it on menopause and I'm sure that was a big part of it, but looking back, a marriage filled with anxiety didn't help either.  Anxiety can make you stay awake at night and losing sleep night after night for several years in a row will take a toll on your body.  I tried lots of things to sleep and some of them worked temporarily, but now, after moving back to Georgia and getting my life back in order, I'm sleeping more soundly than I have in years.
Having a good mattress and boxsprings is also a wonderful prelude to sleeping well.  I have some back problems too and sleeping on a good mattress helps that considerably too.  So, getting a good night's sleep is so important to our health and well-being, as we all know.  I love to sleep through the night with minimal waking up, don't you?
We had a Beautyrest pillowtop mattress over there and it slept very well, but it's going on 8 years old.  Imagine my surprise and glee when I got an email from the folks at Sleep Number, asking me if I'd like to try one of their beds at my house.  To keep for my very own.  Yes, yes I would!  I had a choice of 2 different mattress sets and I went to the store to check them out in person.  I had heard all about Sleep Number and how you can adjust each side's firmness with a remote control, but really didn't know much more than that.
Going to the store and checking them out in person was a fun experience and I learned a lot about Sleep Number beds and how they are put together.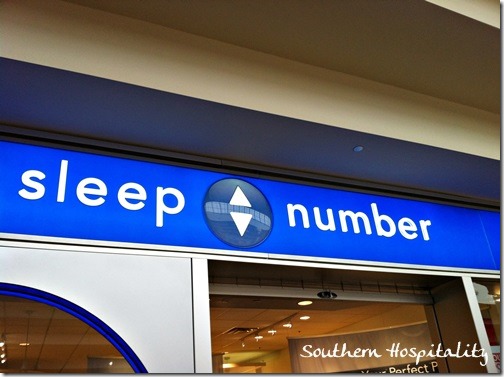 My local store is in the mall close to my house.
I went in and met with a very nice associate who showed me the Sleep Number ropes.  There were 2 beds for me to consider, this one is the pillowtop version, the p5.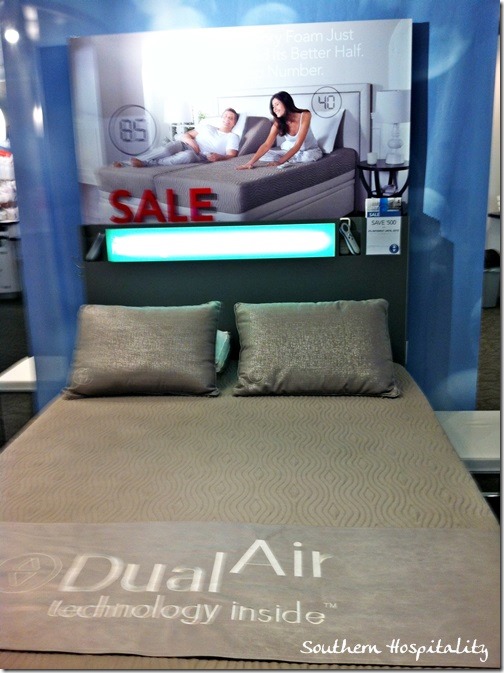 And this one is the memory foam version, the m7.  This is the one I ended up choosing.  I thought memory foam might be too squishy, but it was really nice when I laid down and moved the numbers down.  I like a mattress that is not too firm, one that gives a little.  Too firm a mattress is not comfortable to me and I really liked how the memory foam gives with movement.   So, after the decision was made, they placed the order and had the Sleep Number m7 sent to my house, along with 2 delivery guys who set it up for me.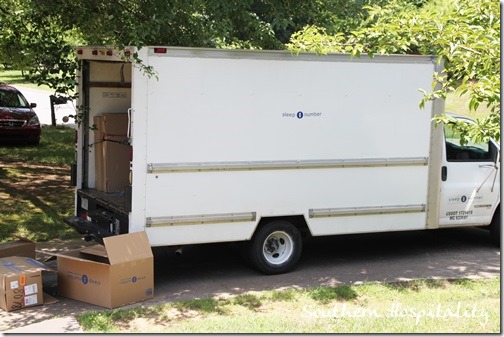 They unloaded all the boxes from the truck and brought it all up to my bedroom.  I had removed the old mattress and boxsprings and will be passing those on to my niece, Lauren. They just bought a house!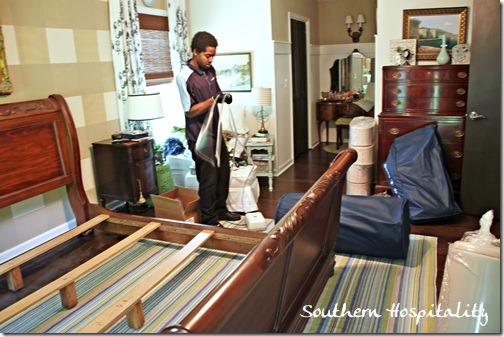 My sleigh bed was ready for the new mattress.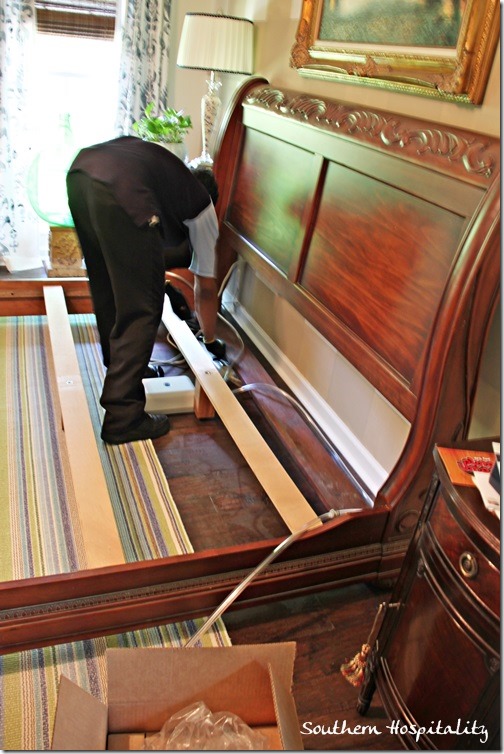 I had a surge protector ready for them to plug into, since this bed requires power.  That's what pumps up each side, air power and hoses.  It was fascinating to watch the process of putting this bed together.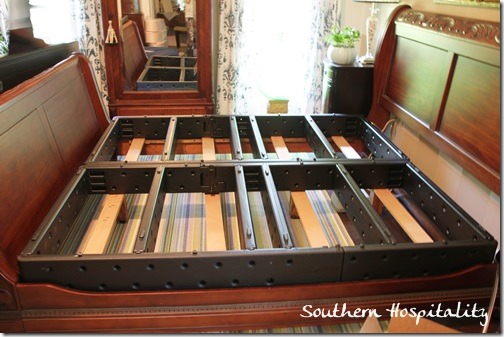 They added the plastic base of the set on top of my slats.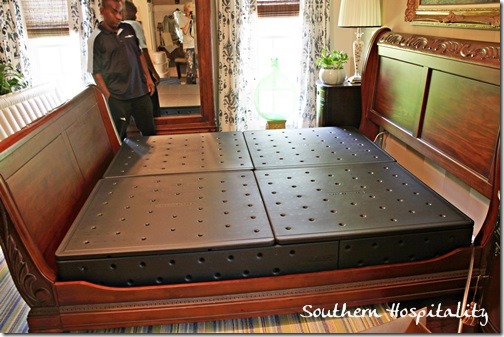 Then these 4 plastic pieces snapped into place on top.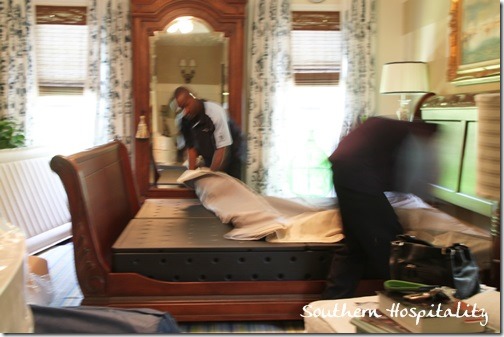 That gets a cover.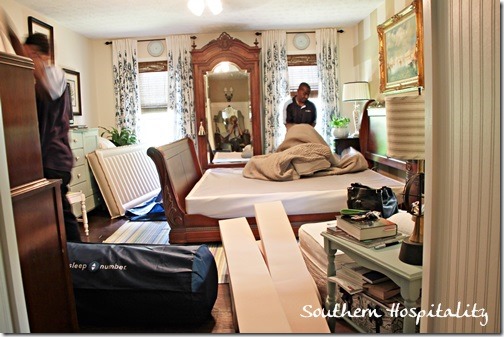 I'm watching all of this, snapping pics as they go.  These guys really knew what they were doing.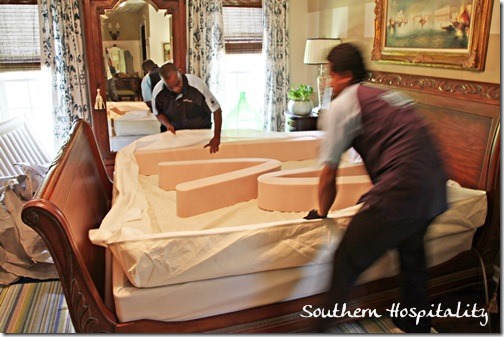 Those long pieces of foam are packed into the next cover.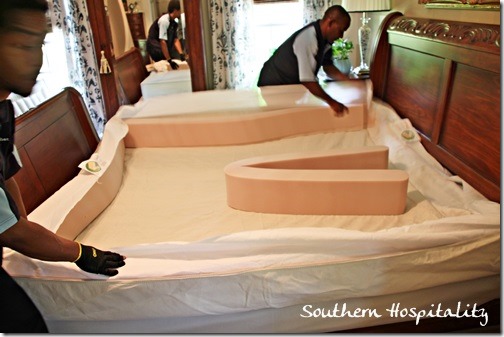 One on all four sides.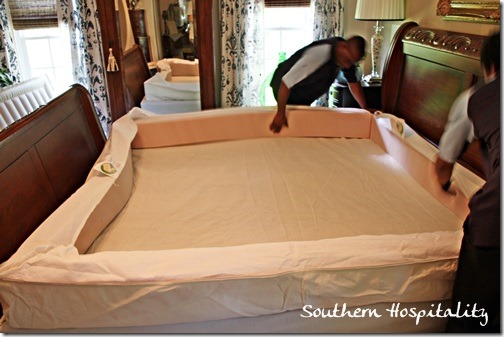 The cover is pulled up.
Then more foam goes underneath on the bottom.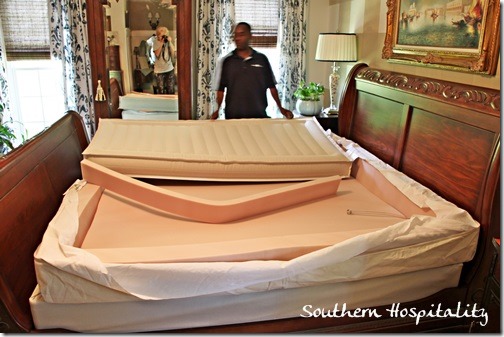 Next, the actual mattress with air goes into each side of this king set.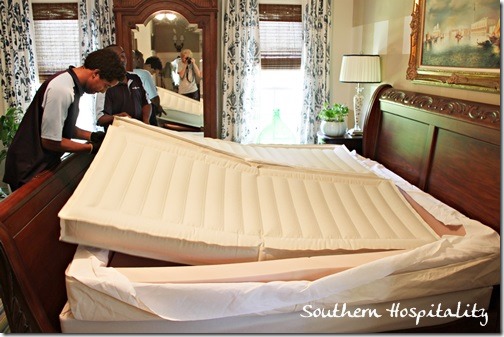 A piece of foam goes in the middle and they are all zipped together.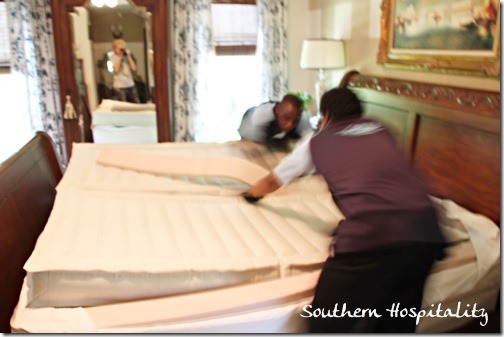 Every piece of this gets zipped into place, all nice and snug.
Those air filled mattresses then sit down inside the top piece.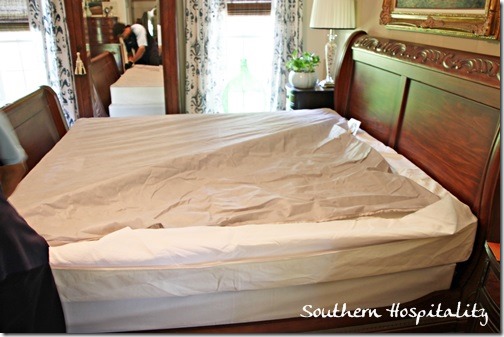 All of that gets a cover too.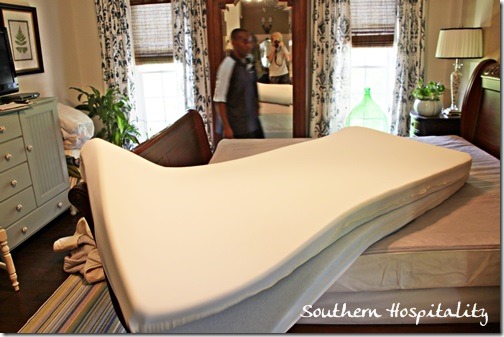 Next comes the 7" memory foam that goes on top.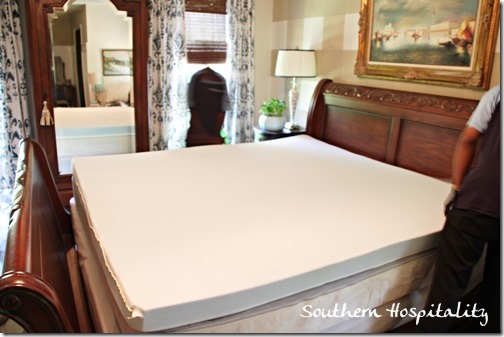 It is placed on top.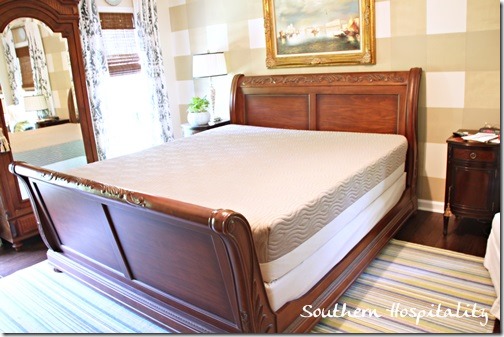 Then the last cover is zipped into place, creating a nice cushioned top that looks like one piece now.  I was amazed at all that goes into one of these mattresses and how it is all set up.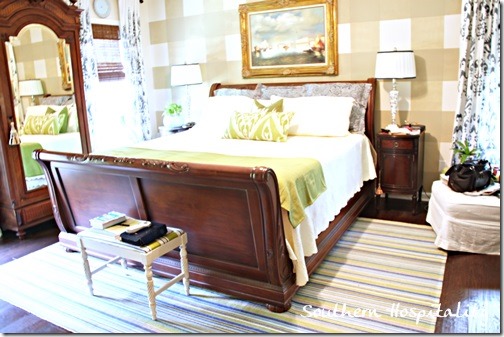 I made my bed back up and the sheets actually did fit fine.  This mattress is probably a good 3 to 4" taller than my old one, but my sheets still fit and my coverlet is just a tad short now, but I think it will be fine.  I brought the left side up just a bit so that I could hang the right side down a little longer.  I almost have to vault into bed now!  Not really, it's not that bad.  A little hop up and I can stretch out and relax on my new Sleep Number m7 bed.
I played with the numbers in the store and came up with under 50. Right now, mine is set at 40 on both sides.  I just like it a little softer with more give than a really hard mattress, so I'm sure my number will stay down lower most of the time.  But, that's the beauty of the Sleep Number.  When you have a partner on the other side, you can both find your own comfort level so everyone can snooze away in perfect peace.
And that's what it's all about.  Getting a good night's sleep.  I do have to say that I really am loving my new bed.  It's very comfy and feels very good under my back and hips.  Sometimes my hips ache a bit when I'm on my side, but I don't think I'll have a problem with this bed.  I love the feel of the memory foam. It's sort of squishy, but supportive too.
After having it for about 3 weeks now, I've been sleeping like a baby and getting plenty of rest is such an awesome thing.  I know that I'll enjoy this bed for years to come and I'm very grateful to have it.
How about you?  What kind of bed do you have and do you like it?  Have you ever tried a Sleep Number?
Disclosure:  I was given a Sleep Number m7 bed from Sleep Number and I agreed to do a post and review on my experience with my new Sleep Number bed.   I wasn't compensated with payment, nor was I told what to say.  All opinions are completely my own.

Don't Miss a Post, join my list!