Atlanta is known for gorgeous homes and architecture and it's always a treat to get invited to the showhouses in town, one of the perks of being a blogger. I've been going to the Atlanta Homes & Lifestyles Southeastern Designer Showhouse for all 5 years now and it's always a highlight this time of year. The house opening was delayed this year due to Covid, but I'm glad to see it finally open.
This year's house, Villa Flora, is an 11,000 s.f. renovated Buckhead estate with California transitional design by Benecki. Linda McArthur Architect, Cole Construction, Melanie Turner Interiors and SOURCE serves as this year's showhouse.
Set on 6 acres in a gated setting, its amenities include a tennis court, new outdoor pool with a built in sectional and fire pit, indoor lap pool, grill patio, sculptures, trails and a basement with a wine cellar, spa massage and exercise rooms. A new family room with custom iron windows appears as a glass box overlooking the backyard rolling terrain.
Open to the public June 4-28, you can find tickets at the Southeastern Designer Showhouse website.
The house was originally built in the 1990's by Harrison Design and the new design team updated the footprint with six bedrooms, six full baths and two powder rooms, with an emphasis on livable functional space with luxurious details. The house now features the work of top Southeastern interior designers for this showhouse opening.
The exterior materials include hardcoat stucco and a barrel-tile roof. Inside you'll see white Venetian plaster walls, imported French oak flooring, and Moroccan tile in the rotunda honoring the home's Santa Barbara style.
Here you can see the addition of the new glass family room off the kitchen which overlooks the pool.
And the built in seating area with the firepit by the pool, which was all just stunning.
All above photos courtesy of Atlanta Homes & Lifestyles Magazine by David Christensen. 
Below are all the pictures I took. I'm going to share 1/2 of the tour today (the main level) and 1/2 next week (the Upper Level) since I took so many pics. I'll share the designers of each space as well, so hope you enjoy the tour!
Coming in the front door.
FOYER: Cydney Mitchell, SOURCE
The rotunda entry with large sculpture.
ROTUNDA & STAIR HALL:  Mark Williams & Niki Papadapoulos, Mark Williams Design Associates
LIVING ROOM: Amy Morris, Amy Morris Interiors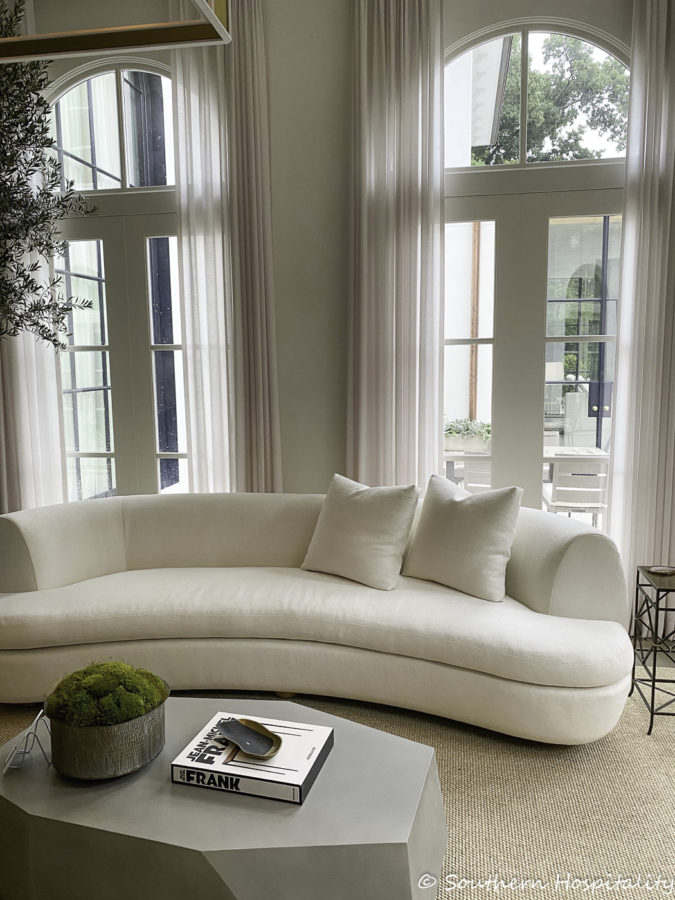 DEN: Robert Brown, Robert Brown Interior Design
MASTER BEDROOM: Phoebe Howard, Mrs. Howard and Max & Company
This bedroom was one of my favorite spaces, in shades of cream and white. Phoebe Howard does not disappoint in her rooms.
MASTER BATHROOM & CLOSETS:  Cydney Mitchell, SOURCE
This was one spectacular bathroom with such gorgeous materials such as this oynx floor.
The tile was amazing and gorgeous!
MASTER BATHROOM CABINETRY: Natalia Makarov, Karpaty Cabinets
MASTER CLOSETS:  Cydney Mitchell, SOURCE
HERS
HIS
STAIR HALL: Mark Williams & Niki Papadopoulos, Mark Williams Design Associates
DINING ROOM: Kelly Anthony, Wolf Design Group Inc.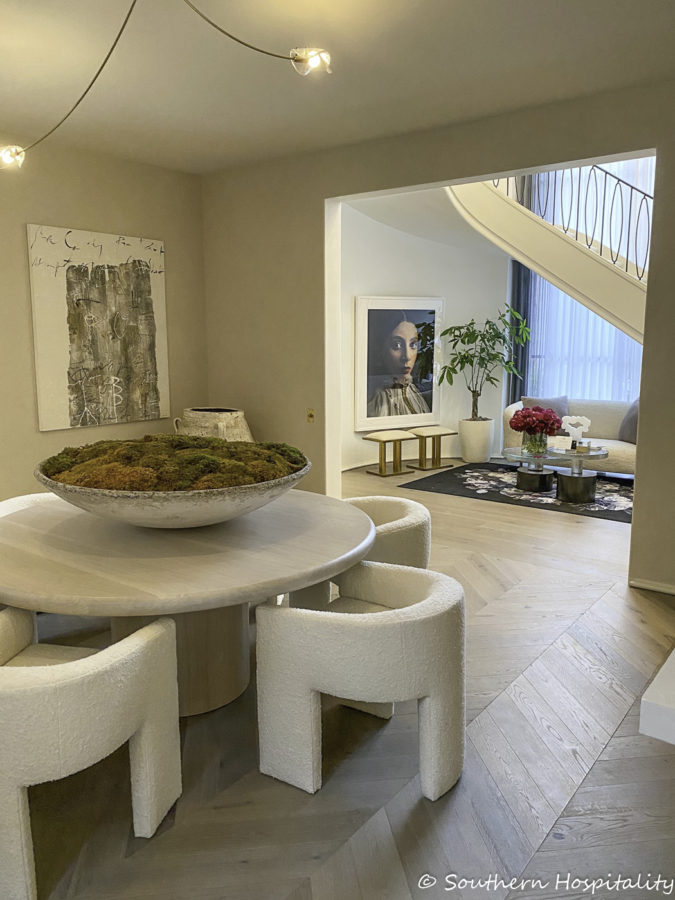 KITCHEN & SCULLERY: Karpaty Cabinets
FAMILY ROOM & BREAKFAST ROOM: Melanie Turner, Melanie Turner Interior
POWDER ROOM/OFFICE: Tara Dennis
LAUNDRY ROOM/MUDROOM: Tara Dennis, Archie Bolden
What a great dog washing station!
Loved these floors.
That's the main level, so I hope you enjoyed the tour. I know these modern styles and homes aren't for everyone, but please appreciate the architecture and design of this home. I love seeing different styles that aren't the norm and this house is definitely gorgeous inside and out.
Click on to read Part 2 of the Southeastern Designer Showhouse!
Don't Miss a Post, join my list!