Last weekend in Asheville was such a treat.  I got invited by Carmen, who is a Lifestyle and Garden expert with Southern Living plants to attend a garden party she was hosting up at The Grove Park Inn. That was another treat that I can't wait to tell you about, but today, I'm going to share the plant party we attended.  I took one of my besties with me, Vicki, who has been my friend since high school.  We had such a good time, getting away to Asheville for the weekend and experiencing Spring with container gardening.
In case you didn't know, Southern Living has a whole collection of plants that are available at Home Depot and Lowes.  They also have these Ready to Impress collections that you can find at your local Home Depot stores.  Check out the website for those participating stores.  Carmen also has a few demos she will be doing at several stores this spring, so you can check her schedule to see if she will  be near you.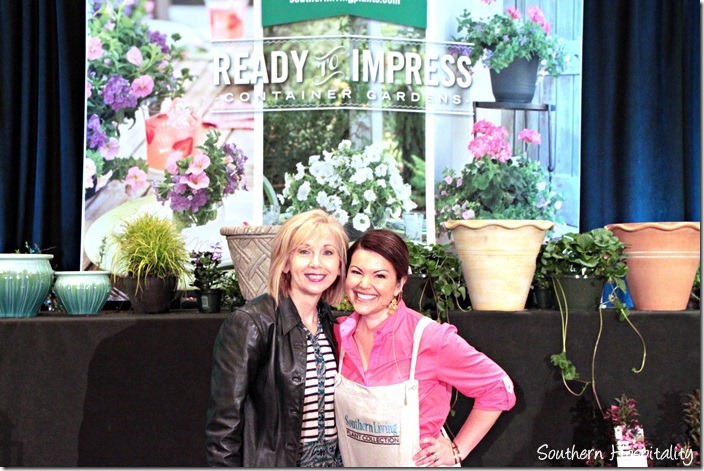 Carmen and her Ready to Impress container gardening class was such fun. She had all her helpers there and they put together a beautiful plant display, getting us all excited for spring planting. Carmen and I had such fun planting winter containers in my yard last year.
Carmen and I first met at the Southern Living Ideahouse last year and really had a great connection.  She has since become a friend and I'm so excited to be working with her and Southern Living Plants for my own home too.  Southern Living Plants will also be at Haven this year as a sponsor and we are super excited about that.
Ready to Impress, I love that!  Don't we all want to use plants and containers to welcome guests to our home. I've always loved doing that at my house and look forward to more of it in the future.
Lanterns and greenery, a perfect combination.   All these plants were given away at the potting workshop and there were smiles on all the faces who were there.  You should have seen us all carting out our container plants on the carts from the hotel.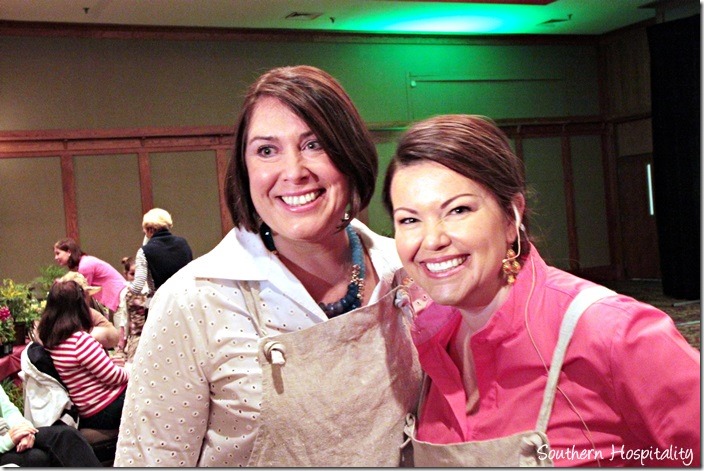 Rebecca Bull Reed was also there and she has been a Southern Living Garden editor for many years. She and Carmen are quite the team.  Rebecca and her family live in Asheville.
We had our stations all set up ready to plant.  That's my friend, Vicki there on the front row.
There were about 50 ladies who came to the plant workshop, all bringing containers to plant.  Carmen and her group gave away all the plants that you see above. It was quite the day of plants flying around.
We all had our containers ready and Carmen gave instructions on how to place each plant in the containers.
Carmen was introduced by the Director of Public Relations at the Grove Park Inn, Tracey Johnston-Crum and we were off and running. Tracey was so fun and informative about the hotel and we really enjoyed hanging out with her too.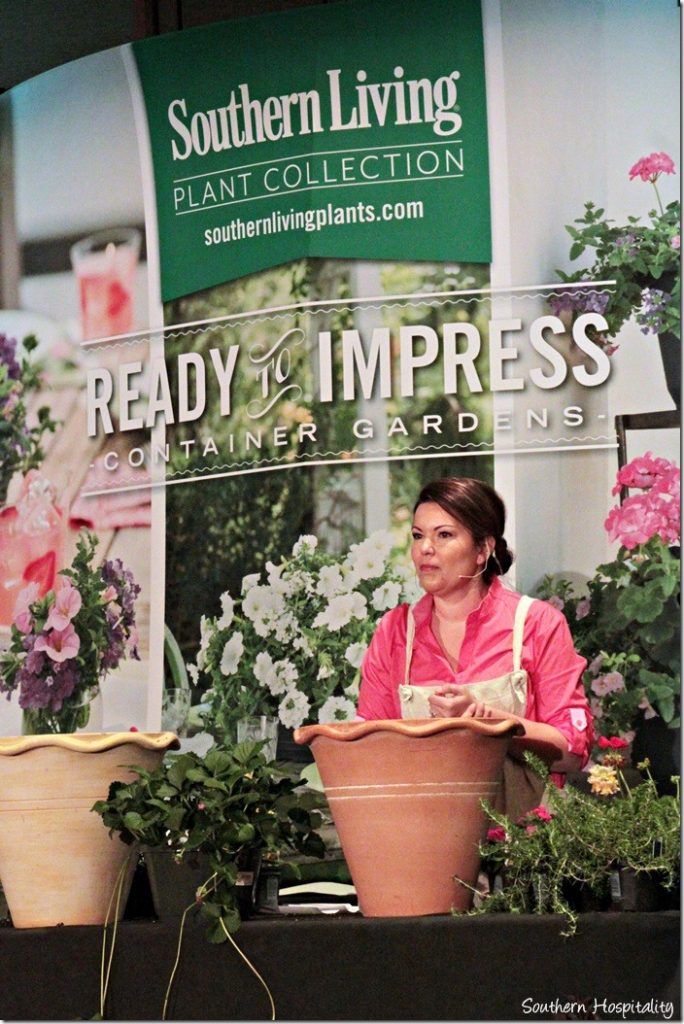 Carmen has such a fun personality and her enthusiasm about plants is truly contagious.
We all enjoyed seeing our empty pots come to life with plants.
Tall plants to the back, medium plants to each side, and spilling plants to the front.  Carmen's rules of 3 T's are:  Tall, Thick, and Trailing, so keep that in mind and you'll have a beautiful container.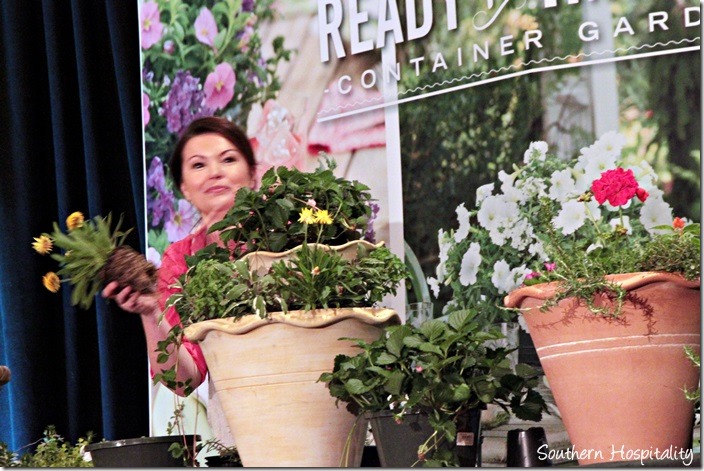 Carmen worked her magic and showed us lots of great ideas on container gardening.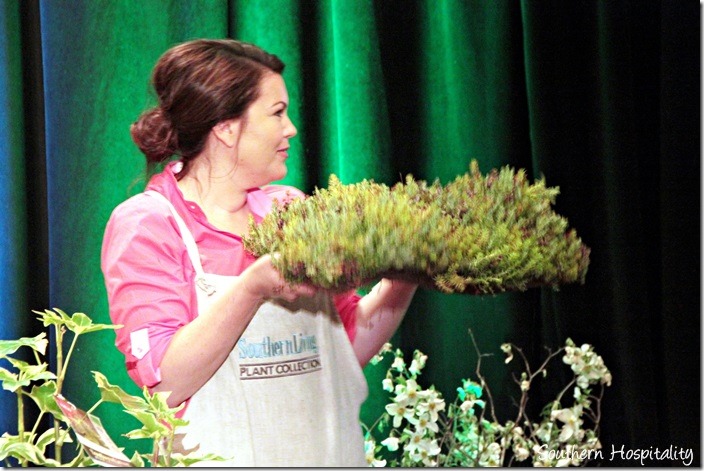 And shared this succulent mat which was a happy accident she discovered at the plant growers recently.  She had all sorts of ideas for this cute succulent mat, using it as a runner or centerpiece on a table.  It wasn't meant to be grown like that, but Carmen told them she loved it.
We planted up a couple of fun containers and she also gave us some tips on creating cut flowers and displaying them.
Beautiful table settings come alive with fresh flowers and don't we all love using flowers on our tables?  Yes, please!
So many ways to use flowers and plants on our tables for entertaining and how it brings a table to life.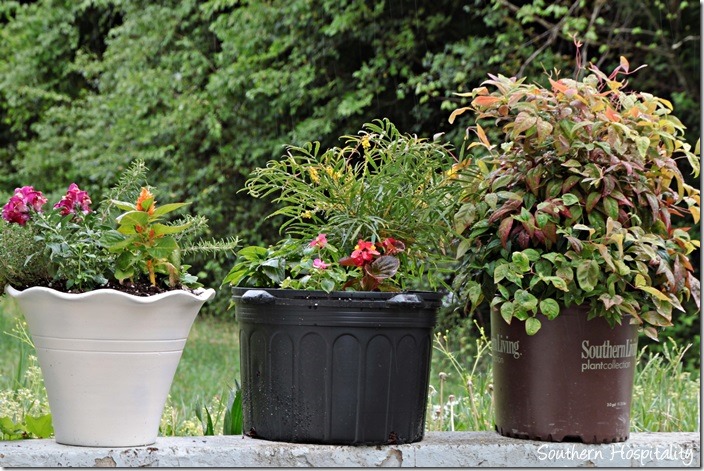 I took home my shade container and sun container and also an extra Nandina plant that will go in my yard soon.  We are about to start on my landscaping next month and I can't wait.  I'm getting ready very soon to get my house painted and that is going to be exciting to see that completed too.  The outside of my house is not going to look the same very soon!
Don't Miss a Post, join my list!