What happens when three 50-something single women go to Panama City Beach for Spring break?  Nothing crazy, let me assure you!
Even though we are not college students, my girlfriends and I took a few days off last week and hit Panama City Beach for Spring break.  We all need some time off, right?  And what better place to relax and unwind than at the beach.  One of my most fave places in the world to chill out and get some down time.  The original plans were to meet my sister and her family (my niece and her hubby), but a little over a week before the trip, my sister broke her foot and they had to cancel their beach plans.
Bummer for her!  That didn't stop us from heading down to the coast.
But, we knew that we would have a great time anyway, my friends, Rhonda (my roommate) and Beth (sweet friend from Orlando, who I met from my blog).  We might be 50-something, but we made the best of our time at the beach.  Not exactly party animals, but fun all the same.  Nothing like a girls' weekend away.  It made us feel a little younger at heart.
Now, a little about my history with Panama City Beach.  My sweet daddy moved to Panama City when he was 12 years old with his family.  He moved from the coast of Wakulla County, FL, near Crawfordville and Spring Creek, where he was born.  A few years ago, in 2008, just a year or so after I started blogging, my family all took a really sweet trip down to my dad's homeplace and we had such a great time. So glad we took the time to do that. My dad was so excited to show his girls his homeplace and where he was born and it was such a special family bonding time.
You can catch those old posts from 2008, Roots, Crawfordville,and Spring Creek. Since you've all fallen in love with my Daddy, you might want to see where he came from and how it's all made him the man he is today.
Back to the girl's beach trip, we stayed at this pretty highrise, Pinnacle Port in Panama City.  It's at the far west end of  Panama City beach towards Destin and nice and secluded, just the way we like it.  The beach wasn't crowded at all. In fact, we were there at the end of the peak of Spring break, so avoided much of the crowds.
We had great weather driving down and the first day was a perfect beach day, lots of sunshine and a nice stiff sea breeze.
It was a gorgeous view from our 9th floor condo and this is what we saw.
We got a nice walk on the beach that first morning, picking up seashells and yacking non-stop. You know how it is when girls get together. We had plenty to share and talk about.  As you can imagine with 3 single ladies, the subject of men came up a few times. 🙂
Here's our view from the 9th floor. Gorgeous, huh?!
View from the balcony outside my room.  What's not to love about this?
A gorgeous stretch of sugar white sand.
One of the fun new things around Panama City that I knew about, but hadn't seen in awhile, was Pier Park, a huge shopping extravaganza on the West end with plenty of nice shops and restaurants, an Imax and regular theater.  Lots of shopping!   We hit Ron Jon's Surf shop, which I hadn't been in the original shop in Cocoa Beach since the 70's.  Blast from the past!
Surfing is alive and well in Florida.
Oh how I remember brightly colored t-shirts from my youth.  Panama City has long been known as the redneck Riviera and tacky was the name of the game.  But, I have to say that Panama City has come a long way from my days of youth.  It's definitely looking slightly more classy these days.
One of my fondest, funnest, memories of Panama City Beach growing up was going to the Miracle Strip amusement park. My parents used to take us to the beach during the day time and to the Miracle Strip at night and what a treat that was.  So many memories of this tacky place, but boy was it fun.  The original Miracle Strip was torn down in 2004, I was reading, but they have revived a few of the rides at the new Pier Park.  I had to stop and take a look at these old kiddy rides that I remembered so well.
They brought back many of the children's rides, like these little old cars.  In 2010, the original pony carousel was found in storage and taken to Pier Park, where it was given new life.  Several others were added later and brought back to their vintage glory and Miracle Strip at Pier Park was born.
The original carousel was brought back.  There is nothing prettier than a vintage carousel with horses.  Oh, the memories!  How long has it been since you've seen one of these?
Can't you just hear the music now?  The pipe organ playing that music.
This is some sort of Butterfly house.
And the ferris wheel, oh how I used to love to ride the ferris wheel.  Going around and around and losing your stomach, nothing better!
This balloon ride was so pretty and colorful. It was fun to remember the Miracle Strip.  Did you go there too??
Since I love seafood so much, I did get my fill and ate grouper three days in a row. You just can't get too much grouper, can you?  Not in my book. I love it grilled or fried.  Actually fried is my preference, I just can't help it!  This one was one of my fave lunch spots in Seagrove, the Seagrove Market.
We hit some good spots to eat, Dusty's on the beach the first night.  Fun spot!
And one place I had never been to before was Schooners, also a fun beach spot right on the beach. We got there for dinner and just before sunset, so I was able to get some pretty sunset shots from there.  The back has a big open deck with a roof, all open to the beach, so a perfect casual place for dinner, drinks and sunsets.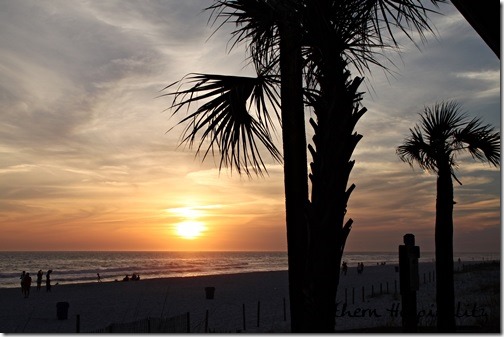 There's nothing better than this!
I'm so happy we got a few days at the beach and two beautiful sunset evenings.
So, have you been to Panama City or Destin?  I usually go to Destin most of the time, but it was fun to be back in Panama City again after several years away.  The beach has been rebuilt in recent years, after some storms took out some of the older motels.  It's looking a lot better these days, but still has the fun feel that many of us remember from our youth.
There's nothing like the beaches in the Gulf.  If you've been hanging with me for a few years, you all  know how much these beaches mean to me.  Sugar white sands, blue water and sky and great spots to eat seafood.  Truly, a wonderful vacation spot!  I've been going down there since I was born and it still means the world to me.
Don't Miss a Post, join my list!