Adding spring decor accents around the house is a wonderful way to invite the freshness of the new season inside your home before it all changes outside. I love adding some spring decor accessories in my home. It's an instant uplift after a cold and dreary winter season. Come along for the tour this year!
Ahh spring! Don't you just love this time of year with all the blooming that starts outside, with sunshine and rain? We've had so much rain so far this spring, but that means it will help all the blooming plants get a good start, so we can't complain. Welcome to our home!
You can find my faux boxwoods here. I'm so happy not to have to worry about these anymore! They always look good now.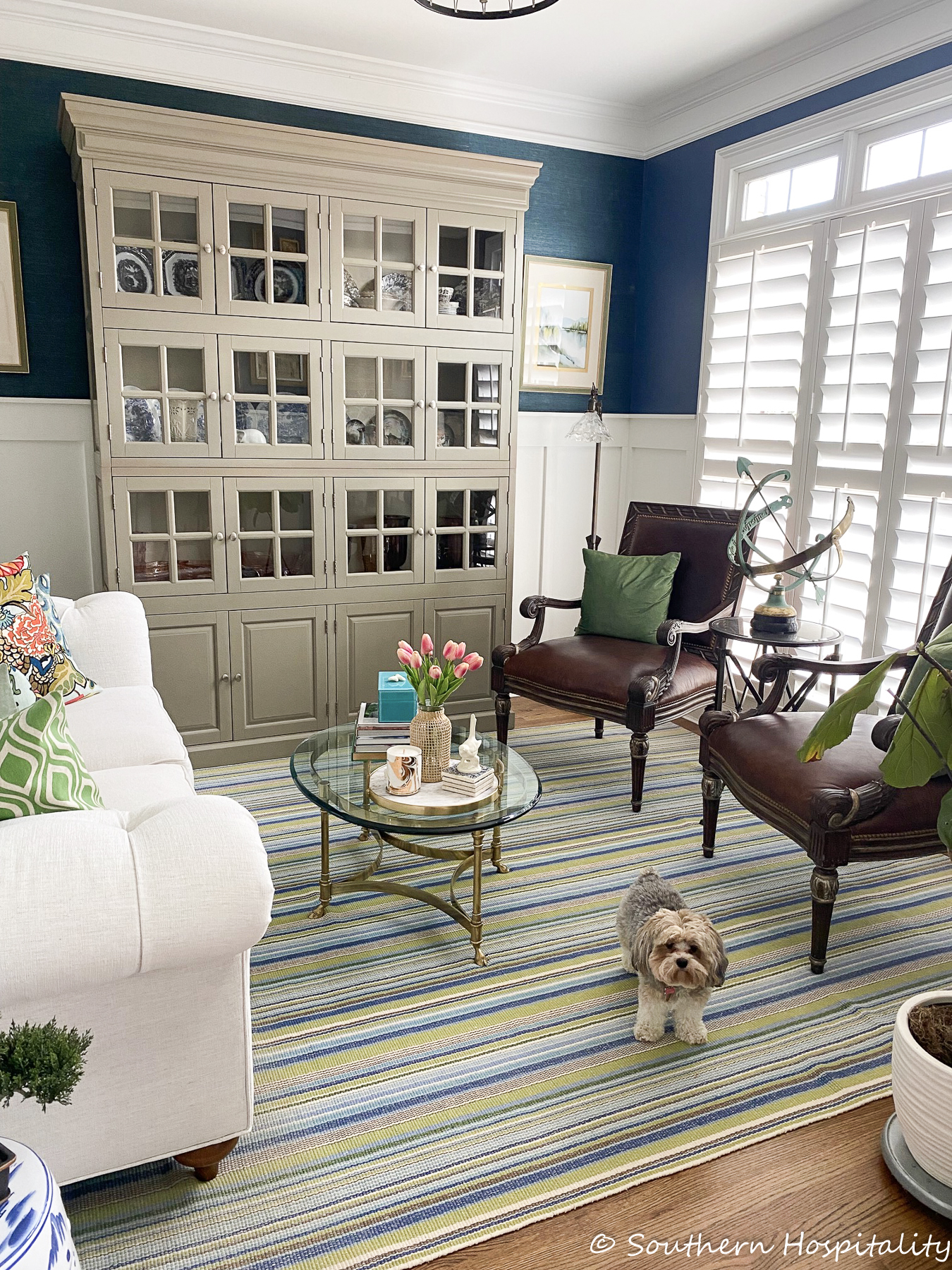 Daisy says come on in! We sure love our girl.
I'm loving the green and blue striped Dash and Albert rug in here, it really livens up the living room.  I don't change much in this room for the seasons, but I like to add something on the coffee table.
I found these faux tulips at at local spot in Canton, the Cotton Mill Exchange. They looked so real so I brought them home. Pink tulips are so pretty!
Affiliate links used below:
Rattan wrapped Vase  or this vase.
Looking to the dining room.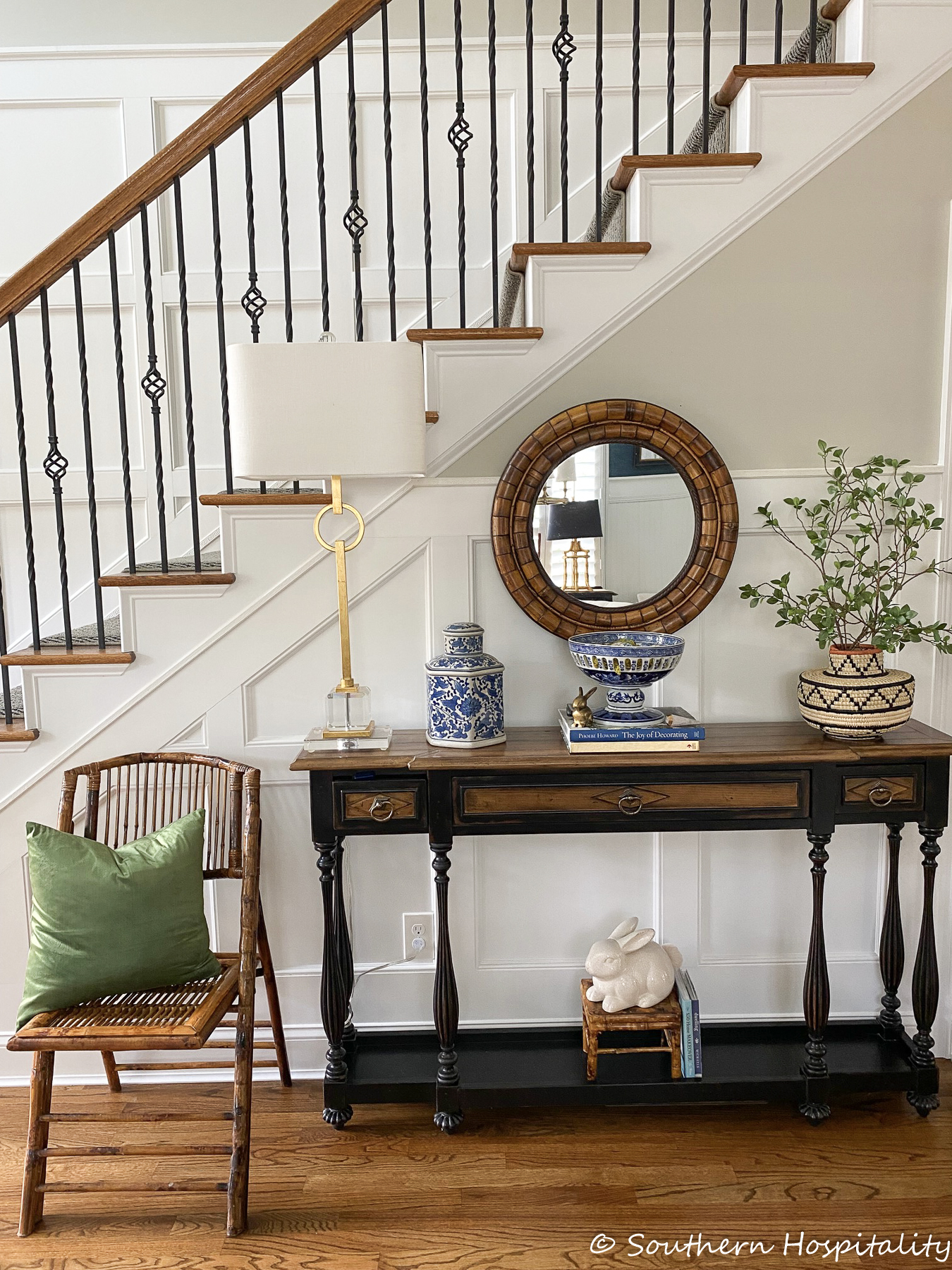 As always, I decorate my foyer table for the seasons and it's fun to pull out some spring things, like bunnies and birds. I can't link much of this except for the stems in the rattan vase.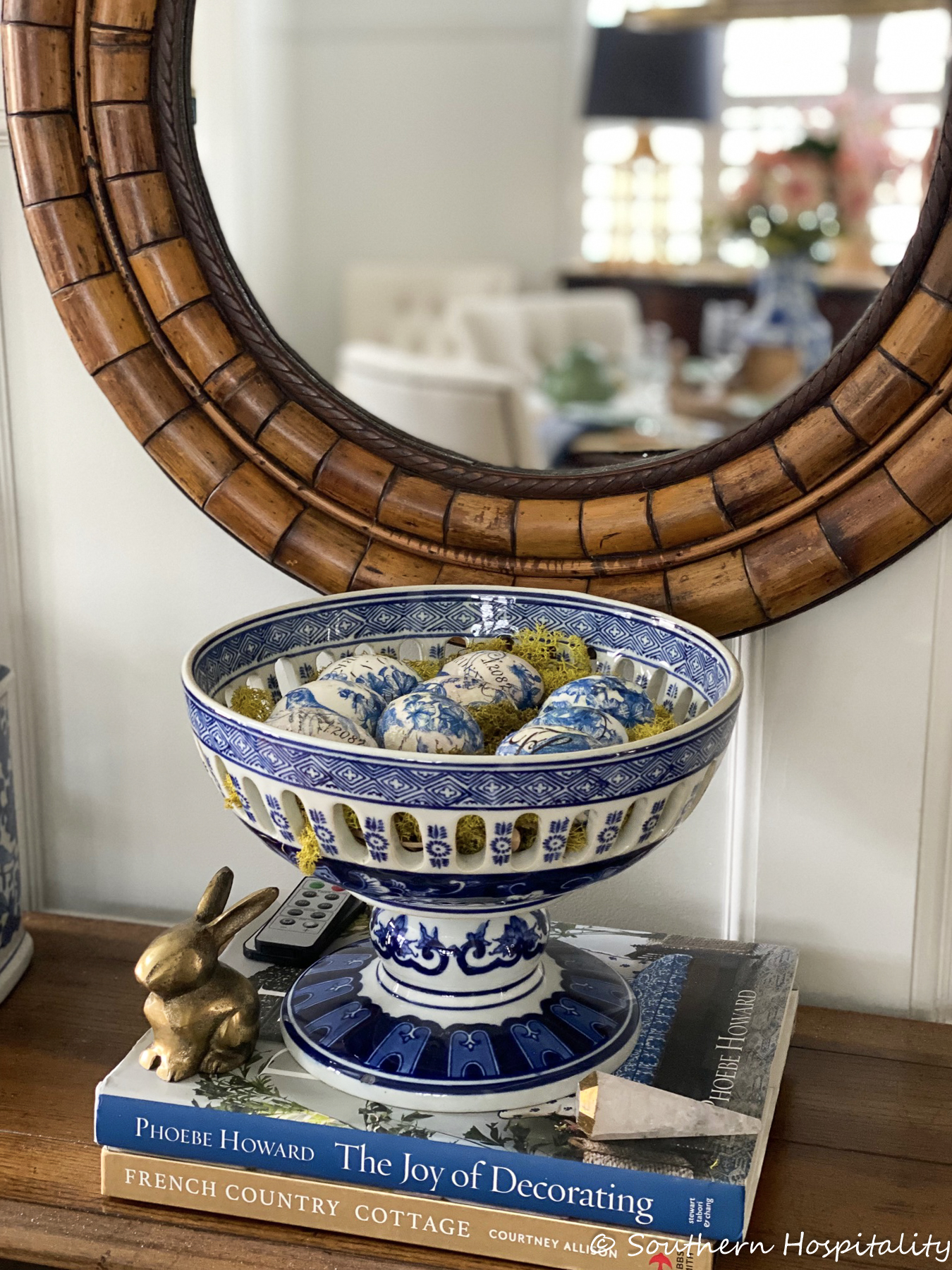 I got out my decoupaged Easter eggs again, perfect for the season. They are so easy to make, so follow this link for the how-to.
They sure are pretty in a blue and white bowl with green moss.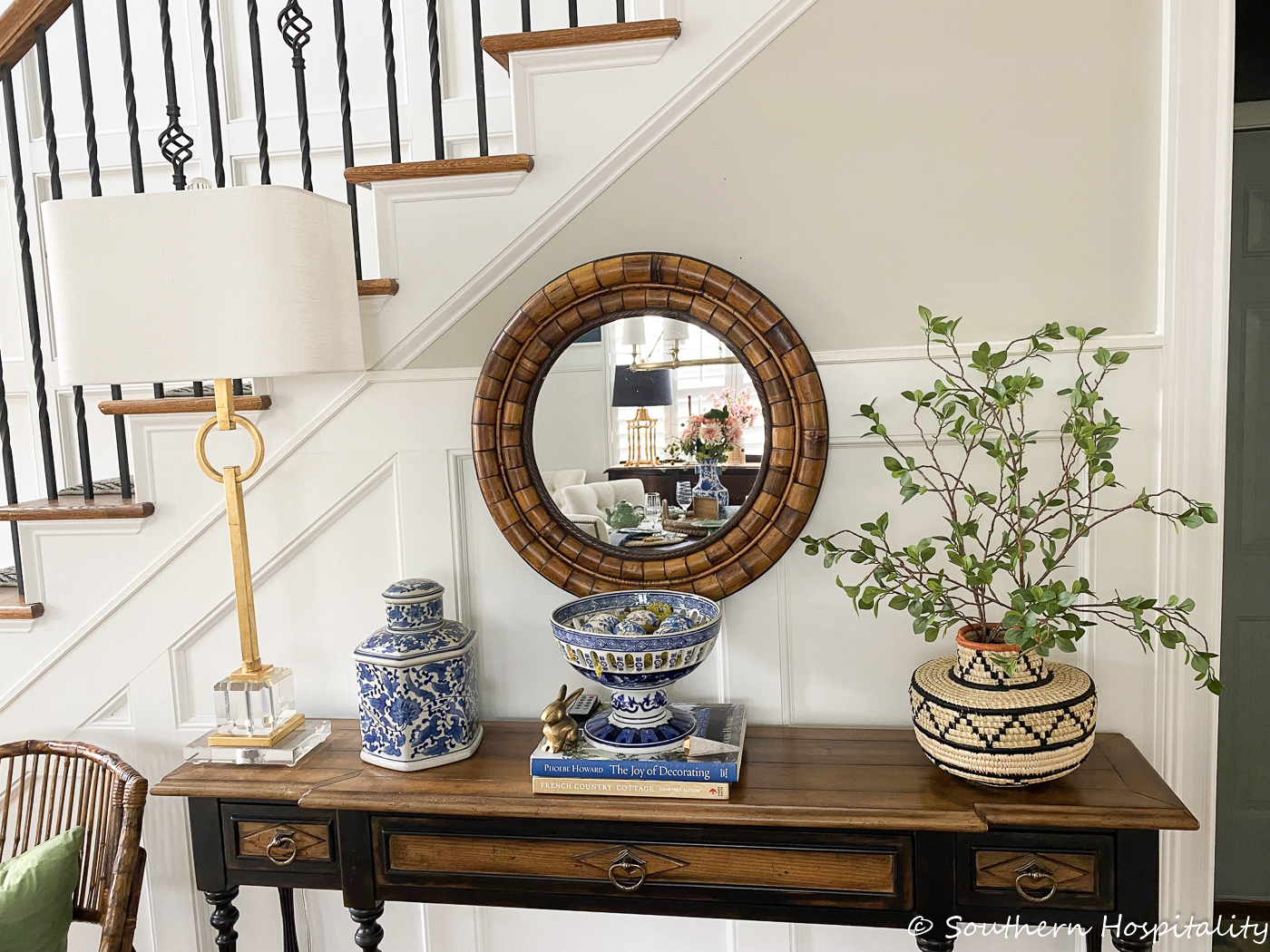 The foyer table!
I love having a welcoming foyer when coming in the front door.
And of course, the dining room gets dolled up with pretty place settings. I've had these Bordallo green bunny dishes for so long now, about 25 years. I started collecting them from TJ Maxx and Homegoods, etc. all those years ago and now have a pretty good collection.
Heron prints are available here. I get asked about our light fixture often too and you can find it at Williams Sonoma.
I added one of my blue and white vases to the green dishes and I love how it all came together. Spring colors of blue and white and green and pink are perfect complements to each other.
The green bunny dishes are so fun and lively.
I found that round basket tray at Homegoods a few years ago and love it too.  Here's a similar one.
Faux flowers all the way for me this year. They always look good so why not? I found those little white bunnies somewhere along the way, probably a yardsale. Faux eggs in a box add to the Easter look.
I still love my bunny dishes and have to bring them out each spring.  Faux bamboo flatware is here and I absolutely love it too.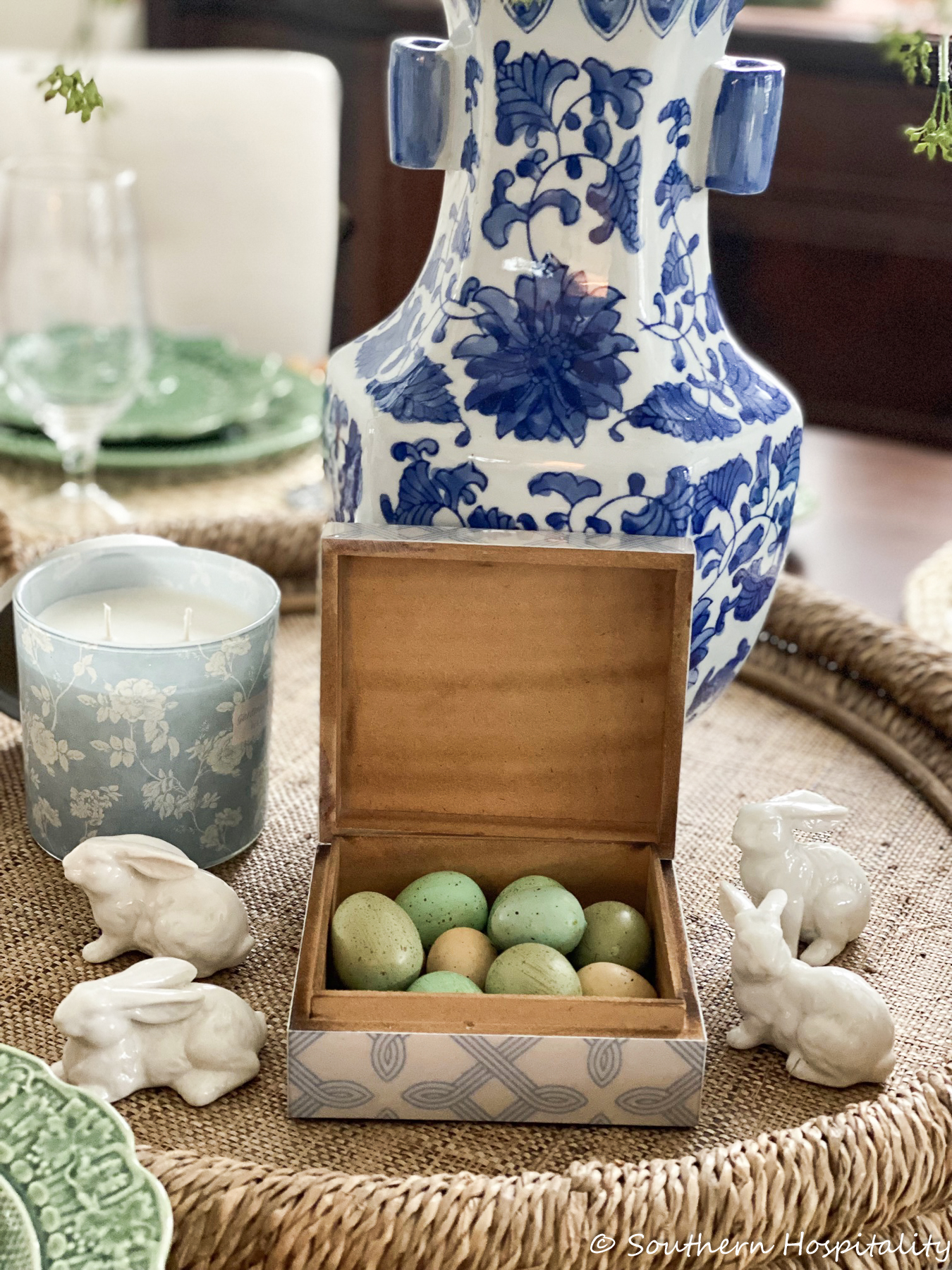 Bunnies and eggs.
Another look at the Bordallo bunny dishes.
Sideboard with pagoda lanterns look great with my lamps, which I found at Homegoods right after we moved in here. One of my luckiest finds ever! I think those lamps are still available at Neiman Marcus.
Vase with cherry blossom stems looks very springy! Here are the floral stems. The vase I got from Michaels last year, but no longer available. Here's a similar set to my 2, which is a taller and shorter set.
These cherry blossoms look so real for this time of year! Since I don't have the real thing anymore.
After I had finished taking photos for my tour, I happened to go into Homegoods on Friday night and found this pretty table runner, a beautiful green floral that looks so good with my dishes. I knew it would! With hydrangeas too, my fave flowers.
It's a beautiful spring addition.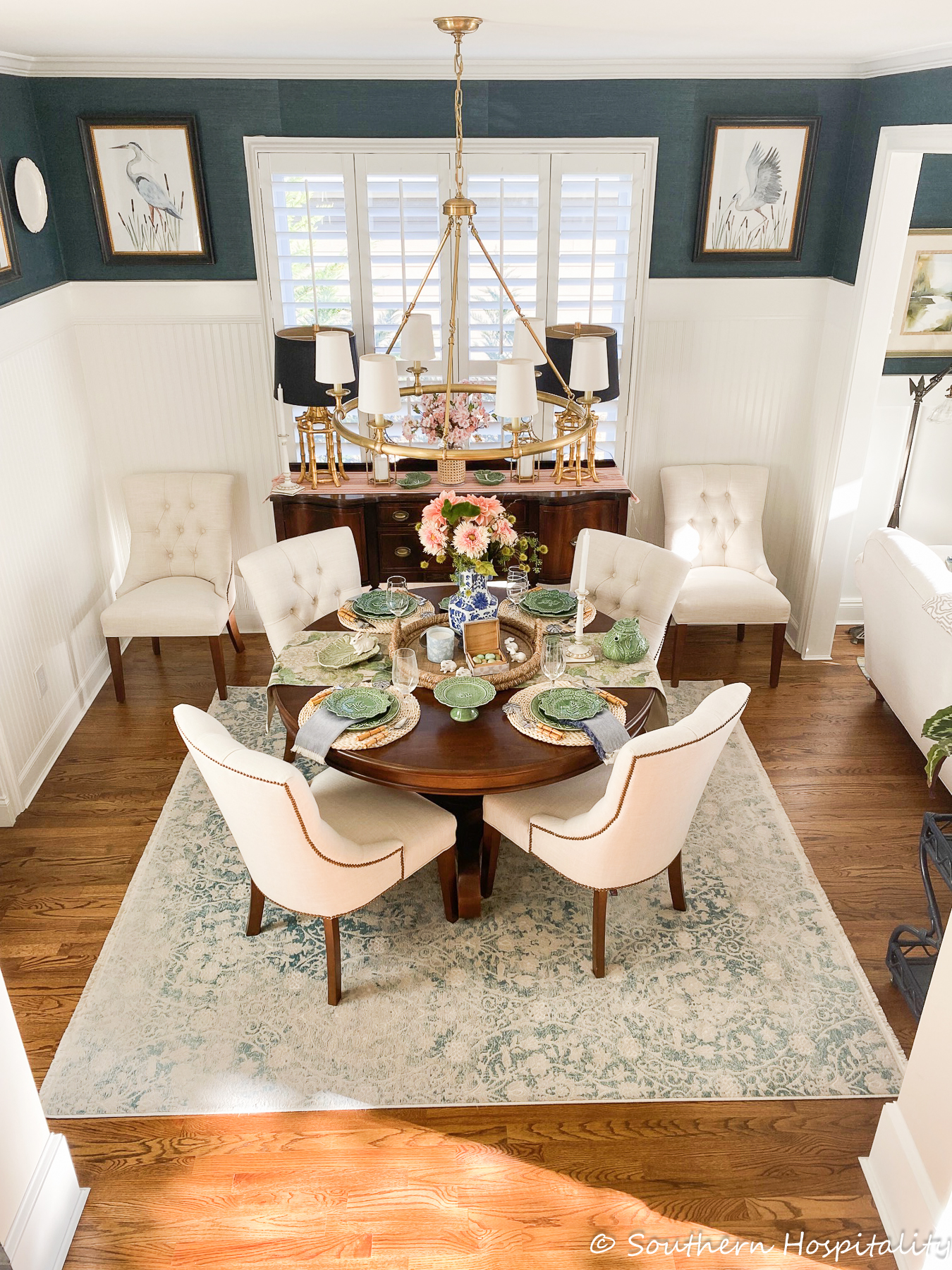 Here's the table from overhead. Runners are a fun way to add color and accent on a table. I've given up on full tablecloths and just use runners now.
I just did a simple mantel this year. My lady head from Ballards (no longer available) landed on the mantel and I did get a faux Maidenhair fern finally for my lady head. I got tired of replacing plants! You can find that fern here, it's a good one by Nearly Natural. I did take it out of the pot so it would fit. That old bunny weathervane I've had for years, from Target and I can't seem to let it go.
The fern looks great in my lady head and no more watering. I love my real plants, don't get me wrong, but they don't always make it.
The shelves off the kitchen got a spring update too, with just a few blue and white items and a few bunnies. I like to keep it pretty simple around here.
So happy to see more sunshine now after all the rain we've had. Walking down the stairs on a sunshiny morning makes my day start off so nicely!
We still love our kitchen updates and even though it's a small kitchen, it works hard for us. Click that link to see what all we did in this kitchen after we moved in our house. We've been here going on 6 years later this summer.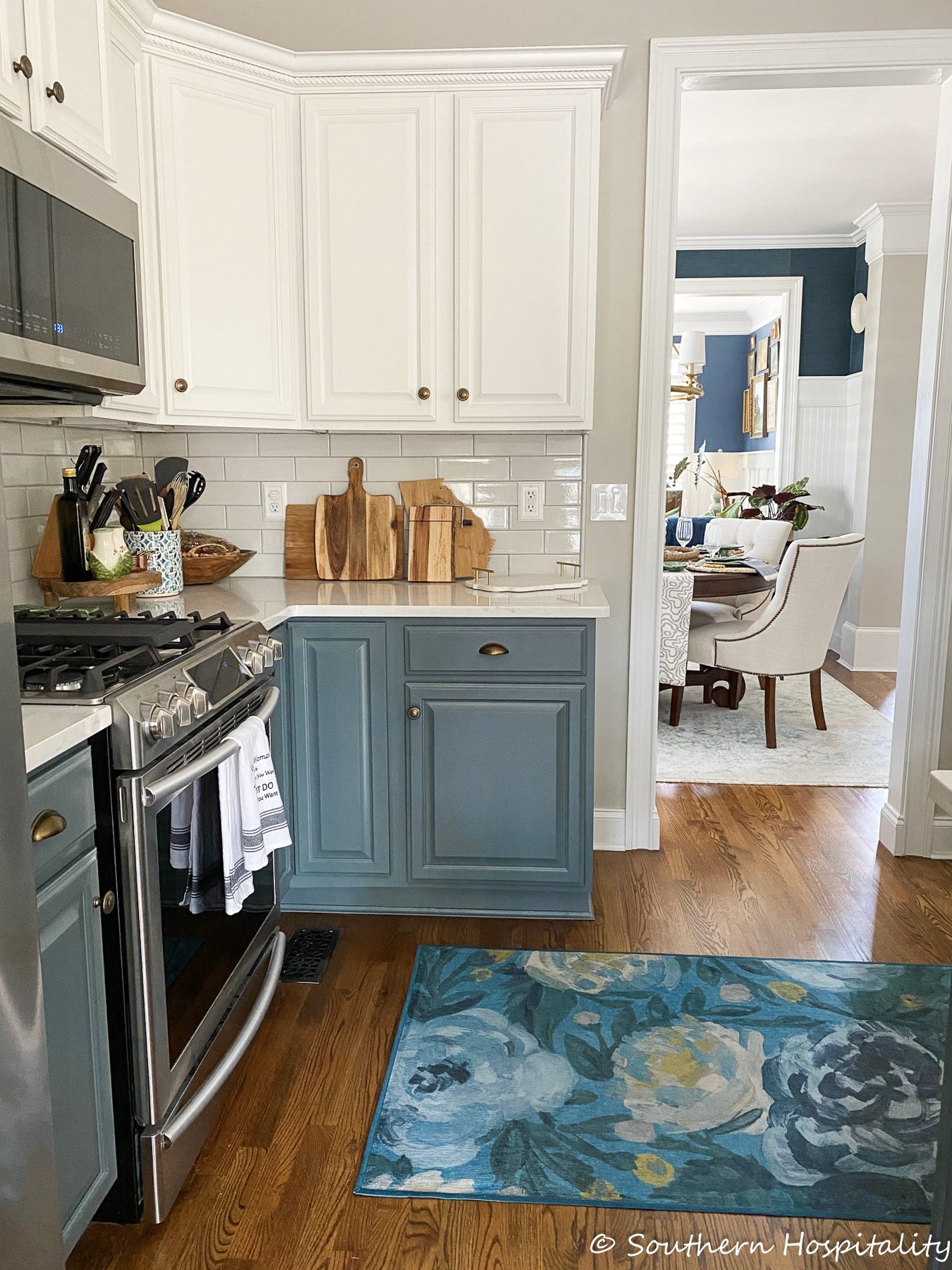 Time flies when you're having fun. We are so proud of our house and all the things we've done to it. You can see the before and afters in this post of our builder's grade home and they are quite dramatic!
Ruggable rug is linked here, Camelia Midnight! Love this one.
Thanks for stopping by our spring home tour this year. We do love our home and sharing it is fun!
Here are a few things from my living room that are linkable, but not everything is still available. I don't replace things all the time, so some of my things are 5 years or older (affiliate links used):

Don't Miss a Post, join my list!