How to upgrade a builder's beige house and make it something really special? Keep reading for the whole story on how we personalized our plain house making it our home sweet home. 
It's been three years since I did an update of what we've accomplished in our home after we moved in 3 1/2 years ago (2017 – how fast it's gone!), so a lot has changed since then. I thought you'd enjoy seeing a fresh look with all the Before and After shots in one place. We have changed so many rooms and spaces for the better! One project at a time!
Our house was truly a diamond in the rough. We were just thinking about how long we looked for a house before we found this one. It took us over 6 months to find one we really loved and wanted and even then we weren't 100% sold on this one, but it seemed to be a good choice for our needs. We found other houses that we missed out on and at the time, it was so sad and disappointing. But now I know that God had a plan for us to be in THIS house. We didn't even know then how much we would love living in Acworth, GA, with a 5 minute bike ride to Main Street in town and also the same distance to the lake behind us. It's been such a joy to be a part of this small community and our house has been delightful to live in. With all the changes we have made, we aren't going anywhere in the near future.
This is a cute story. When we first bought our house and I posted the pictures here on my blog, someone left a comment that they had looked at our house before we got it and passed it over because it was boring or something like that. She didn't see the potential that we did! I'm glad they passed it over.
A builder's beige house has plenty of potential and this one had great bones and just needed a good eye for detail in changing it for the better. The previous owners lived here, but never made any updates at all. Lucky for us, it was very clean and well maintained, just a bit boring for our tastes in its builder's beige state. We love to make improvements that reflect our personalities and that's what we've done with this house. Hope you enjoy seeing all these pics! The proof is in the After shots!
So, buckle up this is a long one! I hope you like details and lots of Before and After pics, because that's what you'll see today. It's so fun to go back to the beginning and to now see the house after we have done our thing, Some of the Before pics are from the real estate listing so the old owners things are in the pics. 
Also, if you're interested in sources of some of the items in our home, you can check out my Shop my Home page for details on every room. I've linked the things that I could share there, so check it out. Some things may not be available by link anymore.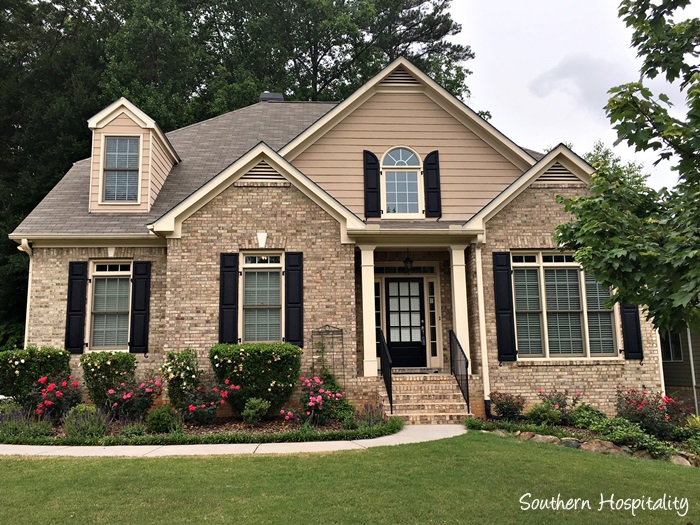 BEFORE: The exterior when we bought the house, July 2017. Nothing wrong with it really, but we decided to go ahead and paint the exterior to suit our tastes a bit more and while it doesn't look drastically different, we love it more.
The house is 2600 s.f. with a side entry garage, which we love and was built in 2005. We have an almost full unfinished basement, which was on our wish list. It's so great to have a basement. We plan on finishing the main middle room of the basement eventually. Our house is one of the smallest houses in our neighborhood. It appraised for $35K more than what we paid for it, so we have a good amount of equity in our house already especially with the improvements we've made.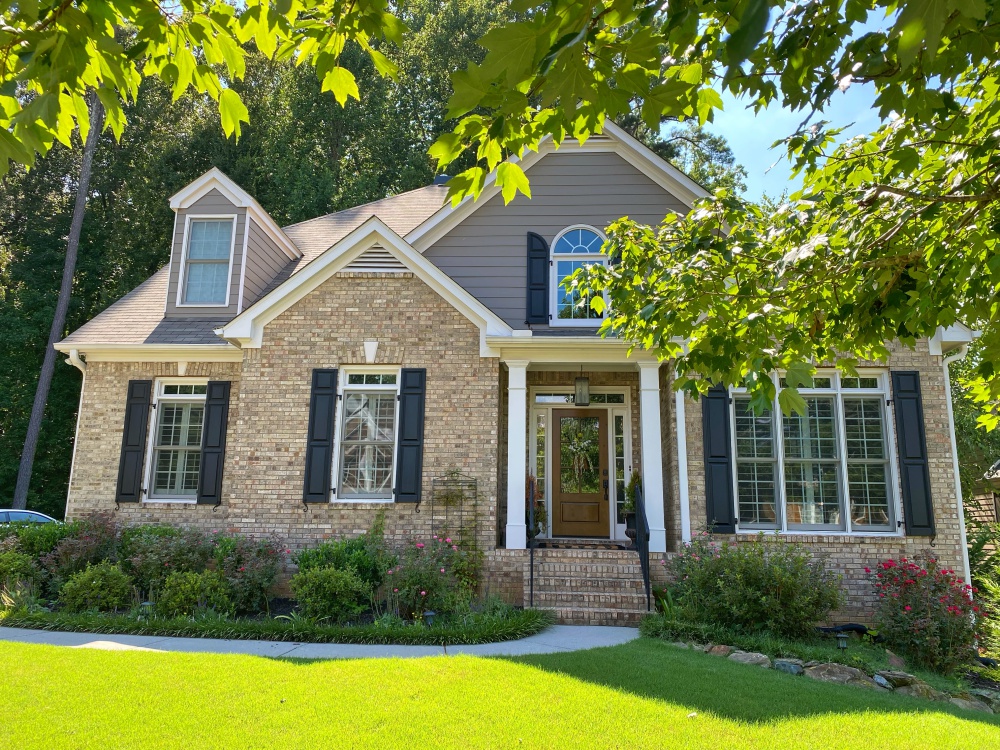 AFTER: We went more gray/taupe on the siding (Backdrop by SW) and a brighter white for the trim (Simple White by SW). I'll link all the posts that go with these projects as well, new exterior paint.
Before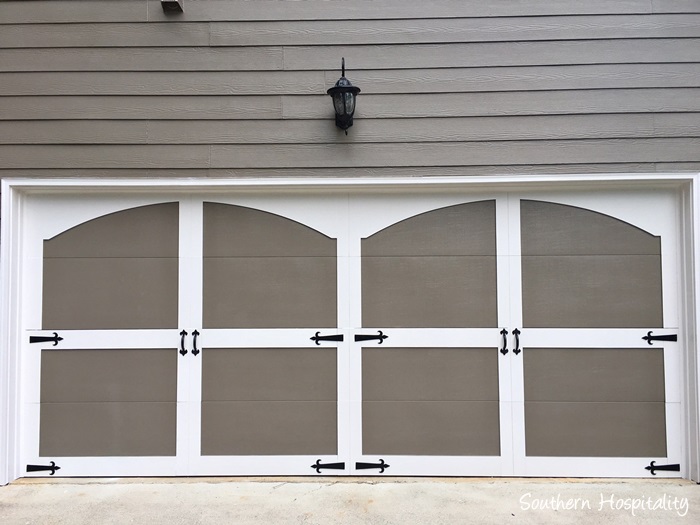 After: Backdrop and Simple White by Sherwin Williams
And to get started on this post, I'll share our interior paint colors too.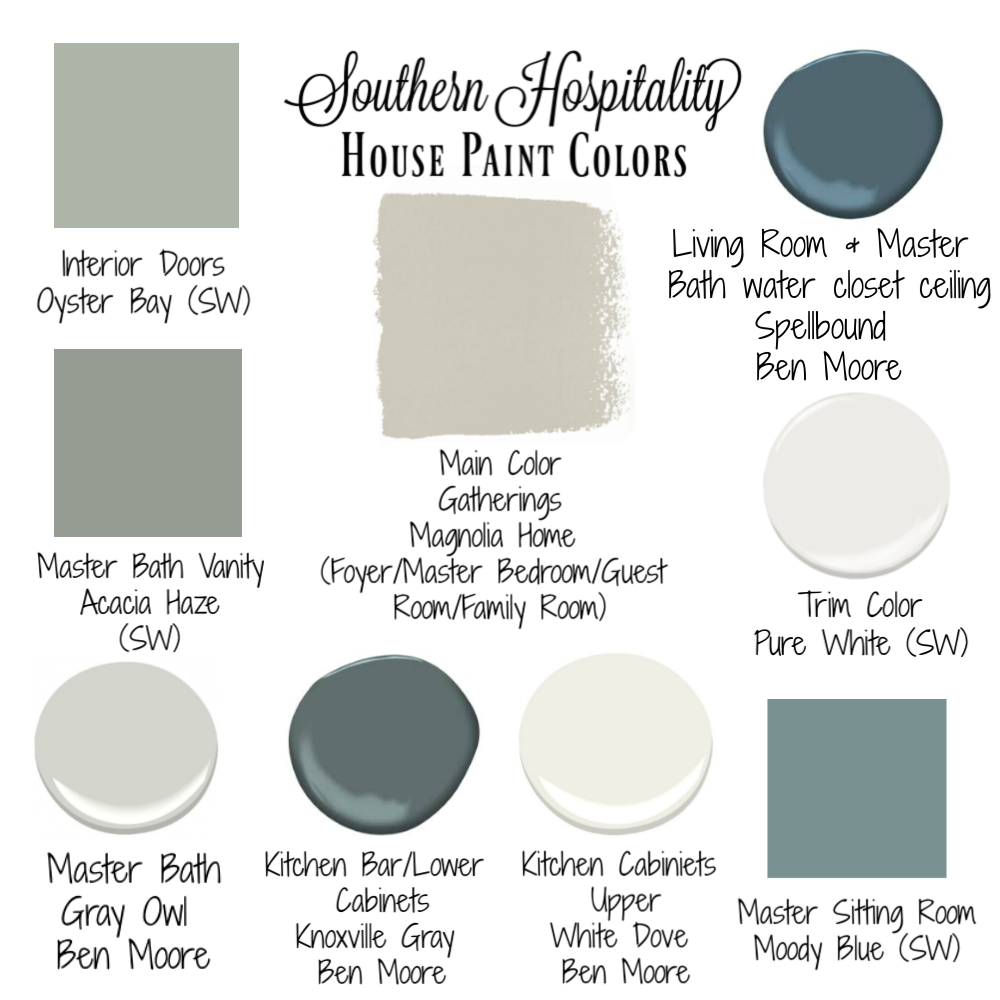 I've included our Paint color chart on the sidebar since I get asked this a lot, but here it is again. You can see most of the interior paint colors we've used throughout our house.
BEFORE: Original Door, nothing wrong with it, but we got a chance to change it out.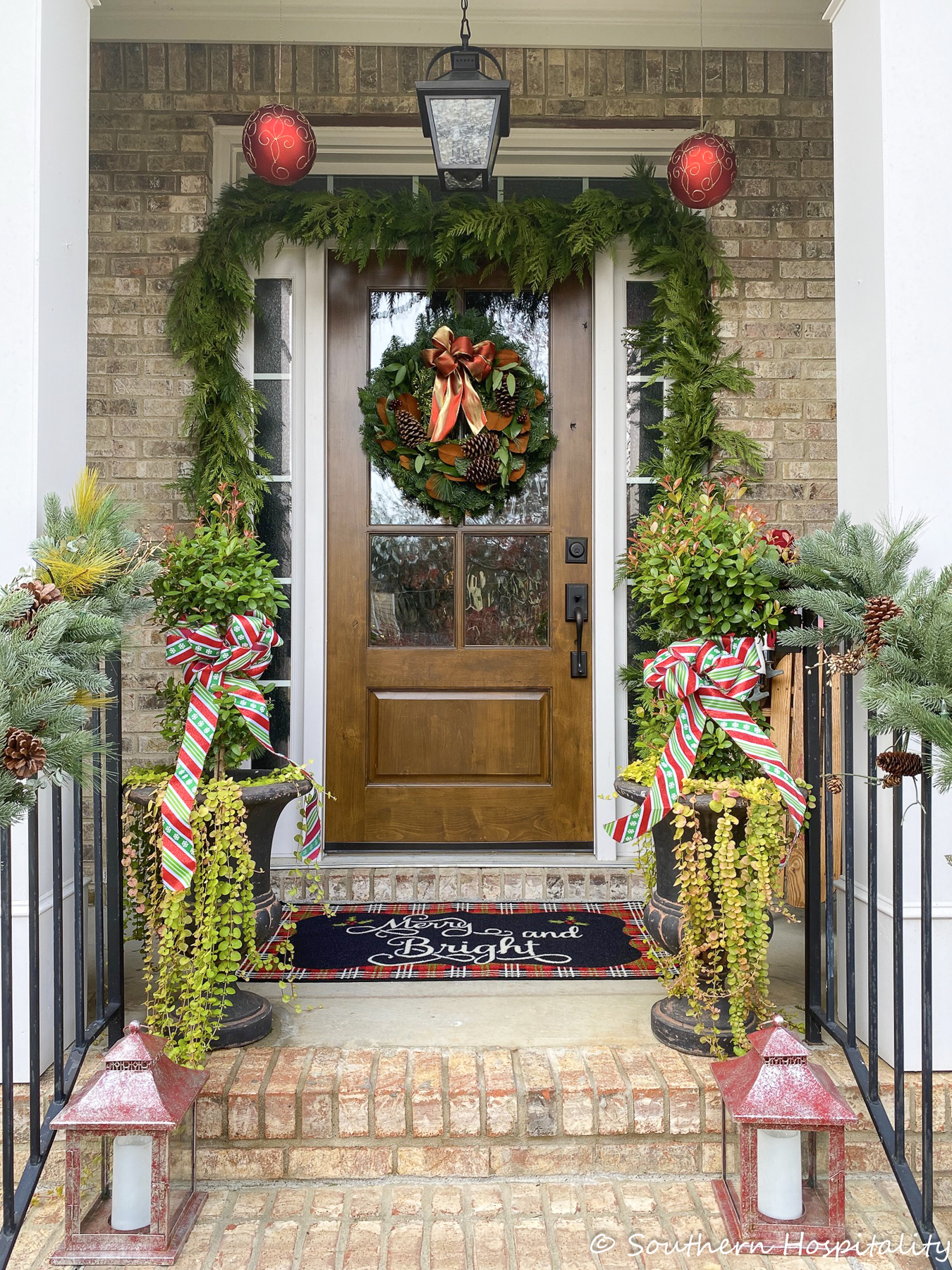 AFTER: From Christmas. A new stained wood door by Knockety with wavy glass. We love it! Note new light fixture too.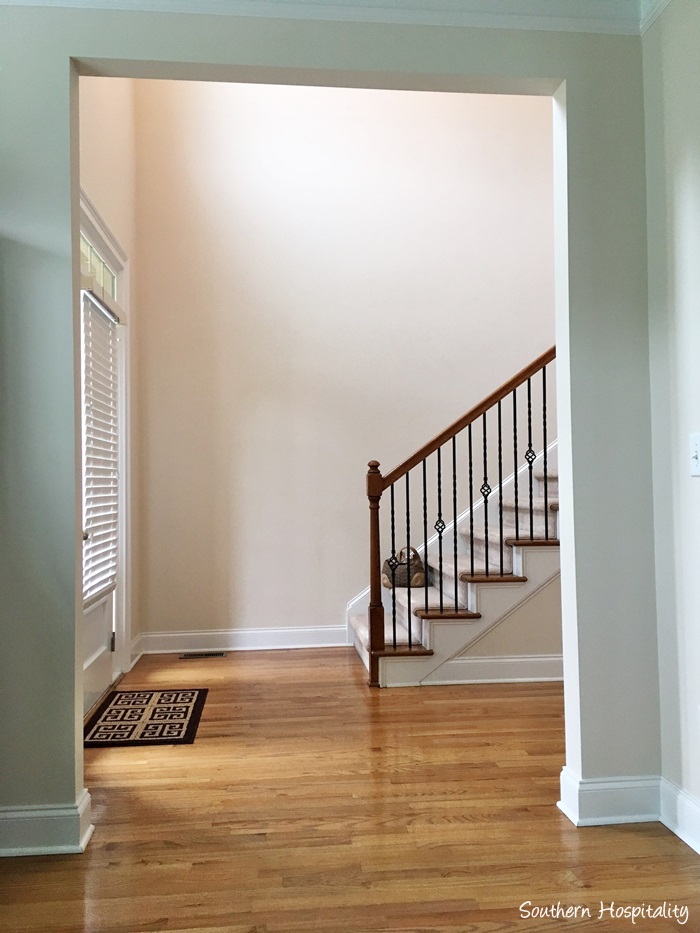 From living room to Foyer: BEFORE
AFTER: Addition of the box molding walls in foyer.
BEFORE: Top of stairs looking down.
AFTER: With new carpet runner from Shaw Floors.
BEFORE: Living Room
AFTER: Mark added board and batten in here and all that made a difference. When Mark and I got married, we both had furniture, but I had way more than he did. That big cabinet that so many people ask me about, Mark found at Haverty's years ago. The rest of the furniture in here was mine and I absolutely love how this small living room turned out. I actually dyed those leather chairs a darker brown. Those floor lamps you see were handmade by Mark. He loves Art Deco style and restores lamps using pieces that he puts together.
This wall has the same blue grasscloth as the dining room.
AFTER: The other walls are color matched and the paint is Spellbound by Benjamin Moore.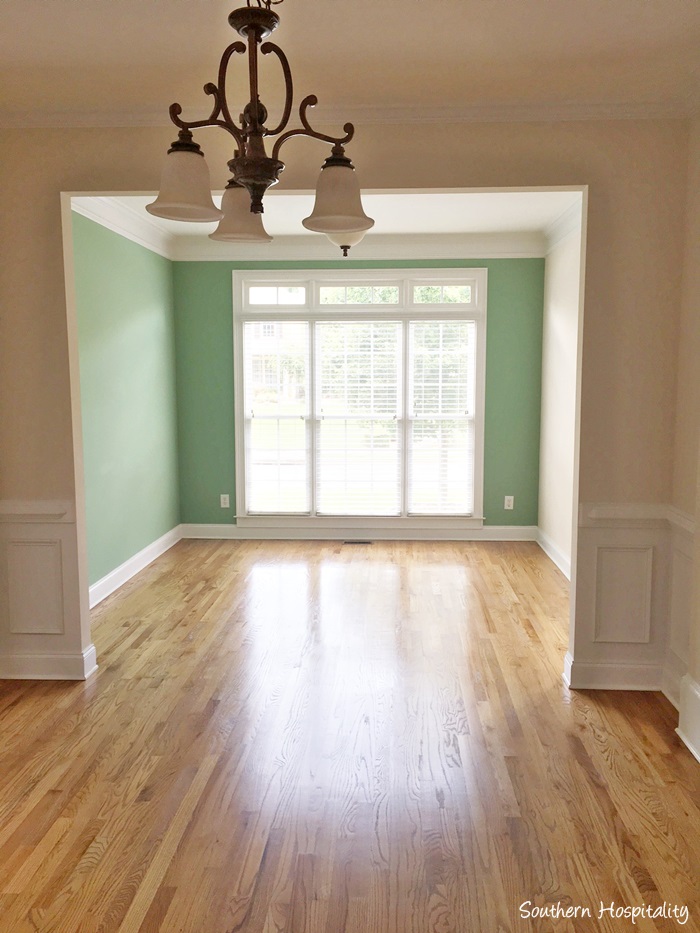 BEFORE: Dining Room to Living Room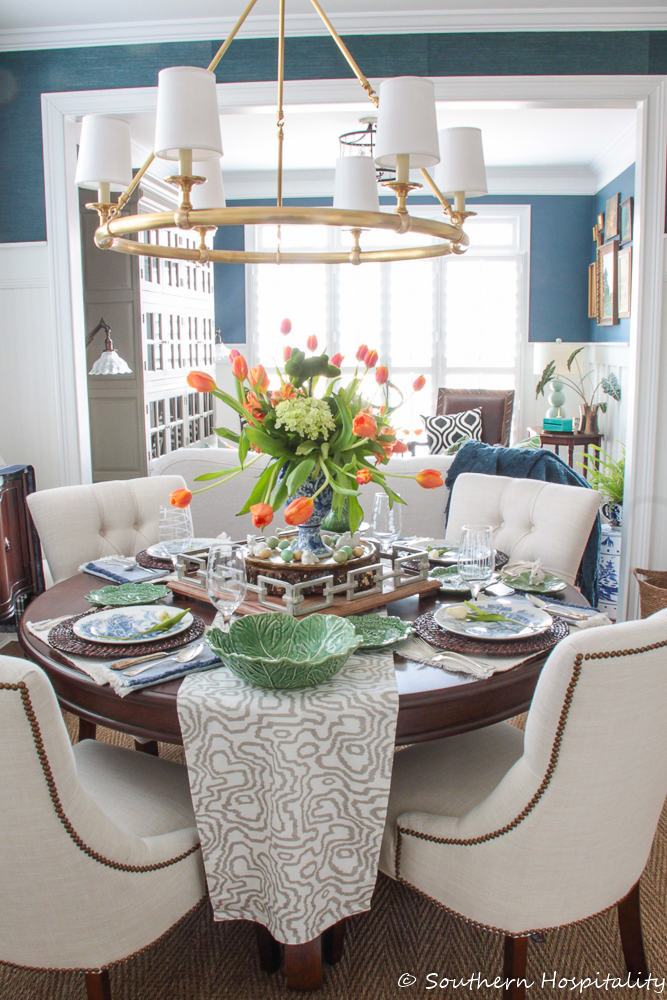 AFTER: New light fixture. Mark added chunky door frame molding around this opening that was missing before.
BEFORE: Looking to foyer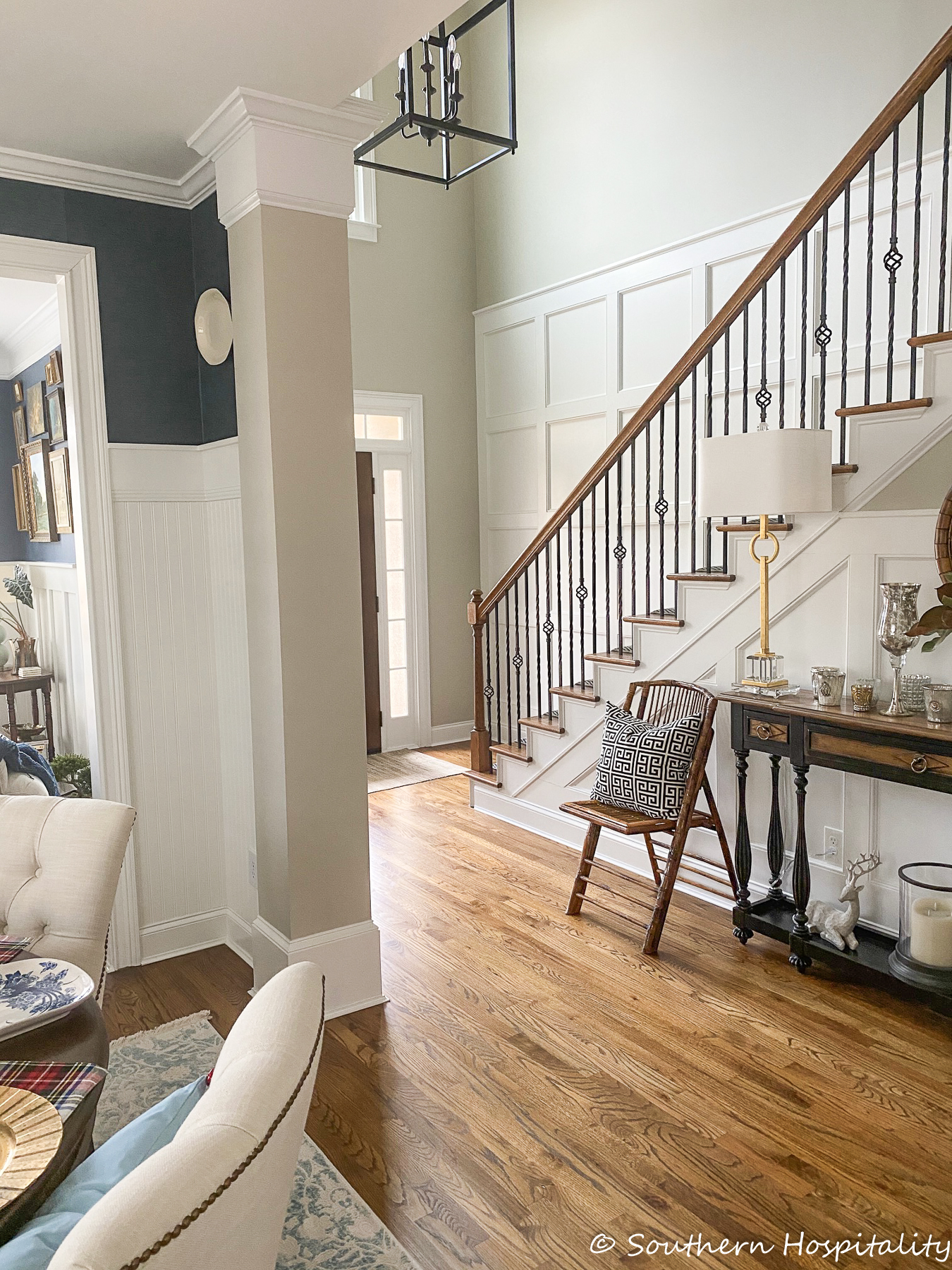 AFTER: New box molding installed
BEFORE: Dining Room
AFTER: Mark added Cape Cod beadboard wainscot, I had blue grasscloth wallpaper installed. Mark also added new trim around the big opening which wasn't there as well as new brass light fixture, all made a huge difference. Added Plantation shutters in the dining room and living room as well.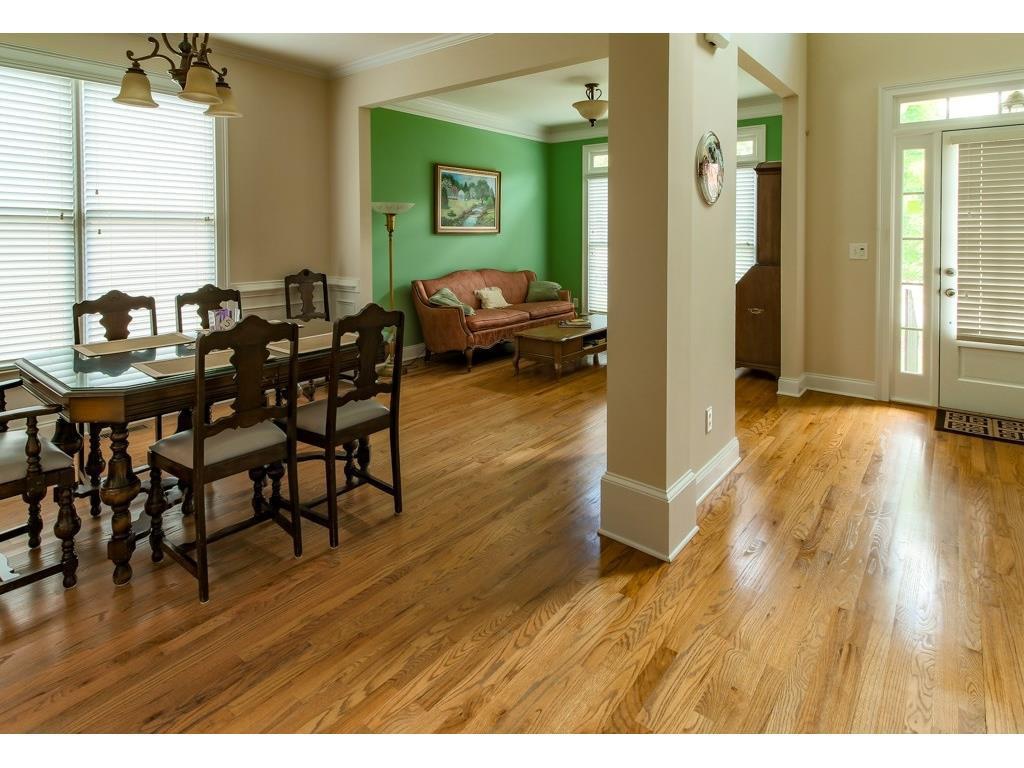 BEFORE: Real Estate pic
AFTER
In Progress
AFTER: I don't have a great Before shot of this little nook, but this is the After. This door comes in from the garage and the basement door is to the left, you can't see it. Mark added this cute beadboard trimwork in here and I painted it a darker color. Added hooks and original art for a little more interest.
BEFORE: Kitchen, real estate pics.
AFTER: We had the cabinets sprayed by our painter, replaced all 3 appliances over time (refrigerator, microwave and stove). Old fridge went to garage and we love this counter depth much better. Old microwave quit working, so got a new one and we wanted a stove that slides in instead of the old one with the controls on the back. Love the new one! Here's the whole kitchen reveal.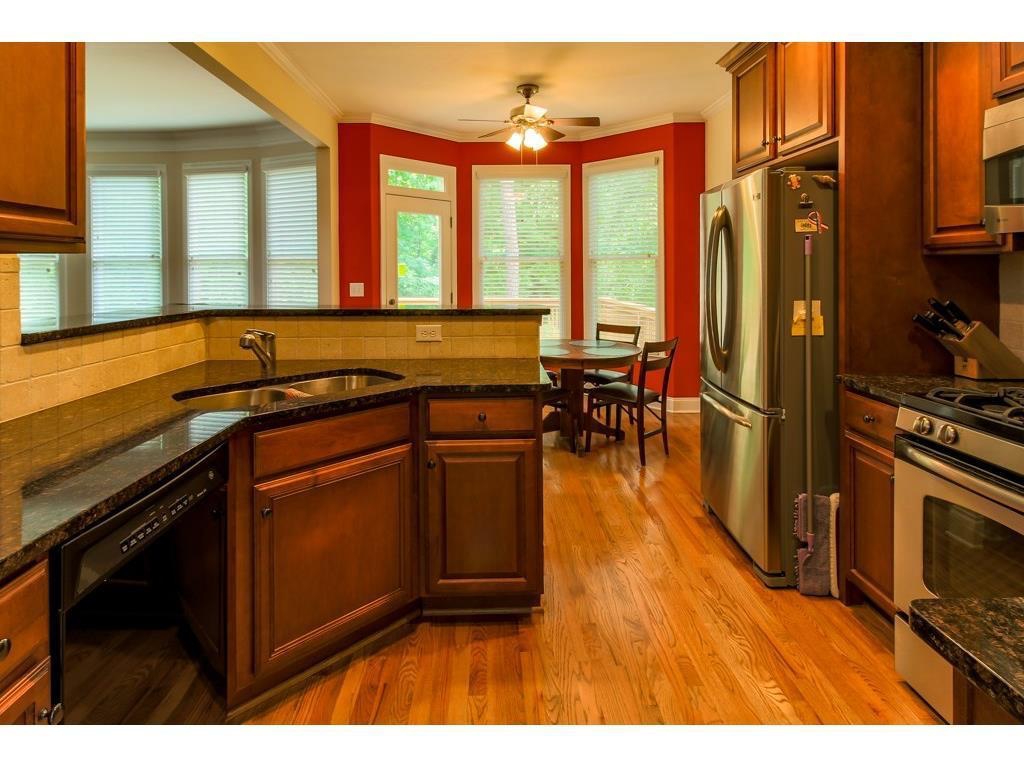 BEFORE
AFTER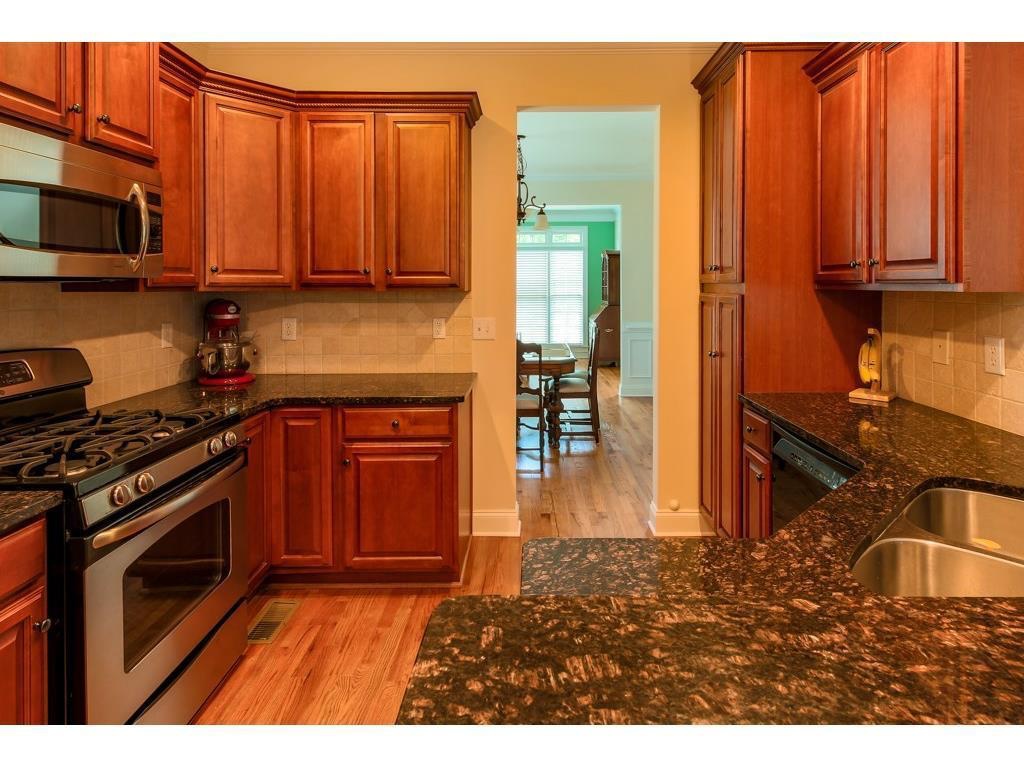 BEFORE
AFTER: Phase two brought in new quartz countertops, backsplash (Mark and I DIY'd that), Blanco one bowl sink and gold Delta faucet. We love how much brighter the kitchen is now. Added undercounter lighting as well after we moved in.
BEFORE
AFTER: New barstools from Ballard Designs
BEFORE: Note the plain drywall surrounding the bar.
AFTER: This was Mark's first big project in the house before we moved in. He trimmed out this bar in beadboard and we had it spray painted when the cabinets were done. It looks so good, what a difference that made.
BEFORE: Kitchen Sink
AFTER
AFTER
BEFORE: Kitchen nook
AFTER: I decided to make it a sitting area with my antique cupboard and a comfy chair. No regrets on that decision.  Added open shelving with pretty brackets and reclaimed wood for lots of interest.
AFTER: Current view from family room to kitchen. Shelves haven't been put back together after putting away Christmas. This is an accurate look at the Knoxville Gray paint. It's darker than it usually looks in pics.
BEFORE: Family room with carpet
AFTER: Family room with new wood floors and fireplace makeover. Here's info on the bamboo blinds we have throughout the house.
When we bought the house, we had the carpet in here removed as well as the guest room and had more red oak site finished hardwoods installed. We are so glad we did that before we moved in!
BEFORE: Fireplace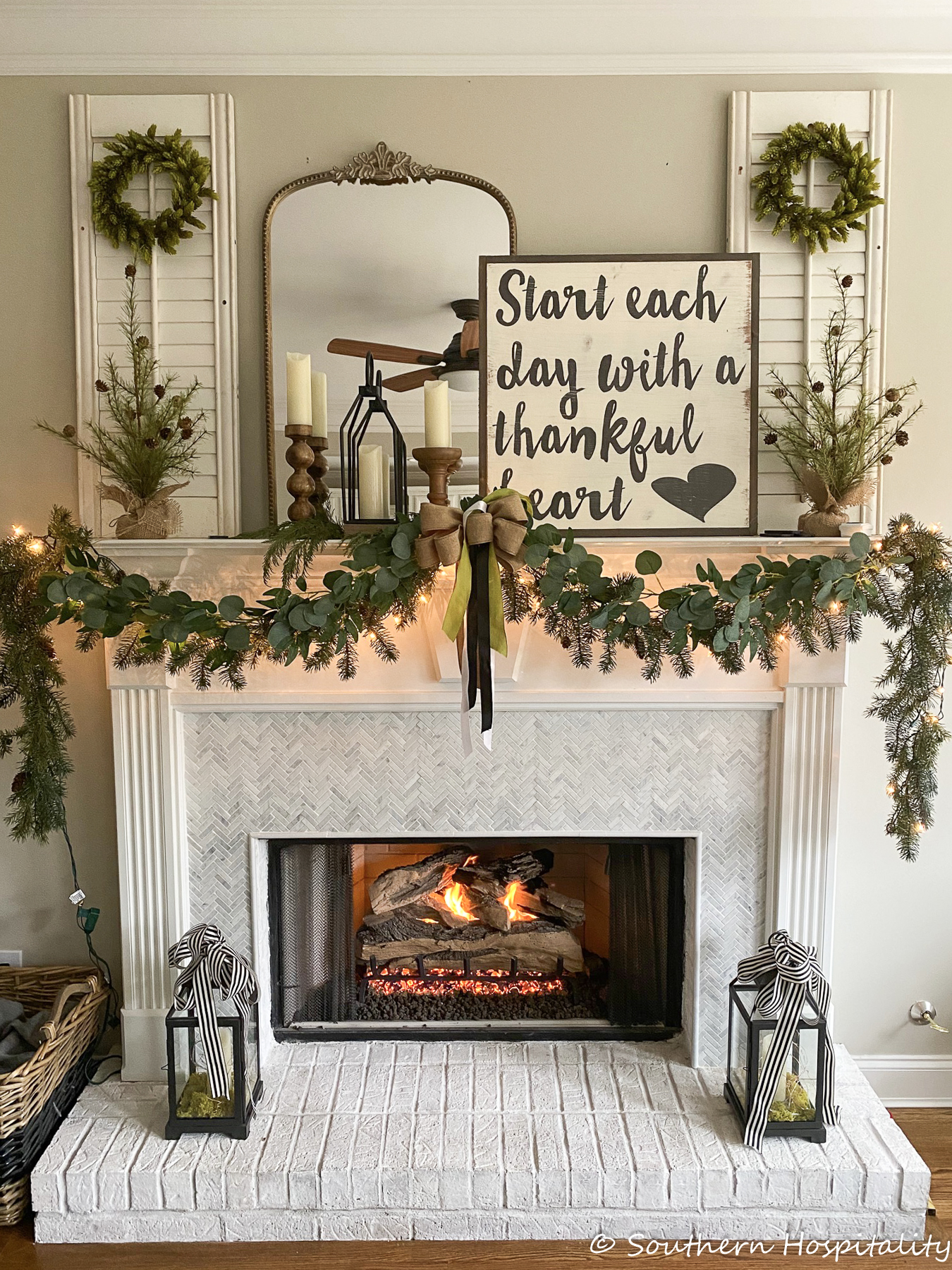 AFTER: Fireplace makeover with Romabio limewash and marble herringbone tile (another DIY Mark and I did).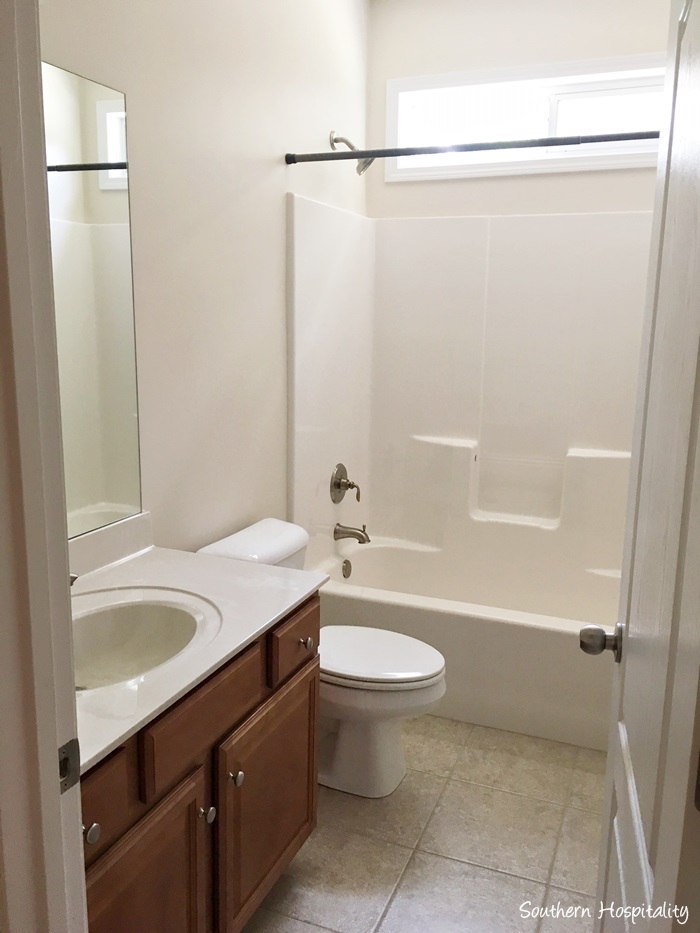 BEFORE: Guest bath
AFTER: We know our limitations on tiling, so we hired this guest bath tile project out, except Mark did do the beadboard wainscot in here and I painted it all.
BEFORE: Guest room main floor
AFTER: Again, carpet removed and I used my old furniture in here. I've changed artwork in here around since I posted guest room originally.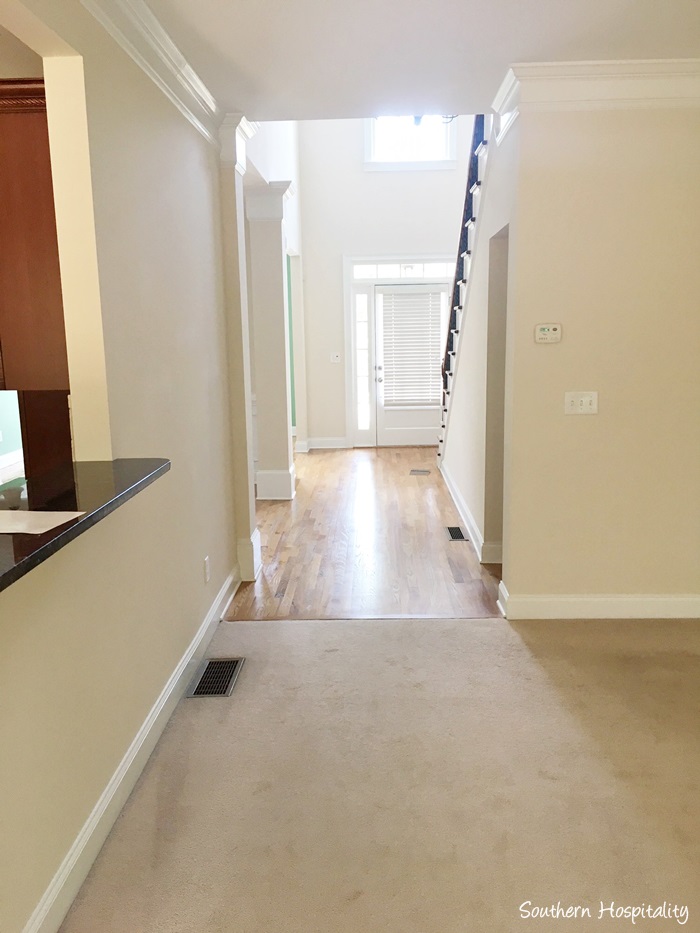 BEFORE: Foyer hallway
AFTER: No more carpet! Yay!
BEFORE: Open deck off kitchen
AFTER: We added deck stairs first thing, then stained the entire deck and added my furniture for a cozy seating area.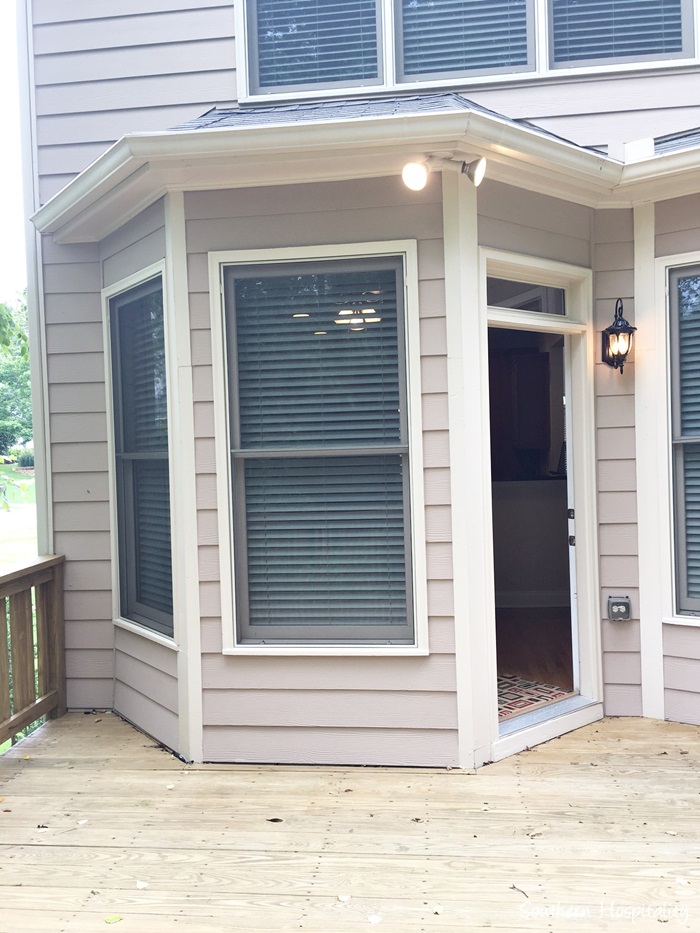 BEFORE
 AFTER: Deck space . We also added string lights outside, which was great.
Upstairs hallway: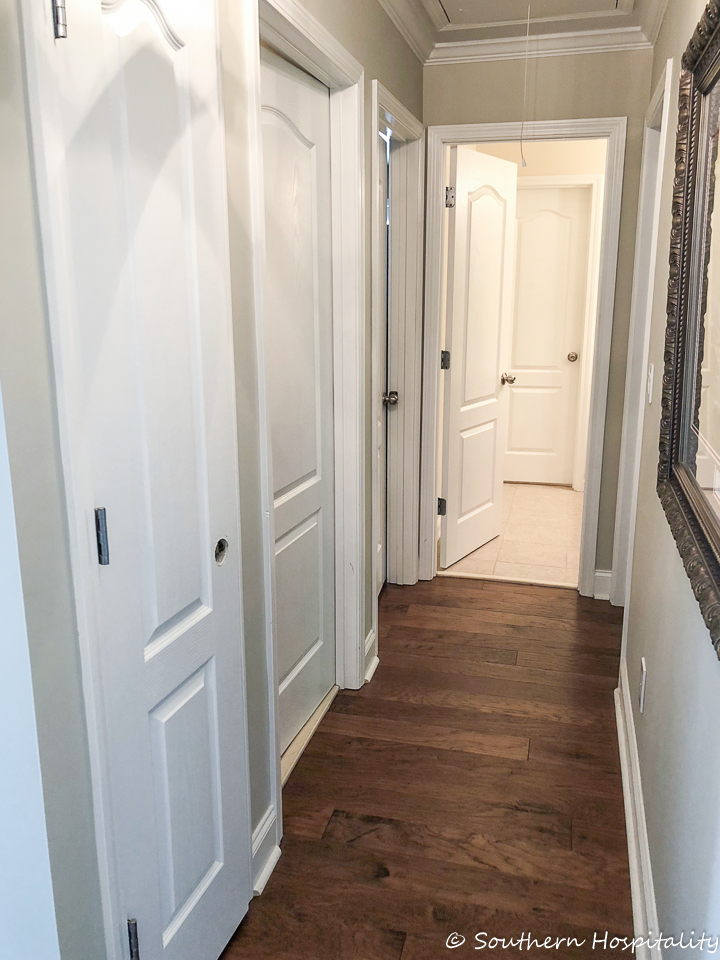 Before: The actual before had carpet which we ripped up immediately and put down these engineered hardwoods.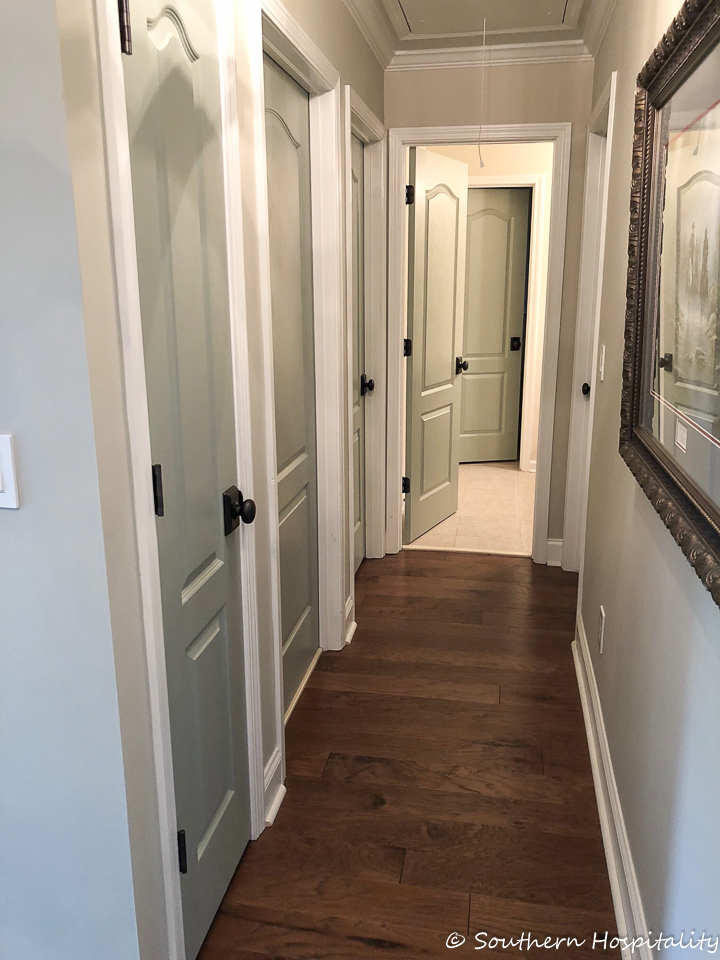 Painted doors in Oyster Bay.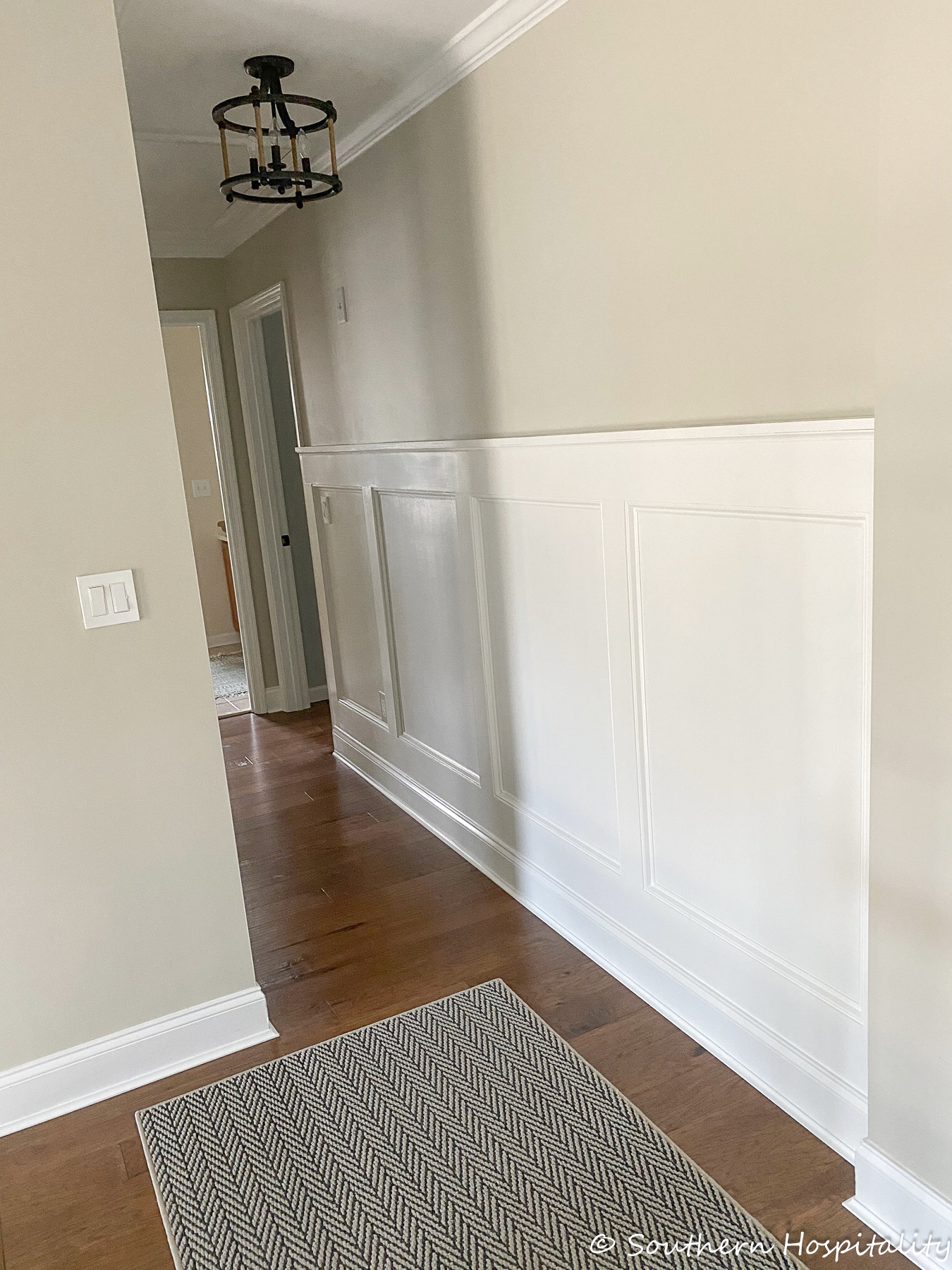 After: New board and batten just installed.
BEFORE: Master bedroom. We had all the carpet removed on the upper level and new engineered wood floors installed with Shaw Floors. That was such a blessing!
AFTER: Master bedroom. I haven't done anything else in here since I finished the linens and drapes but I would like to do a few tweaks eventually.
BEFORE: Master Sitting Room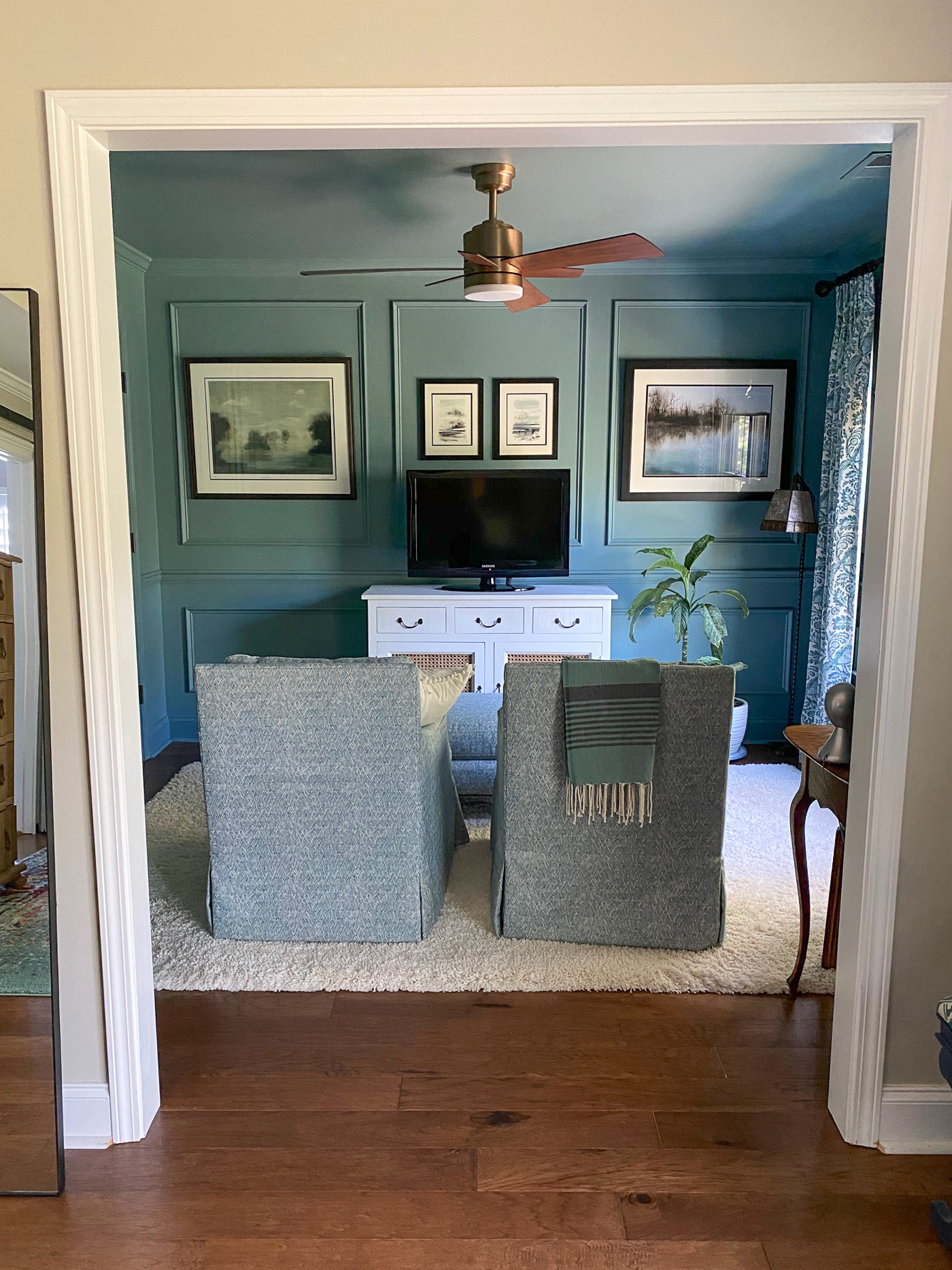 AFTER: Master Sitting room with picture frame molding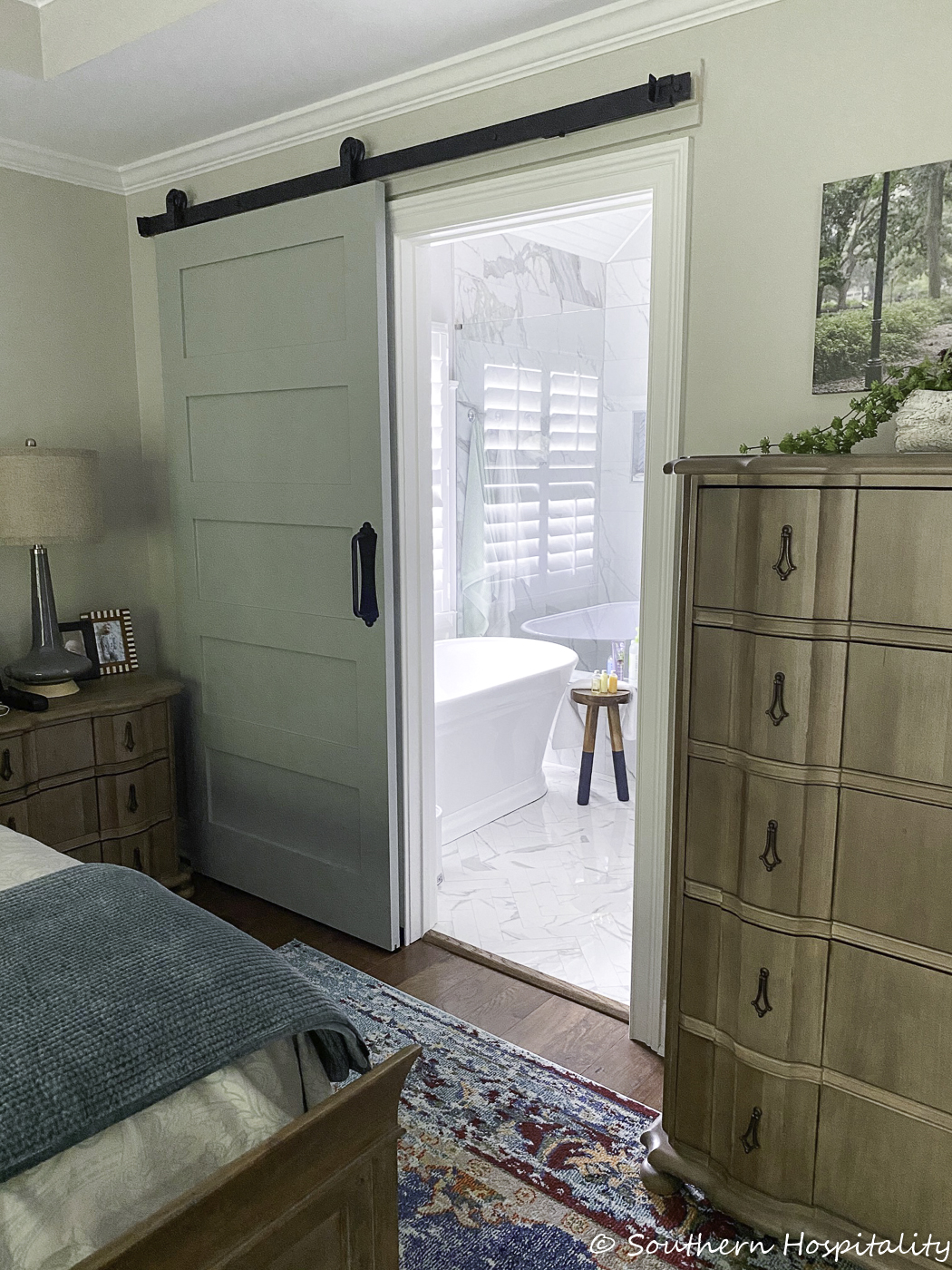 We added a sliding barn door to our master bathroom.
BEFORE: Master Bath
AFTER: Master Bath. This was a big project we hired out last year. Mark again did the board and batten in here. We love it!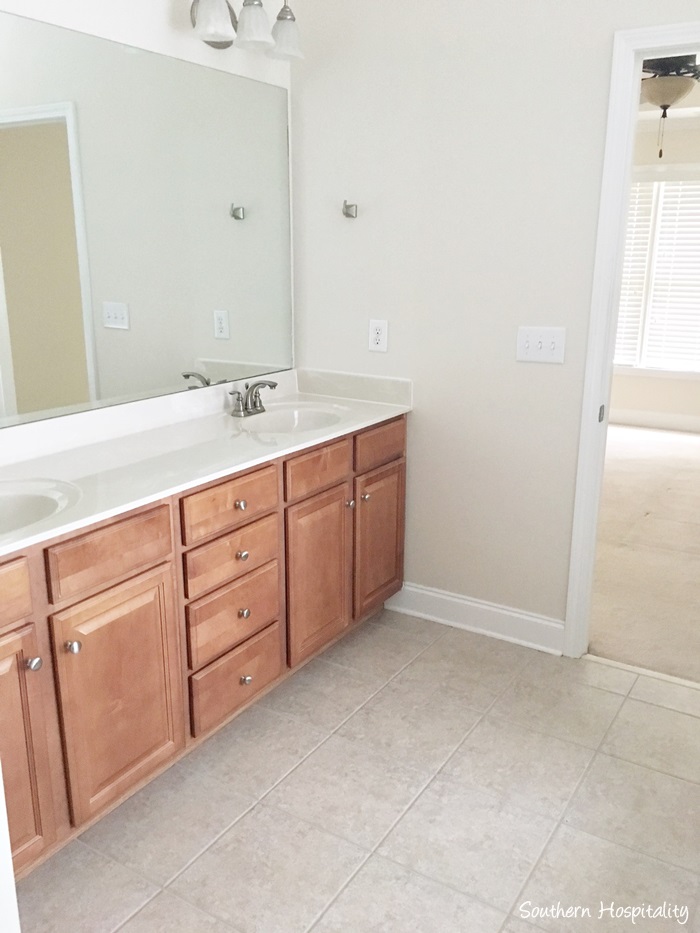 BEFORE: Master Bath vanity
AFTER: Master Bath vanity. Here's the painting the vanity post, that was a DIY project I did as well as added new drawers and doors.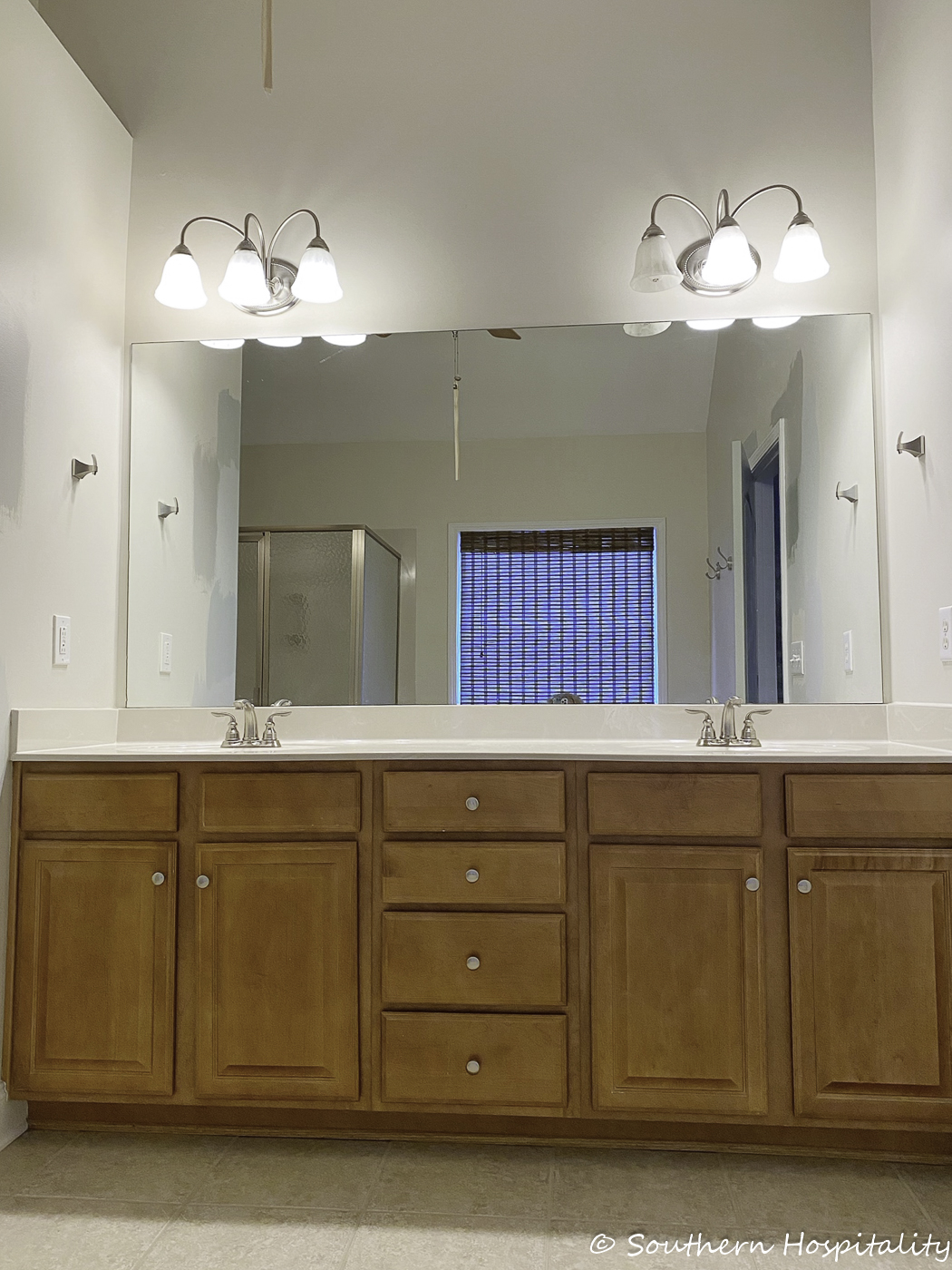 BEFORE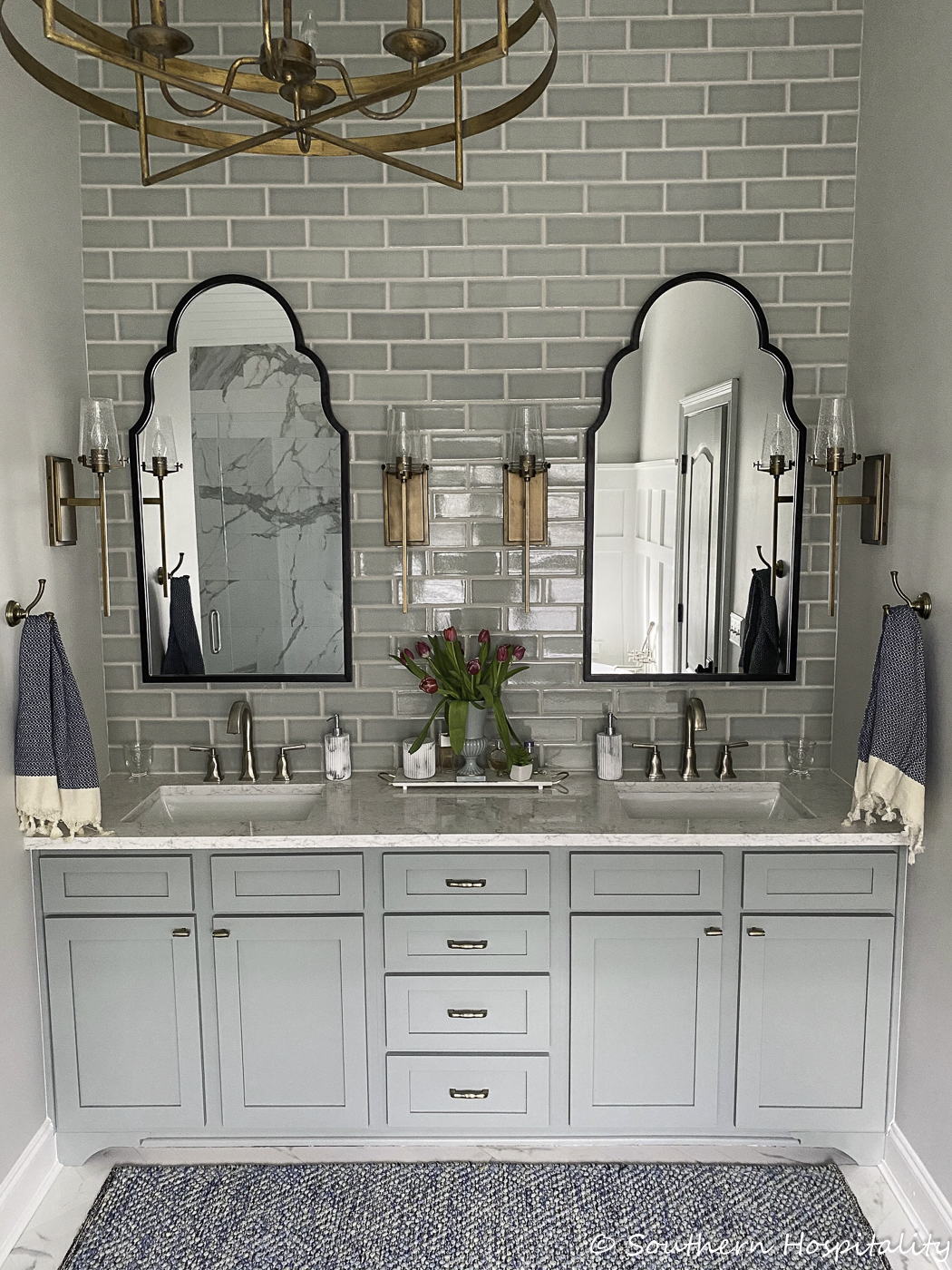 AFTER: We love this too!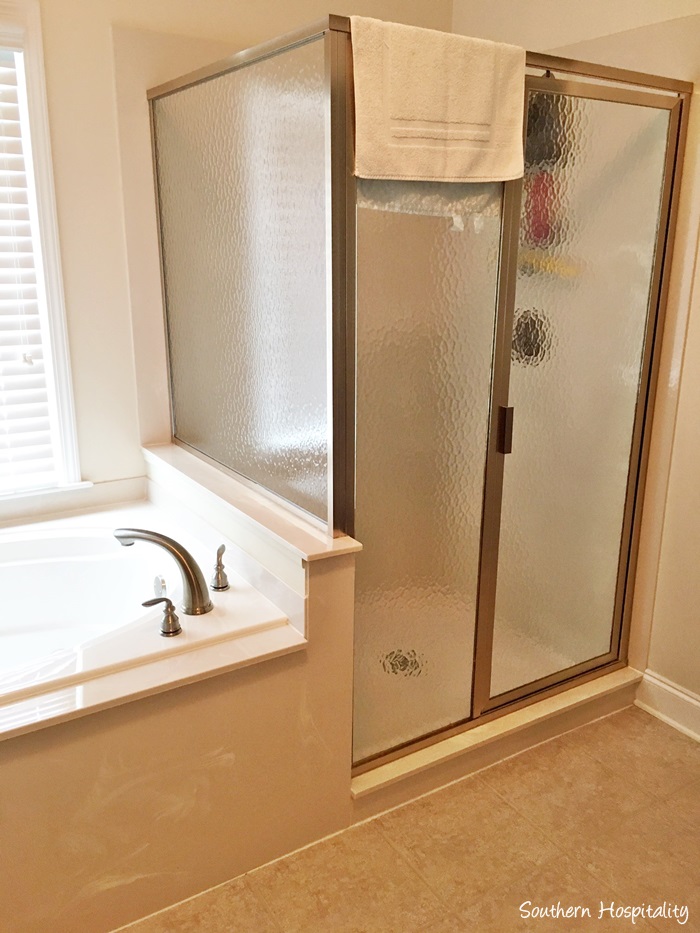 BEFORE: Old shower
AFTER: New shower with Walker Zanger tile. That link above will tell you all about the materials and cost breakdown.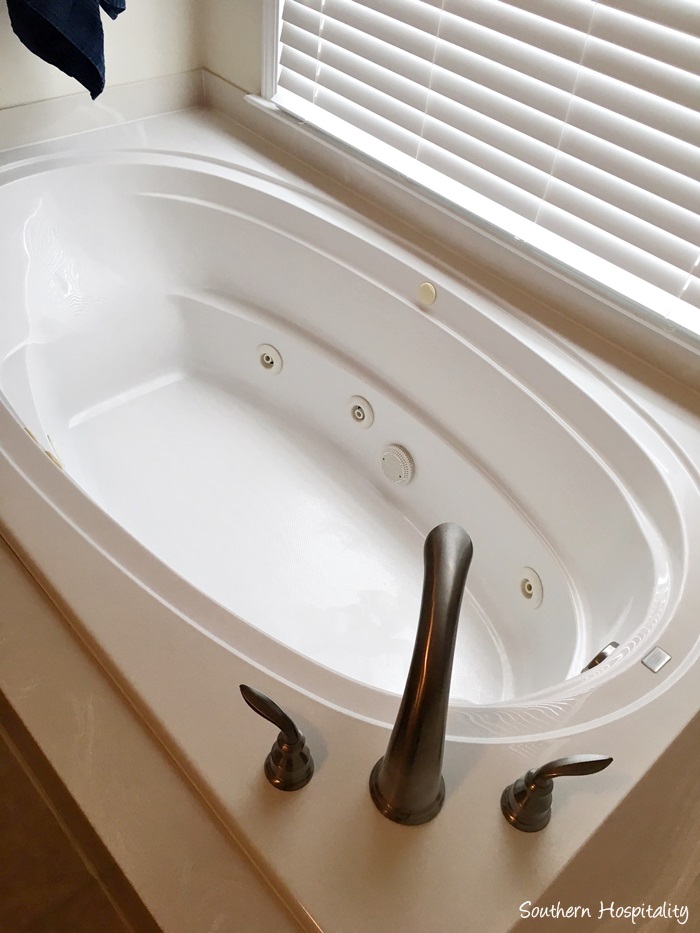 BEFORE: Old tub
AFTER: New Tub, with all the hardware details too.
BEFORE: Mark's man cave, real estate pics. This is a dramatic before and after since it was a little girl's room.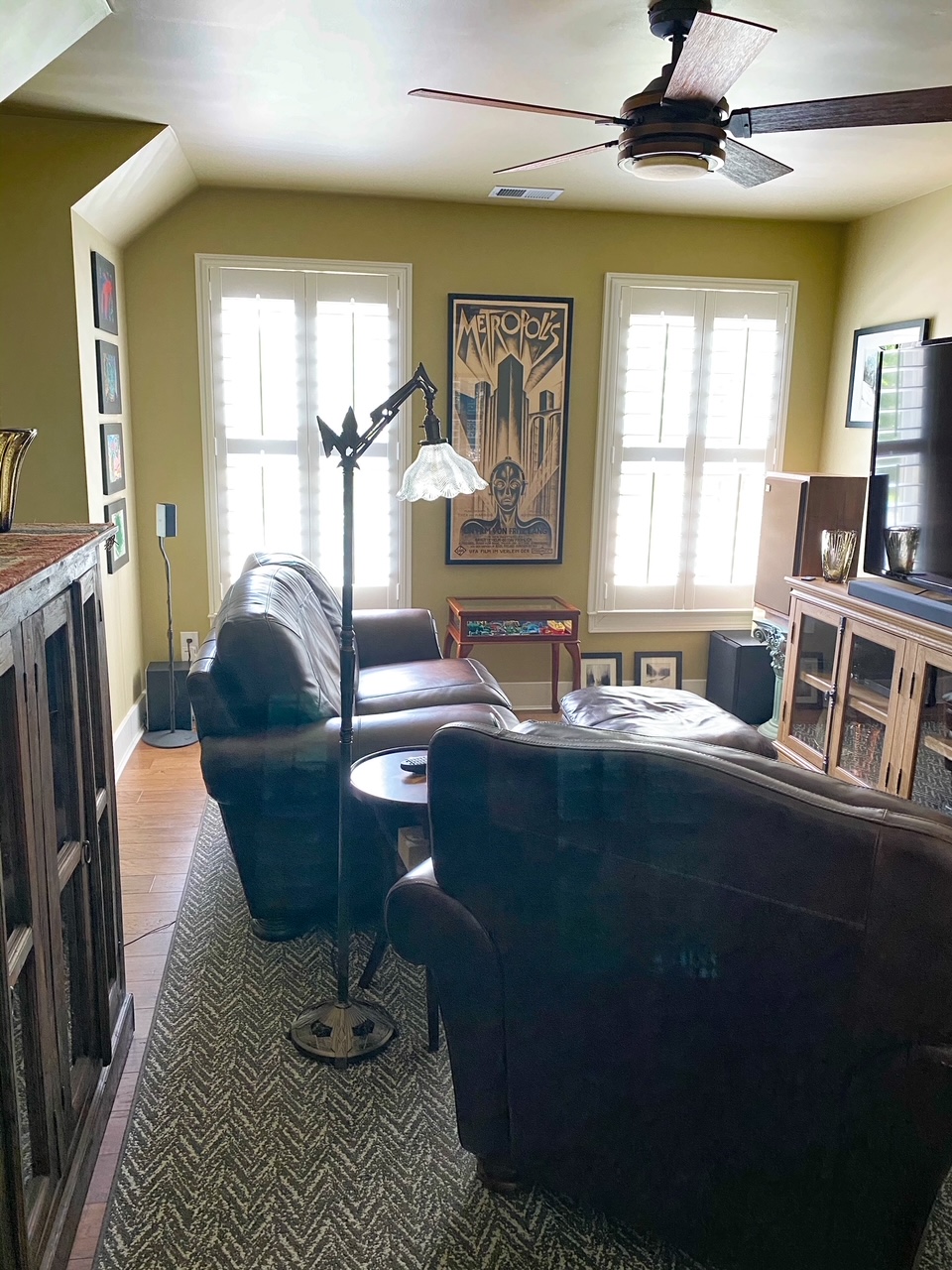 AFTER: Man Cave. This color isn't quite accurate, but Mark added lots of new moldings in his man cave and painted it all a gold/khaki color along with Plantation shutters. I call it the brown room.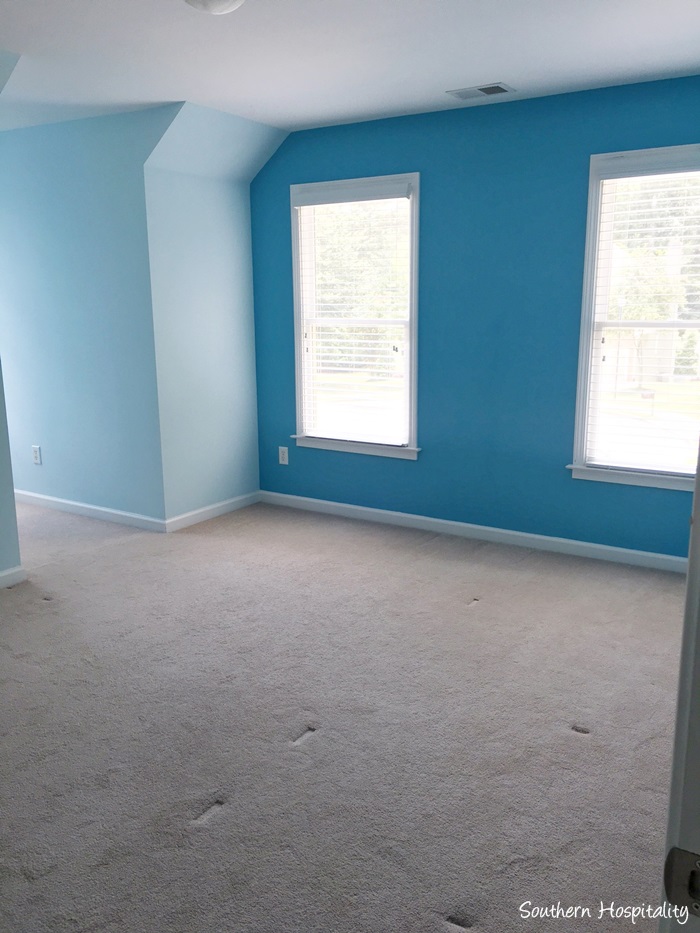 BEFORE
AFTER: Man Cave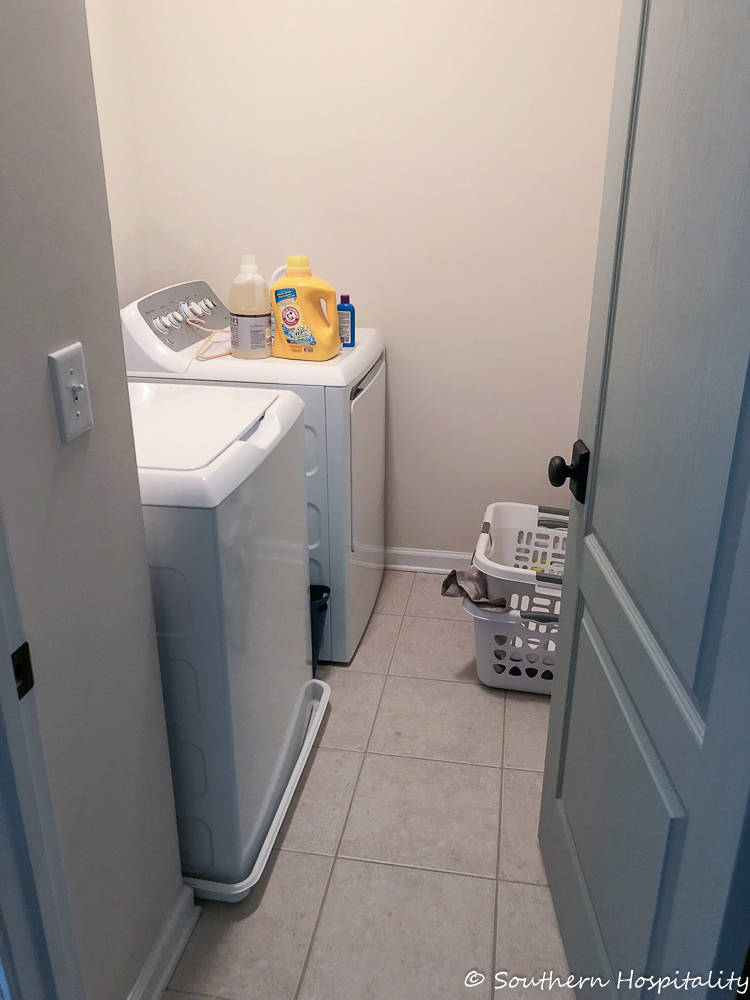 BEFORE: Laundry Room
AFTER: Laundry Room. I did this room with beadboard wallpaper wainscot and added the wallpaper above, painted it all as well as the ceiling and Mark added crown molding recently. I still love this space so much.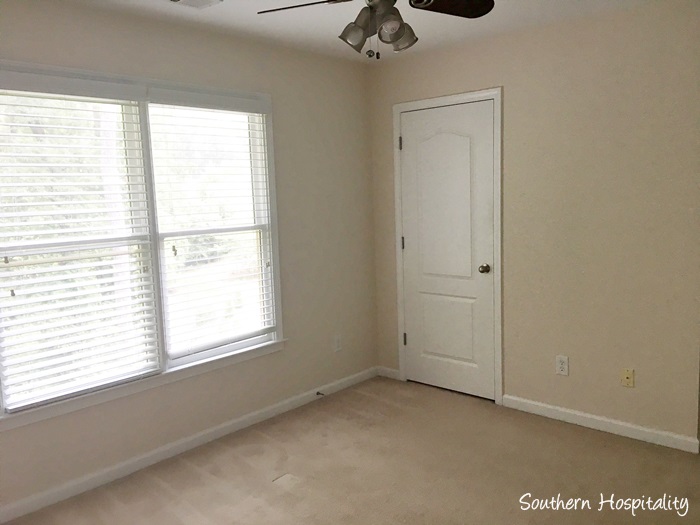 BEFORE: My Office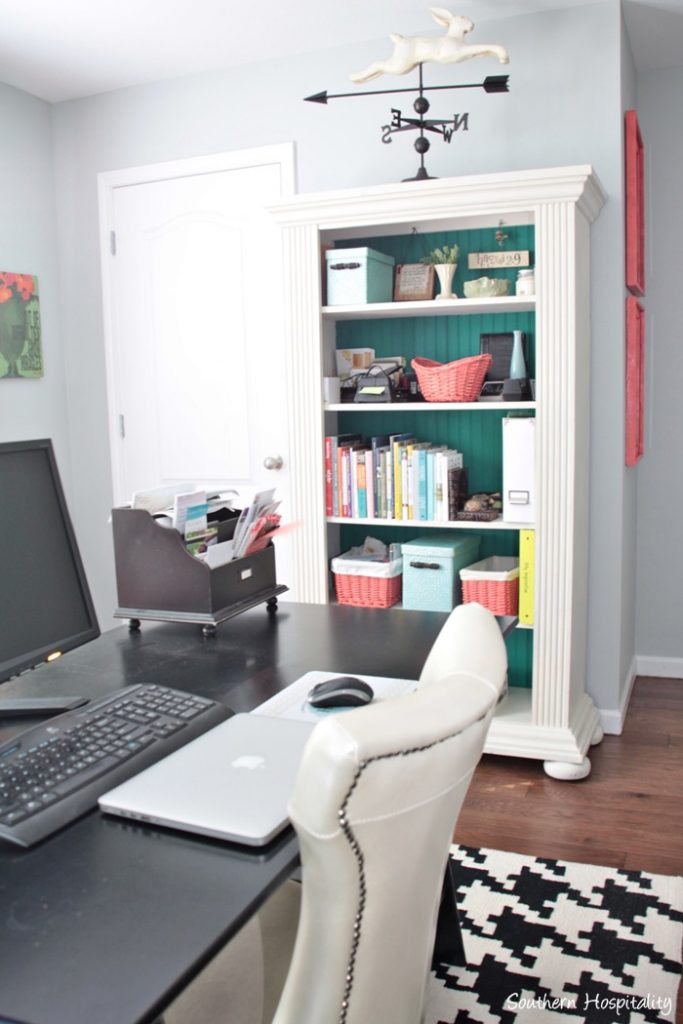 AFTER: My Office. I wish I could say it was still this clean and tidy, but it's not. I really don't stay in here that much, my laptop goes with me around the house.
It's nice to have a space though that's my own.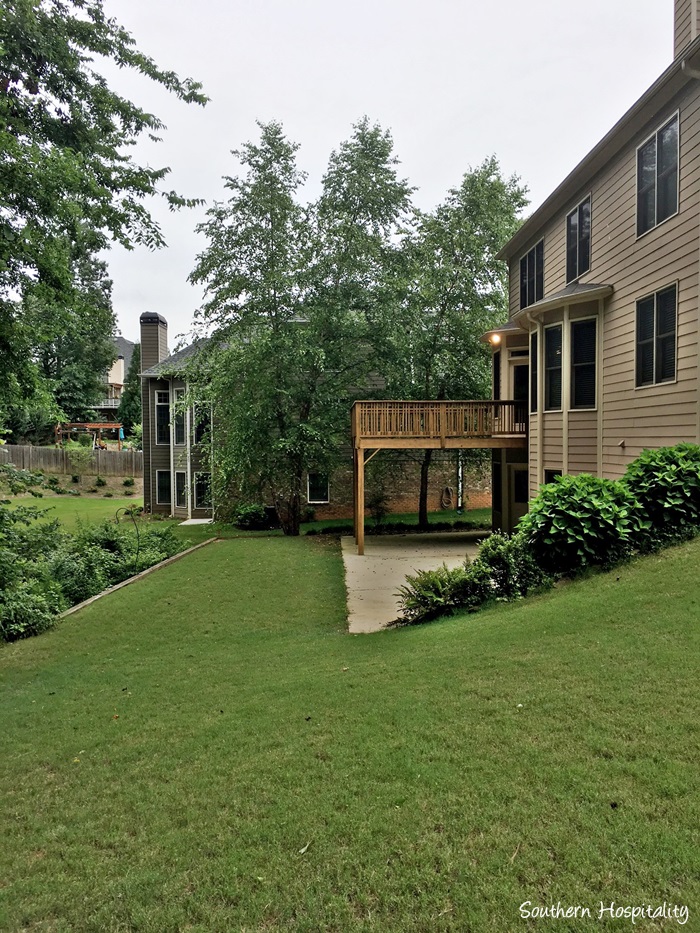 BEFORE: Backyard and exterior
AFTER: We added the fence right away and then slowly worked on the rest of the yard.
BEFORE: Backyard patio. We knew when we moved in this backyard would be a great space to work on. We were so happy to have that concrete patio and it's so big which is nice.
AFTER: It looks like this now, with the completion of 5 big projects out here.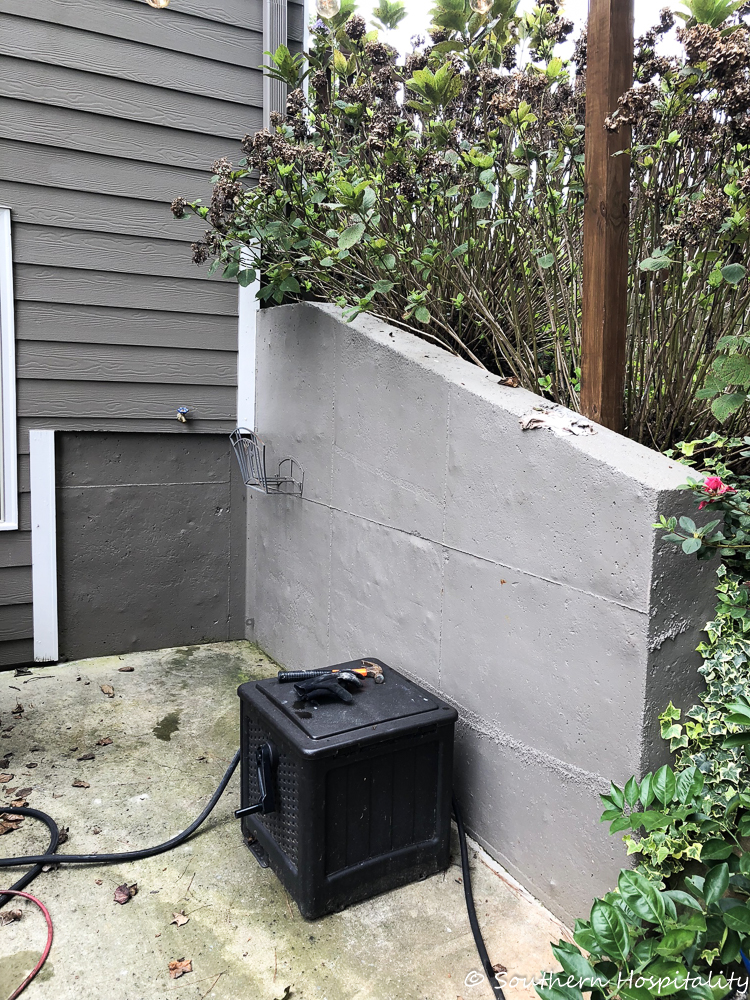 BEFORE: Concrete wall on patio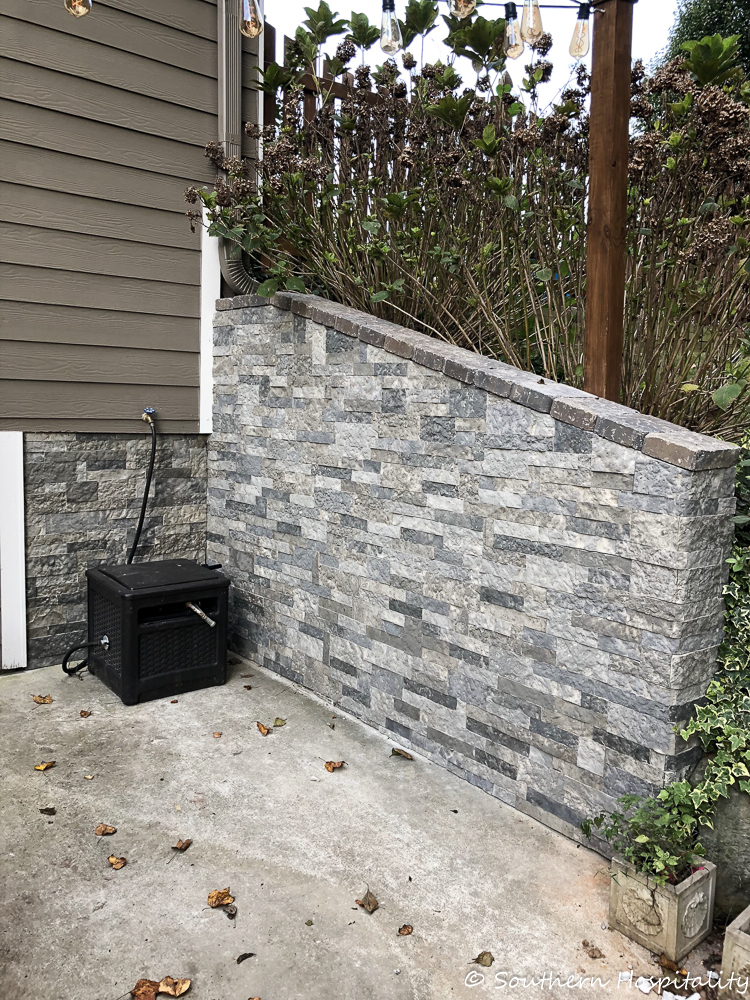 AFTER: With the Airstone faux stones, what a difference it made. Mark and I DIY'd this one.
Proud of this one!
BEFORE: Patio after lots of rain, turned green with mildew. It was awful to keep clean, isn't that a depressing sight?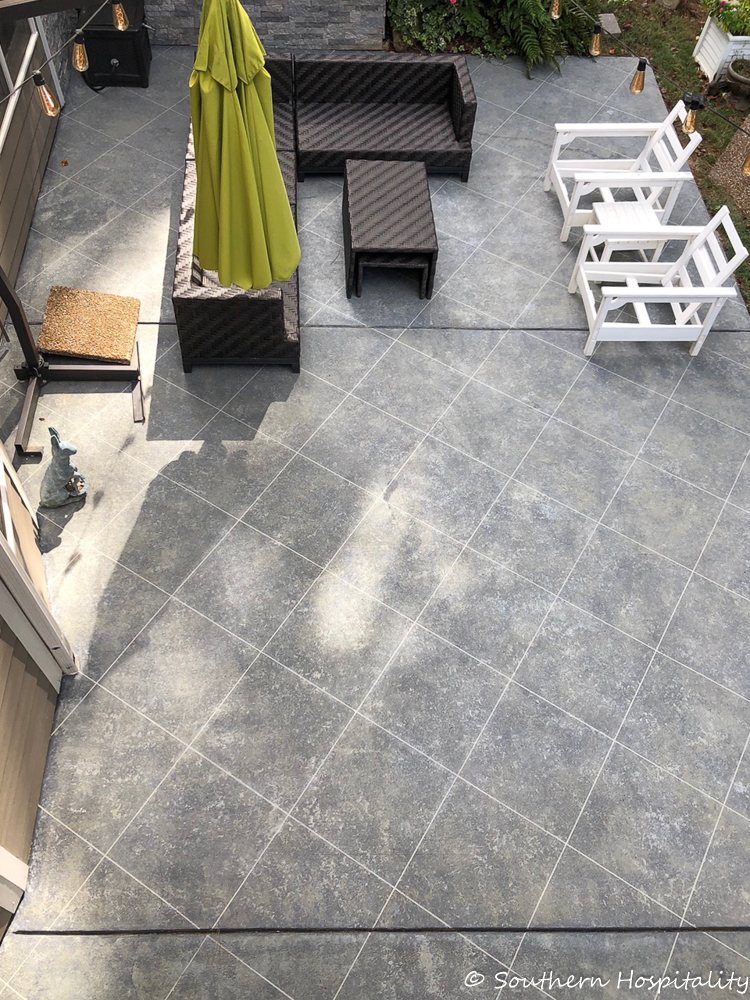 AFTER: New faux tile paint project with Daich Coatings. This one I DIY'd and it was hard work but so worth it. The patio now stays much cleaner. It has a sealer on it and when it gets a little green on it, I can spray it with a cleaner and scrub it off easy, plus it doesn't get nearly as dirty as it did before.
BEFORE: Under deck patio
AFTER: This was a culmination of several more projects with the under deck ceiling system we had installed, as well as the new Phantom Screens that I was fortunate to get. What a difference this has all made to our outdoor patio living space.
BEFORE: Stair wall
AFTER: Shutter Wall. Mark completed this project last year and that was the finale of our under deck screen porch and we so love and enjoy. What a lot of projects it was to get here!
AFTER: We are so enjoying our outdoor patio and screened porch. It has been a dream come true to get all this finished last year.
I was so fortunate to get to work with Furniture of Dalton and completed the rest of the furnishings out here and what a difference it all makes. We have a huge seating area on the patio, as well as a dining area now.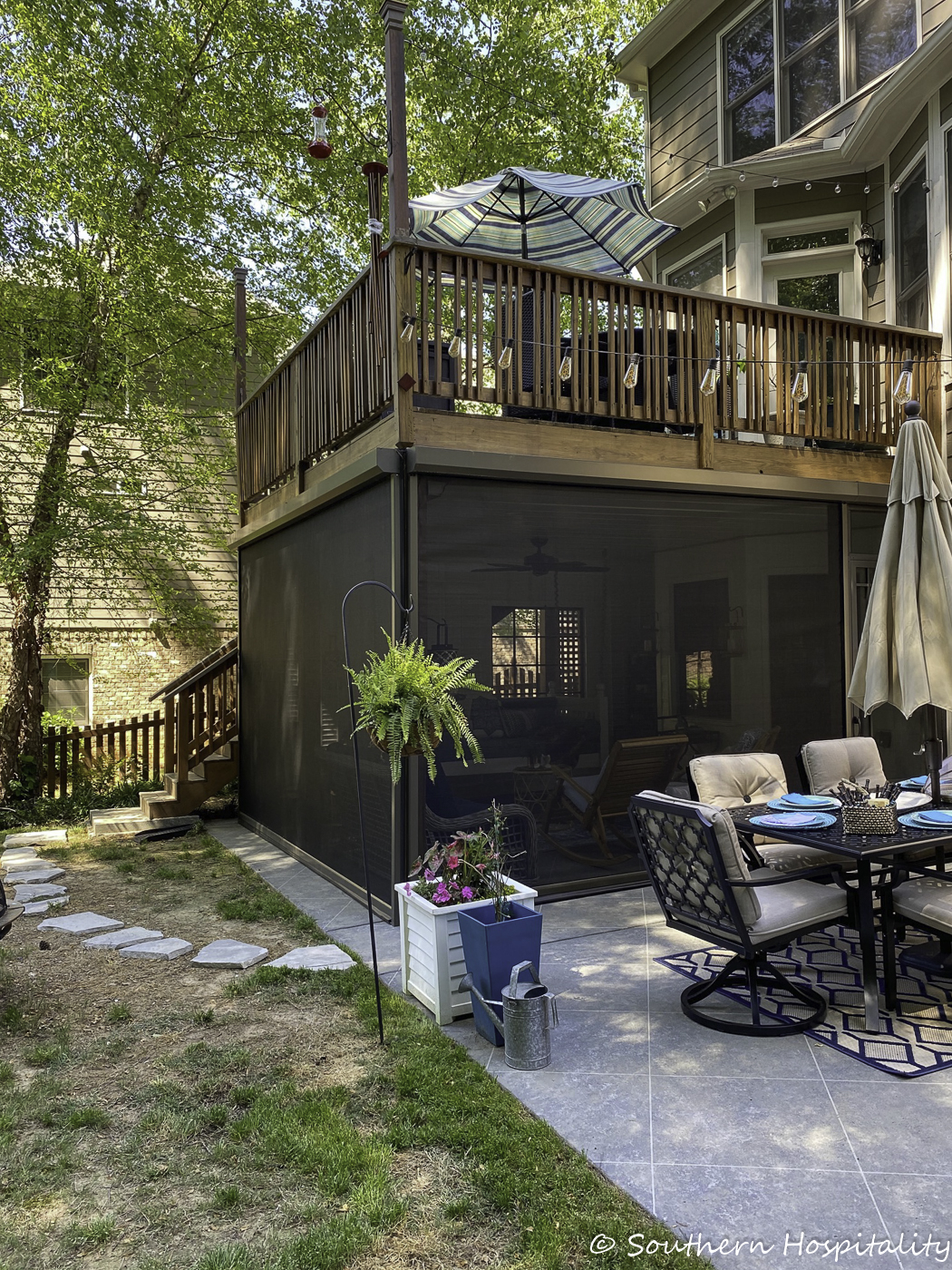 AFTER: Phantom Screens
We have a few more things we want to do in the backyard, so stay tuned for that. It's small, but a perfect spot for us to enjoy.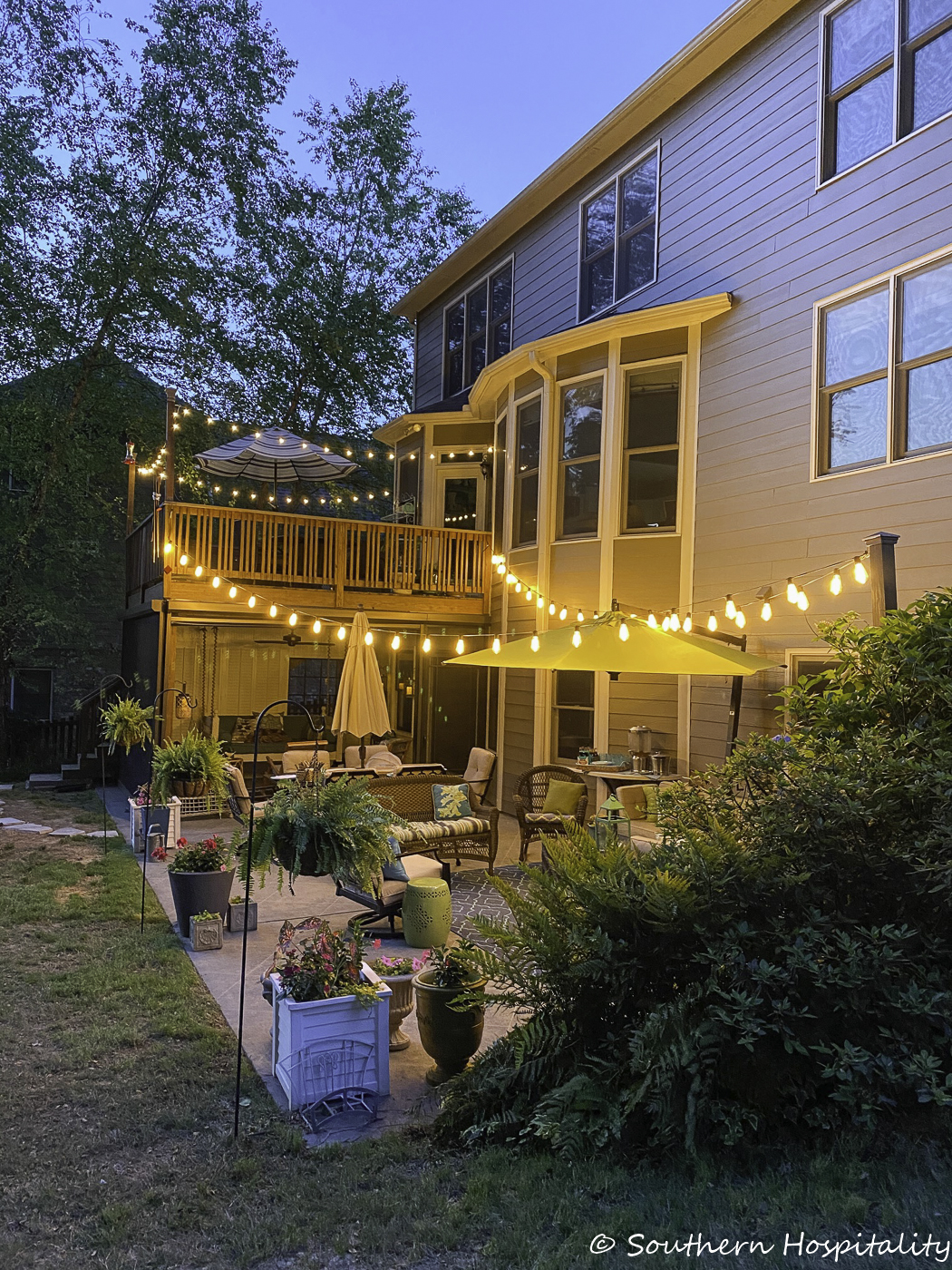 It's truly been a dream to get all of these projects completed at our house. I was so very fortunate to get to work with so many sponsors with the materials provided. We were also able to DIY a good bit of this ourselves, so that helped a lot. It's amazing to look back on these Before pics and really see how far we have come. These 3 1/2 years have flown by and we have a few more projects up our sleeves, although not nearly as many as we did when we moved in.
It's been so fun to tweak this house to our tastes and I'm so lucky that Mark enjoys doing woodworking as well. We both love home improvements and making our house the best it can be. We're so proud of it and so happy we ended up here after looking for months for the right house. We often think back to when we were so disappointed that other houses didn't work out and how glad we are that God had this house for us. It's just perfect for us and we couldn't be happier with where we are! I hope you all enjoyed this long and laborious post about our home improvements. It really shows in the pics when you see them all together, what a difference home projects can make to a home to create the home of your dreams.
Pin this to save for later!
Don't Miss a Post, join my list!