Adding a barn door to our master bathroom was something we have wanted to do ever since the bathroom was renovated earlier this year. We quickly realized that the door swinging into the tub was not going to work and would cause harm eventually. So we decided to work with Dan at Sunburst Shutters Atlanta who installed all of our Plantation shutters in our home. He also makes custom barn doors as well and has many to choose from.
This post is not sponsored, we did pay for our shutters and door, but Dan gave me a discount to share on the blog and we couldn't be happier with it all so that's the easy part. Dan measured for the barn door and we chose a style that we wanted. You can find all the barn door styles on Sunburst Shutters. You choose your door style, hardware and options and go from there. Since our house is Traditional we didn't want a really industrial or farmhouse look, so we chose the 5 panel Horizontal door which is very classic. Dan has been really busy with so many people ordering shutters and doors for their home so we had to wait awhile to get our door installed, but it's finally in and I can't wait to share with you!
Adding a barn door created a really nice look to the bathroom door. It's different than a traditional door, but still works and functions for adding privacy to the bathroom. Mark simply took the old door off and filled in the door trim holes where the hinges were, sanded and painted it with our trim paint. So the door frame is still there and intact.
The hardware header is mounted to a piece of wood that is painted the same as our wall color and that wood is anchored in studs to make sure the door is sturdy and secure. The door sits out slightly from the wall and is anchored with a metal guide on the floor to the left to make sure it slides properly. We also opted for soft close hardware which closes softly on each side as the door is pushed back and forth. That part is so nice!
The door open lets in more light from the bathroom.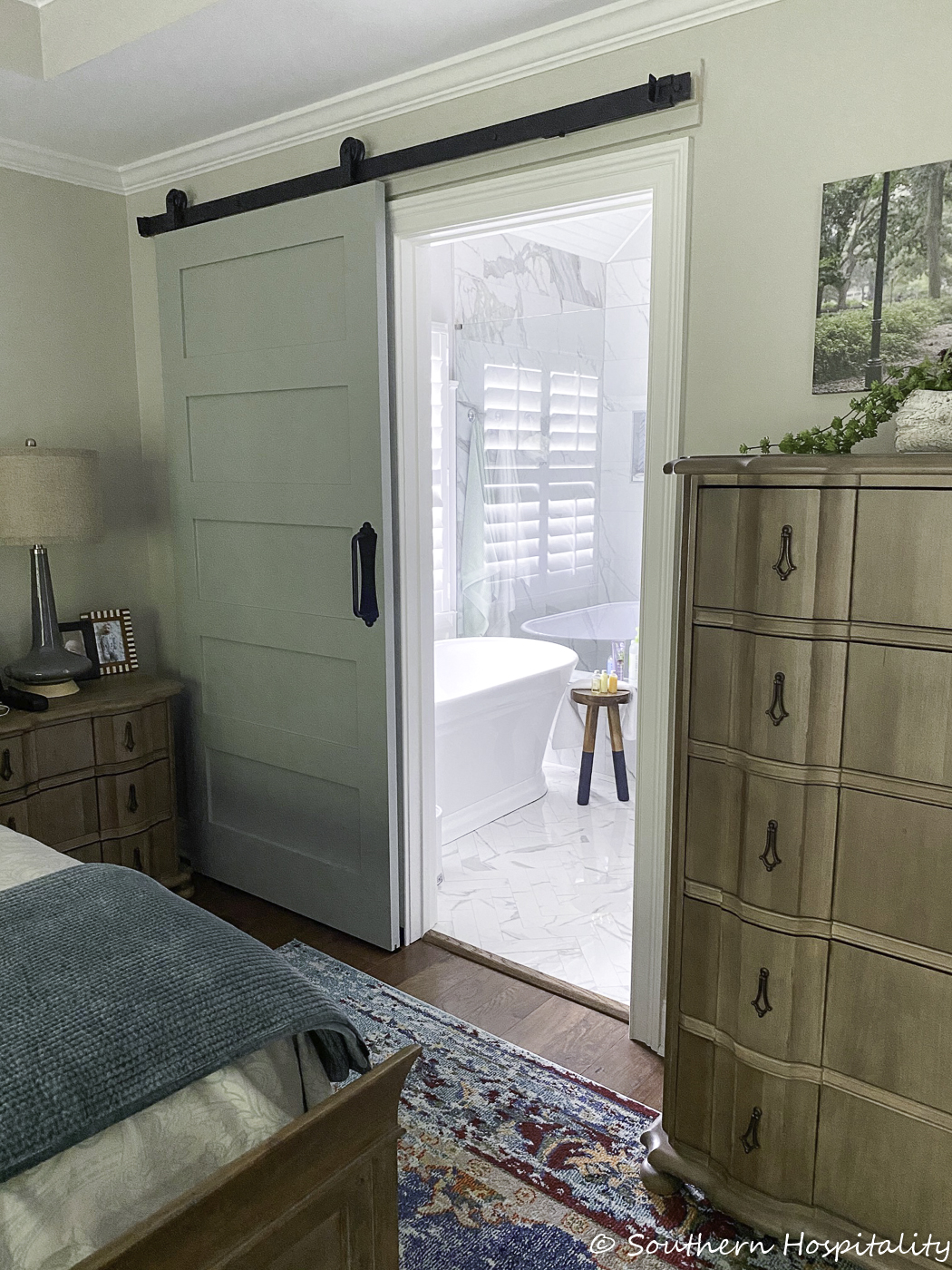 We love the ease and efficiency of having a barn door here and now the door which swung inward will not hit the tub. It's the same as a pocket door only the door isn't hidden.
We chose a black hardware that is simple but pretty. We didn't want to go too ornate on header hardware and chose the most simple he has, the Mini Classic. I don't see our exact handle on the website, but you can ask Dan about it if you go with his doors.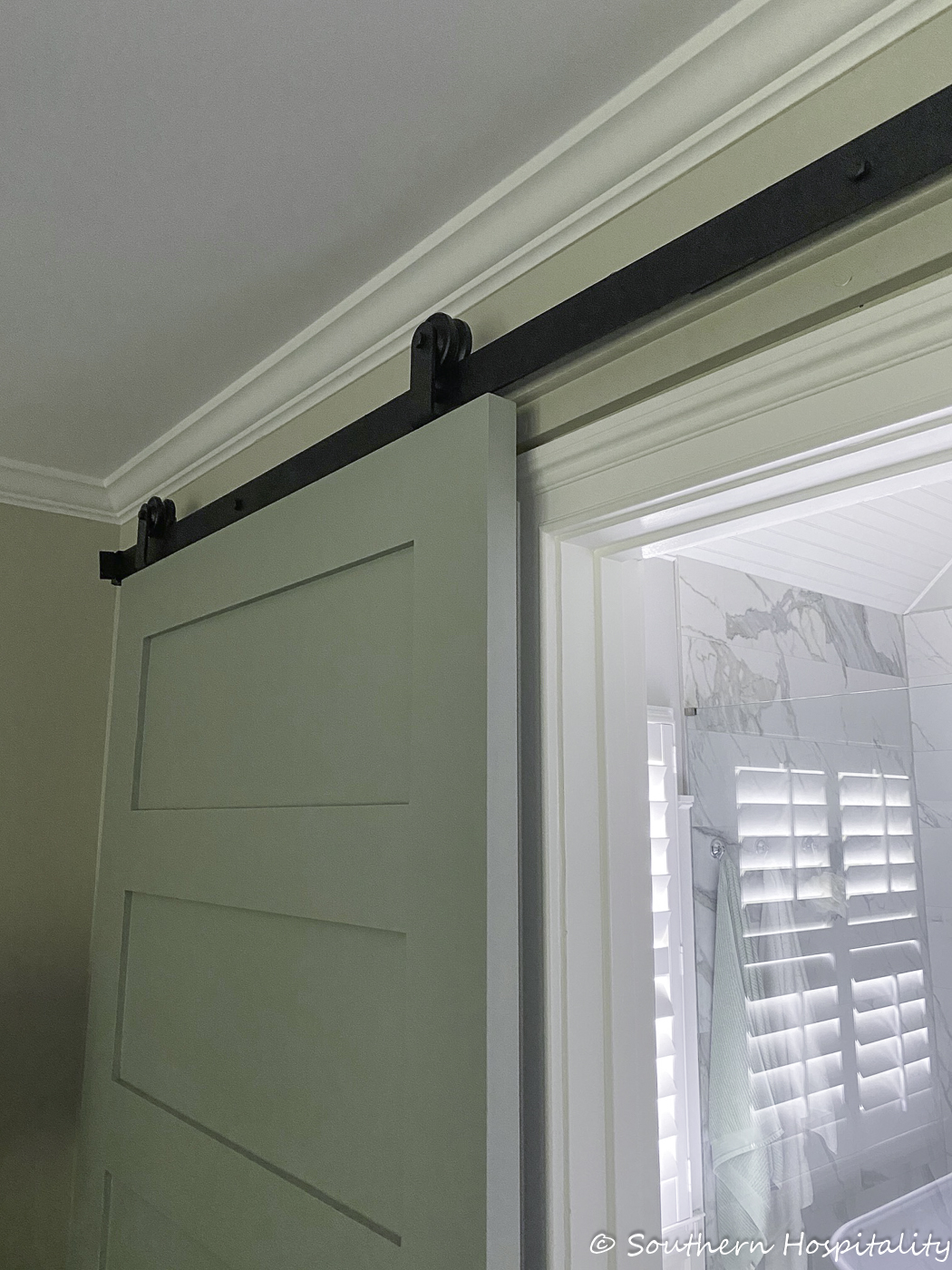 It's so nice to have this door in place now and operating so well. We love it so much!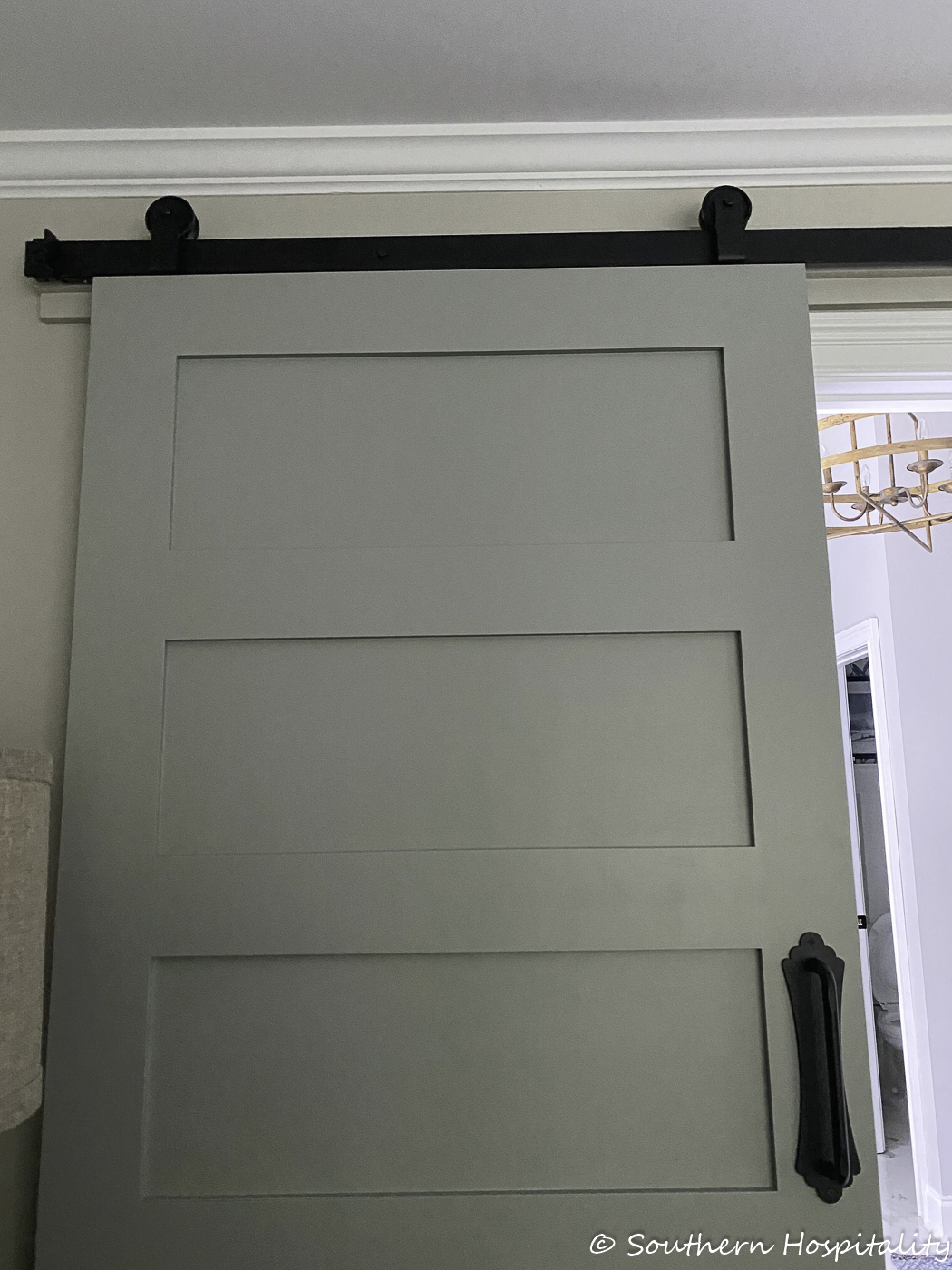 You can get the door painted, but I painted our door myself with the same color as most of our interior doors, Oyster Bay.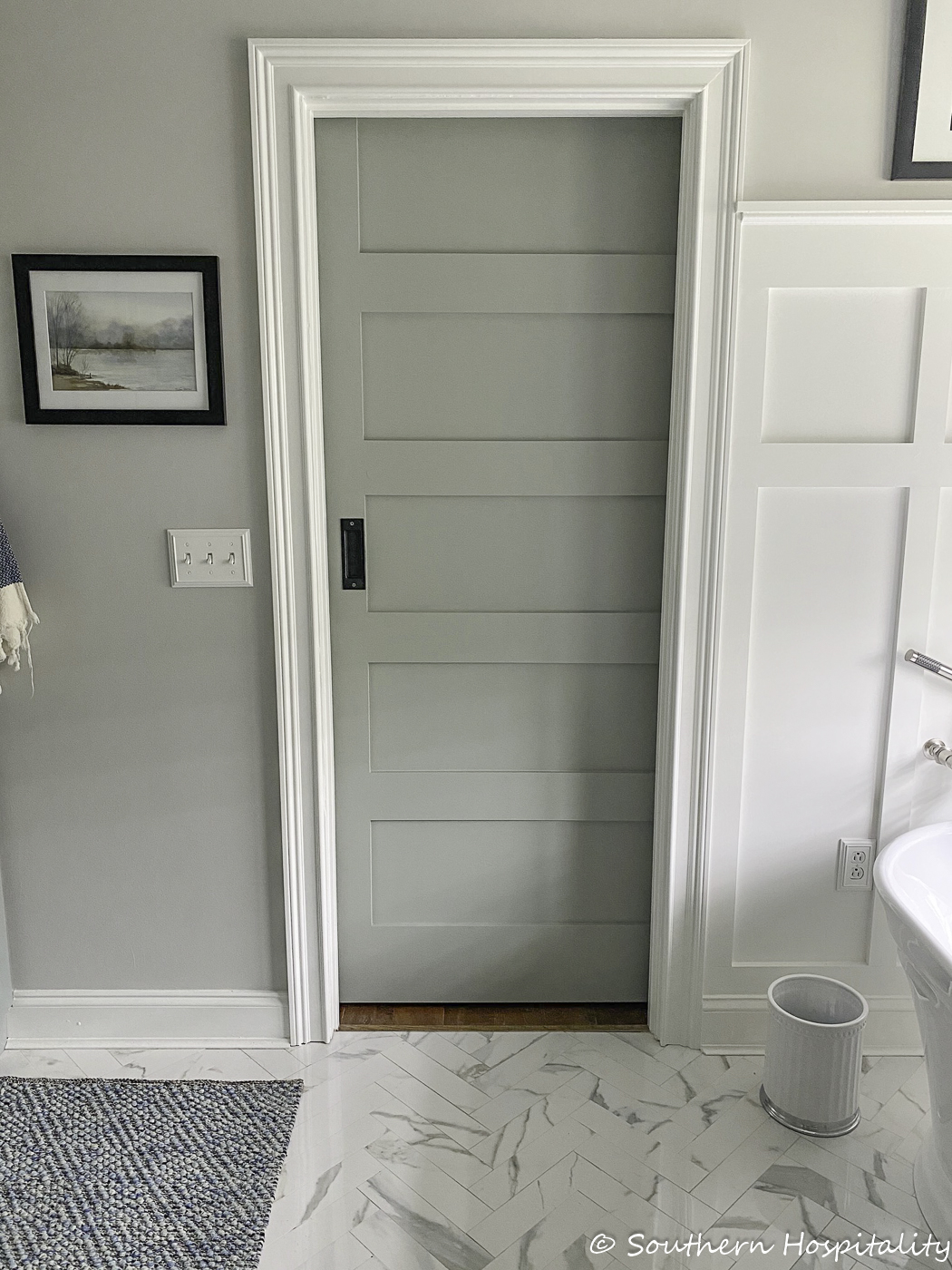 Here's how it looks from inside the bathroom. It actually slides more to the left than this picture shows.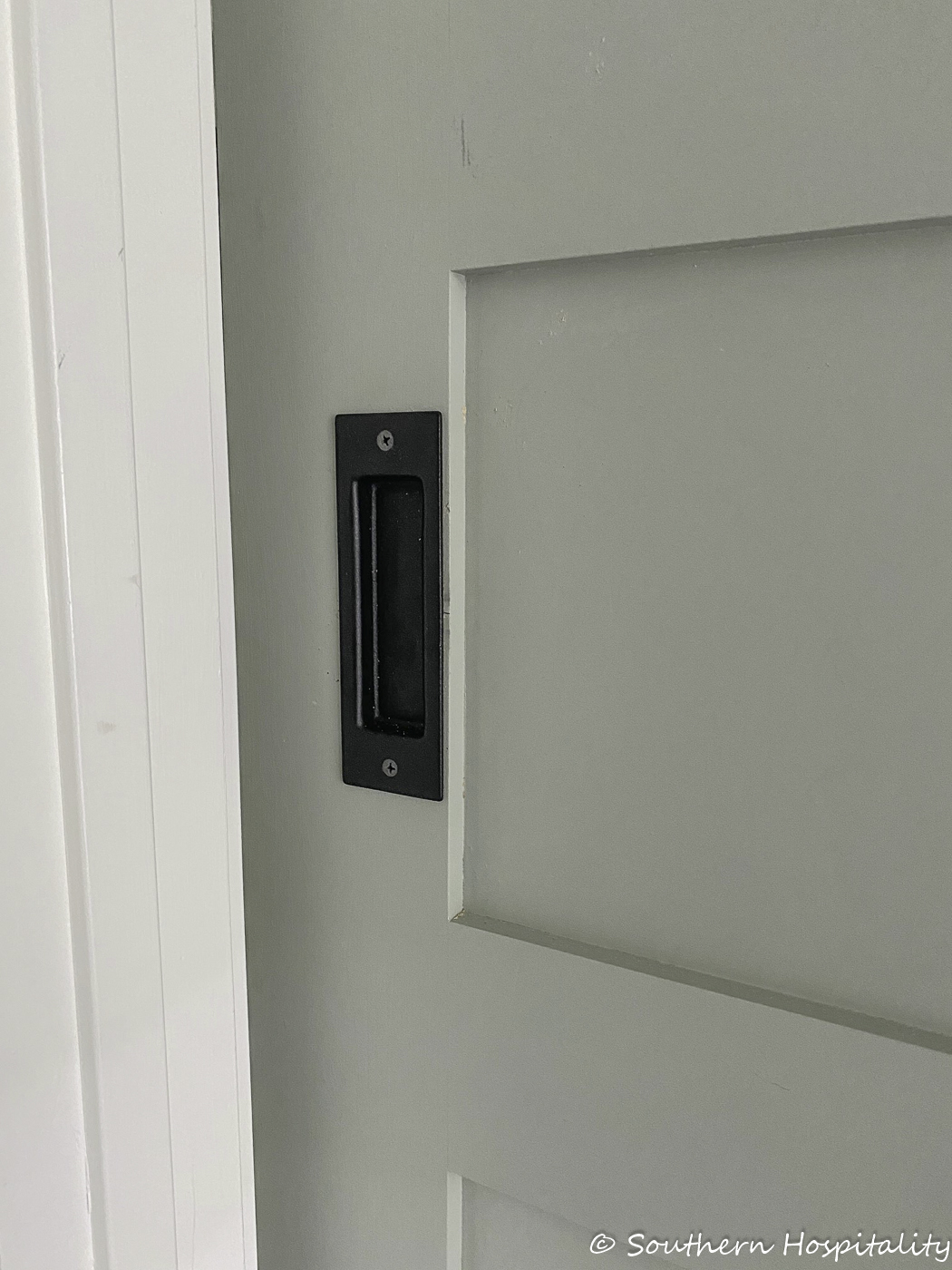 The inset pull is easy to open from the inside too.
If you have a door that hits something on the other side, I would highly recommend a sliding barn door. They have become so popular now and I can see why. As I mentioned, it's like having a pocket door but not hidden, so much easier to install. You just have to be sure you have room for the door to slide out of the way on a wall. As long as you have a wall that's big enough, you can do a sliding door. It sure has improved the functionality of our bathroom.
I can't recommend Dan enough with Sunburst Shutters. He has done a wonderful job in our home with Plantation shutters and the sliding barn door.
You might remember we worked with Dan on all of our rooms with Plantation shutters and we love them so much. They add such a classic and elegant look to our home. We opted to put Plantation shutters on the front of our house, in the living room and upstairs in Mark's man cave. We had those installed 2 years ago.
The dining room faces the side of our house, but we also put Plantation shutters in there to add to the elegance of this room.
We also had them installed in the master bathroom after we renovated it, since the shutters flowed so well with the board and batten treatment we added in there. I love them in all the spaces we have added them. The back of the house still has bamboo blinds which I also love, so mixing the two is just fine to me.
The main things I want to note on Sunburst Shutters are these 3 factors, which are so important in choosing shutters:
They are energy efficient and help block out sun and heat.
They are made in the USA, which I love.
They have a lifetime warranty. The Polywood shutters which we have won't warp, chip, split or crack.
Please also be aware that Dan builds the barn doors custom ordered and those take longer to make and install, but the shutters are readily available and can be added very quickly to your home.
Mark really wanted to change out this little bathroom upstairs too with Plantation shutters, so while Dan measured for the master bath, we also did this little room as well as the garage. I wasn't going to do the garage with shutters, but Dan has a less expensive line of shutters for a garage so we went ahead and did those two windows too and now the entire front of the house has Plantation shutters.
You'll also notice a new Kohler toilet in this bathroom. We recently changed out our other 2 old original toilets (that barely flushed) with these new Kohler's, like the one we got for the Master. So much better.
You can see here that the shutters downstairs are all open and the dormer in Mark's man cave is closed to keep the heat out.
It's nice to have these all completed and installed now. Mark is very happy since I didn't want to spend the money on shutters for the garage. Dan gave me a discount on all of these shutters too, but we did pay for them all and it was nice to get them all finally done.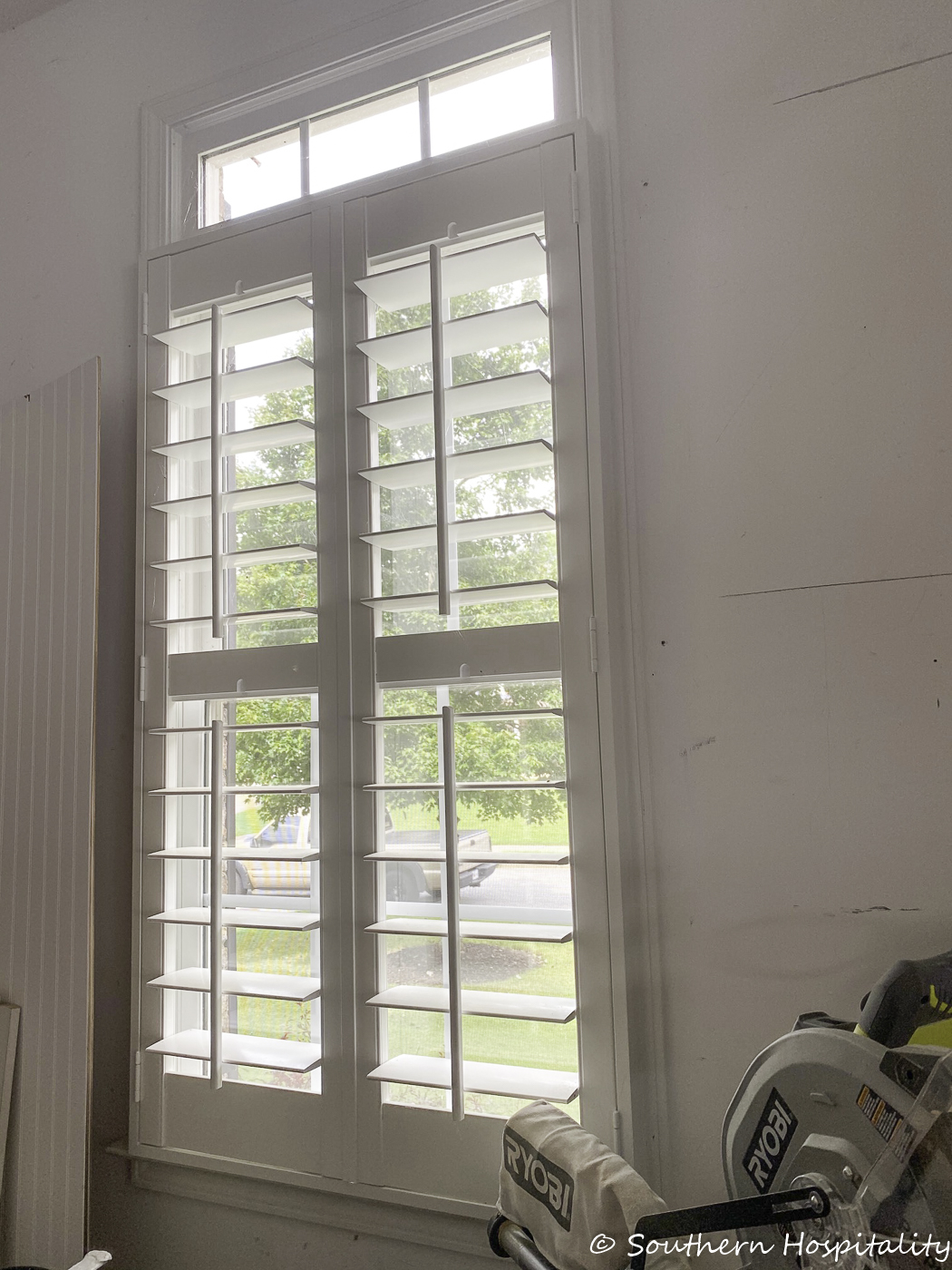 Inside the garage, all done.
So that's the completed projects of the sliding barn door for the master bathroom and the additional shutters for the garage, small upstairs bath, and the master bathroom.
We couldn't be happier with these choices and the mix of Plantation shutters and bamboo blinds. I think it gives our house a lot of character to have the mix of both and this is the way we will leave things for years to come. I think we've invested wisely in our window coverings and will be happy with them as long as we live in this house.
You can contact Dan at Sunburst Shutters Atlanta if you're in the market for either Plantation Shutters or a sliding barn door. I can't recommend Dan highly enough, he does a great job and gets things done right. You might have to wait awhile since he has a lot of business right now, but he will get your project done for you and your house will thank you for it.
Don't Miss a Post, join my list!