This post is sponsored by Tree Classics.
Hello my friends!
It's been such fun to get our new home decorated for the Christmas season this year and one of my favorite spaces to spruce up and add a layer of Holiday cheer has been our dining room. Even though we aren't dining room people all the time, meaning we don't exactly eat dinner in here every night, we sure enjoy how open this room is in our home and it's just plain pretty to look at.  We do plan to eat in here a lot more often in the coming year with family and friends!
We got some snow here on Friday, so that was certainly a novelty for us!  It's not all that often that we get snow this time of year, so it does make it feel even more festive and Christmas-y now.  It was just gorgeous!
Come on in and let's look around. I did a Thanksgiving table earilier which I really loved, but putting this room together for Christmas was so fun for me and my creative side had such a great time layering blue, white and gold together.  This dining room takes me back to my Traditional and Classic roots, which have always been a part of me.  I think as I get older, I've just honed my tastes toward that classic style more than ever and it really suits this house.
Do you see what I see?  At the risk of getting a little giddy in this post, we got a new light fixture and it was just installed last week.  Mark and I decided to give a new dining room fixture to each other for Christmas and Mark installed it on my birthday after it arrived that day.  I'll talk more about it later on, but just had to include it in this post since it makes such a crowning statement in here.
I had already taken pics for this post and had to go back and take a few more to include the beautiful fixture.  But, the story of this post today is all about the table decorations and sideboard decor for Christmas.  Let's look at that!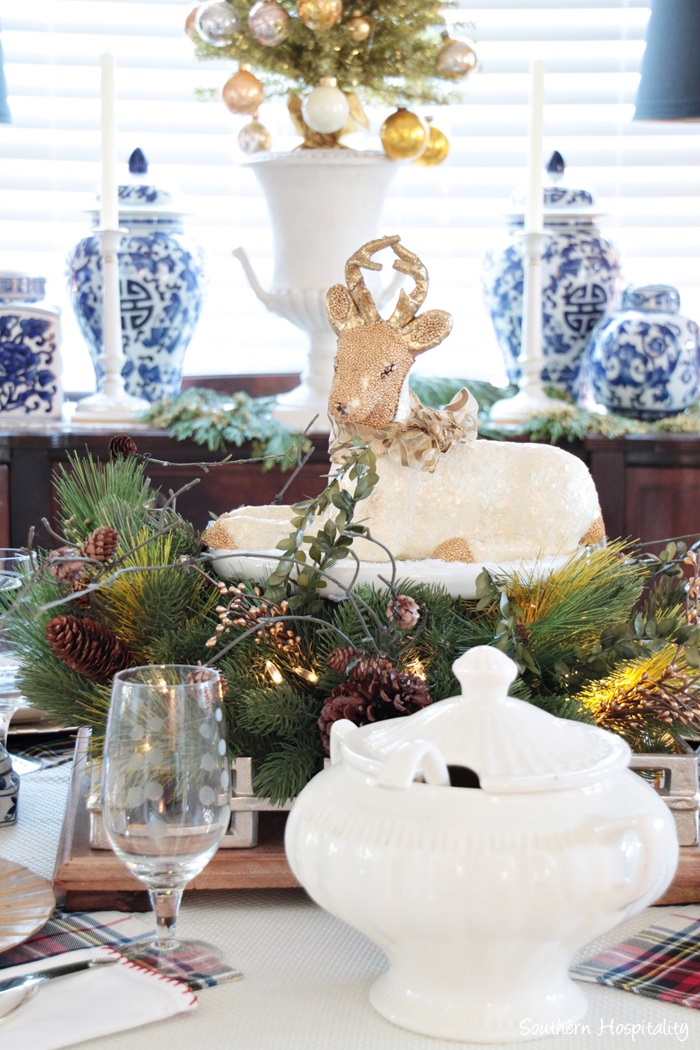 I've had this pretty gold and white reindeer for so many years, he's starting to lose some of his little beads on his face, but I just can't part with him. As with my Thanksgiving table, this time I added the Tree Classics Classic Fraser Fir wreath to the center of my large tray and added the golden reindeer on my white cake plate with a little faux snow sprinkled around him.
The wreath and reindeer make a beautiful centerpiece and they aren't too high so if we are eating dinner here, it's still easy to converse.
I picked up these pretty blue and white plates recently at Queen of Hearts antiques mall in Marietta and I love them.
They are by Wedgewood and they are so pretty. Since I'm doing more blue and white in this house, it makes sense for me to add blue and white plates to our dining room with that beautiful blue grasscloth.  These plaid placemats are Ralph Lauren and I adore adding plaid in here this time of year. Both placemats and napkins came from Homegoods.
Loving the view of the tree from the dining room.
Looking at the sideboard, I added fresh greens, some of my larger blue and white pieces and my vintage gold tinsel tree in the middle filled with vintage ornaments.
This cute tree really adds to the gold sparkle in the dining room and the perfect place here on the sideboard.
A gold wired bow tops it off perfectly.
These ornaments I've collected over the years and I love all their shades of gold, silver, and white.
Highlighting the sideboard are these beautiful garlands from Tree Classics, also the Tree Classics Classic Fraser Fir package.
I also added some fresh cedar sprays on the sideboard for extra texture and festiveness.
Can you tell I'm having lots of fun with my blue and white again?
At the top of the window I added a swag of golden toned  material that I don't even know what it's called. I got this years ago at a local place here locally and I haven't seen any in a long time.  It's really neat stuff so I've kept it around. Do you know what it's called? It's bendy and flexible.
I love how it highlights the greenery, but is light and airy. I also added a string of lights above the blinds that are lit at night.
The Tree Classics garlands are battery powered, but I added a long string of lights that would cover both sides and the top for extra twinkle.
Tree Classics has some beautiful ornaments too and I added these beautiful glass white and silver ornaments to the garland for more sparkle and shine.  They are gorgeous!
I just love this room and it's one of my favorite spaces in the house.
And it's fun to capture the space from every angle.
I love this shot of the beautiful Snowy tree looking into the dining room.  Check out the tree if you missed it!
And that's the last room I have to share with you for Christmas, but I'll be back to share my stair garland with you too. It's so gorgeous and I am so enjoying having stairs and railing to decorate this year.  We truly are enjoying our first Christmas in the new house so much!
SaveSave
SaveSave
SaveSave
SaveSave
Don't Miss a Post, join my list!