Hello my friends!  Even though we don't host Thanksgiving at our house, it's still fun to set a Thanksgiving table and this year is even more fun being in the new house and having a different room to decorate for the seasons.  Mark and I are so enjoying our new house and it will be extra special to decorate for Christmas this year too, so stay tuned for lots more of that. I haven't even started yet, but I will be getting it all festooned soon!
I'm partnering with Tree Classics again this year and will have several posts featuring their products and the first one up is a Thanksgiving table. I love a pretty dining room and even though we probably won't use this room all the time for meals (we're casual like that), it's fun to make it look gorgeous for the seasons.  We are planning to use this one more and enjoy it for special meals.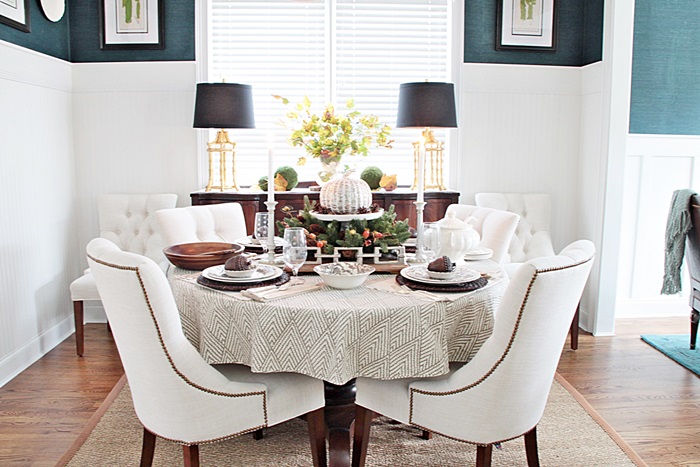 Our dining room is a little bit bigger than my old one, but still very open on 3 sides, with the living room to the right and the kitchen to the left.  I'll be sharing more of how the house flows as I show all our spaces on the main level.
This Tree Classics Countryside wreath is a perfect accent for Fall and Thanksgiving and I simply placed it in my large wooden tray and added a cake plate inside for this pretty glass pumpkin to sit on.  It's a perfect centerpiece without being too high or fussy.
My sideboard is decked out with branches of Fall leaves which is my favorite way to decorate this time of year.  You can't beat the showy Fall leaves for decoration. You can get a good look at the grasscloth wallpaper too.
I don't think I've shared these plates with you before, but I got them when I was in Birmingham from a reader of mine. We did a trade for decorating consultations and I've loved having them.  This year was the perfect time to show them off on the Thanksgiving table.  Brown and white transferware is classic and I have plates in red and white too.  I just picked up some blue and white transferware from an antique store to use in here too, so I'll be all covered with the colors.  A simple place setting is all that's needed. The silverplate flatware is gorgeous and is an estate sale find from a few years ago.
You'll notice new lamps on the sideboard, those are from Homegoods and I was so happy to find them.
Closer look at the Fall leaves and moss balls on the sideboard.  I love the simplicity of these arrangements.
A hammered amber colored glass vase really accents the leaves.
The lamps are such a favorite for me with their gold bamboo shape and black shade.  They were definitely a fun find for me this year, since I moved the other gray lamps up to our bedroom.
Peeking from the dining room into our small living room that I shared recently.  We have since added a large cabinet in the living room that was Mark's and I'll be sharing all of that room again soon too.
Simple arrangement with the wreath and glass pieces add such a festive touch to the table.
I took a lot of pics to share it from all angles.
The wreath made it easy to decorate the centerpiece and I had an instant focal point.  I layered in my collection of acorns and tiny pinecones with the glass pumpkin to add even more Fall touches.
I love having a collection of pinecones and acorns, since they come in handy for so many areas this time of year. I store them in a lidded box and pull them out when needed.  The wreath has small grapevine balls, pinecones, and colorful Fall acorns attached.
Two pretty white and gold candlesticks are the only other decoration I added to the table.
And here's a shot from the stairs!  We love this view going up and down the staircase and how pretty it looks at night.  This room will be getting a new light fixture too and we can't wait to get that updated.
In the meantime, we are loving our new house and how it's all coming together for this Christmas season.  Mark and I both love Christmas and we can't wait to fill our house with family and friends this year and enjoy all the blessings that we've been given.
Hope you all have a wonderful Thanksgiving week and time with your family and friends as well! It's time to celebrate!
Note:  This post is sponsored by Tree Classics and I'm a brand ambassador for them this year. 
SaveSave
SaveSaveSaveSave
SaveSave
SaveSave
SaveSave
SaveSave
Don't Miss a Post, join my list!