This post is sponsored by Blanco. 
Renovating a kitchen is a big deal and there are a lot of choices to make when you're changing finishes and updating fixtures, like sinks and faucets. During my time as a home owner which I've been since 1985, my sinks have been several different materials ranging from stainless steel, to white cast iron, to the current sink we have just installed, a granite composite sink by Blanco. This is in fact, my third Blanco granite sink. That's how much I love it! Blanco didn't tell me what I had to write or even require that I write a post about the sink, but I wanted to share it in detail because I truly love it so much!
When I was living in the Birmingham house many years ago, I upgraded that kitchen with granite countertops and a new sink. I chose a black Blanco Silgranit double bowl sink at that time. When I renovated the kitchen in my previous house that my dad and I worked on together, I chose another Blanco Silgranit sink, that time the deep one bowl  sink in Metallic Gray. I had no second thoughts on choosing another Blanco sink, that's how much I loved the first one. The color also went great with the granite I had in that house.
But, just note that there are several different colors to choose from, from light to darker tones. Silgranit sinks are 80% granite. The sinks have a natural stone like character, scratch resistant, heat resistant, and just overall durable sinks. Blanco also has farmhouse (or apron sinks) in granite, stainless steel, and fireclay. Someone asked me on Instagram why I didn't get a farmhouse sink. Well, it wasn't priority for me. I'm not that smitten with farmhouse sinks like so many are. I think they are pretty, but my style is not farmhouse and I really didn't want to cut into my kitchen cabinets on this remodel.
With this current kitchen renovation that we just completed, I knew from the beginning of planning that I wanted yet another Blanco deep one bowl sink. So, since I had a relationship with Blanco and they had been a Haven sponsor, it was an easy conversation to have with them in getting this new sink in place in our current kitchen.
I loved Metallic Gray color and knew it would be a good fit and complement the new quartz countertops with gray veining.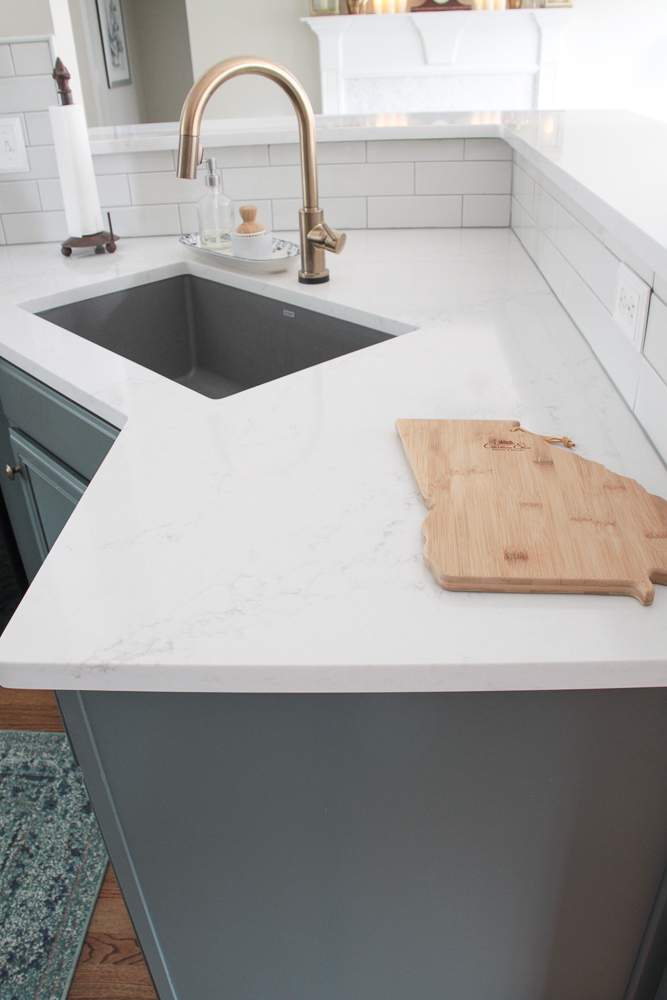 I'm so happy with it and how great it looks in our kitchen. What I love most about the Blanco granite sink is how easy it is to keep clean. It's deep, functional and holds my biggest pots and pans for easy cleaning.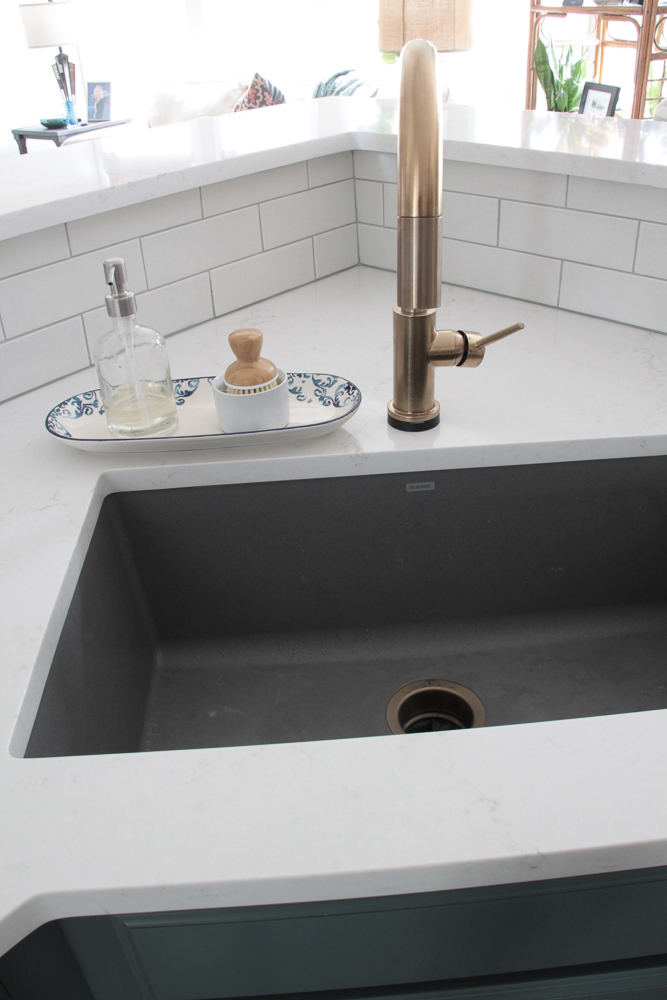 It creates a stylish and sleek look with the quartz countertops and I just love it!
Being undermount, it's a nice tight fit and so easy to clean up. It's not dirty, those are water drops on the sink.
Water droplets bead up and run off. It feels great to the touch, doesn't seem as hard as stainless steel or cast iron to me. It has a great touch to it and again, so easy to keep clean with a quick wipe down. If anything sticks, it comes off really easy. I've never had a problem with these sinks getting stained or discolored.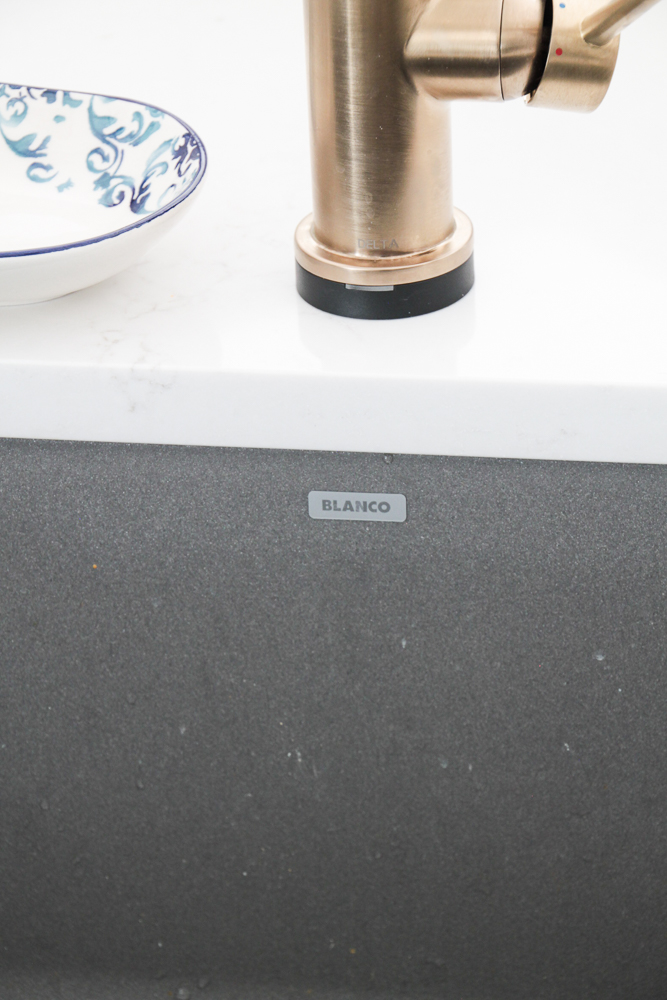 Blanco holds up great to wear and tear and daily dish washing. Those are all water drops you see in the pic.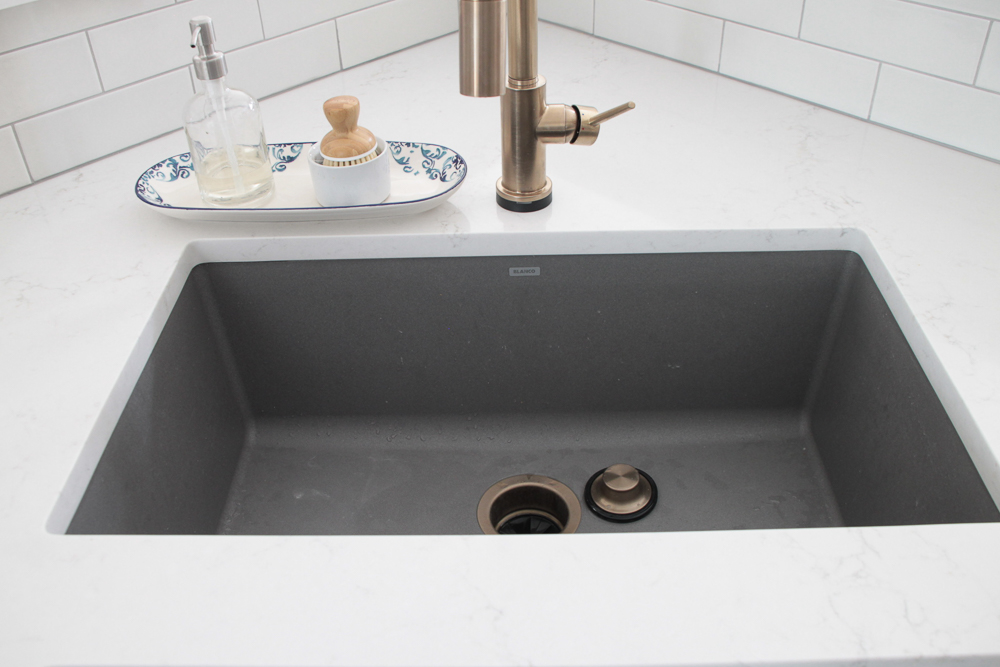 Stylish, deep and wide, easy to clean, that's the main reasons why I chose a Blanco Silgranite sink. It truly is my first choice, after having stainless and cast iron in the past.
My sink came with this nice stainless sink grate that you can leave in or out. I didn't have this in my old sink, but I've added it in this one and I think I like it. But, it's easy to remove if I want to take it out.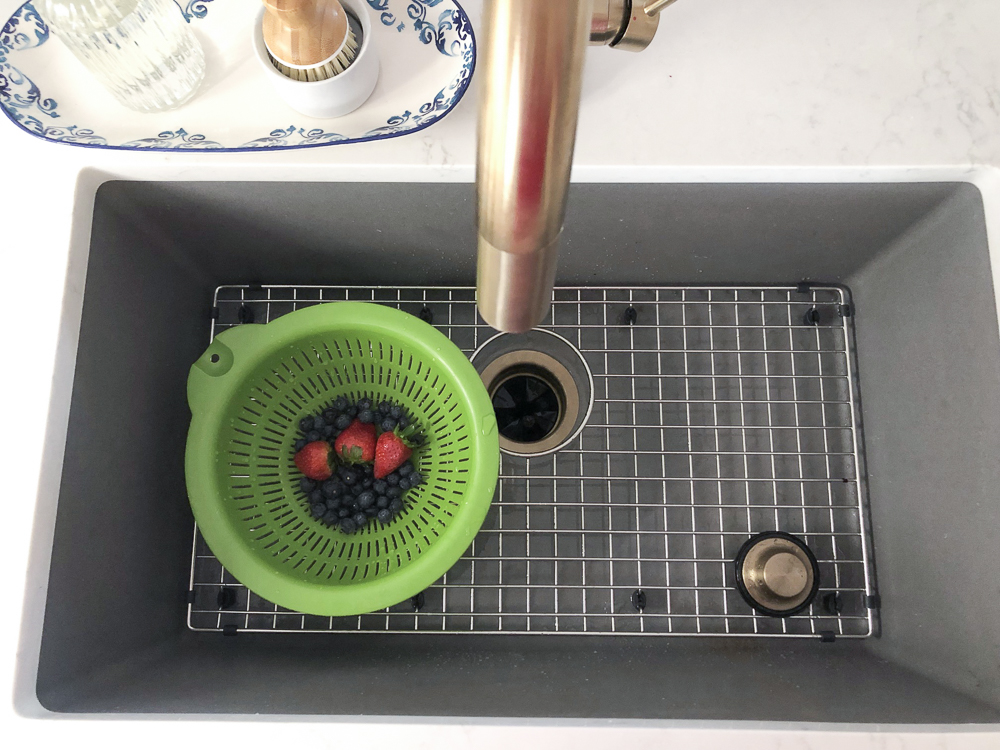 Cleaning up large pans is a snap in this sink. I wash them and let my big pots and pans drain on a drying mat that I keep behind the sink in the corner.
What I didn't love about stainless was that it can scratch or just look dingy over time. Cast iron can leave black marks on the surface that have to be scrubbed off. But after having a Blanco granite sink, I never had any problems with them at all. It's my perfect sink!
So, that's why I chose a Blanco Silgranit sink….again, three times in a row. I would highly recommend these sinks. My sister also has a deep one bowl Blanco granite sink in black and she loves hers too.
Here's one of the best prices I've seen online for the sink I have (affiliate link). There are several sizes available, so do some homework on what you need if you're in the market. My old sink in my previous house could hold a slightly bigger sink than my current one, so this is the 30″ one. I love how deep it is.
Have a Happy Valentine's Day friends! We're celebrating by eating out tonight!
Don't Miss a Post, join my list!