Hey, friends!
I shared our spring home tour a couple of weeks ago and took a lot of pictures of each space. Since I had lots of detail shots and didn't want to post them all in one post, I'm breaking up the spaces and today want to share our dining room for Spring again, with all the up close detail shots.
Hope you enjoy!
We have loved seeing this room change.
Just a reminder of where we started in this room.  It had the low traditional box molding wainscot, but we wanted something a little more dramatic, so Mark added tall beadboard with trimwork on top, as well as adding molding to all the door casings in the dining room leading to the kitchen and living room, so all of that really added a lot of pizazz to our new home that it didn't have originally.
Our house is 13 years old this year and had some lovely features, we are just adding more to really take it up a notch.
Here's the After shot with all the furniture in place and decorated for spring!
What a difference the beadboard wainscot makes in the room!  We are so happy with the way this space turned out and the addition of the navy blue grasscloth was a good decision that I'm so proud of as well.
You can see what a difference the antique brass light fixture makes as well, a splurge from Williams Sonoma that we couldn't pass up.  It anchors the room so well.
Setting the table is fun to do with all this beauty in the room and I got out a new gray linen tablecloth that I picked up on major sale from Ballard Designs recently and it adds a nice backdrop to all my dishes. I love that I can use so many different dishes in this room with the navy and white as a beautiful backdrop.
My chairs came from Carrington Court (affiliate link), a company I love and worked with a couple of years ago. They updated my original dining chairs that came from their company and after having them 10 years, I ordered these beauties in a cream linen which totally changed the look of our dining room.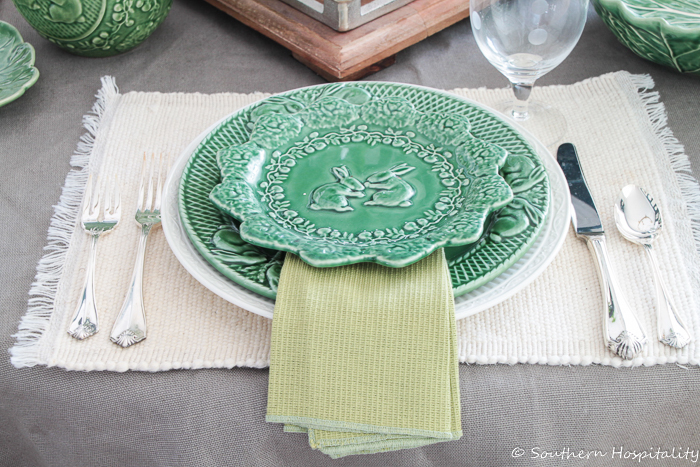 Heres's a shot of my Bordallo bunny dishes that I've had for about 20 years.  I don't think they are making this anymore but I'm glad I have a good collection of this, so fun to pull out this time of year.  That silver-plate silverware was a lucky estate sale find and is just beautiful.
The centerpiece is from Magnolia Market and I got these 2 pieces last year when I was there.  Love them and the faux tulips along with my flying bunnies that were popular from Pier One a few years ago.
Aren't they cute?  Perfect for spring and Easter centerpieces.
I love this pair of black iron and glass for adding pretty flowers.
Even though we don't use our dining room all the time, we enjoy having it for special occasions and for setting a pretty table.
That sideboard has been with me over 20 years as well and I still love its traditional lines, a classic piece.  I know this style in not in vogue right now with the younger generation, but it still feels good to me.
Those lamps were a really lucky find from Homegoods, $60 each. They are designer and I found them online, although for not nearly as good a deal as I found.  I sure am glad I snagged them when I did!
I love displaying my collection of blue and white on the sideboard.
Peeking through to the kitchen.
Another look at the centerpiece.  The large tray is from Homegoods.
And a better look at all the blue and white and the lamps on the sideboard.
A pretty blue glass vase of Mark's holds some gorgeous pink tulips, always nice this time of year.
Thank you all for stopping by! I hope you've enjoyed watching our house transform into what it is today. We sure have enjoyed seeing the progress of each and every room in our downstairs, creating a warm and welcoming home!
Below are my rug, lamps, chandelier, all exactly like mine and a few blue and white white which are similar in my room. Affilite links used for your convenience!

Don't Miss a Post, join my list!